There's a special discussion board on the Internet for people who want their pictures drawn — for free, of course.  Post a photo there, and someone just might draw you, and then post their work back for you to see.
Someone like my wife Rhumba.  But you might not get what you expect.
"They were trying to look cool," Rhumba told me. She passed her tablet over.  "They" certainly were trying: a bearded man and a pouty woman. Rhumba had placed a flying saucer above them in the middle background; it disrupted their cool factor somewhat. She likes to add flying saucers.
"You know," I said, "and don't take offense, but this looks just like the cover of a cheap science fiction paperback from the early '60s. I mean that in a good way." I'd read a ton of them.
Rhumba readily agreed; she read them, too.  We're both retired science fiction fans from wasted youths.
"Well, I could make it into something like that." Rhumba will do about anything.  The rules of the discussion board state that the artist can go in any direction that they want with the photos, save the sexual.   She takes full advantage.
"We could call it — "Beats in Space," I said.
We discussed it; then I went to bed while Rhumba started playing around.  And when I got up the next morning: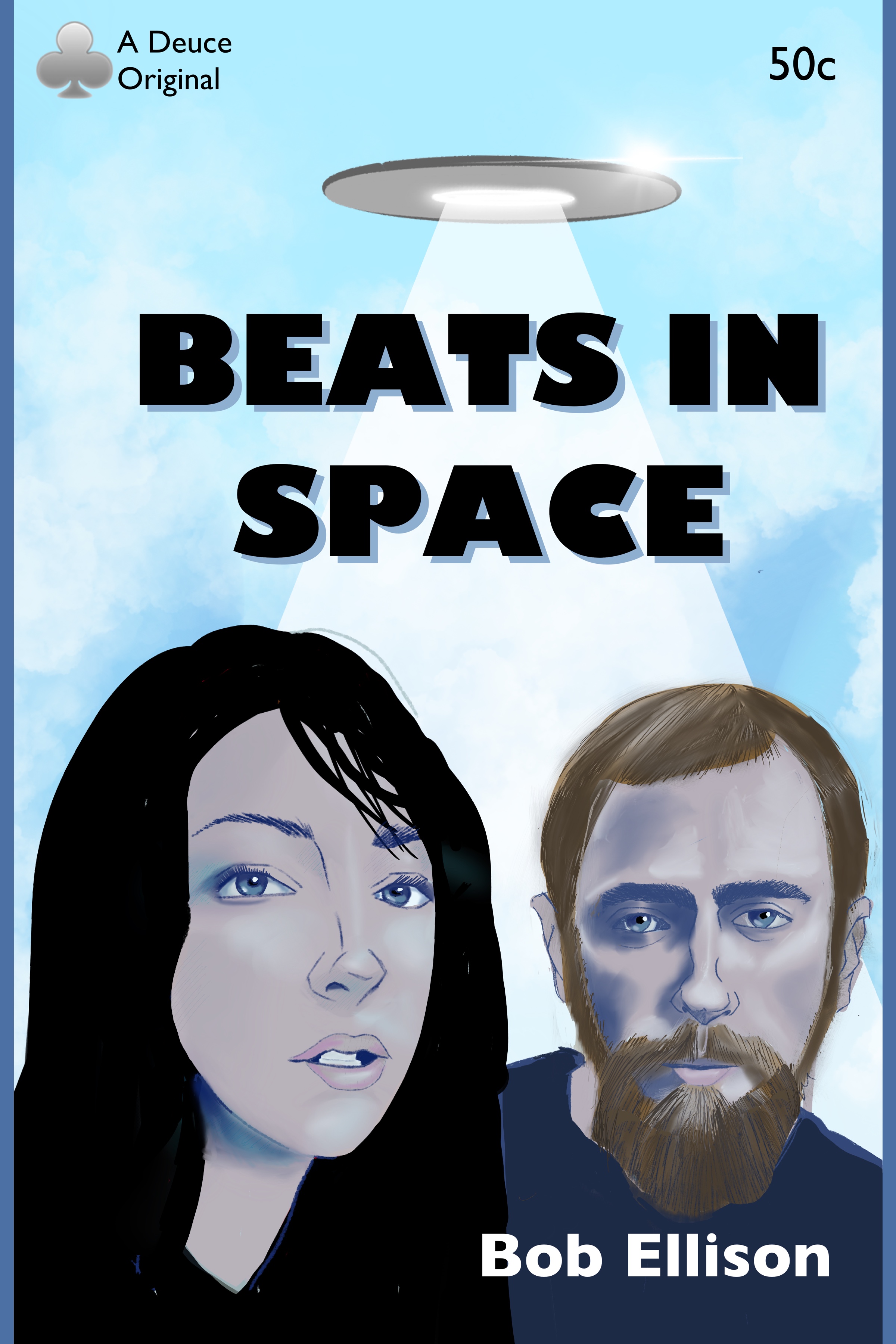 "Bob Ellison" is a portmanteau of the names "Robert Silverberg" and "Harlan Ellison," two prolific sci-fi writers of the time who wrote piles of schlock to pay the the bills before they became Big Name Sci-Fi Writers in the mid/late '60s.
Either one of them could have written "Beats in Space," except that 1) Silverberg's version would have been porn, and 2) in Ellison's version the woman would betray the guy with the beard, and they'd all smoke marijuana.
We have no idea how the photo subjects feel about this. They've been curiously silent.