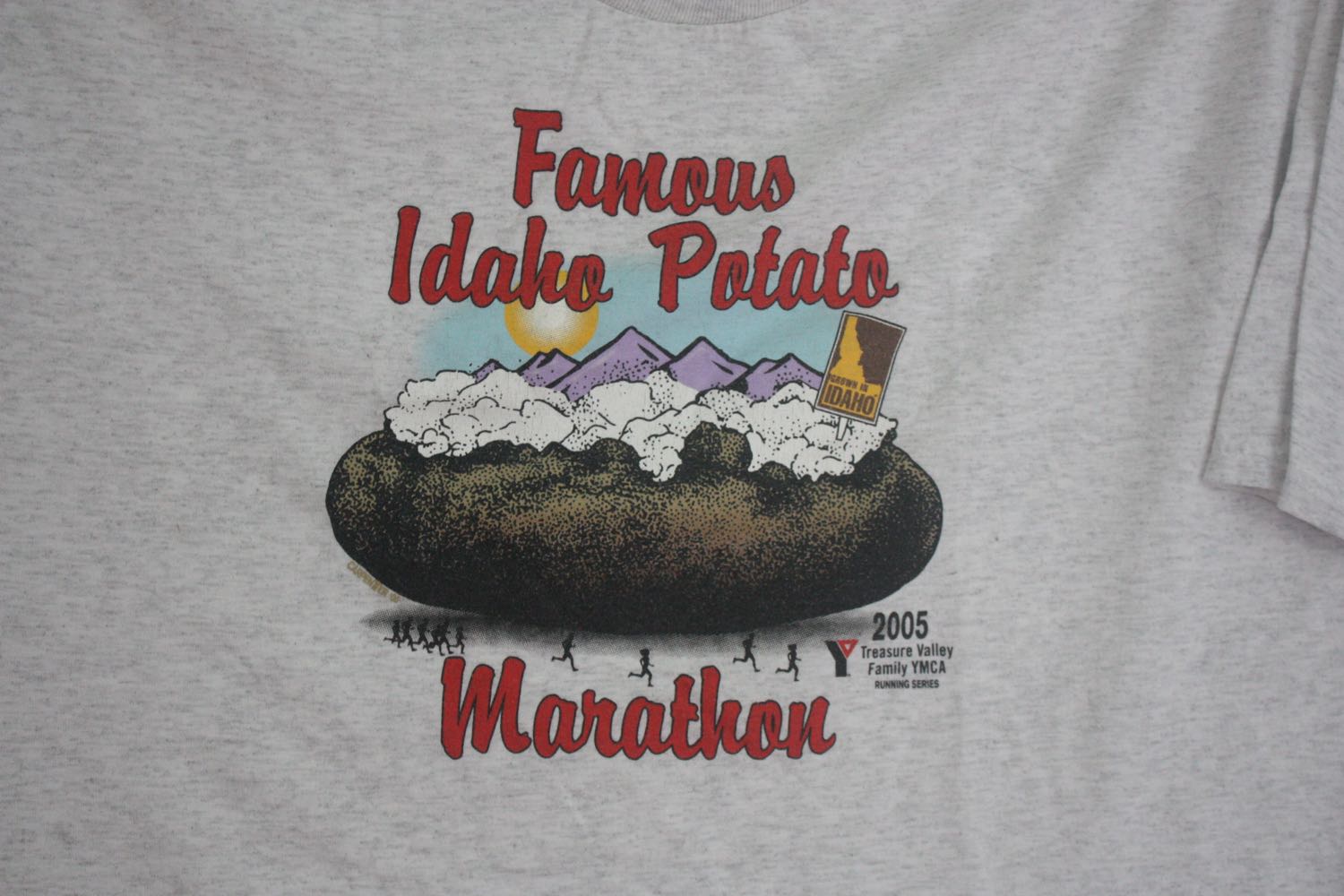 Foot-race tees are the ants of the used t-shirt world: unattractive, boring, and extremely numerous.  Okay, there's the Famous Idaho Potato Marathon t-shirt; that's just demented.  Otherwise, run shirts are uber-ignorable.
Every run or walk distributes hundred or even thousands of unremarkable free t-shirts to the participants:  for 5K runs, 10Ks, half-marathons, full marathons, triathlons, Turkey Trots, zombie runs, mustache runs, runs for a cure, relays for life, benefit runs for the Sunflower Elementary School PTA, or walkathons. You pay to run? You're getting a shirt. And you're supposed to wear it.
When the run is over, the participants take those hundreds or thousands of tees home and never wear them again. Sooner or later they'll cram solid the t-shirt racks  at your local thrift store.  My shoulders ache from pushing them aside.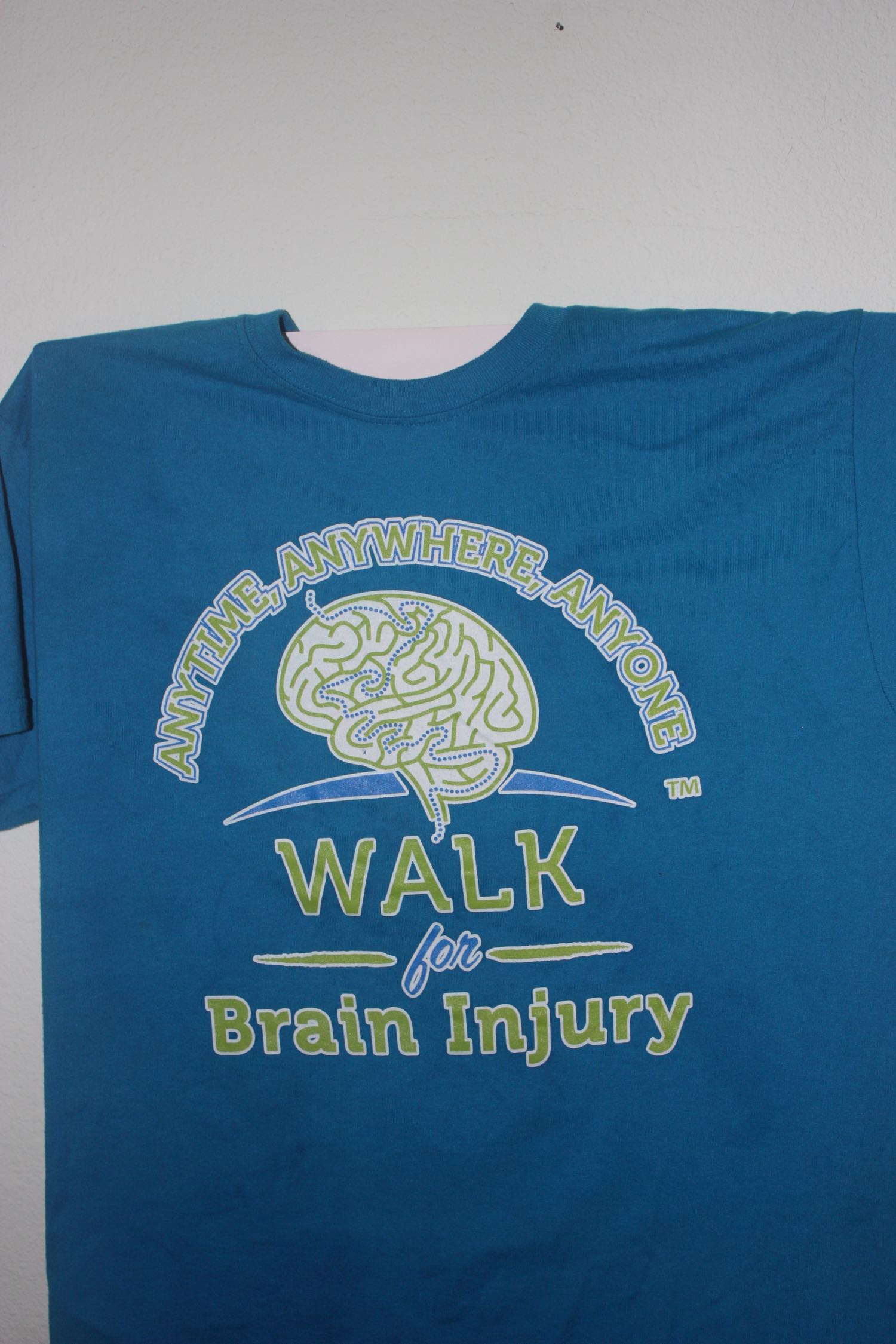 But I've kept a few.  Sometimes even a footrace tee can be a bit twisted.  People are good at twisting.  We get bored, and twist things.  And frankly, there's little more twisted than this Walk for Brain Injury tee, with what appears to be a race map / maze puzzle outlined by the folds of the human brain.  What does it mean? "Solve the puzzle of brain injury?" That's the best I've got, and it's a push.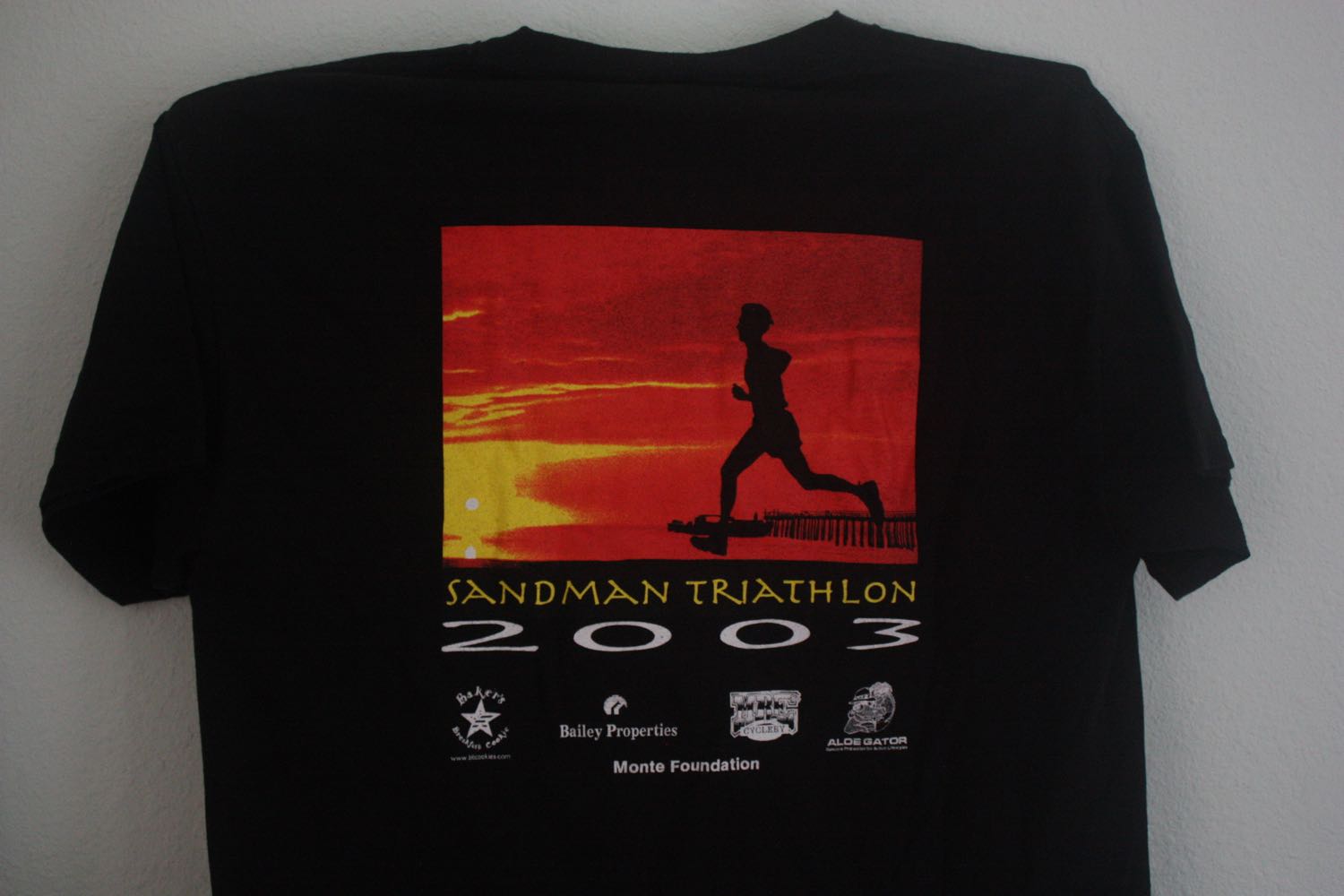 And I kept this Santa Cruz Sandman Triathlon tee from 2003 because it is such a piece of work; few are.  It glows in your hands. A slow clap for the triathlon committee, if you please.
On the other hand, the shirt below is nothing special. It's from the annual Santa Cruz-to-Capitola Wharf to Wharf Race. It's only in the collection because the Wharf to Wharf cheeses off my inner Mr. Wilson.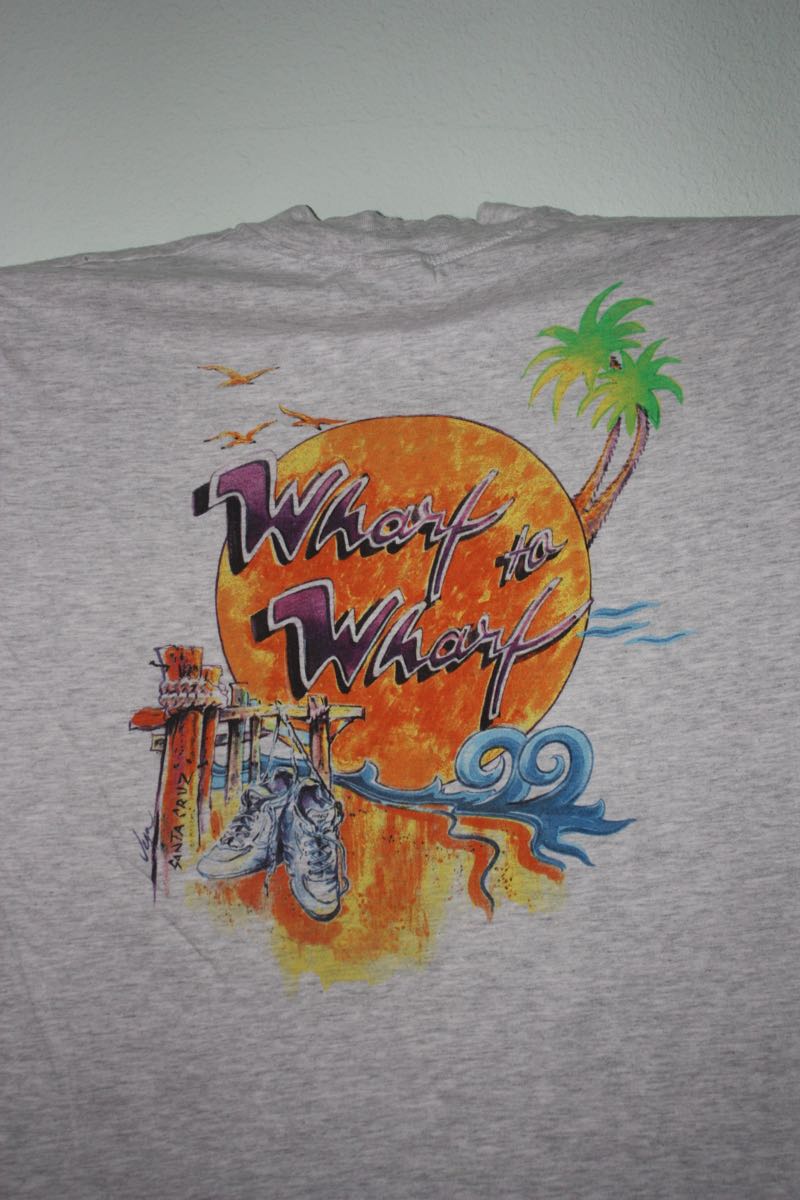 The Wharf to Wharf is a mid-summer six-mile jog along the coast on the Santa Cruz Wharf to the Capitola Wharf just down the Bay.  Aside from a lead group of serious runners, it's a fun-run for sixteen thousand amateurs.  People run with their friends. At intervals along the route, live bands serenade runners from the side of the road.  If you begin to flag, there are people to throw water bottles at you or check your heart if need be.
But if you're not taking part in the race, it kills a perfectly good summer Sunday.  The Wharf to Wharf's been blocking traffic for over 40 years. Barricades and policemen are everywhere, snarling traffic..
Worse: the six-mile race starts early, around nine a.m; so as soon as it's over, all sixteen thousand runners look for a restaurant.  Kiss off brunch.  Or parking, for that matter.
Within a week those 16,000 Wharf to Wharf t-shirts start showing up at Goodwill.  In mass quantities. I bought just this one, from 1999, because it was more handsome than most.  Note that I found it in mint condition 20 years after it was printed.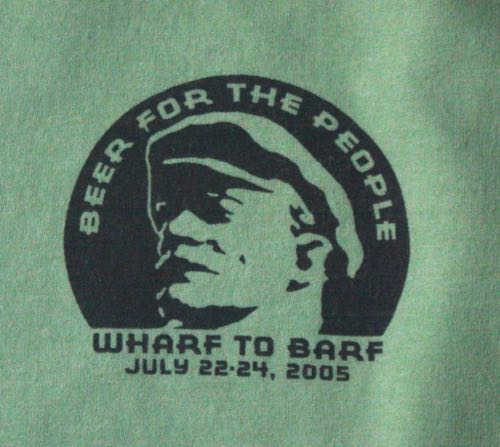 I'm not alone in disdaining the Wharf to Wharf, or amateur running in general. Behold a different breed of runners: the Surf City Hash.
Surf City Hash is a chapter of the Hash House Harriers, an international network of social clubs aptly described as "a drinking club with a running problem." Bored British colonial officers founded the first Hash in Singapore in the late '30s. ("The Hash House" was their name for their residence hotel, which served canned corned beef in mass quantities).
These gentlemen caroused and indulged to excess on the weekends, there being little else to do in that sun-drenched arm of the Empire. So it was decided that a Monday evening run would be just the thing for good clean British fitness.  And if they stopped for a pint or two — or five — along the way, well we were talking about British-style fitness, weren't we?
The Japanese invasion put a hard stop to Empire jollity in Singapore, but the Harriers carried on elsewhere. Today, you'll find a Hash everywhere the Empire ever was, or still is, or where a Brit or two of the hearty variety have settled down and sought comradeship among the natives. A Hash works like this:
One or more members is declared the "hare." The hare leaves clues scrawled in chalk for the others to follow.  The idea is for the pack of runners to catch up with the hare (while chanting "On-On the whole time," for some reason), but some of the clues are false, or decoys.  The pack gets lost a lot.
This is a good thing, as it keeps the best runners from getting too far ahead of the worst. There is discussion of what to do next, and of course everybody catches up at a bar or two along the way. Beer is imbibed.  Eventually the main body of the Hash makes it to the destination, which is called Religion, or the On-In. And there is yet more ale-swilling, plus singing and ritual insults.
Silliness is near-mandatory, especially since you've had a few: costumes, strange and not-very-serious ceremonies, vaguely suggestive Hash nicknames for all and sundry, jokes, and much socializing.  There exists a variant called "The Red Dress Race," and yes, your imagination has not led you astray.
A hash is beyond letting your hair down; you are cutting it off and leaving it on the ground behind you.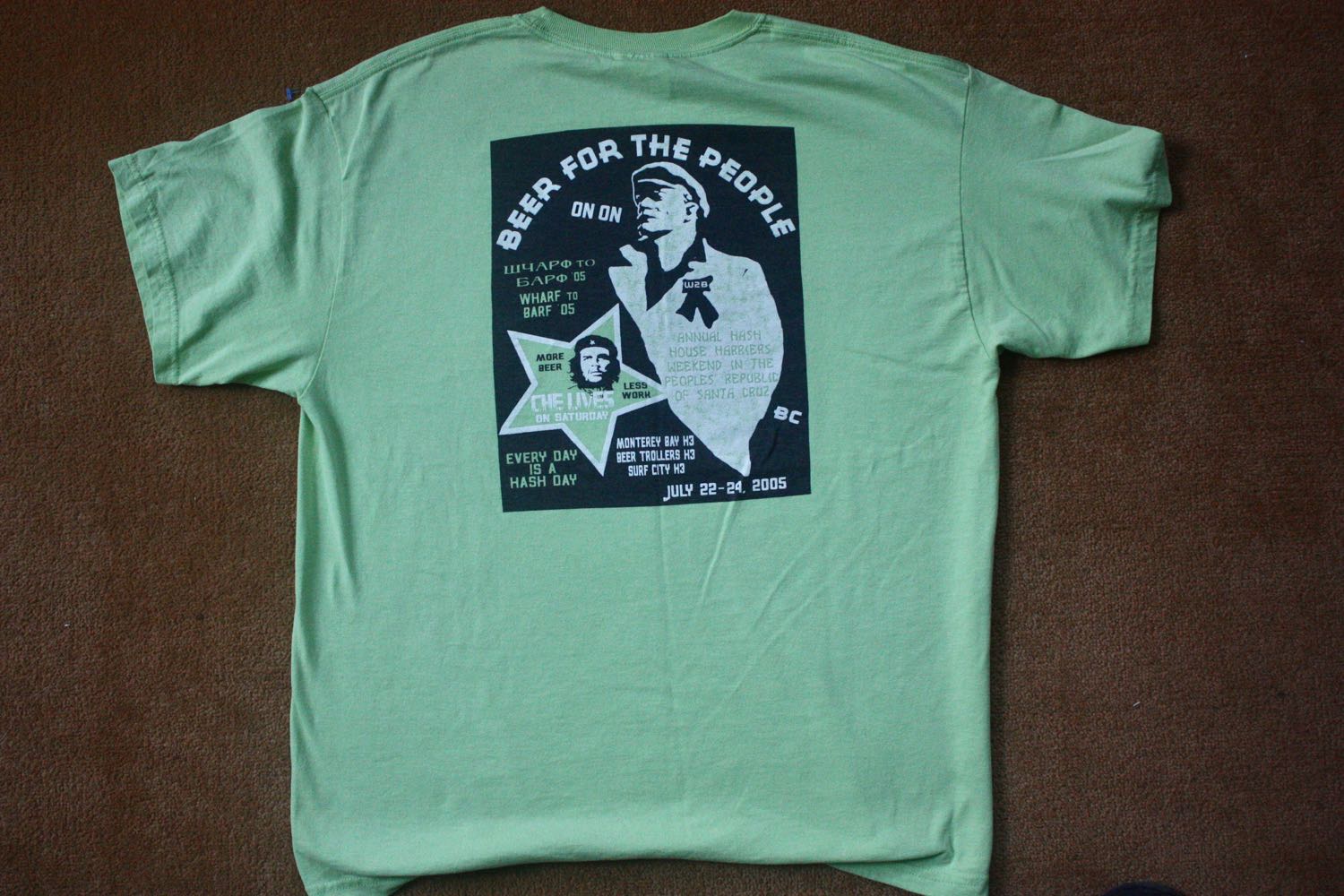 Santa Cruz is noted for liberal politics, so this 2005 Hash festival tee commemorates a weekend gathering of the local Hashes in the "People's Republic of Santa Cruz." Note happy socialist slogans like "MORE BEER! LESS WORK!"
So, yes, I rather liked this tee.  These people know how to run: for fun. For the fun that lies beyond the endorphin high that you body generates to dull the pain of running.
After all: that's what the beer is for.
Stay tuned for Part 2: Marathons and Fun-Runs in Terrible Places