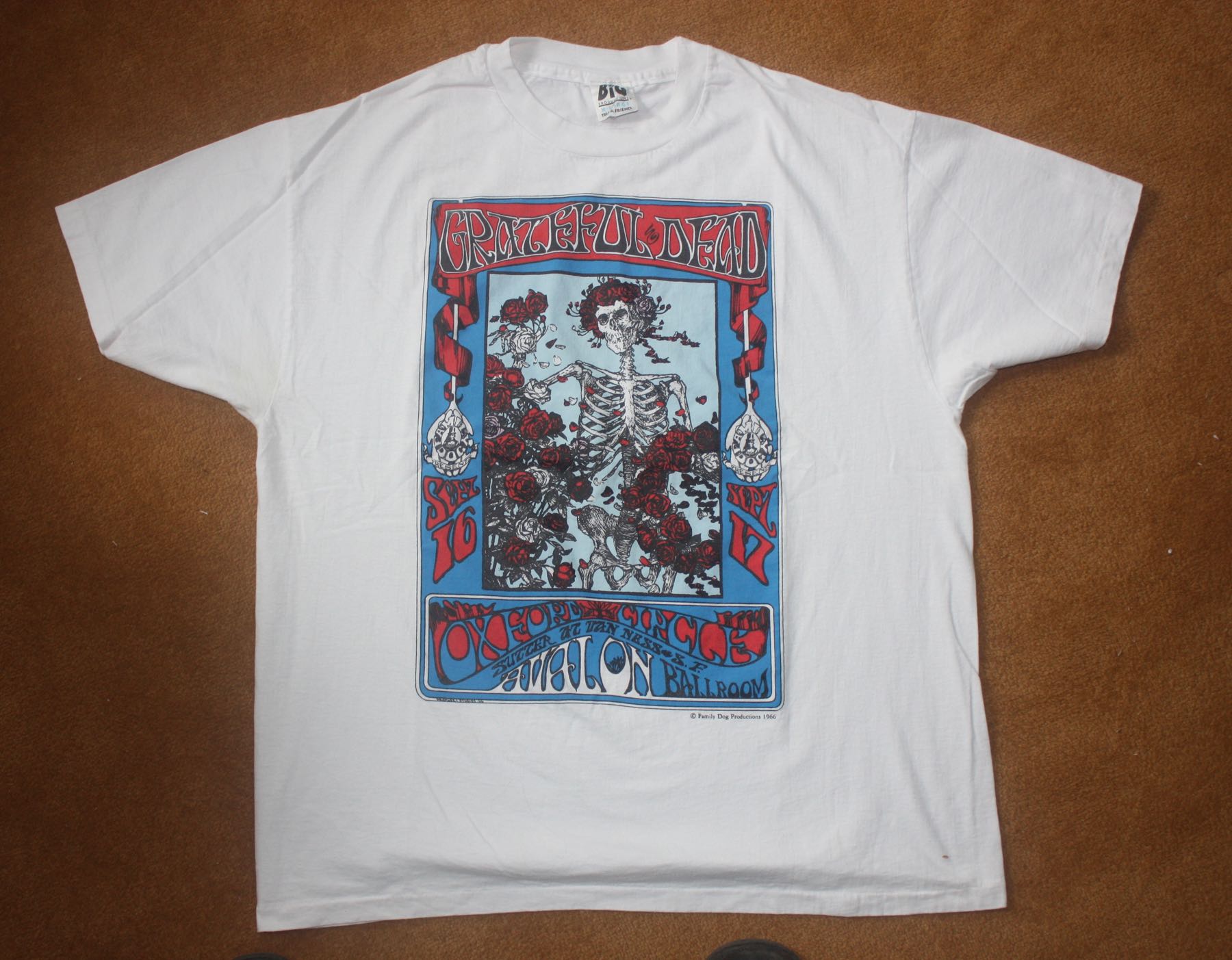 Music and band t-shirts don't interest me, but only the blind can ignore their appeal.  While I work the t-shirt racks at thrift stores, fast-moving scavengers buzz past me in frantic hunts for concert tees, tour tees, or tees of any kind from the iconic bands of the last 40 years. Rock tees don't go back much further than that.
Vintage rock tees are like magic: put them on the online marketplaces, and they turn into money.  These tees are rare; but leaf through five or ten thousand t-shirts, and you just might find one. If you're lucky.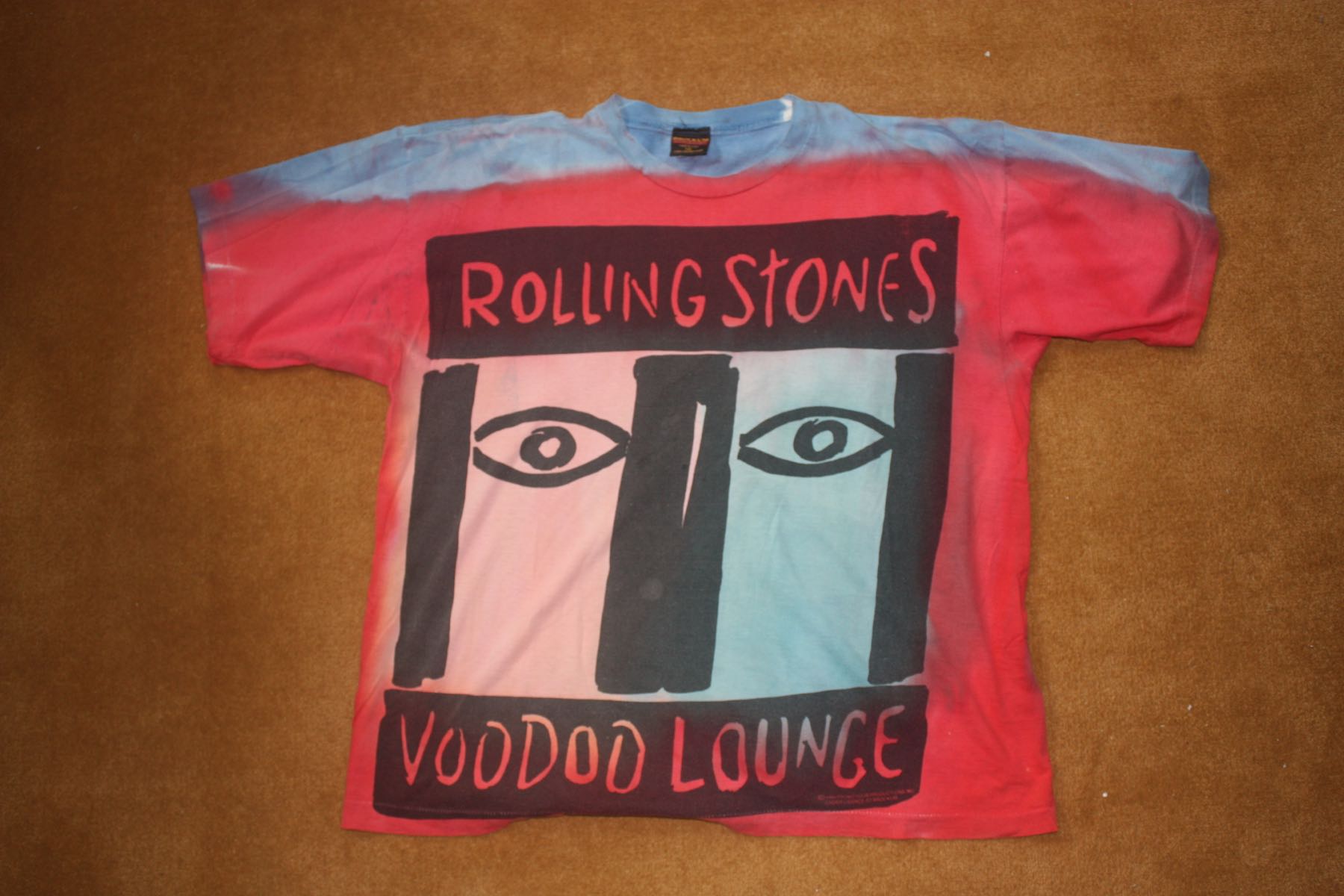 While thrifting this week, I picked up a 1994 Rolling Stones Voodoo Lounge Tour tee just for the hell of it.   It goes for $60 to $100 online — not a gigantic amount, but respectable.  The tee itself is striking; I'm thinking of wearing it around just for fun.  That's what tees are for, right?
Of all the vintage music t-shirts out there, Grateful Dead tees are a no-brainer for hungry t-shirt dealers.  They're very, very sought after.  I'm speaking of the tour tees put out by the band itself, that is.  They can go for several hundred.
After Jerry Garcia died in '95 and the Dead disbanded, there were no more tours.  And no more tour tees. Though there were plenty of Deadheads who still wanted them. Prices rose, scarcity grew.  I have never spotted a single one at the thrifts.  Ever.  Too much competition, even if I was in that game.
The Dead-themed tee you see at the top of this article is not an official Grateful Dead product.  It's a fan-made bootleg shirt.  Not a copy of an existing tee, but something thrown together out of existing Dead graphics.
It was probably sold in the parking lot outside a Dead concert by some Deadhead who'd printed up a stack to sel. Maybe he was just making  expenses for this particular trip; or maybe, making a living  while following the Dead on tour.  Anything. These things was pretty common in the 80s or early '90s, when this shirt was made.
And it didn't bother the Dead at all;  people had to live, that was their philosophy. The tee may not be "real," but it is of its time and place. It has a story. So I may keep it in the collection even while dripping burrito grease on the Voodoo Lounge.
The Grateful Dead are gone now, dissolved; and yet they're aren't.
Consider the sea star: cut certain species into several pieces, and eventually you end up with several complete sea stars.  That's just about what happened.
Over the years, former members of the Grateful Dead have formed new bands, dissolved them, and formed yet more bands: The Other Ones, Furthur, 7 Walkers, Ratdog, Dead and Company, and on and on.  The loyal Deadheads keep showing up.  And there are t-shirts that I can find from time to time.
Each band has one or two of the original Dead,  plus other musicians from the same genre and some guy who can play like Jerry.  They play the Dead's old songbook, bring in new music that they like, and jam and improvise for hours just like the old days at the Greek Theater.
And other bands have appeared that play like the Dead, and back former members of the Dead on tour, play at the same music festivals, riff off all the standards and create their own Deadish music. And jam like it was 1989, for hours.
The Spawn of the Dead — Jerry's Kids — won't last forever.  The Deadheads I see around here look a little long in the tooth. There aren't so many new fans to bulk out the ranks, either. I ask the Gen Zs what they think of the Grateful Dead, and they mainly say, "We don't."
So? Everything passes.  The Deadheads and Dead successor bands will live for the now, claim the moment, and keep truckin'.