Most t-shirts out of Hawaii are tourist tees; I pay them no attention when I'm on the hunt for interesting tees.
But I paid attention to this one. If it's even a tourist t-shirt. In a way this t-shirt represents all of Hawaiian culture — more than beaches and waves and palm trees do, anyway.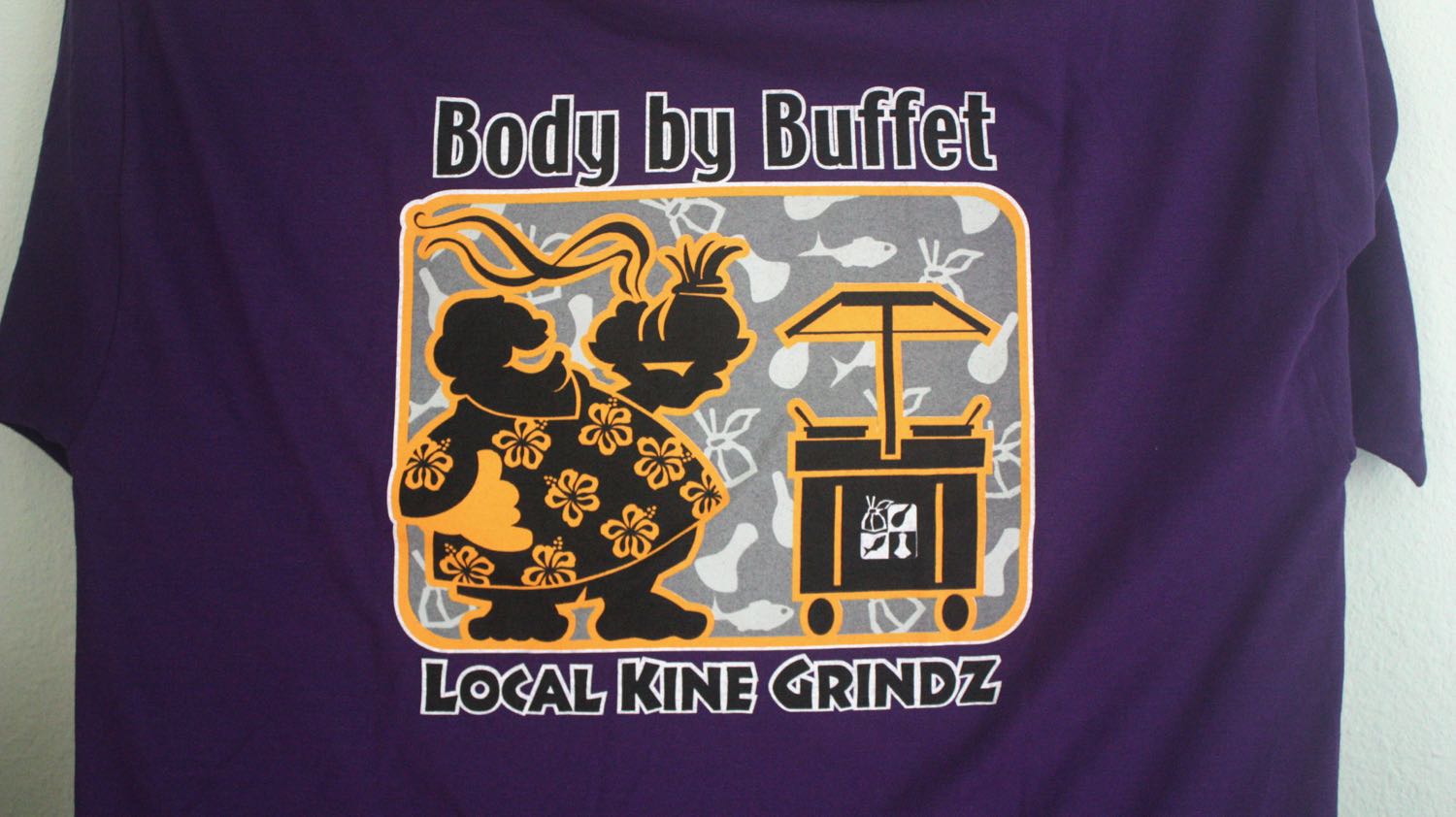 In Hawaiian pidgin, "local kine grindz" means something like, a wonderful spread of Hawaiian-style dishes.  Hawaii is proud of its food: the cuisines of several different countries came to the islands and merged into something unique.    Hawaiians feel the same way about themselves.
Know the food, know the people.  Know the people, know the food.  Of course, Hawaian food is not a friend of the slender, as the t-shirt implies.  Let's get started.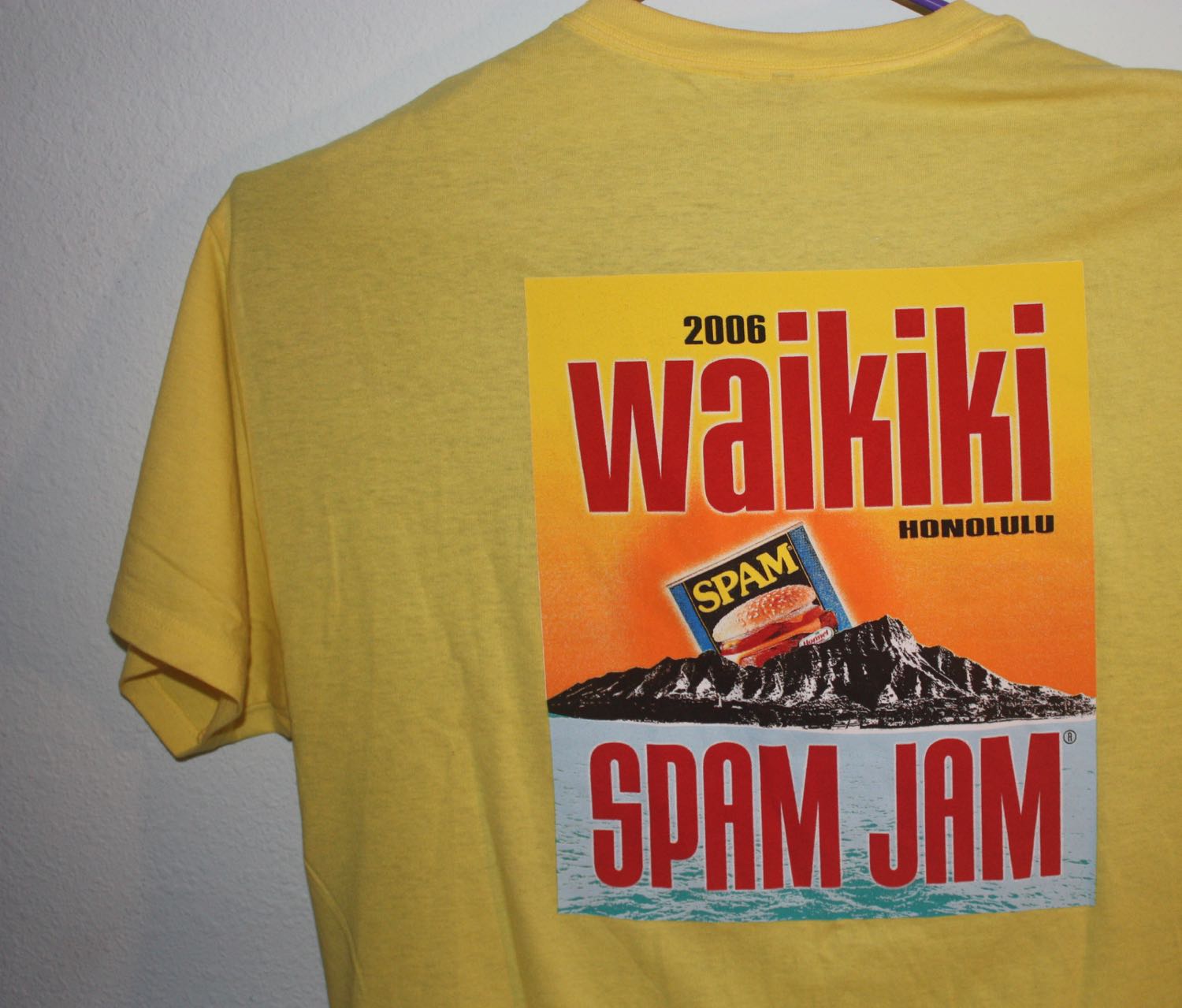 Oh yeah. SPAM! You could probably see that coming. Hawaiians are notable Spam-heads.  They eat more Spam per capita than anybody. So much so that they have an annual festival to Spam: the Waikiki Spam Jam.
To be honest, the Spam Jam is no World's Fair of Canned Pork Products. It's a one-day street fair with three stages of entertainment and sweltering actors dressed like cans of Spam pausing for Panasonic moments with the tourists.
And of course booth after booth of Spam dishes from local restaurants: candied Spam, Spam French Toast, kimchi and Spam, Spam fried rice, Spam tacos, Spam musubi, and on and on and on.  The Spam Jam drew 40,000 people this year. In one day. Spam is big.
Spam came to Hawaii with the military for World War 2.  It was cheaper than all other meats, it was portable, it didn't need refrigeration, and you could do about anything with it.  And the military wouldn't let the locals go fishing during the war, so… Spam it was, and Spam it still is.  Spam and eggs and white rice for breakfast are the Hawaiian ideal, maybe even with special Hawaii-only Teriyaki-flavored and Portuguese-sausage-flavored Spam.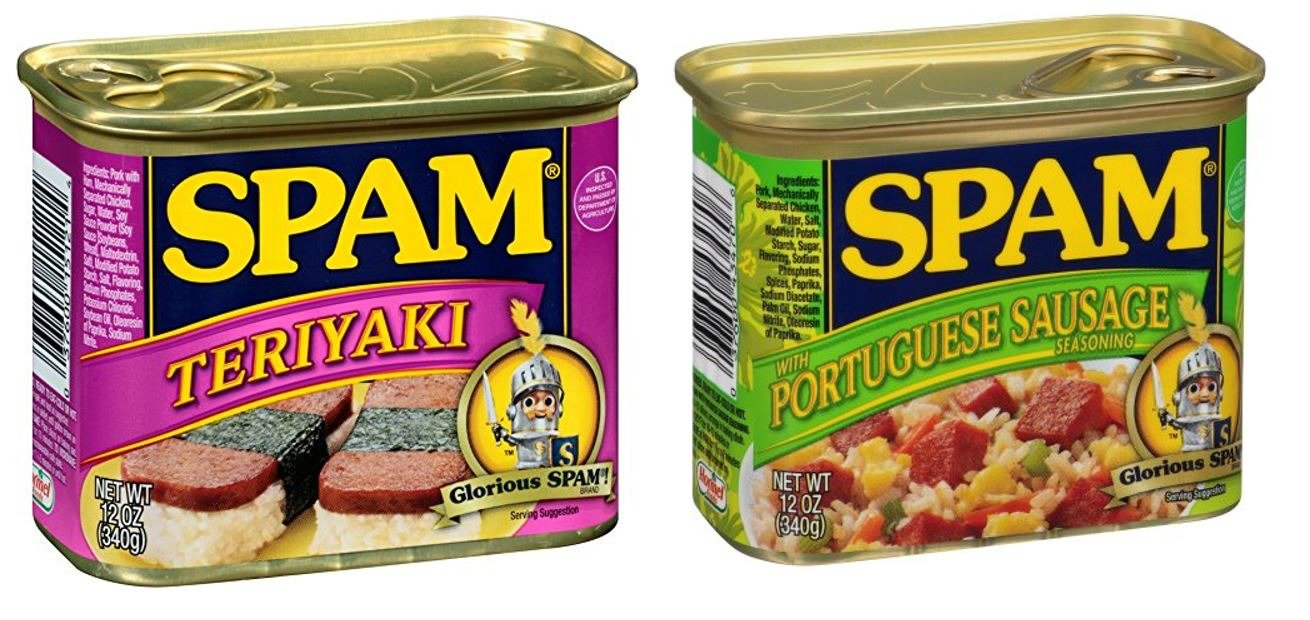 Like everything else, Spam got processed through all the cultures that came here: Japanese, Chinese, Philipino, Portuguese, American, and more.
The Japanese brought the Hawaiian plate lunch, by way of the Bento box: any kind of meat — teriyaki beef or chicken, Philipino pork adobo (maybe with pineapple), Spam of course, and more — with two scoops of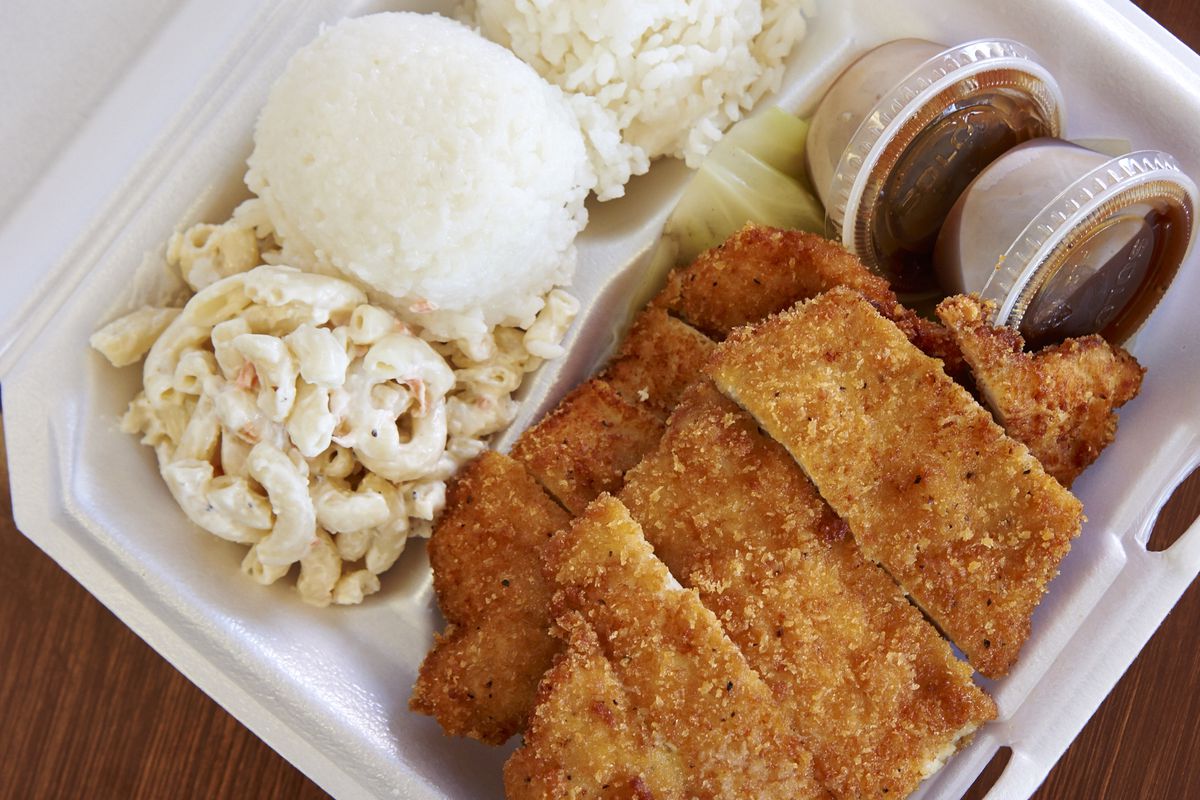 white rice with a gooey scoop of macaroni salad on the side. It's what Hawaii eats at midday
And there is also real linguica sausage at breakfast  and lunch — a fine substitue for Spam — from the Portuguese, who also brought malasadas, the Hawaiian donut. They also brought masa sovada, the Portuguese sweet bread that became known as Hawaiian bread. And From Japan and China came fried shrimp and chicken katsu, stir fry (yes, sometimes with Spam), and on and on.
In Hawaii, McDonald's and Burger King offer Spam dishes along with their usual menu.  They have to, to get the locals' business.
I'm personally a big fan of the loco moco, sort of a plate lunch in bowl form, with a hamburger patty and egg (or Spam or linguica or fish) on top of the white rice, and brown gravy over all.  It was invented by Hawaiian high school kids in the '50s, and you can get it over here now. Along with Spam musubi.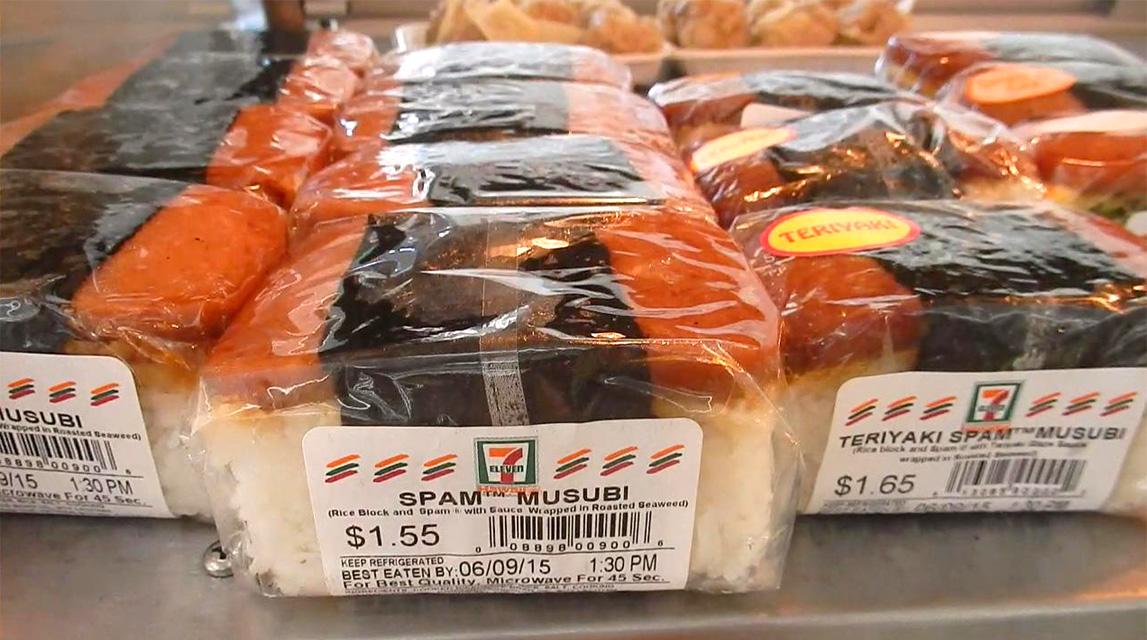 And indeed let us not forget musubi, the Hawaiian national snack: a slice of grilled Spam atop a bed of rice, wrapped in nori (a type of seaweed). Spam musubi in Hawaii  is a mutated Japanese rice ball dish, and you can buy it in convenience stores anywhere. It's locals' food all the way. Musubi defines "local."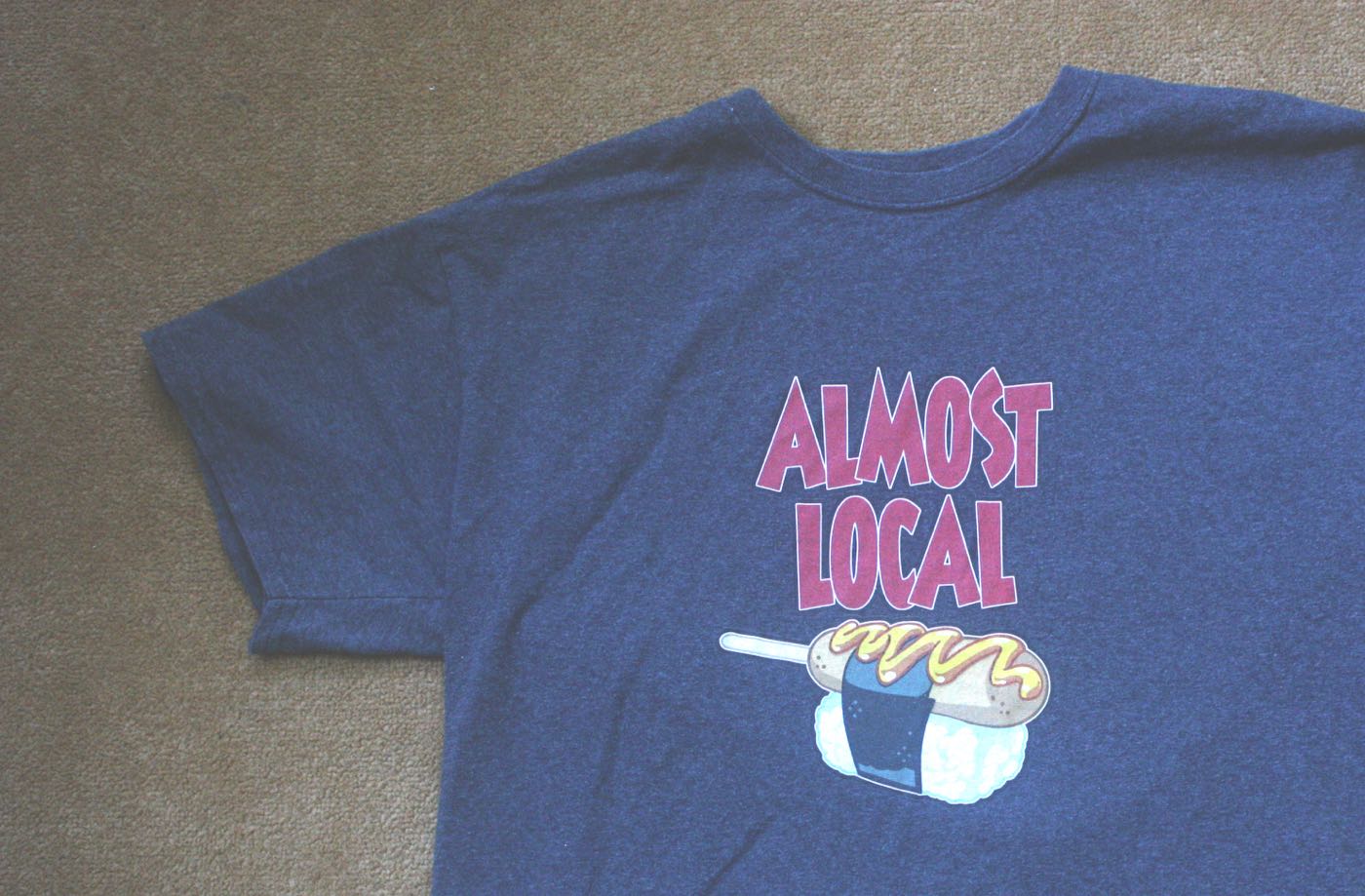 So much so that when not-quite-local radio personality/comedian/musician Fernando "The Love Machine" Pacheco floated his own comedy sketch show on Honolulu cable, he called it "Almost Local."  With a picture of a musubi roll made with a corn dog instead of Spam.  Almost local.   Not quite.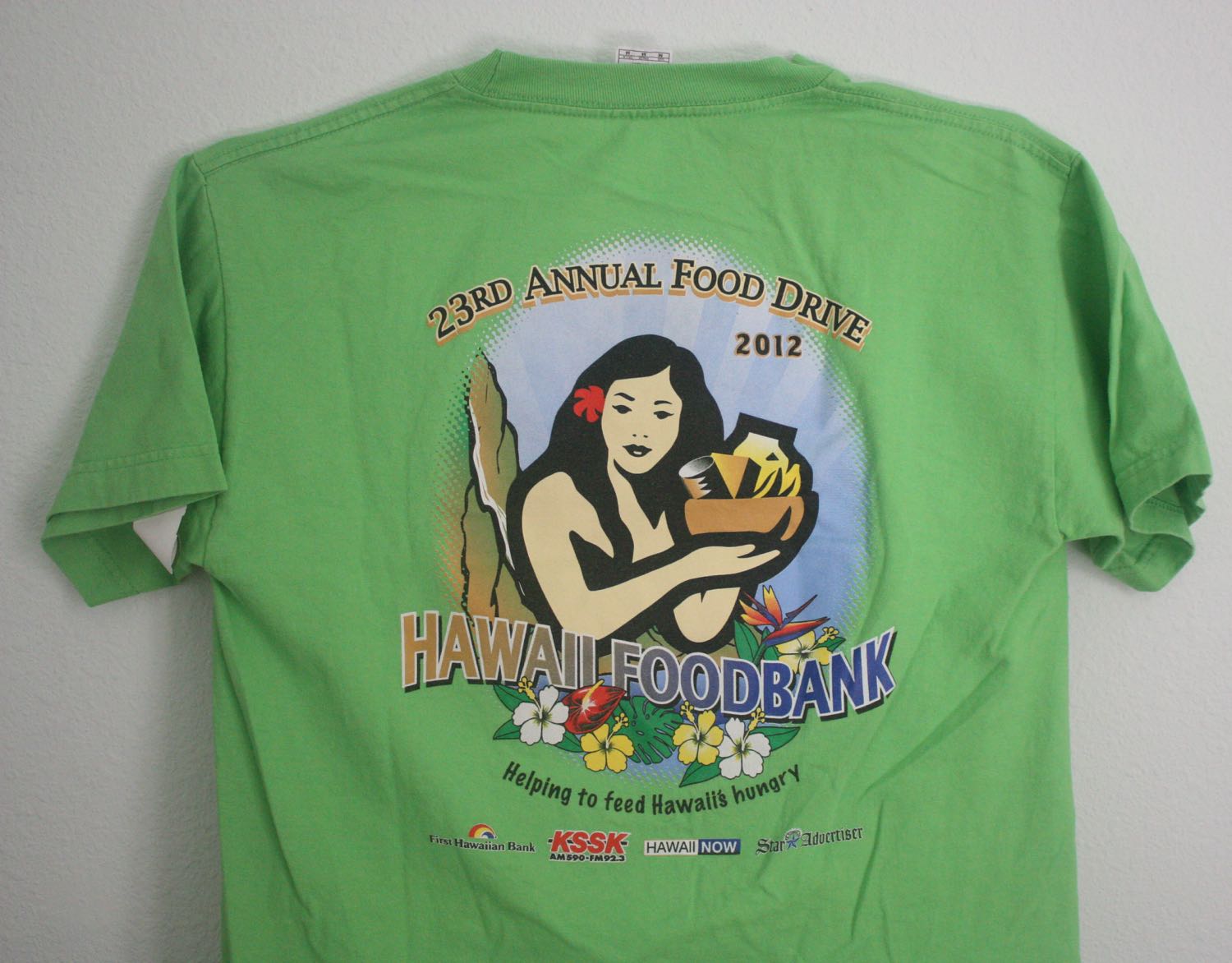 Another thing about food in Hawaii: not everybody gets enough.  Living is expensive here, and a great many residents of Paradise, especially seniors and children, go to sleep with an empty belly.
The Hawaii Food Bank does what it can, and indeed Hawaiians are generous in their donations: there is the Hawaiian tradition of ohana, or family.  Of course the proceeds of the Spam Jam all go to charity, with over a quarter of a million dollars donated to the food bank over the years.  You can even buy cans of Spam there and hand them off to food bank volunteers.
Know the food, know Hawaii.  But Hawaii is a tourist mecca, too. What about food in Hawaii that isn't really for Hawaiians?  Here's a t-shirt, and a success story, and also a cautionary tale.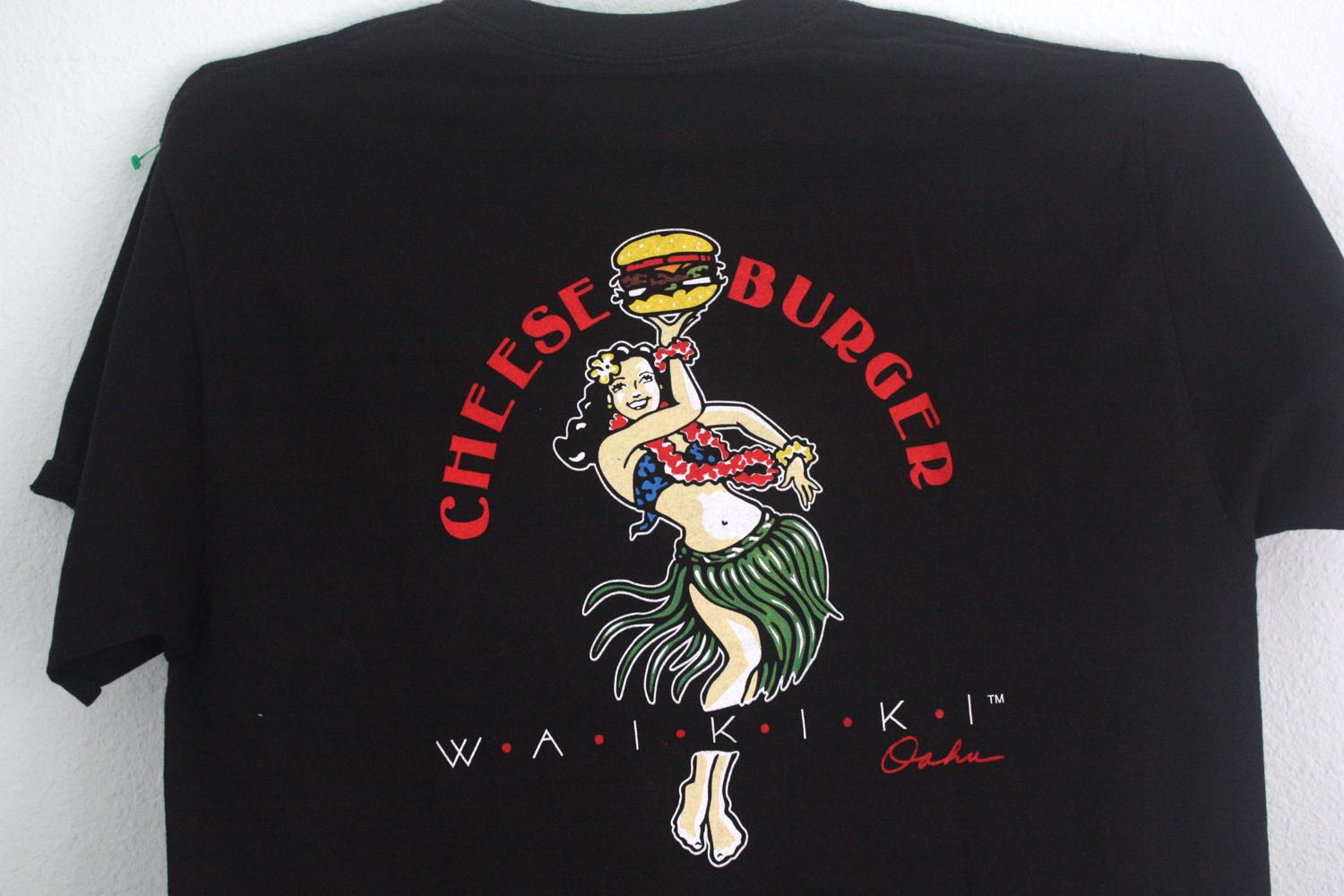 Back in the '80s, a couple of women from Los Angeles took a break from their picture framing business at the LA Flea Market and flew to Maui for a vacation.  They loved Maui, every minute of it.  And they would have loved to live there in Paradise.  What they didn't love, after a few weeks, was the diet of fish and vegetables that was largely all that they could get.  And one of them said, "What I wouldn't give for a good gooey cheeseburger right now…" A couple of light bulbs began to glow.
So they went home, raised money, came back and with no experience opened "Cheeseburger in Paradise" on the waterfront in Lahaina with prime beef imported from California.  It was an instant smash. Tourists lined up out the door; they grossed millions of dollars even the first year.  And then they built another "Cheeseburger in Paradise" in another tourist location, and another, and then…
…then came Jimmy Buffet.  Who had written the song "Cheeseburger in Paradise," and was fronting a chain of Cheeseburger in Paradise restaurants on the mainland for a big corporation.
The legal battles were long and thunderous, and in the end both sides agreed that only the lawyers really won.  But the partners were allowed to keep the CIP name for their first two restaurants, as long as any new ones were simply called "Cheese Burger."  They built a Cheese Burger empire of restaurants and brewpubs across the Islands, and the tourists flocked to them.  And it was Good.
Eventually they tried to open restaurants back on the mainland: with the signature Cheese Burger, but also with Hawaiian food and a Hawaiian theme.   They didn't work out.  As far as I can tell, their last mainland venture was a Las Vegas Cheese Burger in the Hard Rock Hotel and Casino.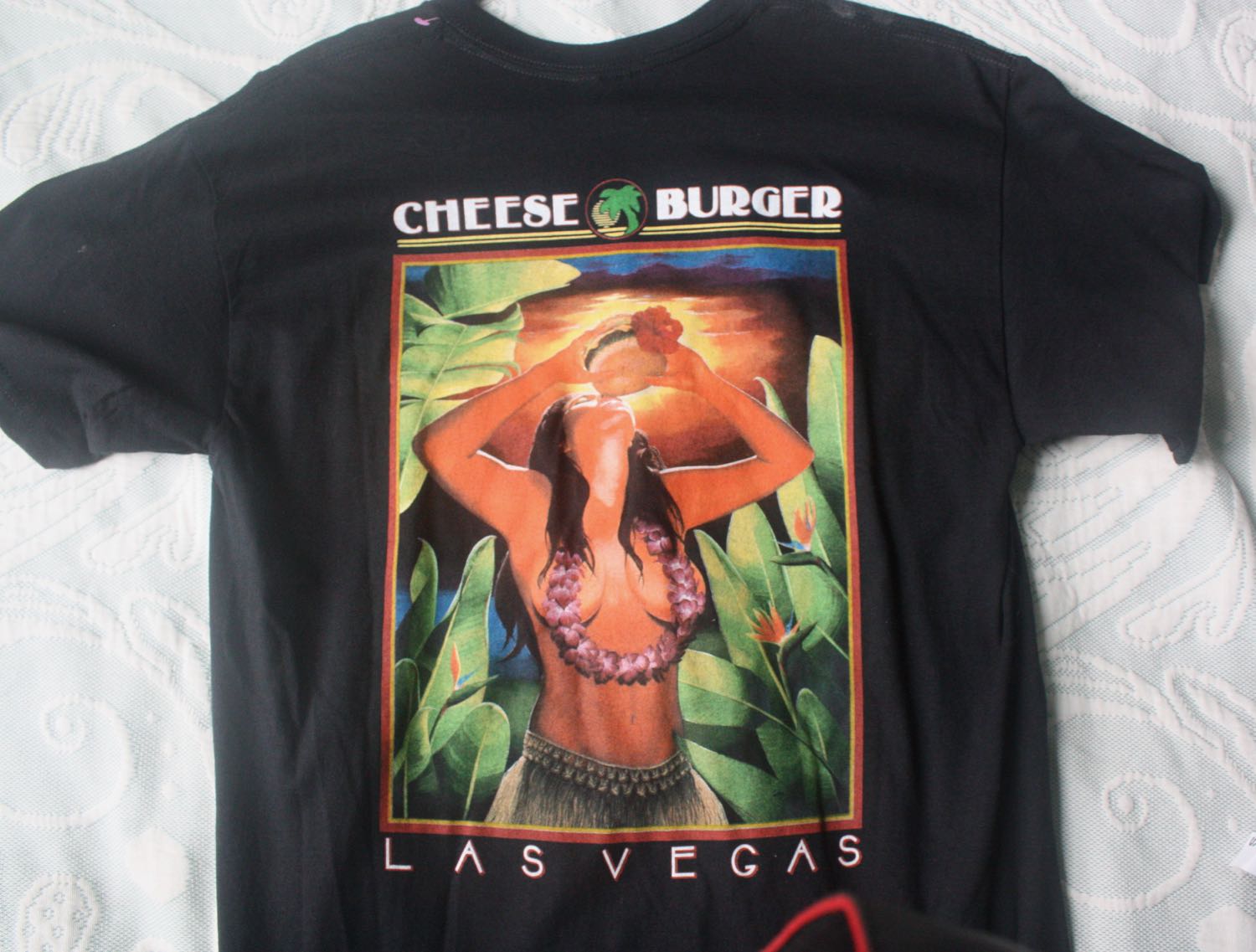 You can bet I snatched that one up off the rack.  It's more Vegas than Lahaina, I think; but boy, is it Vegas.
And yet, even that Cheese Burger branch did close eventually.  And I wonder if this is the reason: that a Cheeseburger in Paradise is a wondrous thing for the weary traveler.  But a Cheeseburger in Vegas?  That's just another cheeseburger.
Meanwhile,"real" Hawaiian restaurants are popping up all over the west coast, including my part of California.  There weren't any Hawaiian joints in town years ago; now there are four, and I can get Spam musubi three blocks from my house, and yes, even a plate lunch with two scoops of rice and the deadly macaroni salad.  And Spam. I'm not going there; but I could.
These restaurants aren't just for tourists; they're for the locals. Our locals.  Not for nothing is this California surf town with great weather  known as "The Easternmost Point in the Hawaiian Islands". And some of our local surfer dudes hold benefits for the hungry, too, just like the Spam Jam.  People go to bed hungry in our local version of Paradise, too.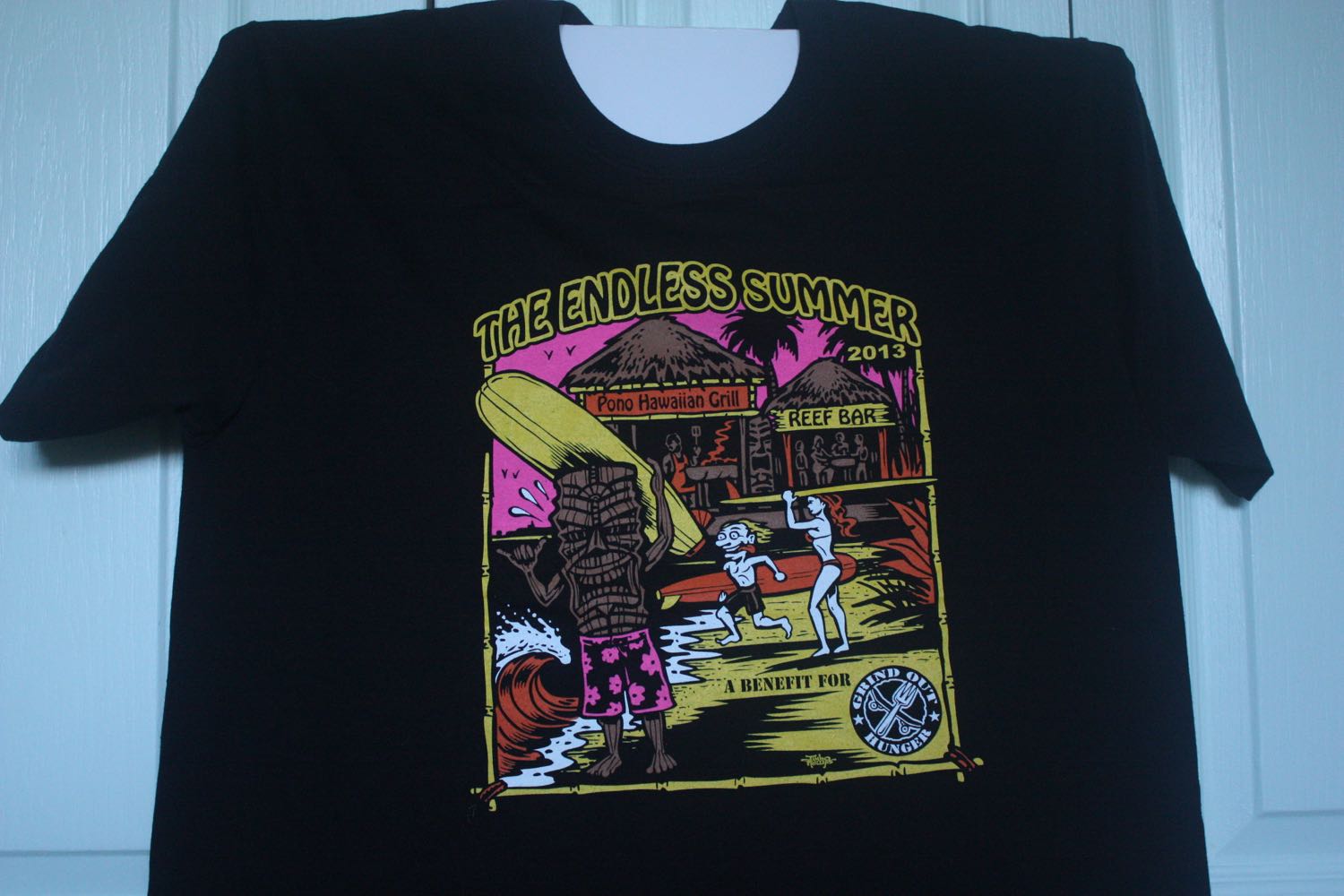 And somewhere beyond the horizon, so far beyond that you can see only a faint glow: vegetarian Spam.   Hormel is dreaming about it. And so the kine grindz marches on, for everyone.