I live in Santa Cruz, California. My fellow Cruzados are educated and well-funded.  It follows that they like to travel.  To Hawaii and Mexico and France and Britain, of course.
But also to the Australian outback, Easter Island, North Korea, Angkor Wat, Dubai, and the World Cheese Dip Championship.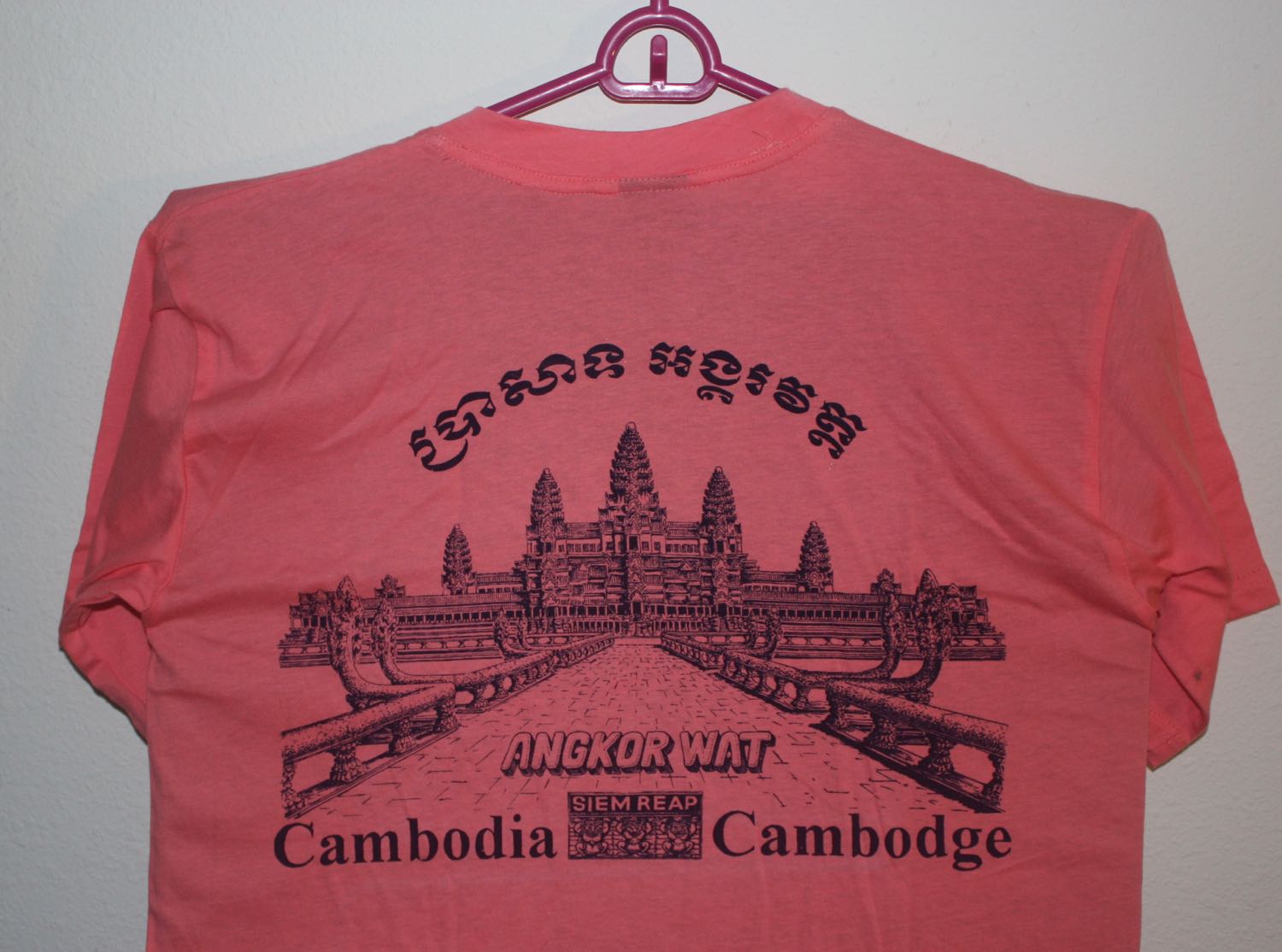 Especially Angkor Wat.  It's a giant, abandoned Buddhist temple complex in the middle of the Cambodian jungle.  Angkor Wat draws Santa Cruzans like flies to rotten tempeh. Many of them buy the souvenir t-shirt.  Many of those tees end up at my local Goodwill.  I could have ten of them if I had the need.  One's enough.
I see it this way: a couple of those Santa Cruzans staggered out of Angkor Wat after a day of wonders viewed under the pulsing white sun. Hot, drenched, and thirsty, they made it back to Siem Reap, the nearby tourist town. And what did they find, but: a Mexican restaurant! In Cambodia! And they couldn't help themselves. They went in.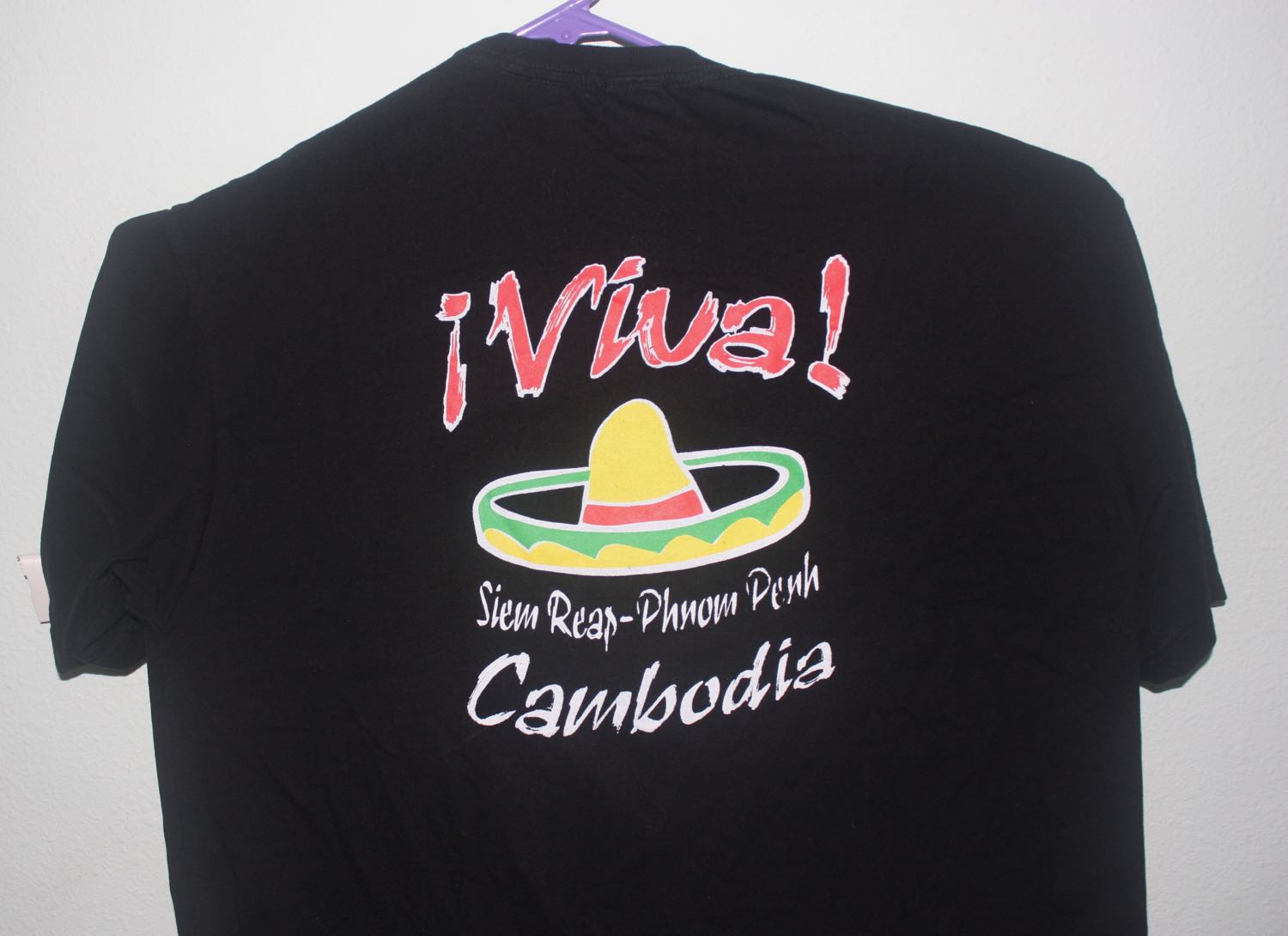 And okay, the enchiladas were a bit bland, and that might have been baked beans in the nachos. Not sure. But the AC was set to arctic blast, and ice-cold Khmer Beer was only 50 cents a glass. A mere buck and a half bought a frozen margarita.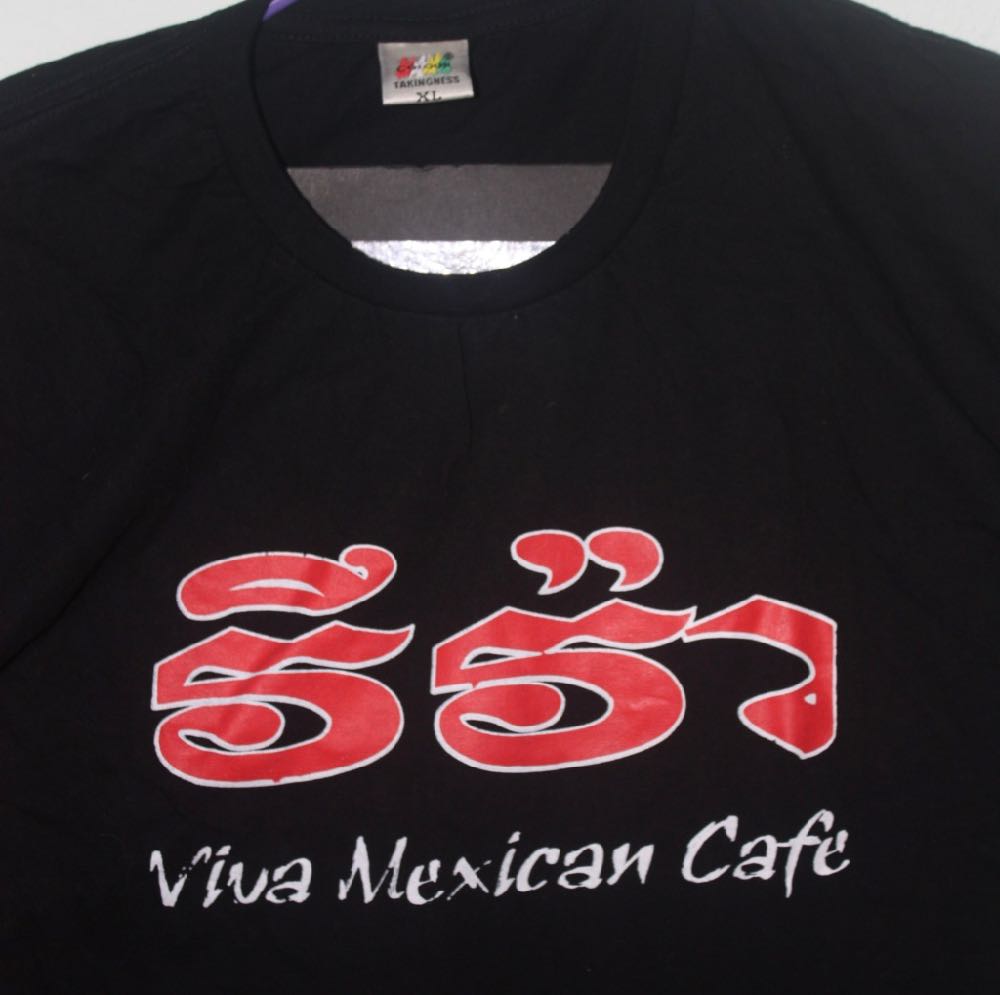 So the Cruzados dined and caroused and purchased the restaurant t-shirt, which eventually passed to me through Goodwill. To prove to their friends that there was Mexican food even in Cambodia.
Sure there is.  Siem Reap is lousy with Mexican restaurants.  There's a Siem Reap Top Ten Mexican Restaurant page on the 'net.  Phnom Penh has even more.  It's hard to be taco-less in metro Cambodia.  Or really, any metro area anywhere. Here, Cambodia, Thailand, Canada, New Delhi, Iceland, South Africa, North Africa, Japan, China.
Mexican food is everywhere because first, it's good, and second, we took it everywhere: we Americans.  Mexican food has become American food; and although many schools of Mexican food exist, middle-of-the-road American Mexican Restaurant/taqueria fare  is world-wide now.
And it's ours. And we want it wherever we go.  Including the margaritas. And other peoples have grown to love it, too. Although sometimes I wonder: mainly the margaritas?
Which brings me to Senor Paco's, perhaps the most popular Mexican Restaurant in Bahrain, an island kingdom off the coast of Saudi Arabia. Senor Paco's serves, it was once said, the only Mexican food on the Persian Gulf that didn't taste like it was cooked by South Indians.  Even though it was.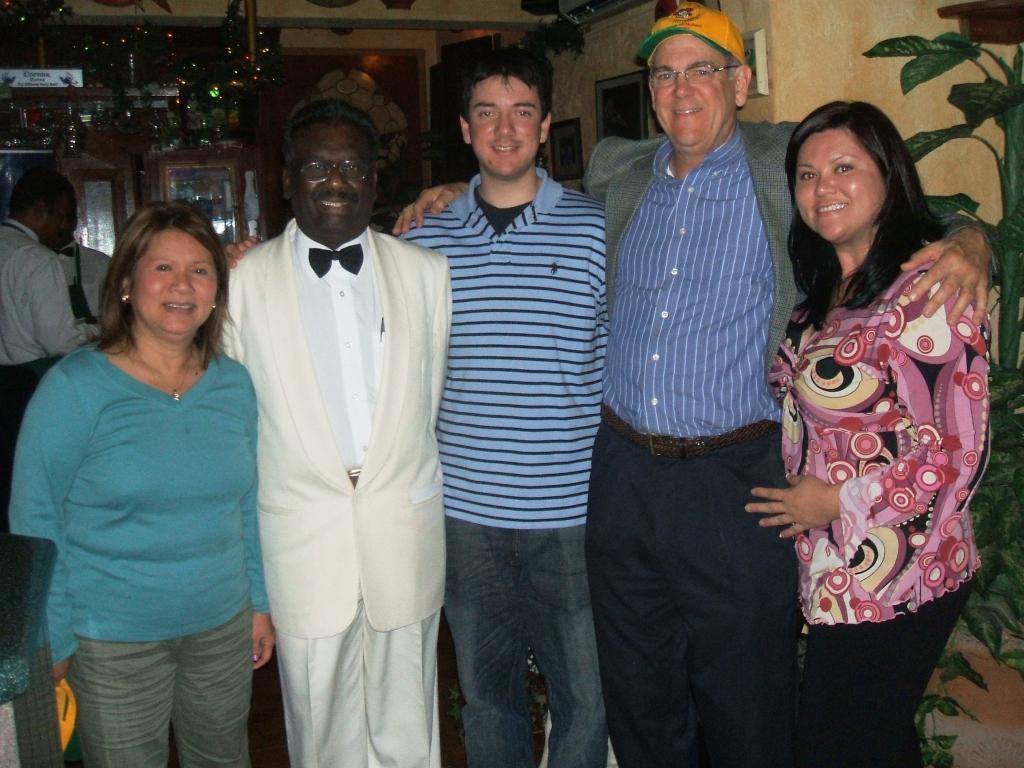 Ah, Senor Paco's, where the band always plays, and the margaritas flow like water and the floor is crowded with expatriate petroleum technocrats from Saudi Aramco and American military from the bases on Bahrain.  George the manager greets you at the door in his white tuxedo, or he used to anyway.  And there's karaoke.
The thing about island Bahrain? It's an autocratic Muslim kingdom, but consumption of alcohol is legal.  And in Saudi Arabia, it is not.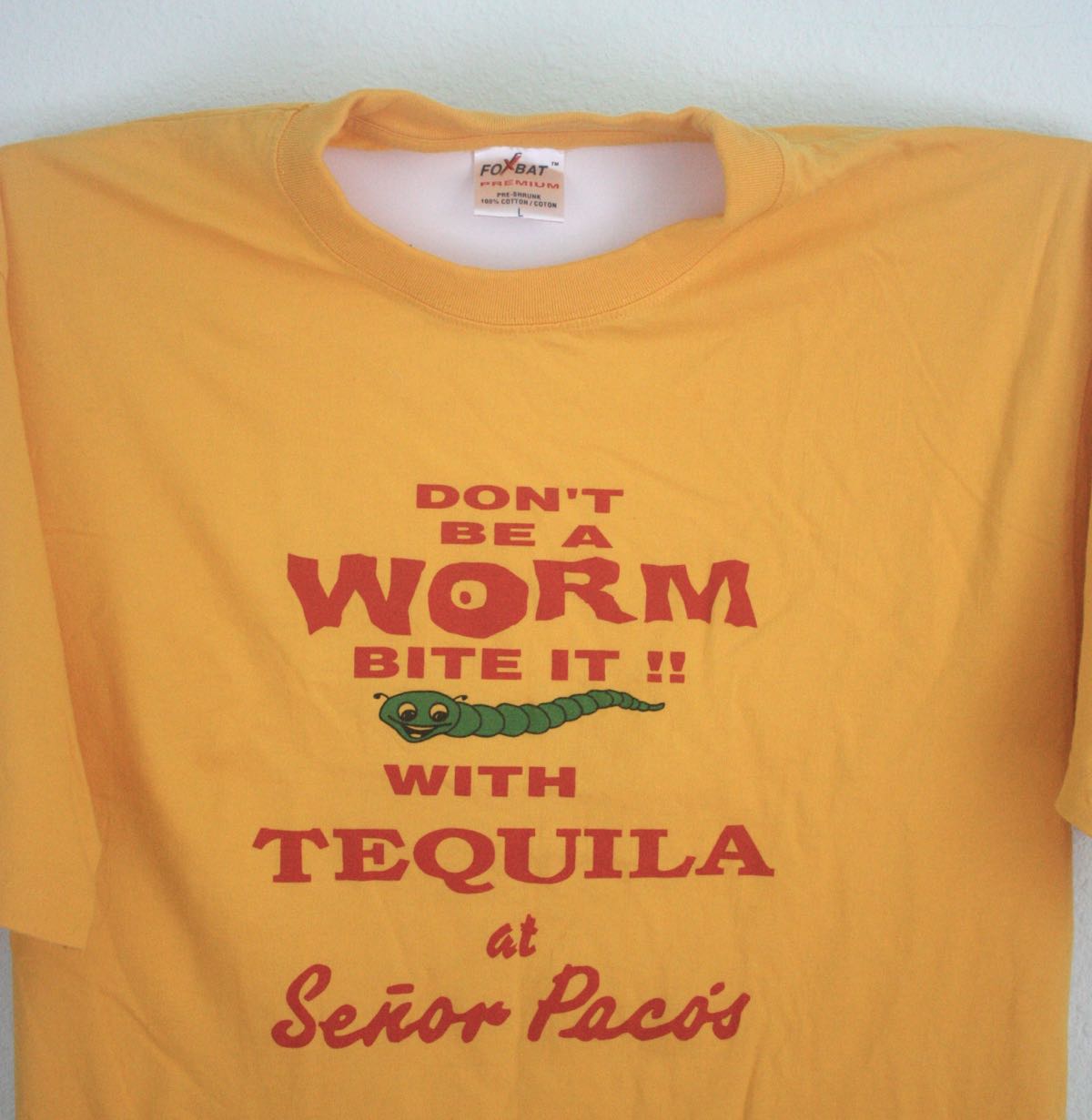 So if you're a thirsty foreigner living and working at Dharan, the Aramco company town, just jump in your car and drive to the island via a 16-mile-long causeway.  The margaritas are waiting.  Let the carousing begin.
I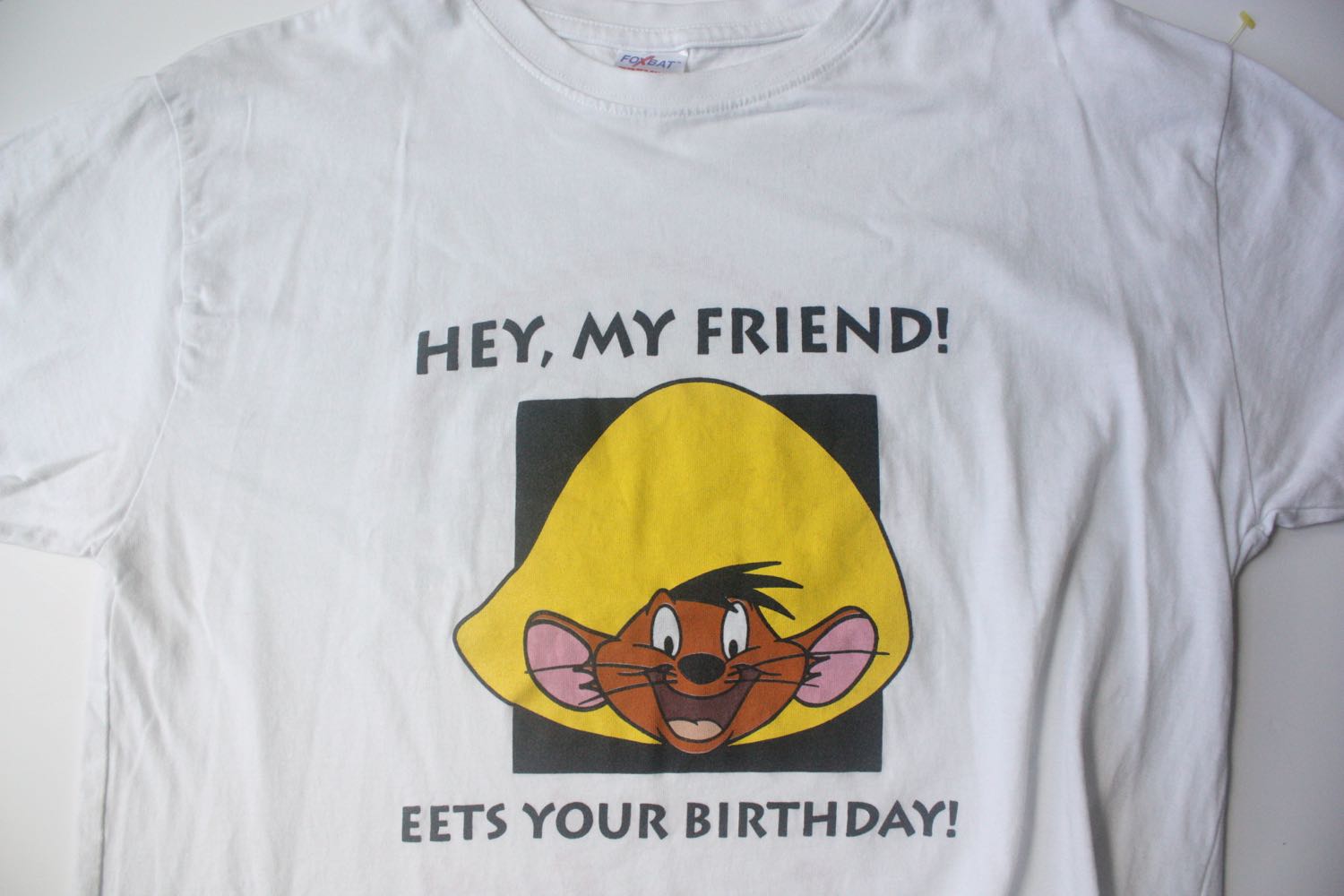 've had a Senor Paco's tee for years; now I have two.  The new one is the tee that they give you when it's your birthday: a little Speedy Gonzalez copyright infringement on one side, and the Senor Paco's logo on the other with an admonition to be sure and "Have Mucho Grreat Beeeg Fun, Amigo!"
Nowhere does it say "Bahrain."  You just have to know.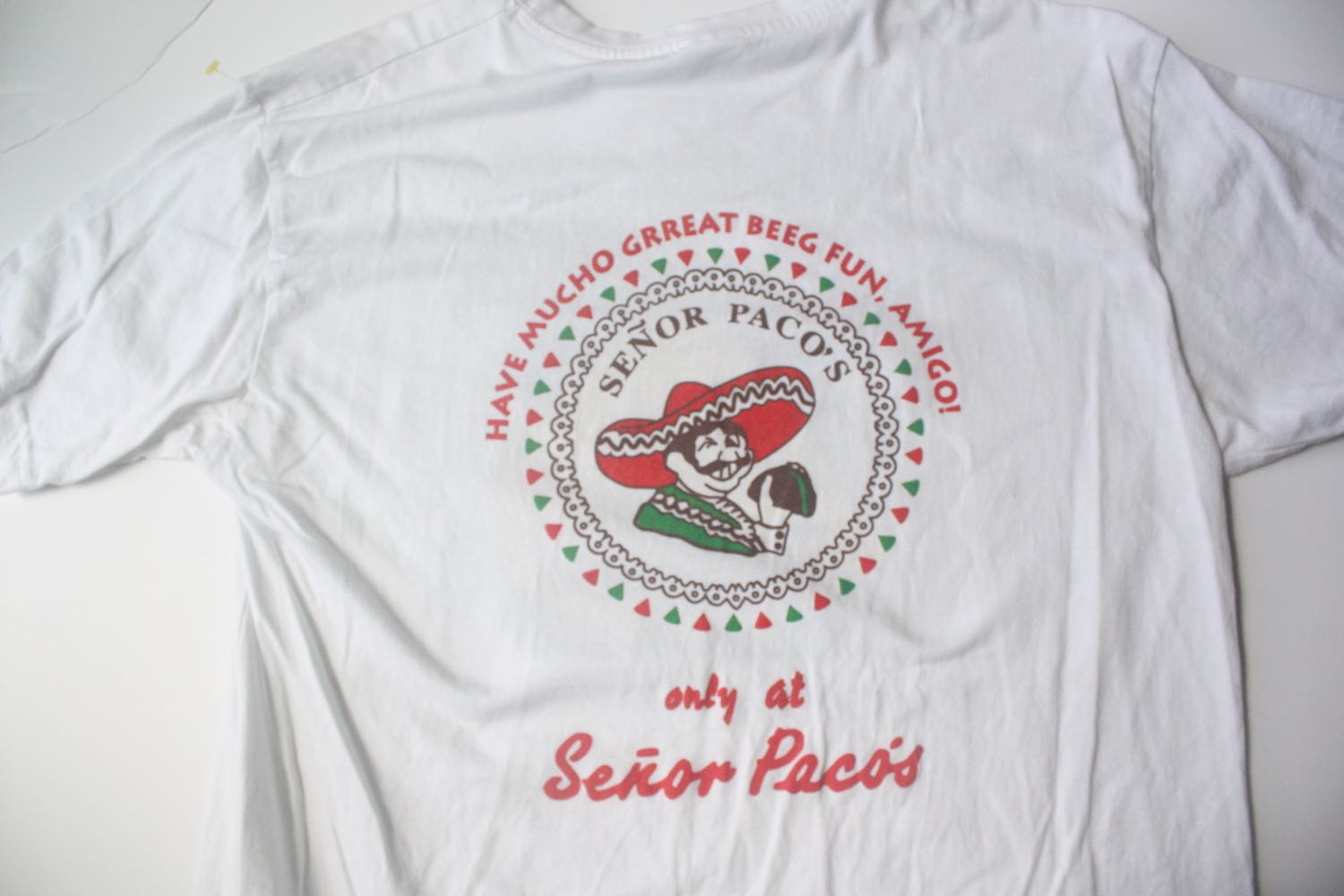 Which means that either two people in this town have been to Senor Paco's — or one person has been there at least twice.  They may even be regulars.  The global economy makes strange bedfellows. As for the food, it's okay.  The margaritas are probably just as big a draw, as are the karaoke and the funny sombreros they give you.
Here's one more tee — from Guzman y Gomez, a Mexican fast-food chain in Australia.  The two gentlemen on the tee may actually exist, but for purposes of this exercise they're merely a marketing concept.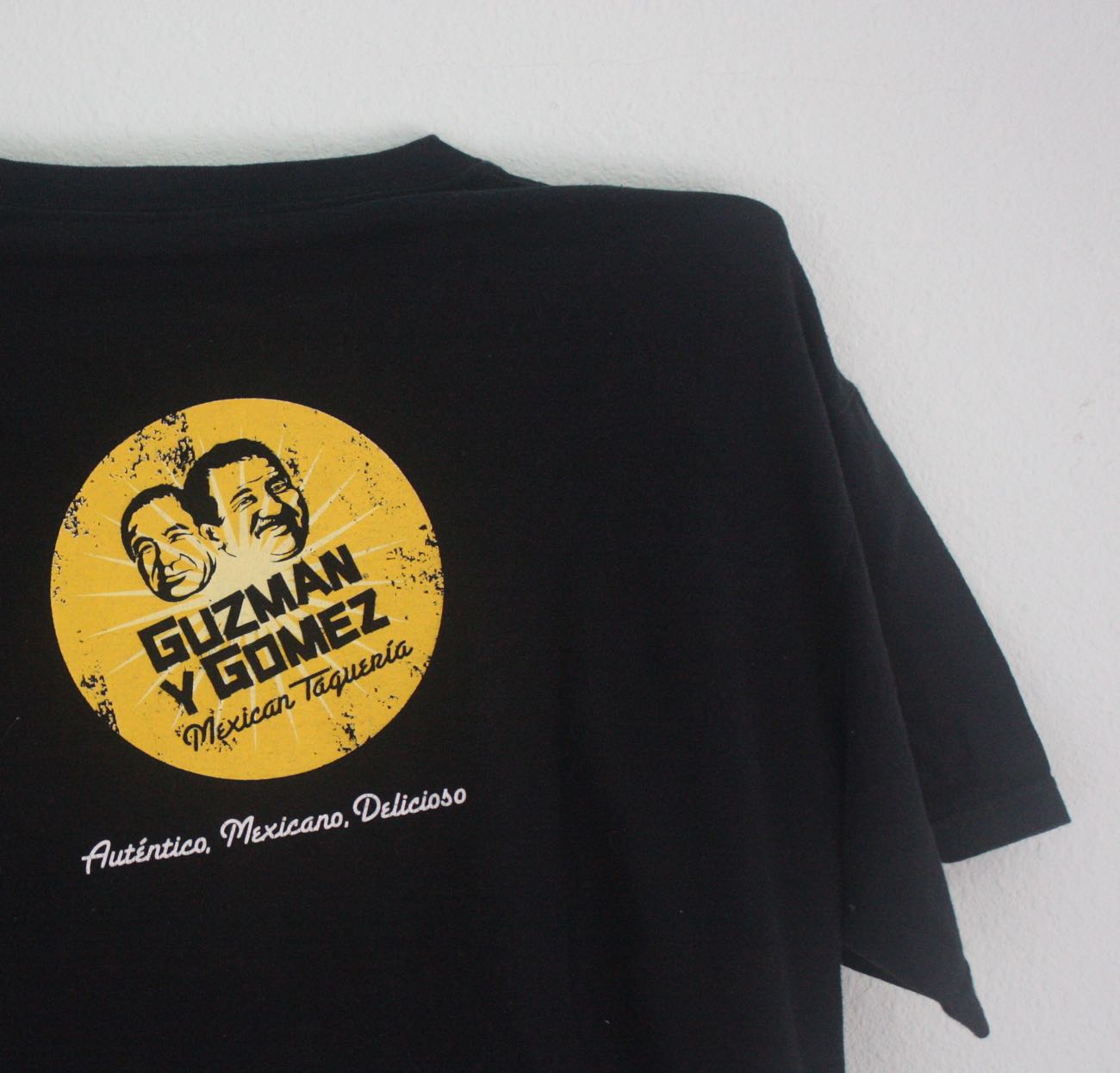 "Guzman AND Gomez," as the Aussies say it, is the brainchild of Steven Marks, a former New York hedge fund manager k who moved to Australia to live.  Motivated by bad Aussie Mexican food, Marks was inspired to build a franchise empire of fast-casual Mexican restaurants — fancy taquerias — all across Australia.
Guzman and Gomez were two Mexican-American childhood friends of Marks  who supposedly imbued in him the passion to build a high-quality taco empire. Or something. Reading too many corporate press releases has bent my brain.
More like, Marks is a Steve Jobs-style minutia-obsessed leader who changed the GyG tortilla chip design sixteen times until he felt he got it exactly right.  His wife divorced him soon after.
Word on the food: pretty good. They do try. But it's conventional,  and overpriced.  What do you expect? The investors want their money!
And because it's corporate, and because it's heavily investor-owned now (an IPO is coming), and because Marks is into Jobsian-style global domination: Guzman y Gomez' expansionary ambitions know no bounds except the Earth's surface.
Five hundred stores are planned for Australia alone; the money's lined up. Stores have already opened in Singapore and Japan.  And the investor cash will pay pay for a Guzman y Gomez invasion of  the Asia-Pacific market, Europe, and even the United States. They plan a Chicago opening for 2019.
A global empire of Aussie Mexican food shimmers in the imagination.  G'day, Senor.