The year 1989 brought Santa Cruz the Loma Prieta earthquake: at 5:04 pm on October 17, just as the crowd at Candlestick Park in San Francisco prepared to sing the National Anthem for Game One of the Trans-Bay World Series between the San Francisco Giants and the Oakland Athletics.
They postponed the series, but it came back ten days later.  In the end, Oakland won it in four.
Santa Cruz took a bit longer to come back. Call it years. The downtown core along Pacific Avenue, built of fireproof 19th century brick buildings, proved anything but earthquake-proof.  Old brick walls cracked like eggs. Even some that seemed intact were fatally damaged; the wrecking ball knocked them down.
And Santa Cruz wasn't the only town to suffer.  San Francisco, Oakland, even our neighbor Watsonville: all took significant damage.
Which is where this here shirt came from: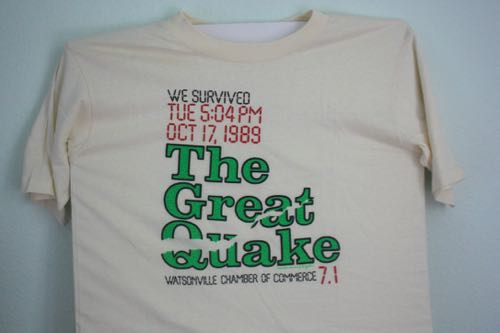 Right after the quake, everybody with silkscreen capability was making earthquake commemorative tees.  The Santa Cruz Sentinel put out the most popular one in these parts: "5:04 PM," it shouted in huge caps.  They were everywhere.  But I haven't seen one in decades.
So, I'm glad to get the Watsonville tee at least. Besides Santa Cruz isn't the center of the universe, after all, and other people had the right to punch the air and metaphorically shout, "We're still here…."
Unlike the workers at the Moss Landing Power Plant.  Their tee says, basically, "Holy Shit."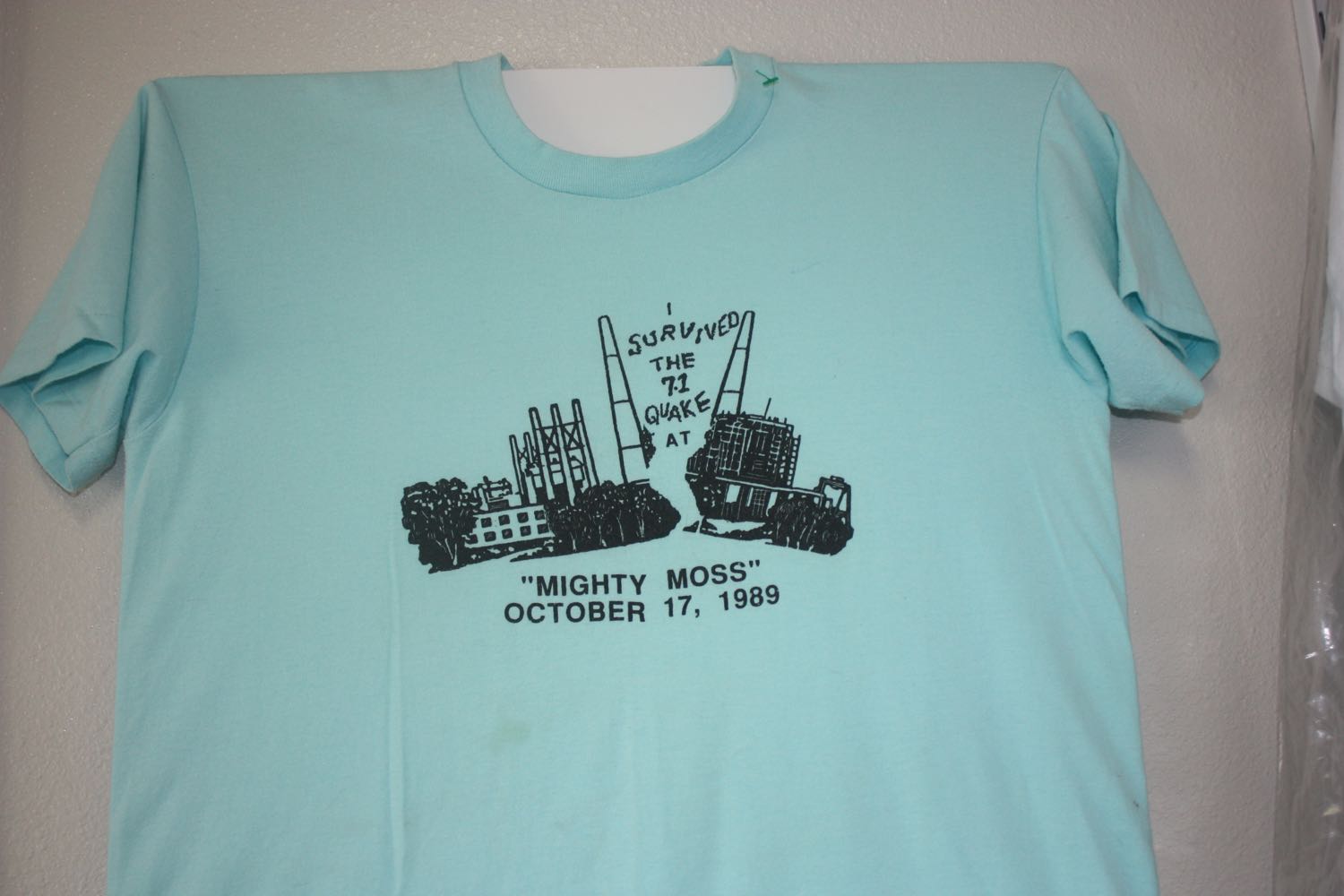 This plant, which at one point powered the entire Monterey Bay Area, sits on the bay's the eastern shore. Its most striking feature is a pair of 500-foot smoke stacks that you can see for ] 20 miles down the coast. But there are also huge generator buildings, high-tension lines, and copious amounts of natural gas fuel under pressure.
When the quake hit Moss Landing, those towering stacks  danced like hula girls.  And the generator buildings shook and the high tension lines snapped like whips while alarms hooted and roared the and the natural gas fuel… didn't blow up. In the end, there was little damage; power was back up in 24 hours.
But it was a scary thing to go through, and remember. Those memories brought out the artist, sort of, in some power plant worker who needed to celebrate survival in his own way: him, and his friends.
So, YAY! for Moss Landing. But downtown Santa Cruz had  collapsed storefronts, blocked streets, temporary wooden sidewalks with roofs, DANGER signs.  All it needed was zombies, but those wouldn't be in style for awhile.
Dozens of displaced businesses needed a place to be. So in a burst of energy, the city and the merchants and the civic groups threw together a plan to house the displaced businesses in seven giant silver fabric shelters like think squashed zeppelins.
These would squat in the abandoned parking lots and the businesses would set up inside and continue to function.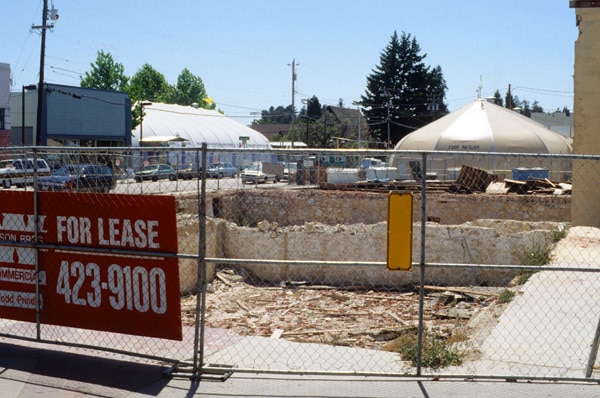 They were desperate, okay?
The union construction workers volunteered to erect all seven shelters in a single weekend. And on one sunny Saturday, several hundred of them showed up to do it.  Each was issued a t-shirt.  I found one of them, 30 years later, at Goodwill.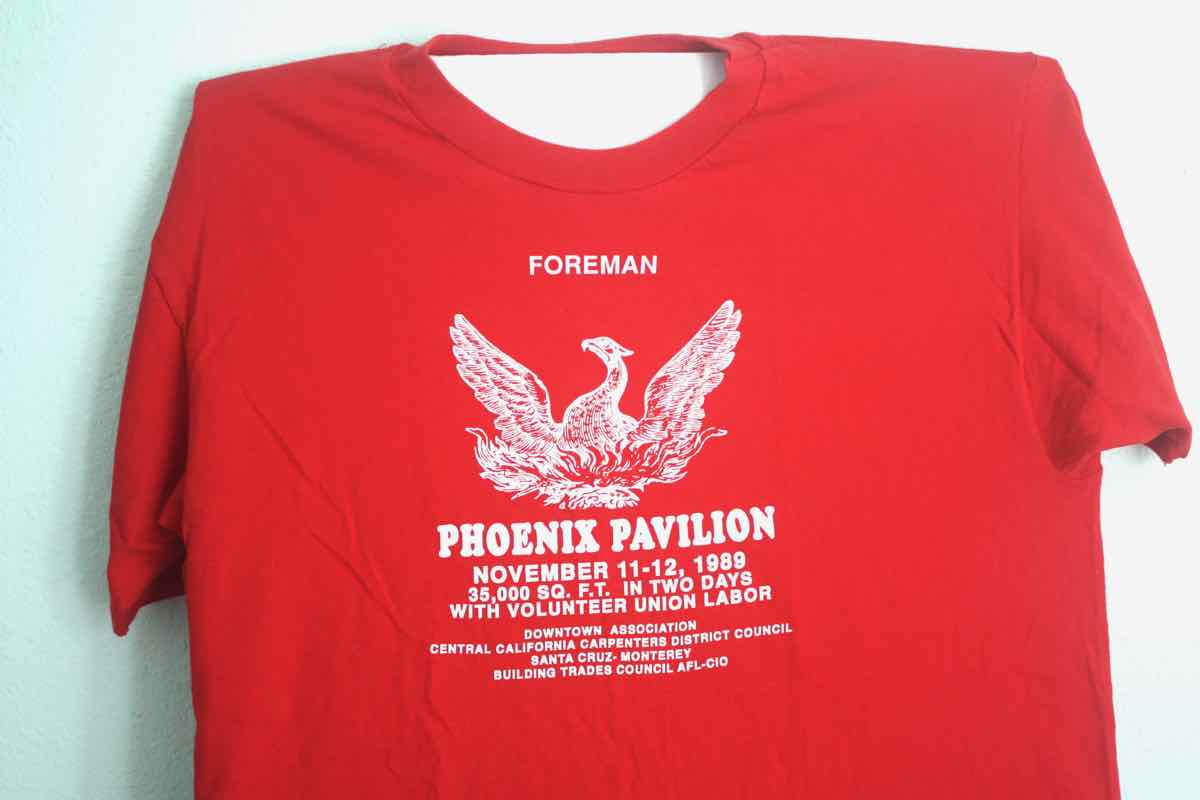 They succeeded: all seven structures went up in two days.  I watched them do it, in white helmets and those red tees.
The Phoenix Pavilions, the city called the shelters.  Everybody else called them The Tents.  The squat, hulking structures were only a limited success, but they kept businesses alive for a couple of years, and gave people a reason to keep coming downtown while rebuilding took place.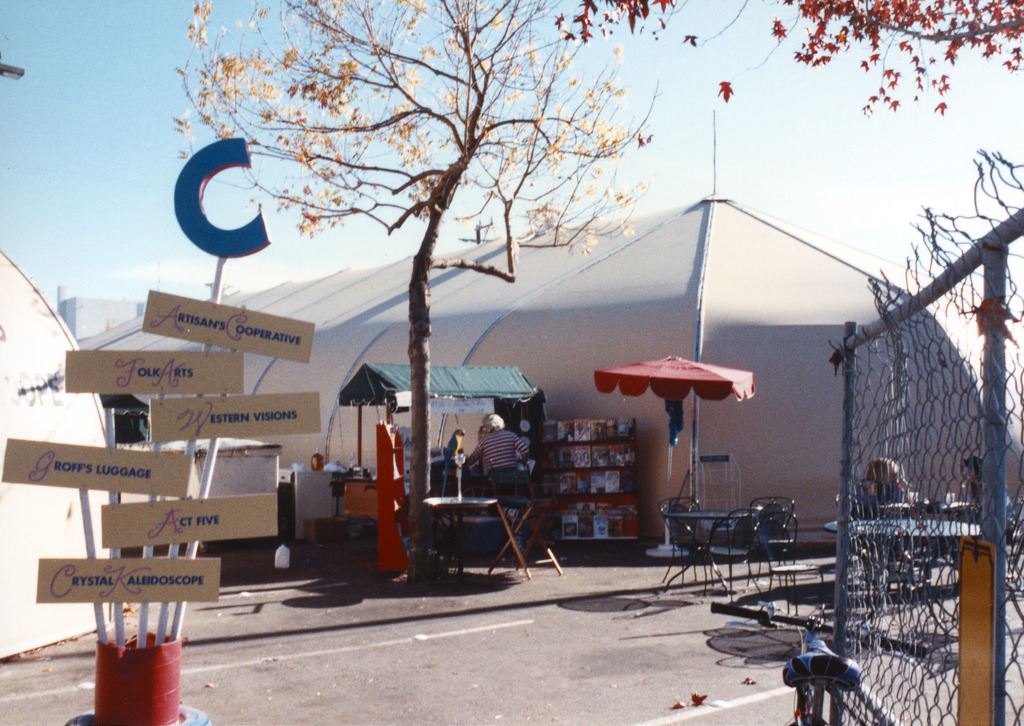 And now few remember them.  But… there's still this shirt…
There's one final quake shirt— commemorating the time that 532 guitarists played "Shake, Rattle, and Roll" simultaneously in the half-deserted ruins of downtown Santa Cruz. Is this a great town, or what?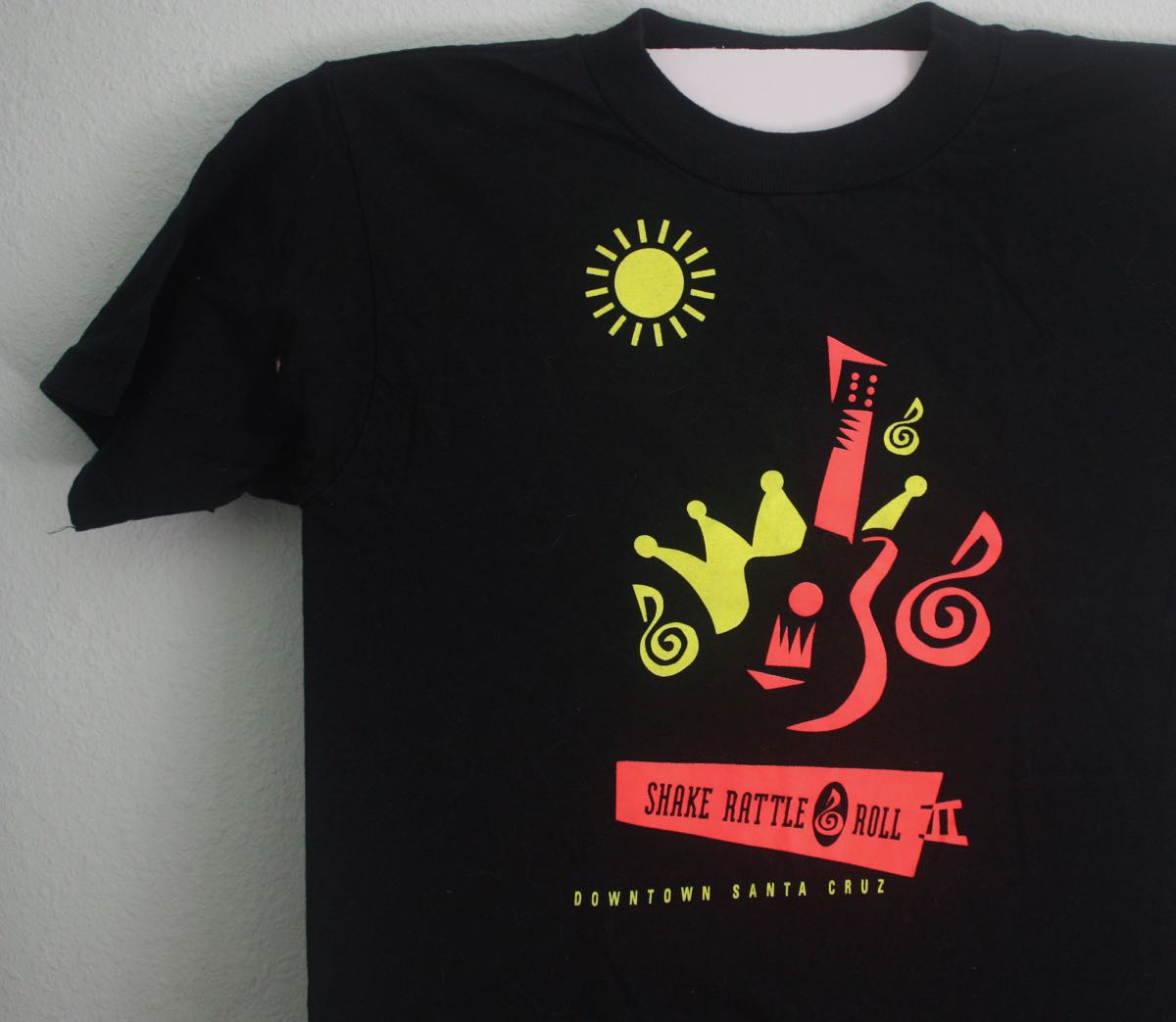 Union Grove Music, a local music store still operating from its building, orchestrated this strange and quixotic attempt to set a Guiness book world record while bringing people downtown. Five hundred and thirty two guitarists showed up and set the record, first time out in 1990.  The proceeds went to earthquake relief.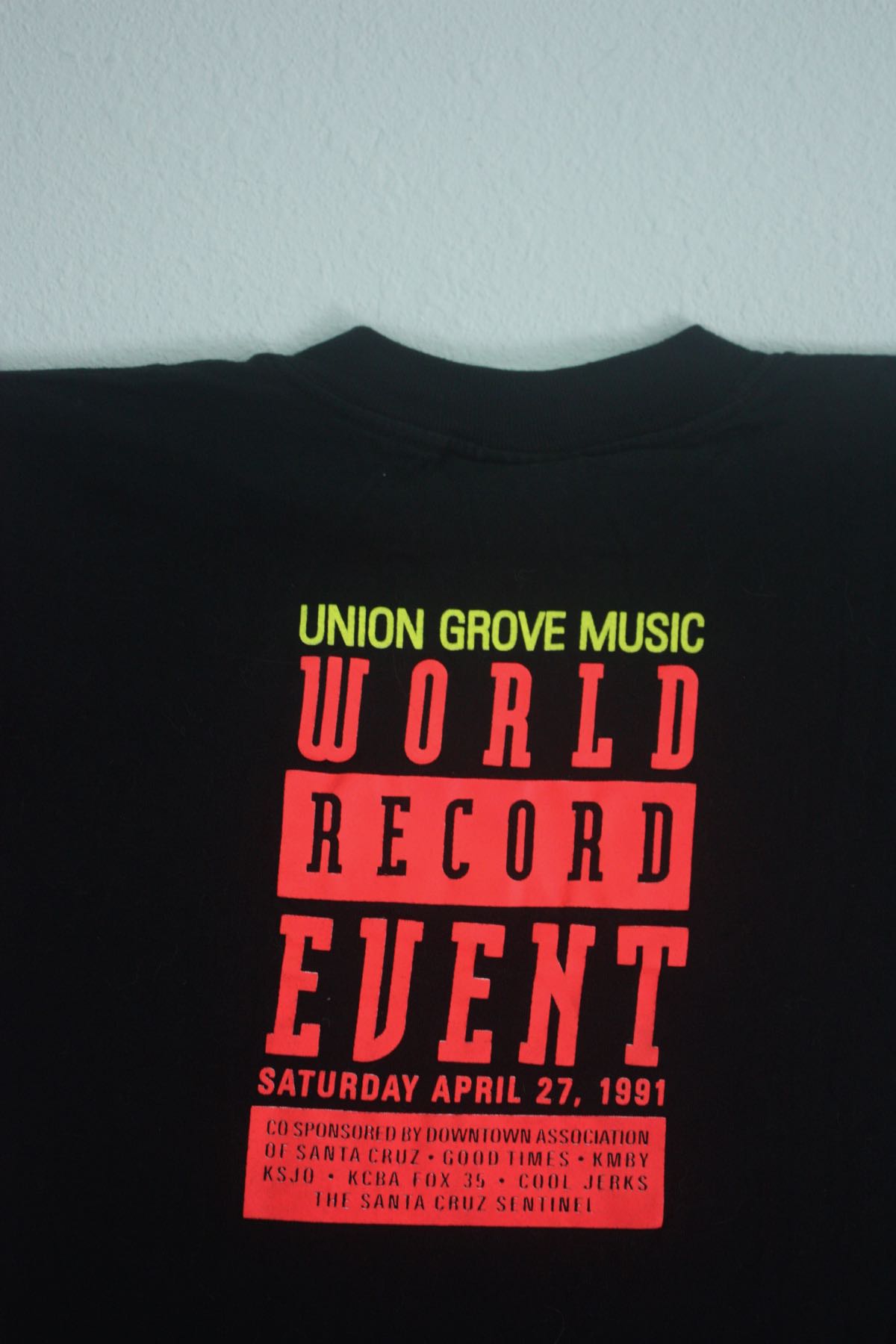 Union Grove staged the event two more times (the tee is from the second try): to raise money and also to regain the world record. It had been quickly snatched away by crazed Ohioans.  Sadly, Santa Cruz never got it back.
Somebody took a video of the original event, and if you want to see it, here it is: Santa Cruz in its flaky, crazy, late-20th-century glory.
I miss that Santa Cruz; the town's much more buttoned down and irritable now.  But at least it left a shirt behind.