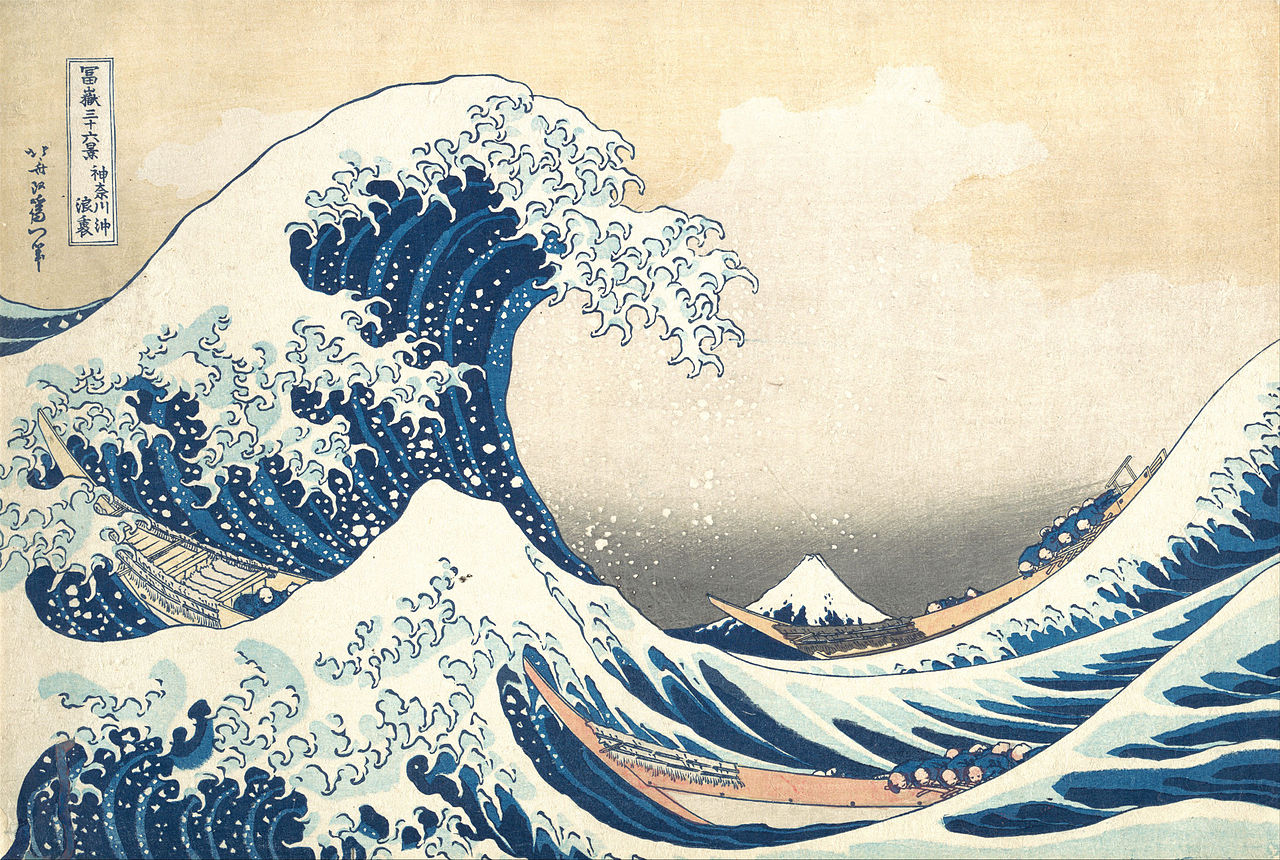 You know about "The Great Wave Off Kanagawa." You may not know that you know. But everybody's seen the image, and almost everybody remembers it. Even if they don't know what it's called, or who created it.
The Great Wave off Kanagawa is a woodblock print by the 19th-century Japanese artist Hokusai. It depicts small boats climbing a huge wave off the Japanese prefecture of Kanagawa, while Mount Fuji lurks in the background. The crinkly, stylized sea foam is hard to forget.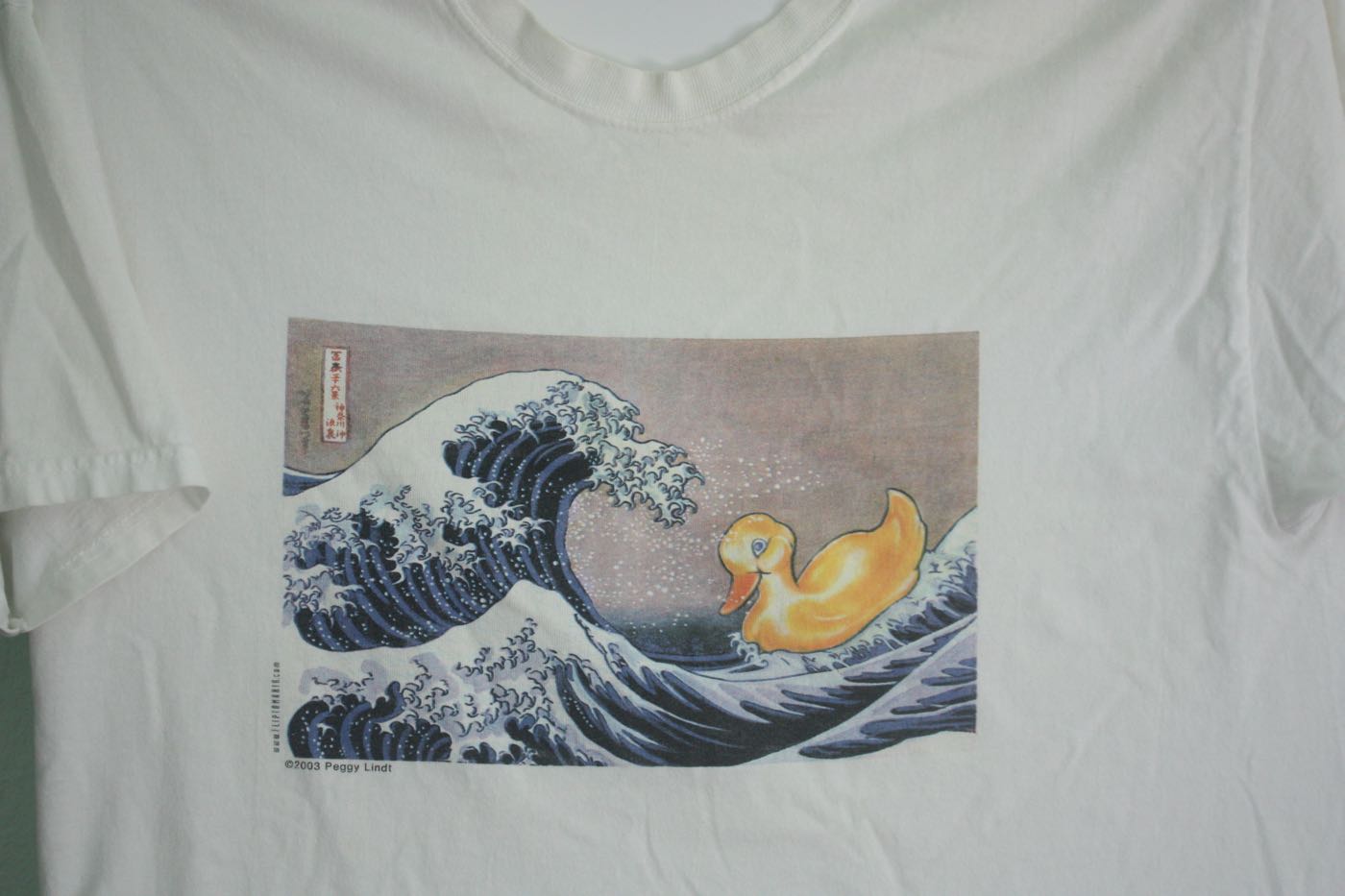 The Great Wave is reprinted constantly in all sorts of media: even on t-shirts, where artists like to use it with certain, um, modifications. Like a rubber ducky. When I saw the tee above, I just had to have it.
The Great Wave can be copied literally, as above, or used as an inspiration. Below, the "surfing bus" on a t-shirt from my local transit district crests an unmistakeable Hokusai wave. Note the Japanese-style "rising sun" in the background.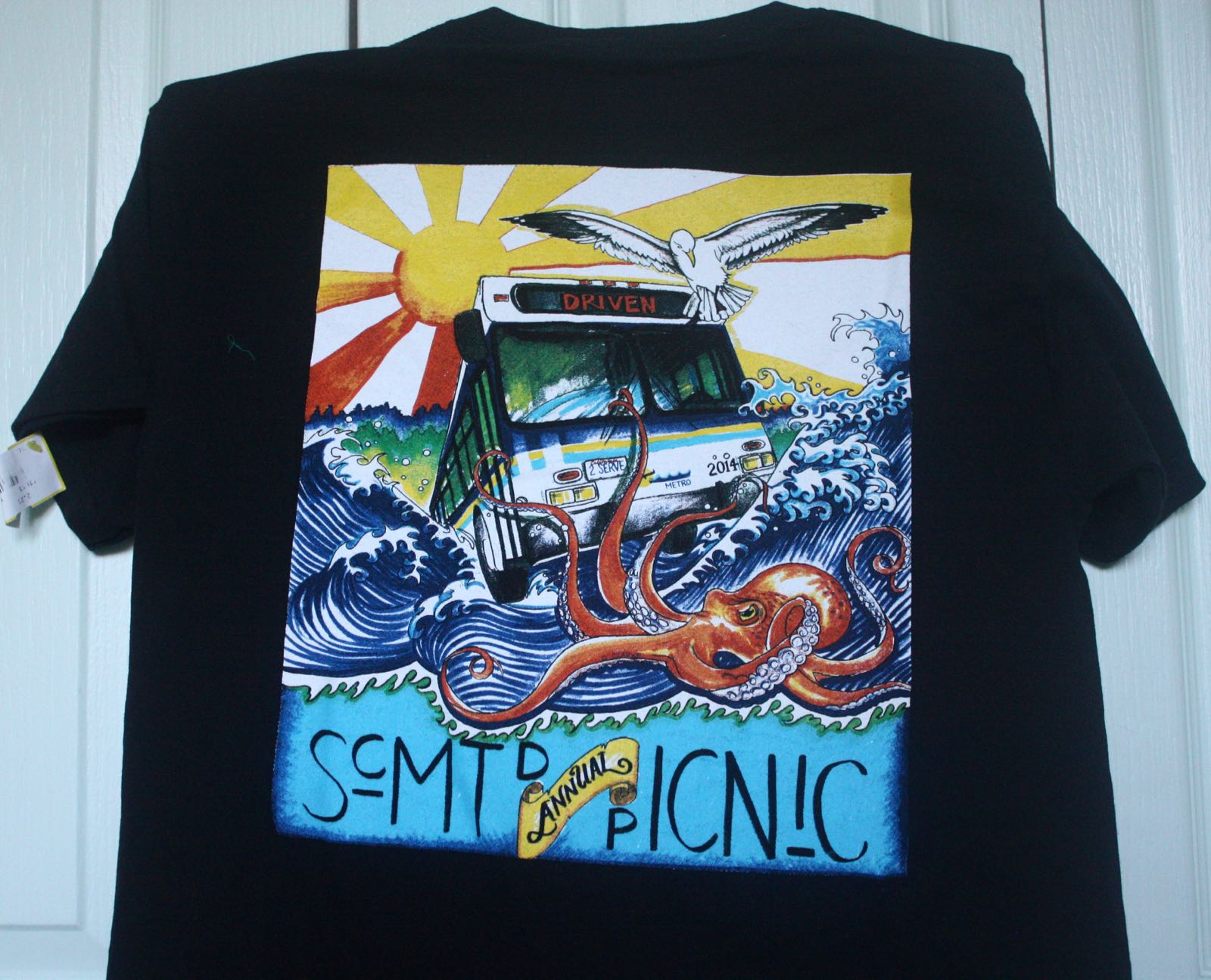 Below, this rather good tee for a local surf contest flips the HokuaI waves in the opposite direction and substitutes a California shoreline for Mount Fuji. Pacific Brown pelicans cruise overhead. Call it "The Awesome Wave Off Carmel."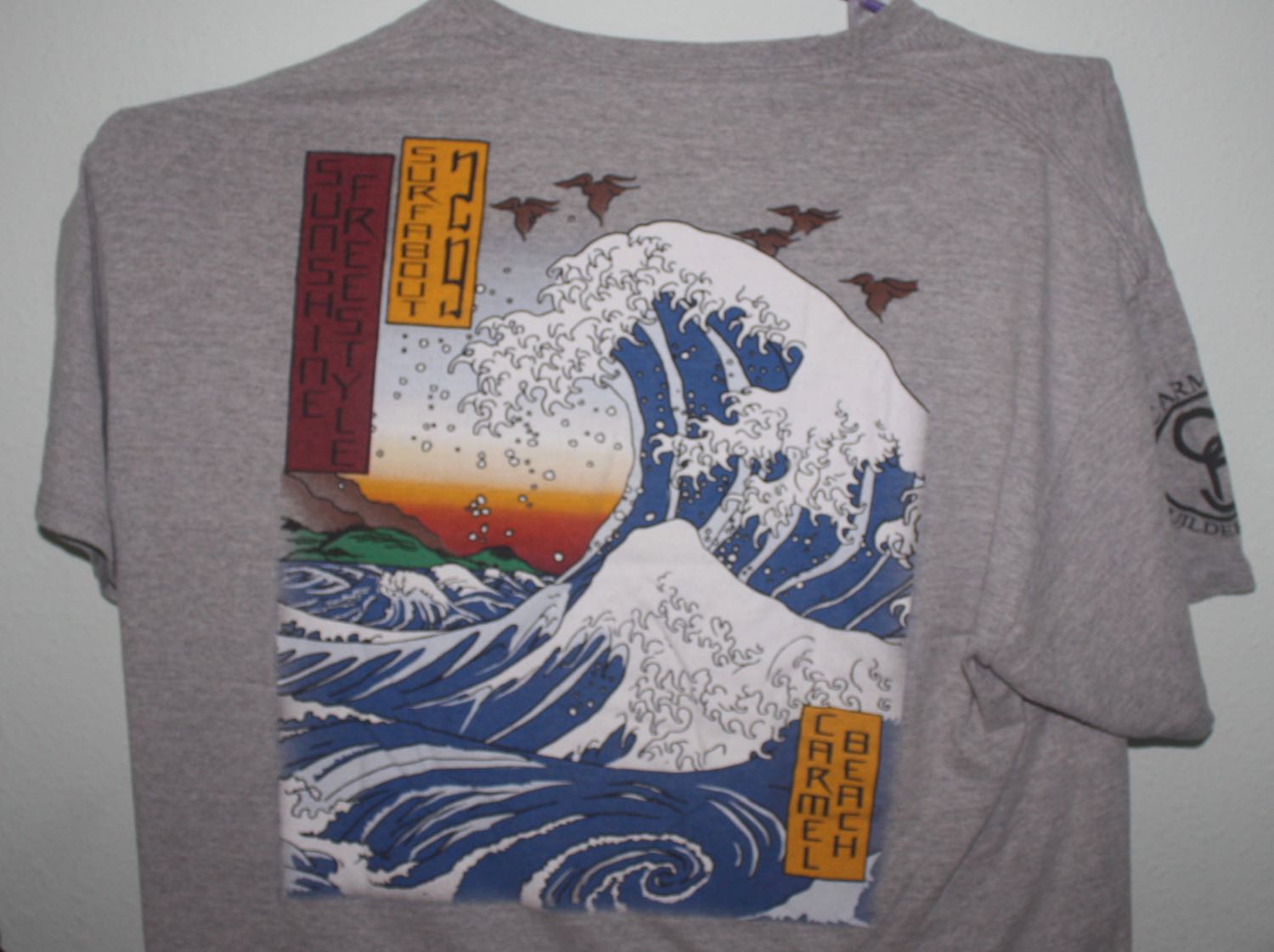 Sometimes "The Great Wave" as a symbol has a personal association. For example, you'll find the patch below on a t-shirt from the U.S. Naval Oceanography Antisubmarine Warfare Center in Yokosuka, Japan. This unit tracks American and foreign submarine activity in the waters of Pacific. They will not tell you exactly how they do that. About all that they'll admit to is the publishing of weather reports.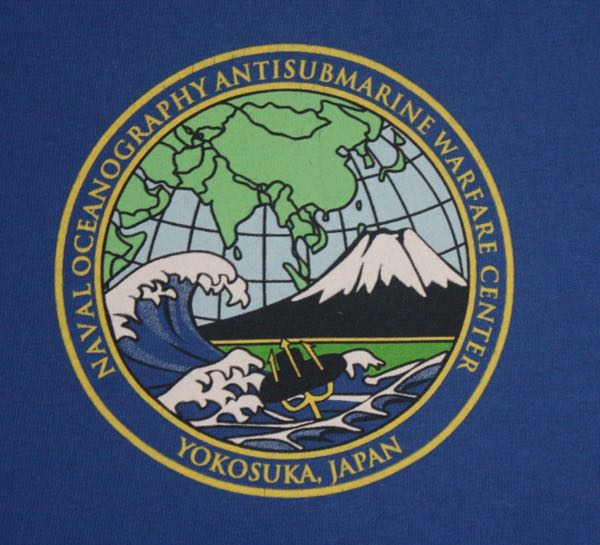 It just so happens that Yokosuka is in the prefecture of Kanagawa, so the Great Wave and Hokusai are local symbols that these sailors wanted to use– in modified form. Instead of the fishing boats in Hokusai's original, note the trident sticking up out the water and impaling a submarine.
Flip to the other side, where a samurai warrior stabs a submarine with his sword. The text across the top is a translation of the organization's English name. The text at bottom translates as "hunter" or "huntsman."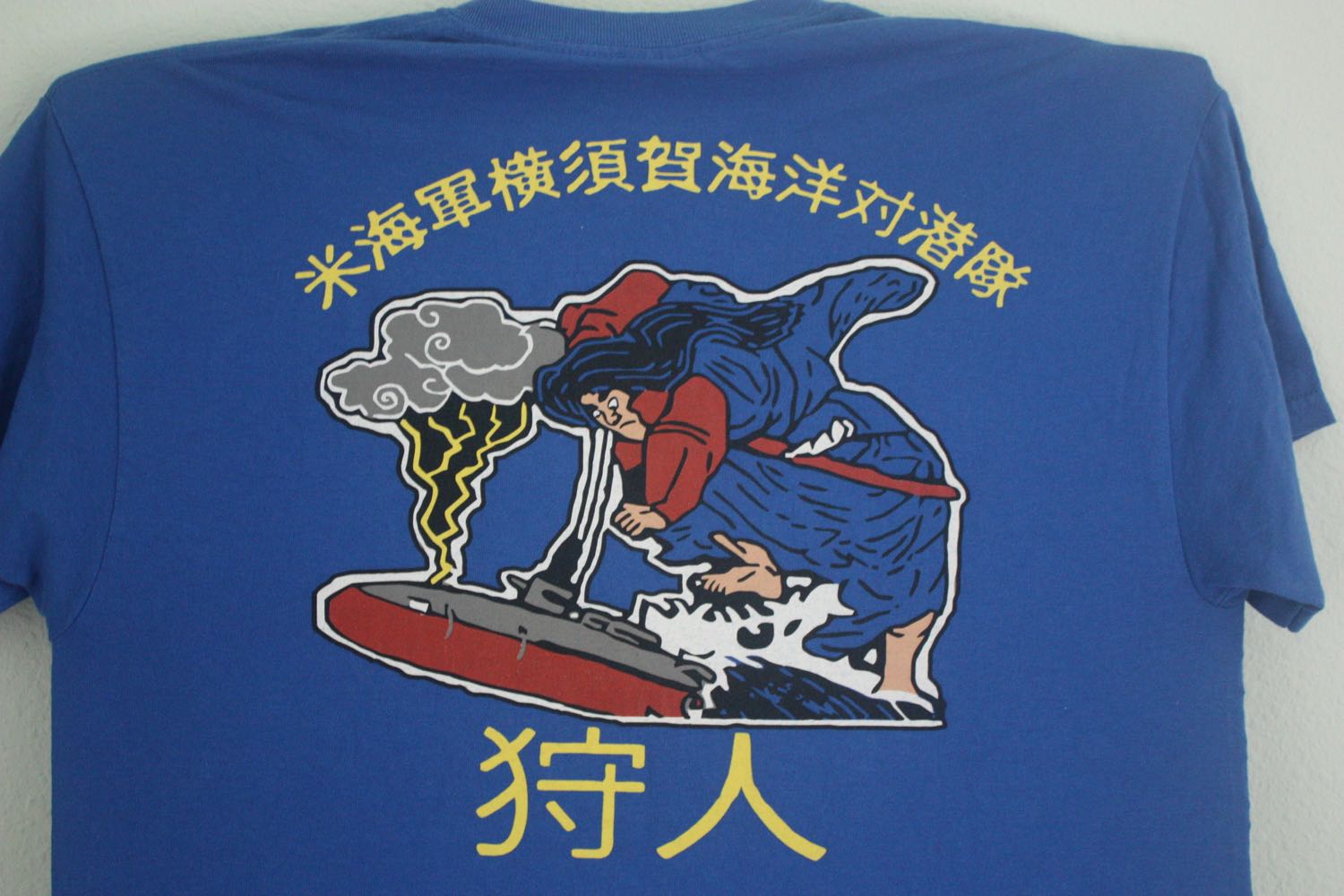 On to the last t-shirt, which just about made my head explode. It is a darker version of the Great Wave — under a crazy Van Gogh sky from "A Starry Night," perhaps Van Gogh's most famous painting. Mount Fuji is still there, of course.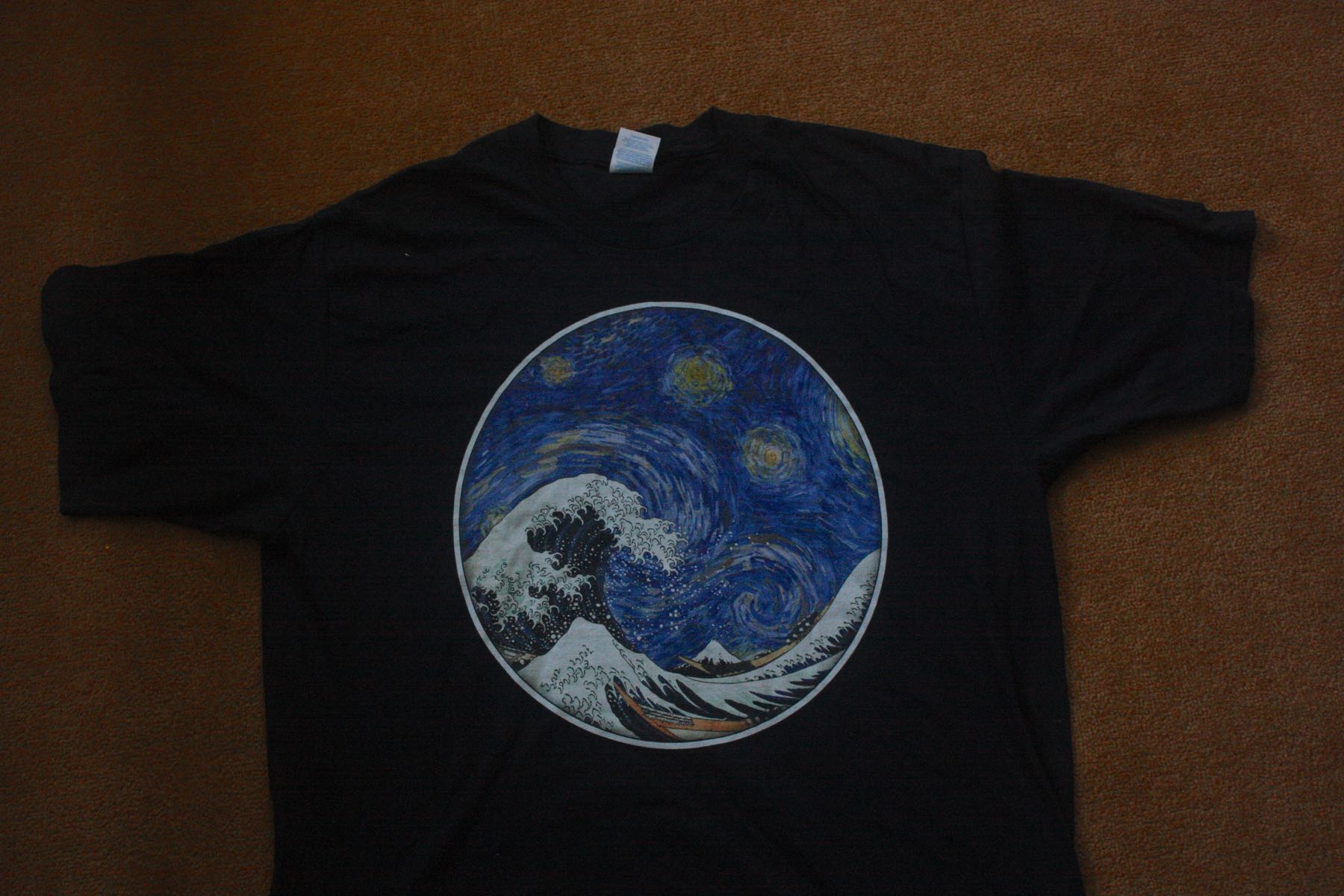 This is no random act of art: Van Gogh greatly admired Hokusai. He even collected Hokusai prints. Some Van Gogh scholars suggest that the rolling waves in Hokusai's work inspired the rolling masses of light and color in Van Gogh's "Starry Night" sky.
We'll never know. But the theory must intrigue many, because you can find as many different Great Wave/Starry Night hybrids as you want to: on t-shirts, as posters, and even as full-sized mounted art prints.
I do enjoy defining the riffs that t-shirt artists make off iconic images.  You should see what they do  with the cover of the Beatles' "Sergeant Pepper's Lonely Hearts Club Band" album.  And when I have enough examples, I'll show you.