Vendors to the construction trades love to give away t-shirts.  They run heavil to penis double-entendres ("Our doors are well-hung!"); flames and fire; giant tools; studly men holding giant tools; and big-breasted women.
Give workers a tee that they want to wear, and you'll get all the job site advertising you can eat. That's the idea. But I'd never seen a gimme shirt like this one from Ilsco, a California electrical components vendor:
A horned centaur/fish holding a  mystery tool with electrical contact points on its horns? Say what?  Then I saw the artist's name: Duane Flatmo.
All became clear. Flatmo is a working artist and gearhead from California's North Coast.  He paints and draws; he builds things.  His seminal influences include Ed "Big Daddy" Roth, cartoonist-of-the-grotesque Basil Wolverton, and Pablo Picasso (heavy on the Guernica).  Maybe you sensed that.  If not, here's a t-shirt design he did for IES, another electrical distributor.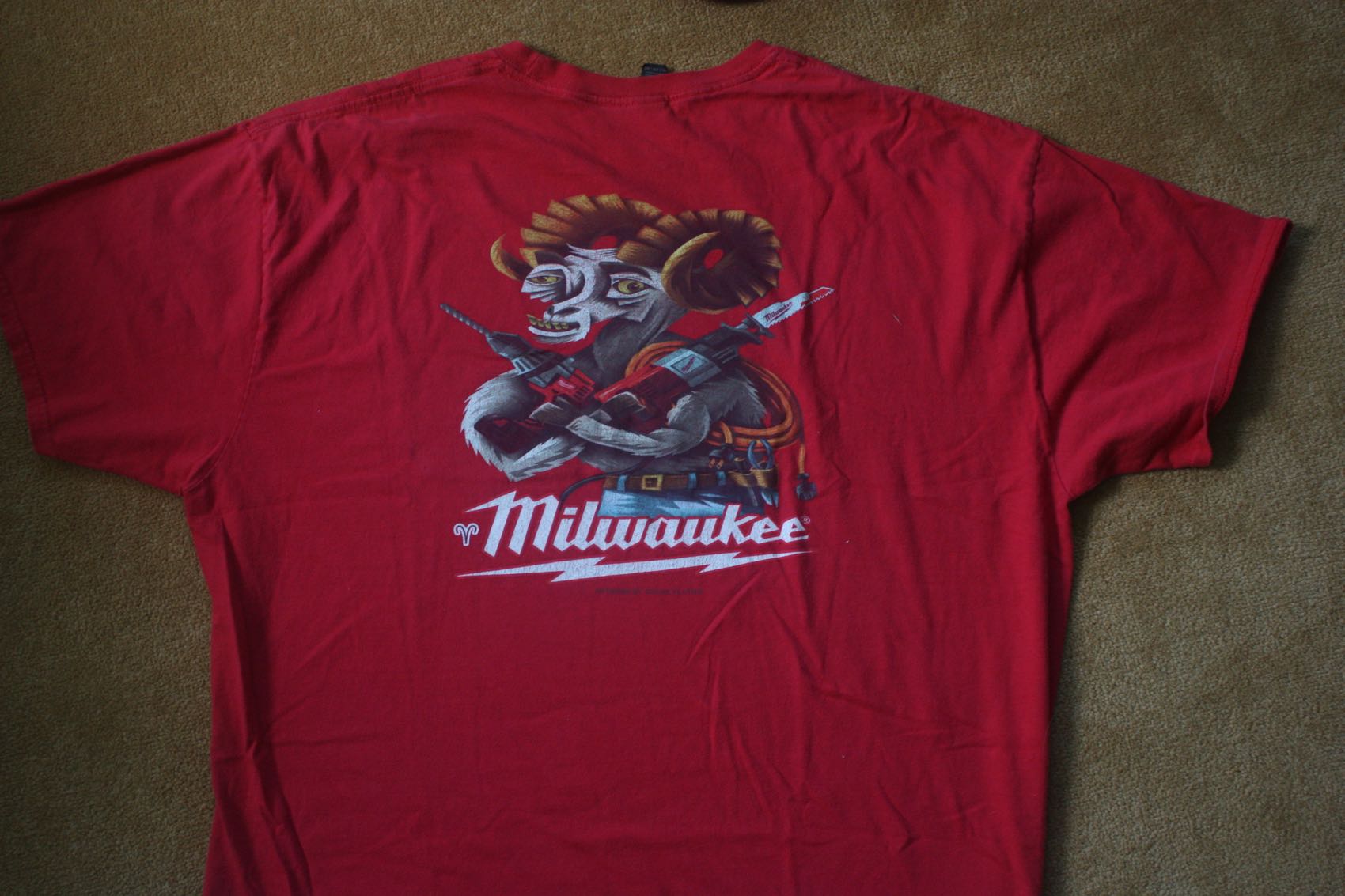 Flatmo's best known for his kinetic sculpture: self-powered art vehicles that roll, hop, or sail .  They love him at Burning Man, where his El Pulpo Mecanico  is legendary a 25-foot-tall tentacle-waving, flame-spewing, traveling octopus. Check out this video.  There's a Ford 250 under there somewhere.
I first heard of Flatmo on an old reality TV show called "Junkyard Wars." Flatmo and his kinetic-art friends would built wild machines to compete in games with some other team of gearheads.  The other side would be uber-competitive, while Flatmo's mob would just enjoy the sunshine and fit pieces of junk together in aesthetc ways.  They usually won, too.  But gears aren't all that his art is about.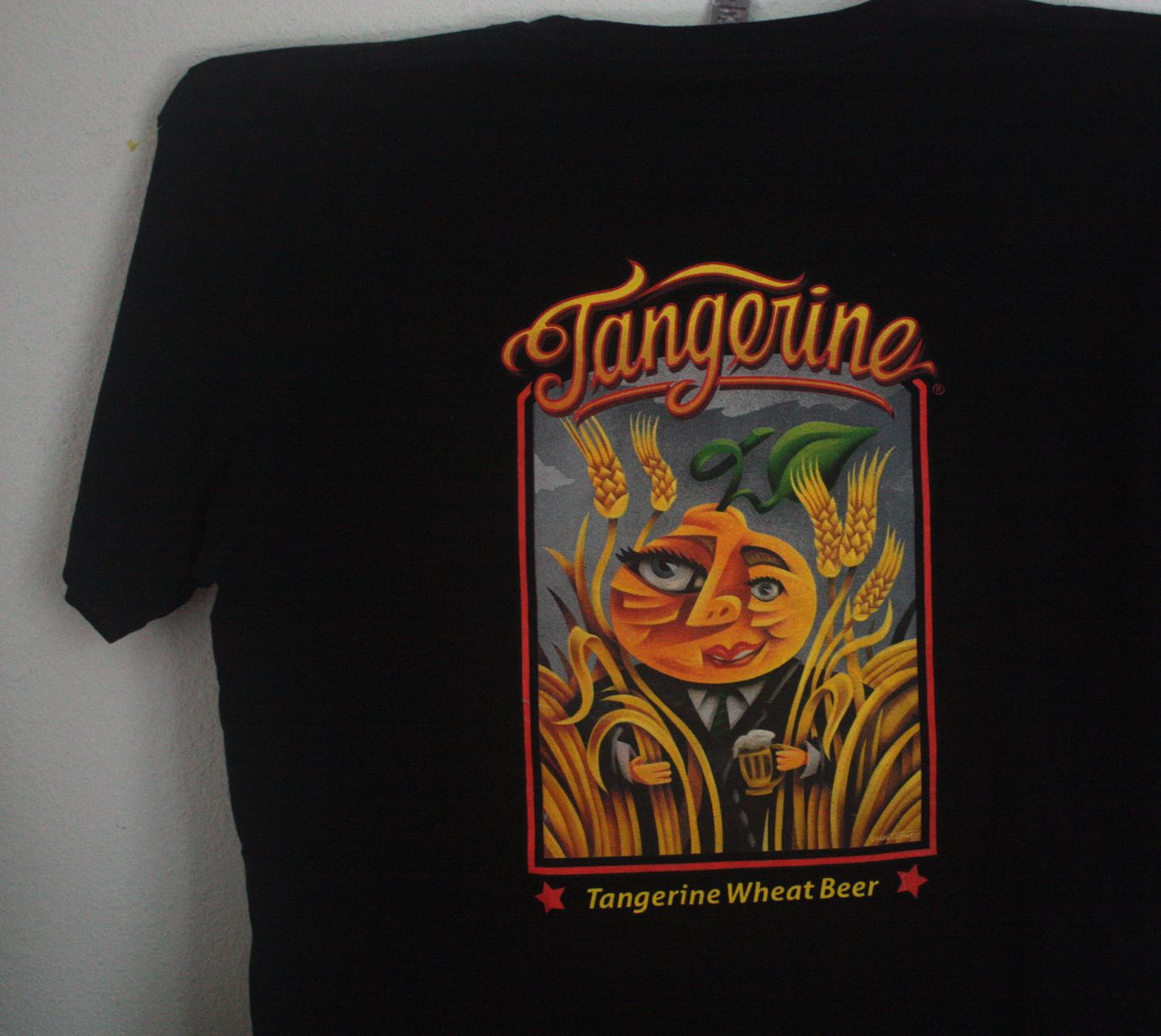 This one's more Picasso, but les Guernica. A sweet piece, and something special to stare up at you from a beer bottle.
Some day I hope to talk to Flatmo and ask, what's with the ram's horns?  I'd also ask why he does so many t-shirts for Ilsco and IES (he does many), but I can guess: they know him.  How many actuators and miles of conduit do you think he needed for El Pulpo? He's probably a good customer. They may even sponsor him.
That leaves the question: what makes  electrical supply companies want Flatmo's odd designs on gimme shirts for Joe Electrician?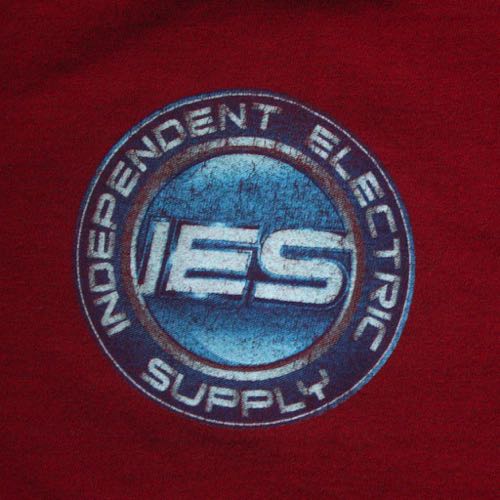 My working theory: "special" companies hire special artists.  Take IES, Independent Electric Supply.
The tee below (which may or may not be by Flatmo) touts  special sales events at IES warehouse stores.  You know how those things usually go: hot dogs in the parking lot, a ball player or two for autographs, some custom cars, and a sweepstakes drawings.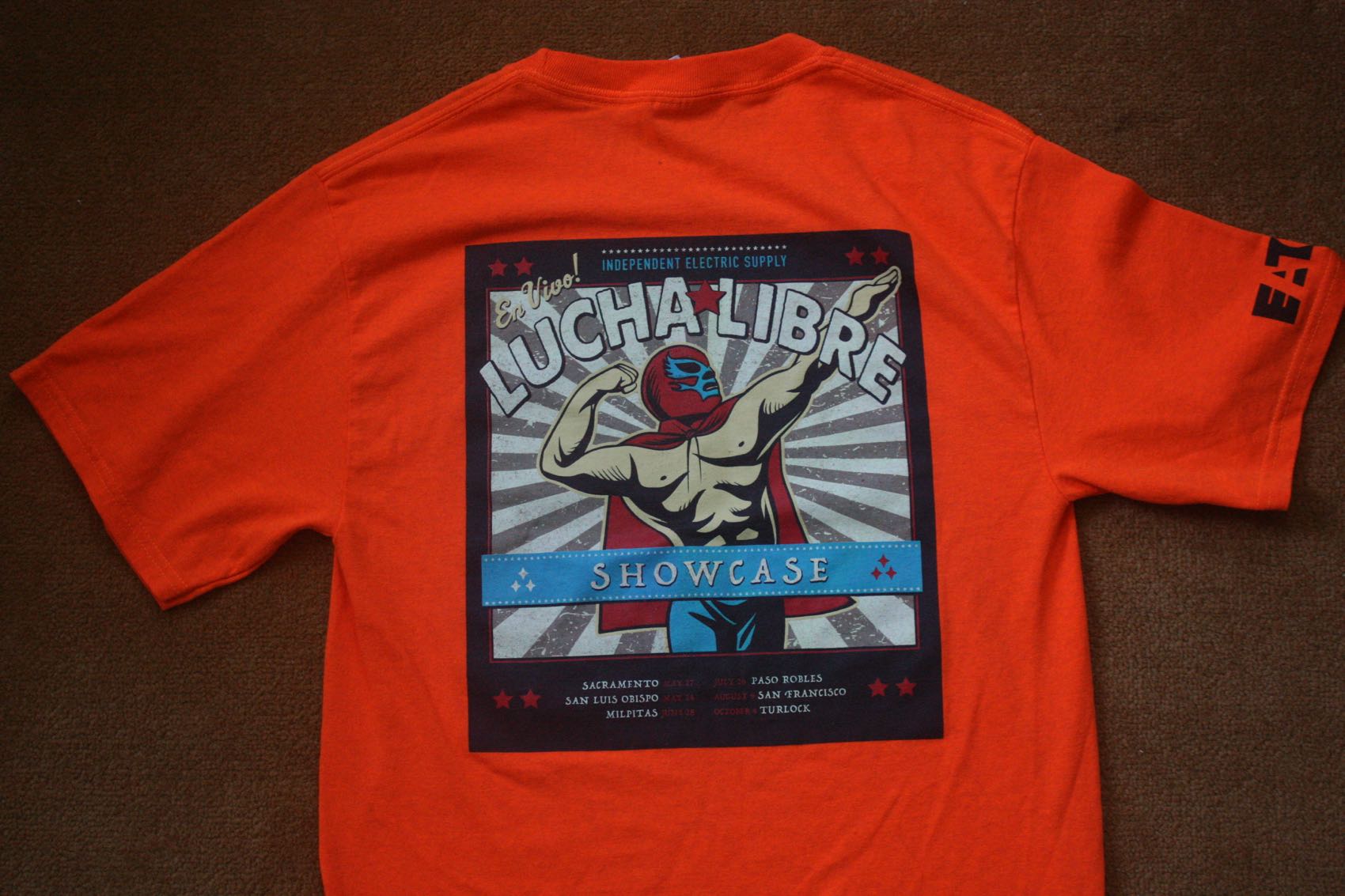 But not  with IES. Their big draw was: live Mexican wrestling! Lucha Libre, baby, with the capes and masks and all.  Right in the parking lot!
Now that's special..