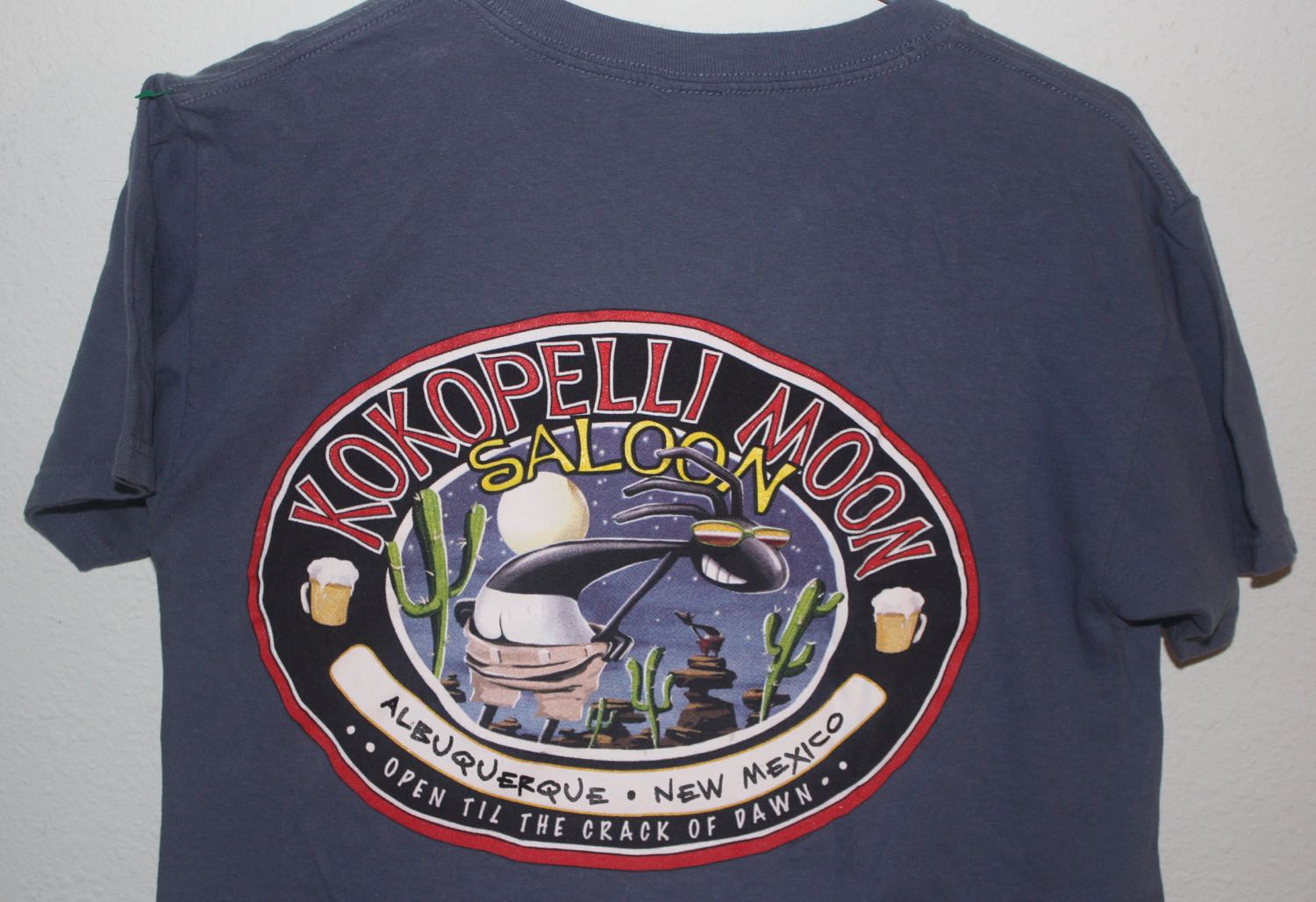 (To long-time readers: I've got my t-shirt collection mostly catalogued, and I'm starting to write up descriptions of the individual shirts. This essay draws on some of my tee research.)
Some people call them cocktail lounges, or clubs, or saloons. To me, they're all bars. Whether the drinks are mixed or beers the only tipple. Whether there's one pool table or a dozen. You pony up. You drink — with friends, for company, or alone when you're the only company you have or want.
There may be food. There may be 'tude. There may be social life, or a darts tourney, or a pick-up scene. Or just locals who know each other, or want to know somebody, anybody, because they're lonely or horny and home is just a bed. And if you buy enough drinks, at least the bartender will learn your name. Eventually.
And there may be a tee shirt, especially if it's a dive bar. (Although about everything calls itself a dive bar these days.) A bar t-shirt's purpose is to be worn proudly by regulars; but mainly to look somewhat cool, so that the bar looks cool, too. So that you, a stranger, might see the shirt and think about stopping by..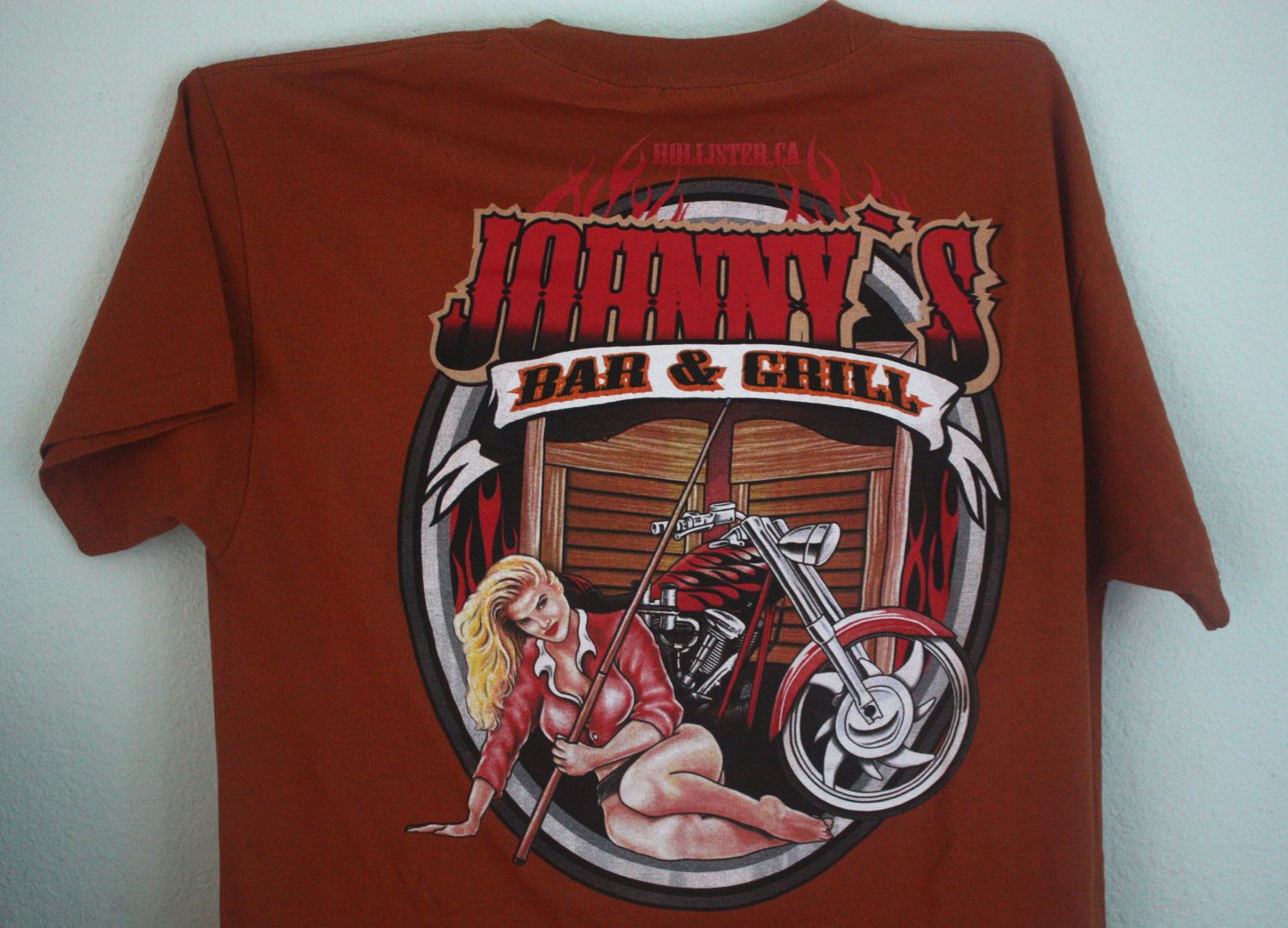 The question is, "looks cool" to whom? If you're a certain kind of guy, "cool" may be a hot blonde with breasts spilling out of her clothes, a pool cue in hand, and a motorcycle. It's a kind of visual pheromone; the scenario writes itself in the hopeful mind. And while the promise may never be kept, you never know. And there'll be beer.
Johnny's Bar and Grill, by the way, is a venerable small-town saloon in Hollister, California. There's Monday Night Football on the big screen, dart tourneys, and karaoke nights, and probably a pool table someplace. And once a year it's invaded by bikers; the whole town is, actually. Call it a festival. I really doubt that bosom-spilling centerfold models are on the premises nightly, but you can dream. They want you to.
So that's one kind of cool. But elsewhere, "cool" may be a unicorn giving discreet oral sex to a griffin with a drink in its hand.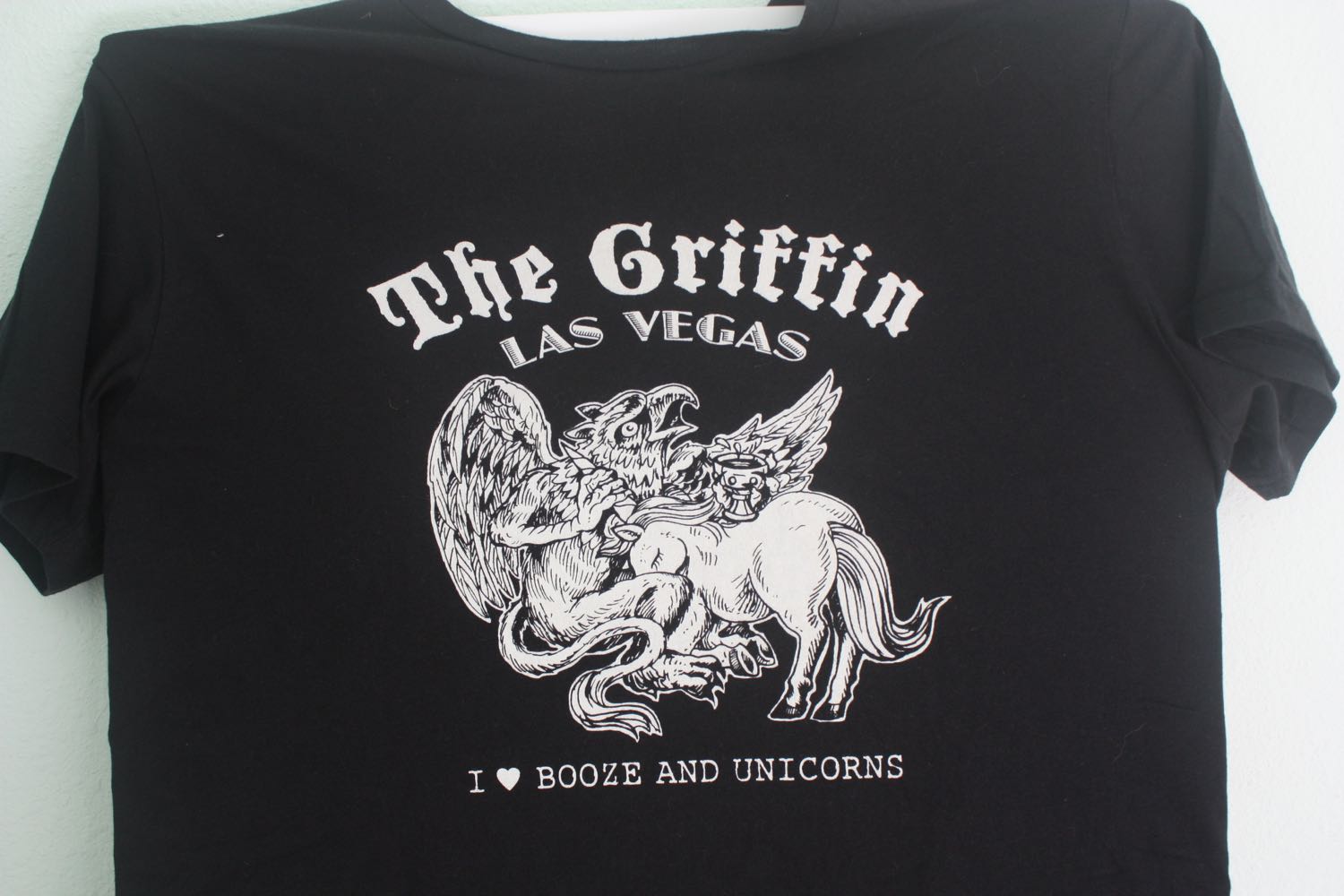 The Griffin in Las Vegas doesn't call itself as a dive bar; it presents as a classy, classic '50s cocktail lounge. But if that's the case I just… don't get… the t-shirt. A griffin getting oral sex from a unicorn? Unless that's a reference to Frank Sinatra or something. Just kidding. I never understood Vegas. Or maybe I understood it too well.
I could have dozens of tees like these, if I kept my eyes open: potential sex is a basic theme for bar tees. But I don't need or want dozens. Though this tee from a bar in a touristy beach town near me has more fun with the idea.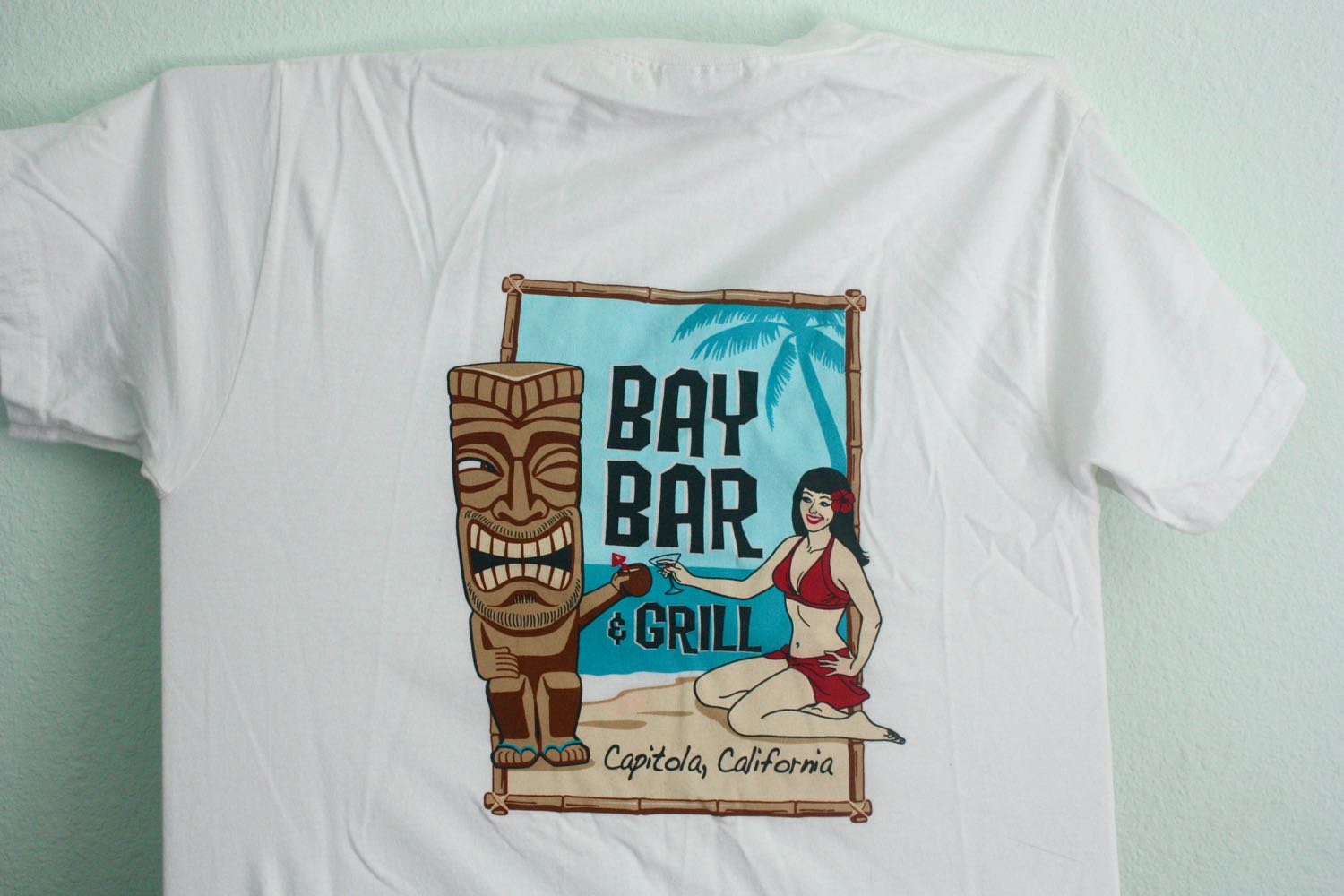 They don't have dive bars on the Capitola Esplanade (just down the road from Santa Cruz, my home), but Bay Bar and Grill is definitely a locals' spot. There, any would-be Tiki God from the nearby Pleasure Point surf breaks can meet the home town wahine of his dreams,. Or that's the story, if you believe what t-shirts tell you.
Again, back to dive bars: I don't know what it is about college-educated young professionals, but in this town at least they want every bar to be a dive bar — a gritty, lively place full of "real" people and "real" alcoholics. The booze is cheap, the pours are big, and the bartender has seen the elephant. And Happy Hour never ends. Santa Cruz' favorite dive bar is the Rush Inn,; the Rush Inn meets all the requirements. Plus heavy cigarette smoke.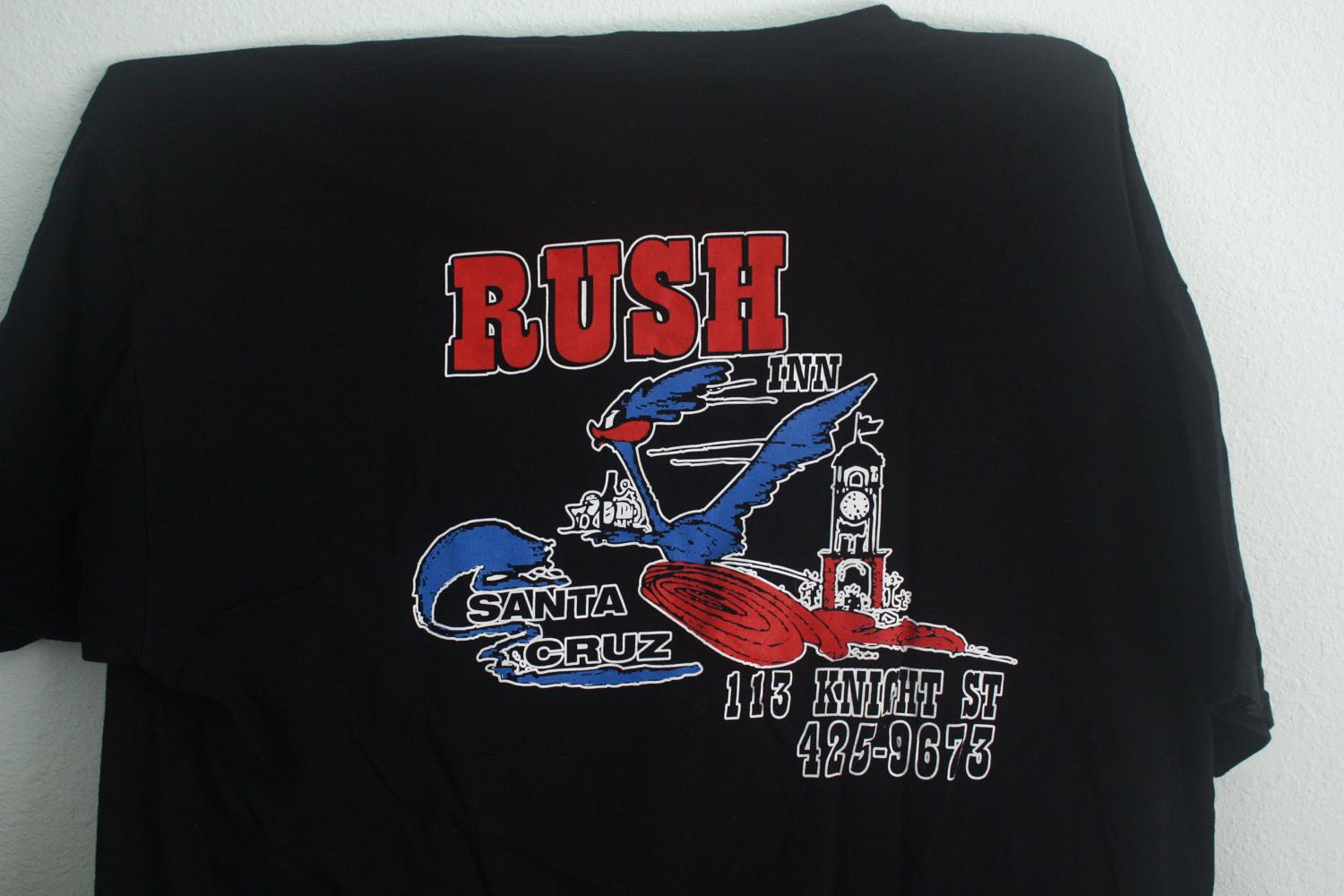 I don't get the appeal, but who said that was important? Though I have to ask what a "dive bar" is anymore. The Lucky 13 calls itself a dive bar. But with a notably arty tee and a rotating selection of craft beers on tap. And it's own tattoo parlor located conveniently upstairs for times when the craft beer has broken down your inhibitions.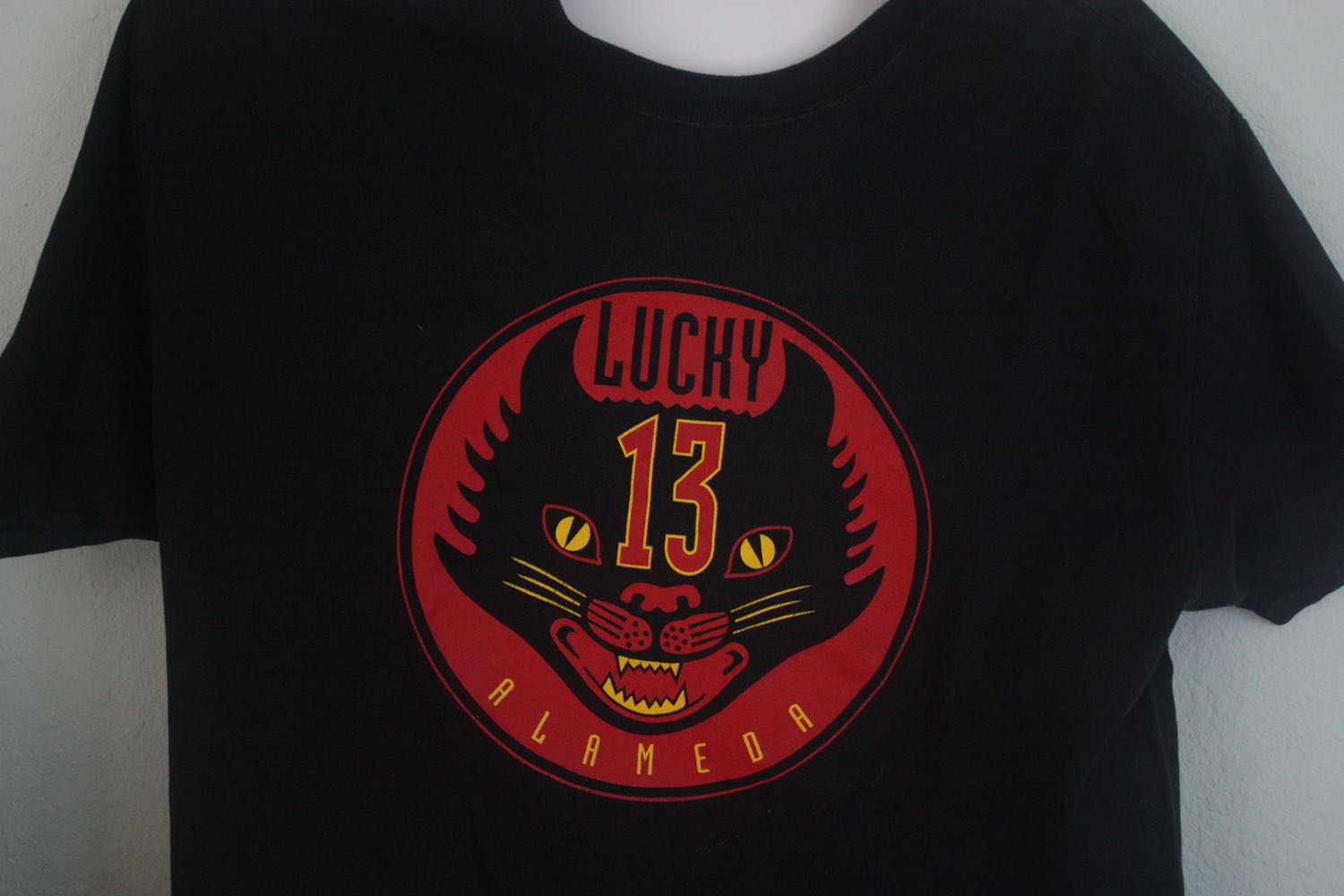 A dive bar with craft beer on tap and in-house tattooing? In a comfortable neighborhood of comfortable Alameda, California? I think we've crossed the line into marketing and branding here.
But nobody could deny that the Alley Cat Lounge is "real."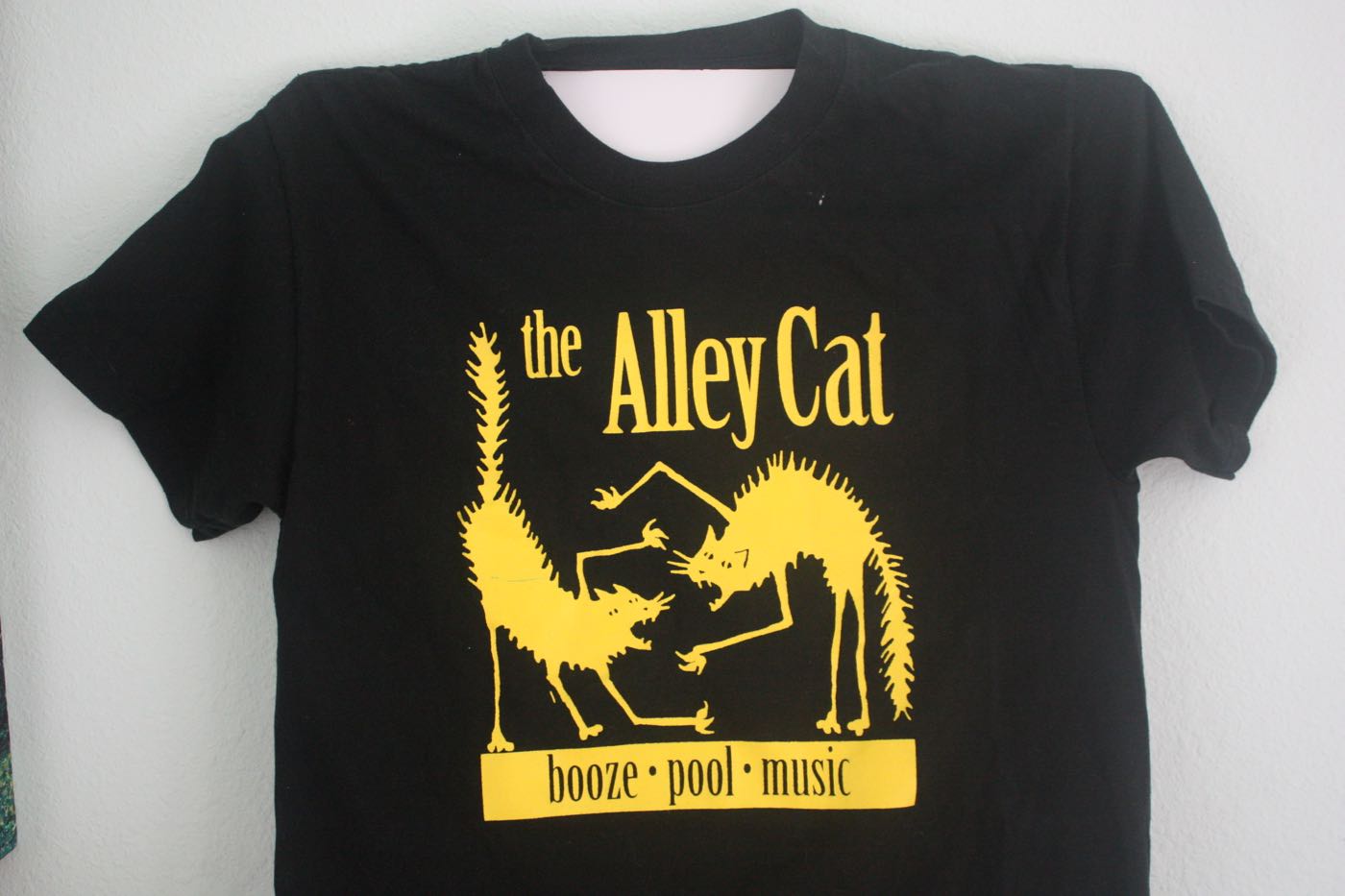 The Alley Cat is an Indianapolis dive bar: the real thing, reaching back seventy years. I picked it up because the tee design is supremely good.
The Alley Cat is literally on an alley: walk past the dumpsters and the scruffy street punks to find the front door. Once upon a time cops and reporters and "the element" rubbed shoulders and downed stiff shots in its low-life environs.
Things have changed somewhat: the front room is now an attractive lounge with good lighting and good food. But head for the back room, where it's still dark and spartan and the walls are old brick, the bartenders pour big, and the hard drinkers party like it's 1949. That's a dive bar, friends.
Not a dive bar, but I have to throw in this mystery entry: Wayne's Cowboy Room.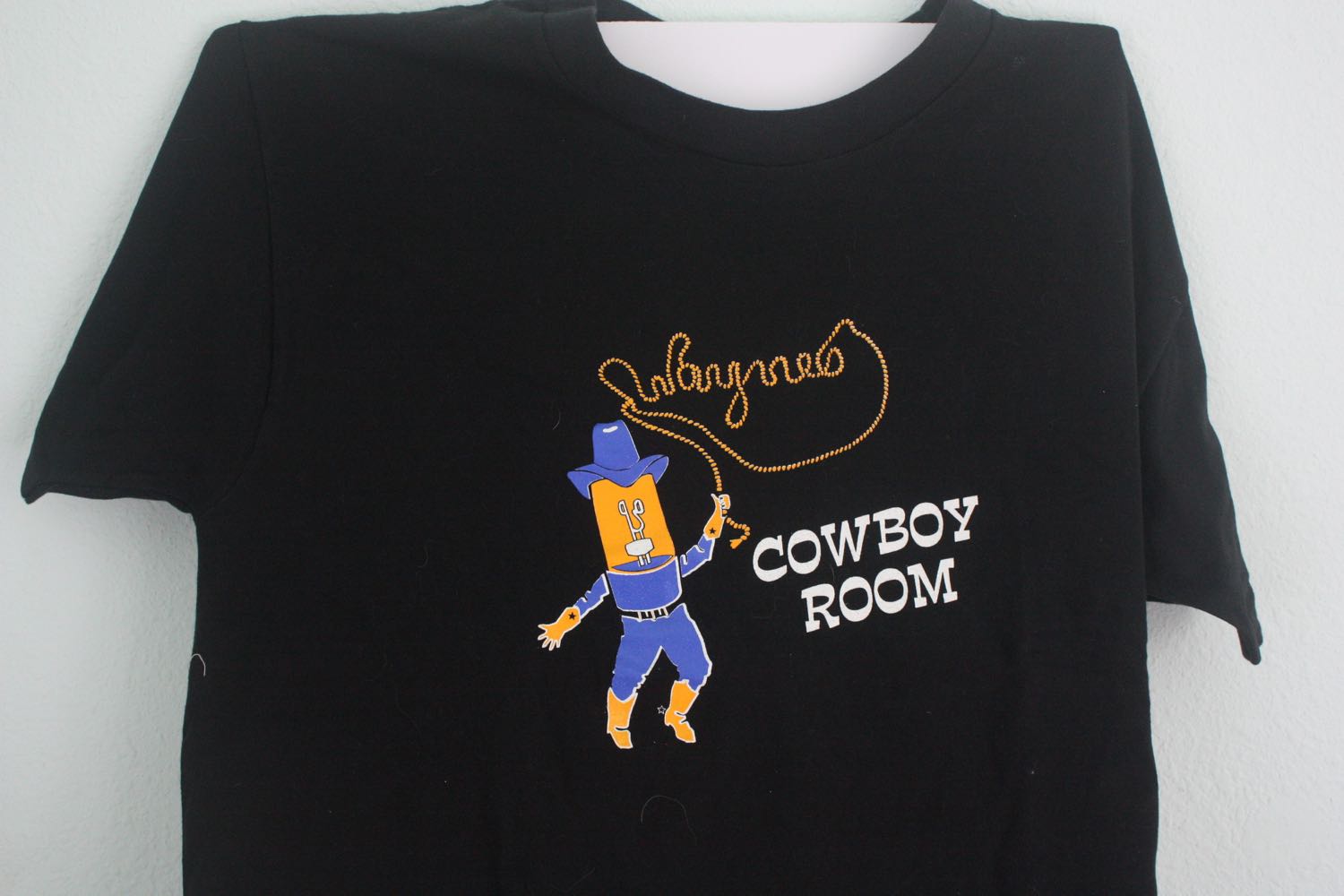 I can't find out a thing about this tee but… a vaccuum tube wearing a cowboy suit? You're talking Hank Williams, old-school cowboy music, and maybe some rockabilly: the kind of cowboy and country music played in '50s honky-tonks on Martin guitars and tube amps. Wayne's sounds like a great bar with a great music scene, but I'll never really know. Unless someone tells me.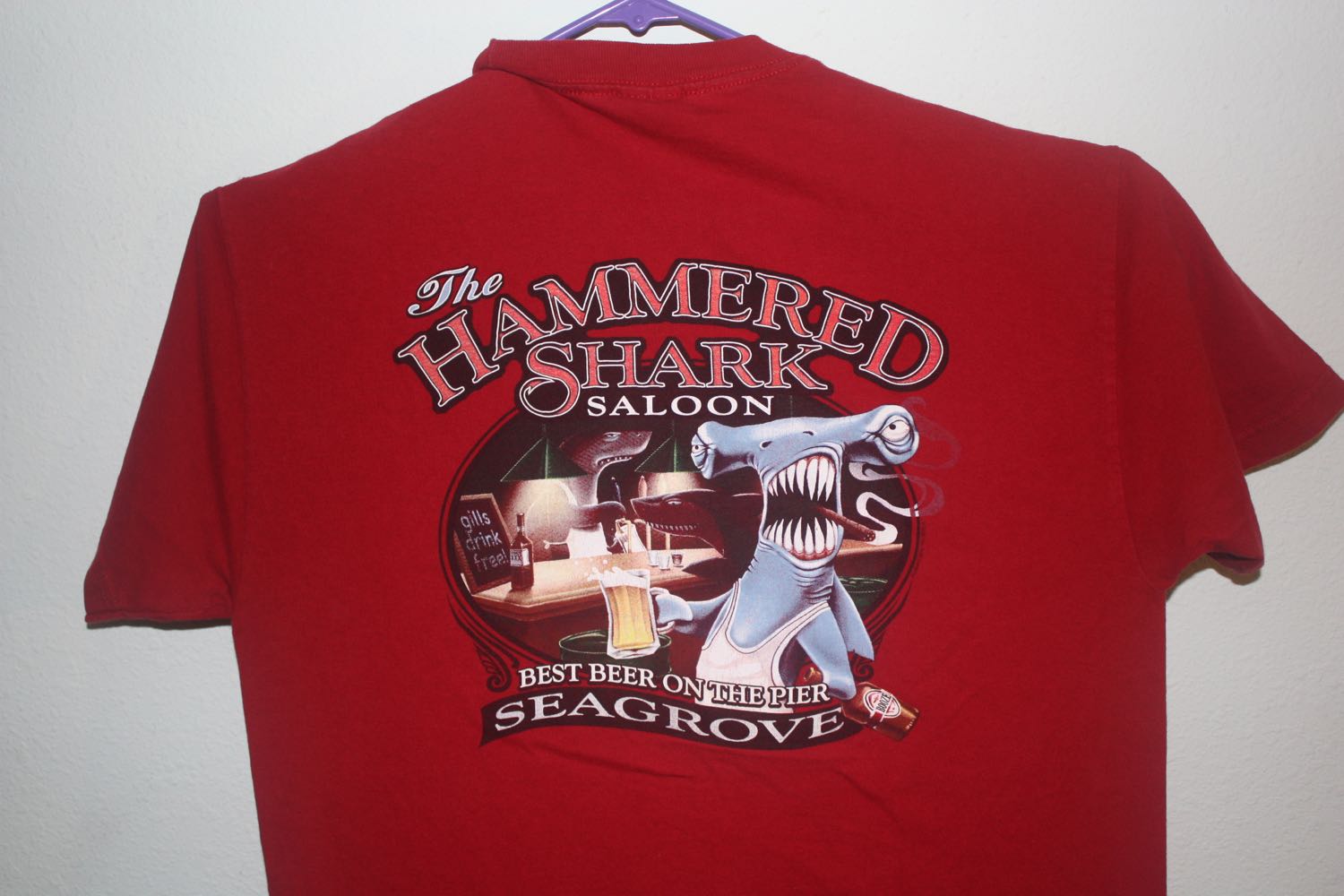 That's about it for right now. Although you'll note I had nothing to say about the Kokopelli Moon Saloon t-shirt at the top of this article, nor about the Hammered Shark Saloon tee that you see above. That's because they're fakes: joke shirts. "Real" bar tees can be so over-the-top that joke shirts can pass for the real thing. I got snookered.
I keep them in the collection anyway, as a lesson: that sometimes it's hard to make up something very much crazier than reality.