(To long-time readers.  I'm continuing to churn out short posts about the tees in my recently-catalogued collection.  Please check past this post to see if there are any older ones you've missed!)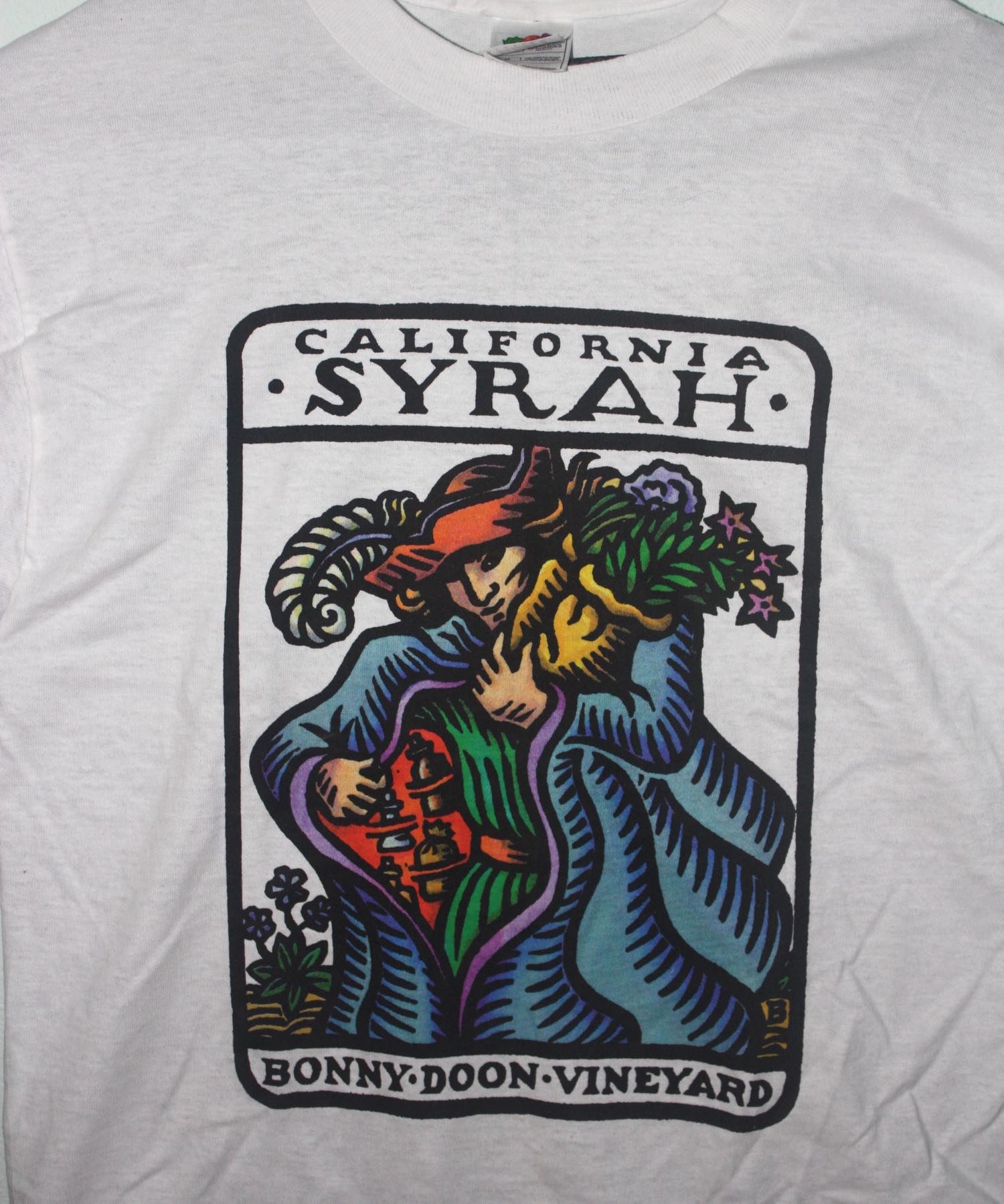 Here in Santa Cruz, my wife and I used to stop to a particular coffee house before heading off to work. The rear table pretty much belonged to a middle-aged guy in a tee-shirt. He had long, flyaway hair, Harry Potter glasses, and at all times a slightly confused expression.
In short, he fell into the category of Typical Santa Cruz Character/Middle-Aged Hippie Subtype: except for the big Euro-style brief bag stuffed with documents and his ever-present laptop. He'd shuffle paper and  intently tap the keyboard for awhile and then drive off in a 40-year-old Citroen station wagon, the kind that looks like it wants to launch into outer space. He had two of them, one red and one white.
Come to find out that he was Randall Grahm, rebel and dreamer of the world of winemaking and viticulture, and proprietor of the local Bonny Doon Vineyard for decades. He's reinvented his business and methods several times over the years: sometimes radically, always subversively.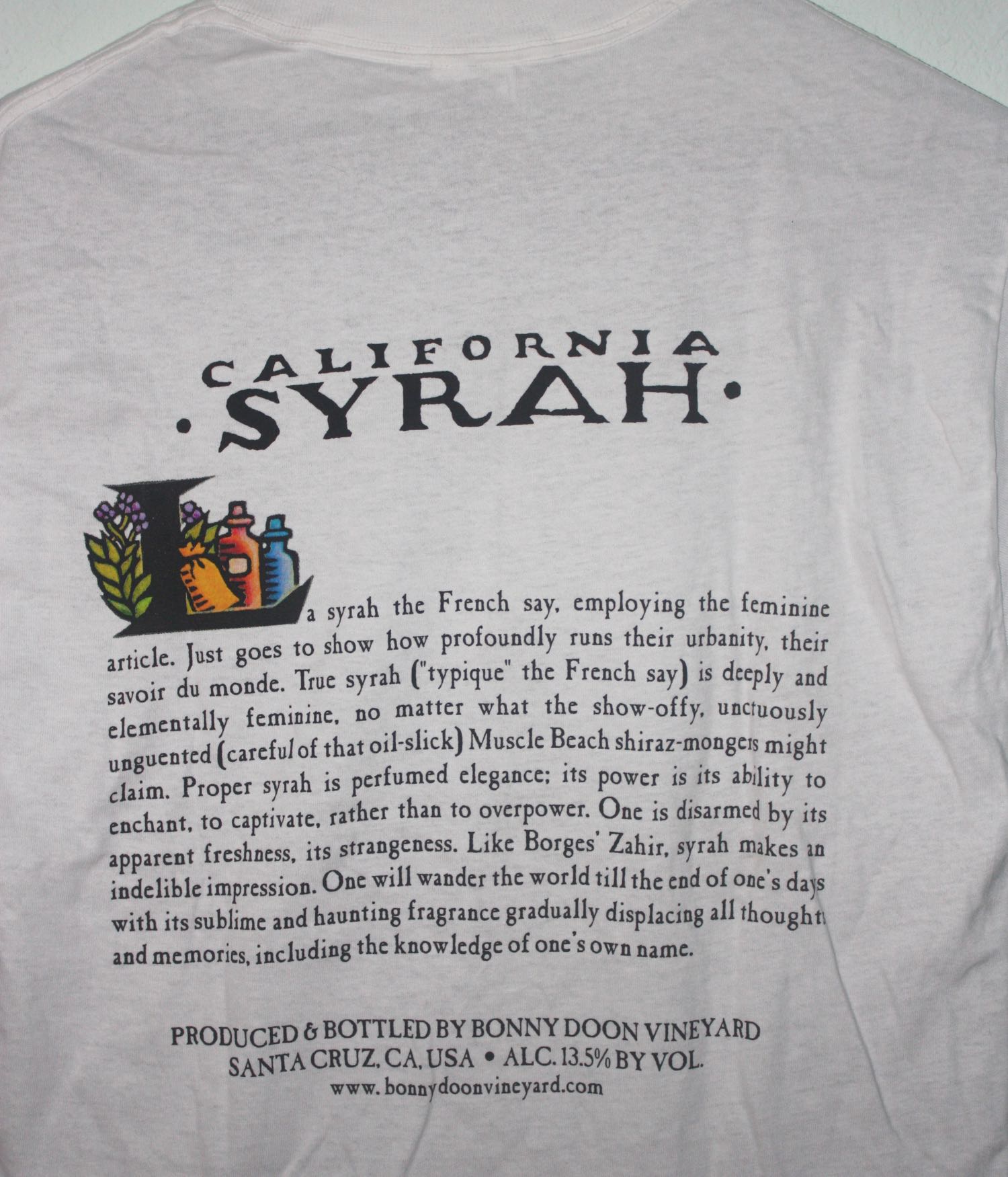 Grahm takes playful approach to the names of his wines, and to the wine label art. He employs talented and unconventional artists for his labels, and of course the label art appear on t-shirts in the gift shop, thank you.
The label for this syrah is pretty funny: wine-maker as Renaissance Frenchman, slyly tempting you with wines from within his cloak, like some seedy gentleman selling naughty postcards.
The best-known Boony Doon wine label is for Le Cigar Volante, a red blend.  During the flying saucer scares of the 1950s, a French wine-making town banned "cigars volante" (flying cigars) from hovering overhead and spoiling the vintage. As below: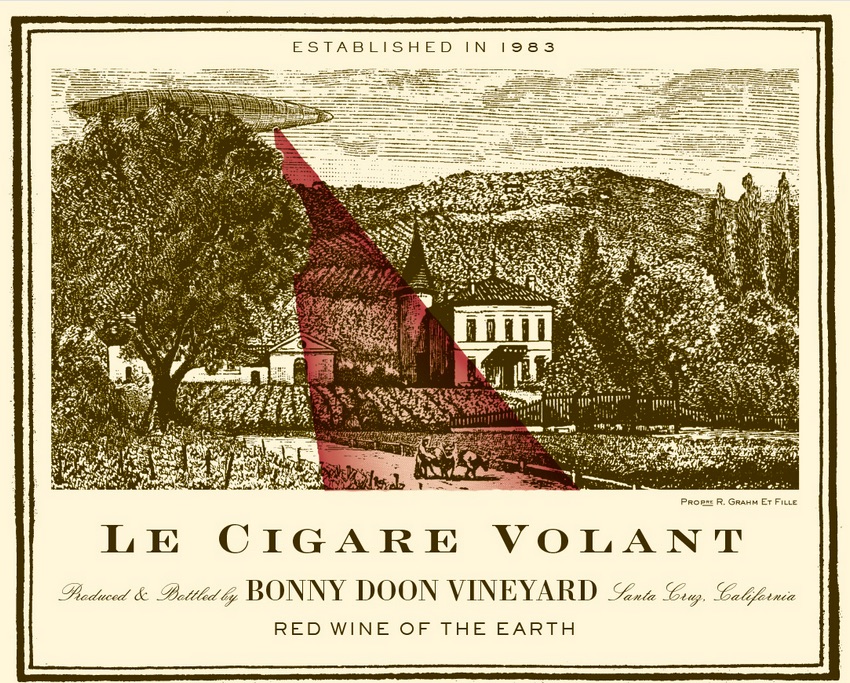 Grahm makes a tee with this label, but I've never found one at the Goodwill; I may have to pay full price one of these days.
Haven't seen Mr. Grahm lately, At one point he put a "for sale" sign on the white Citroen, though interest proved small. But I did see him as recently as last year driving around in the red one. Its vanity license plate reads "Le Cigare."
(Click the link if you'd like to see more Bonny Doon Vineyard label art. )
On to the next t-shirt: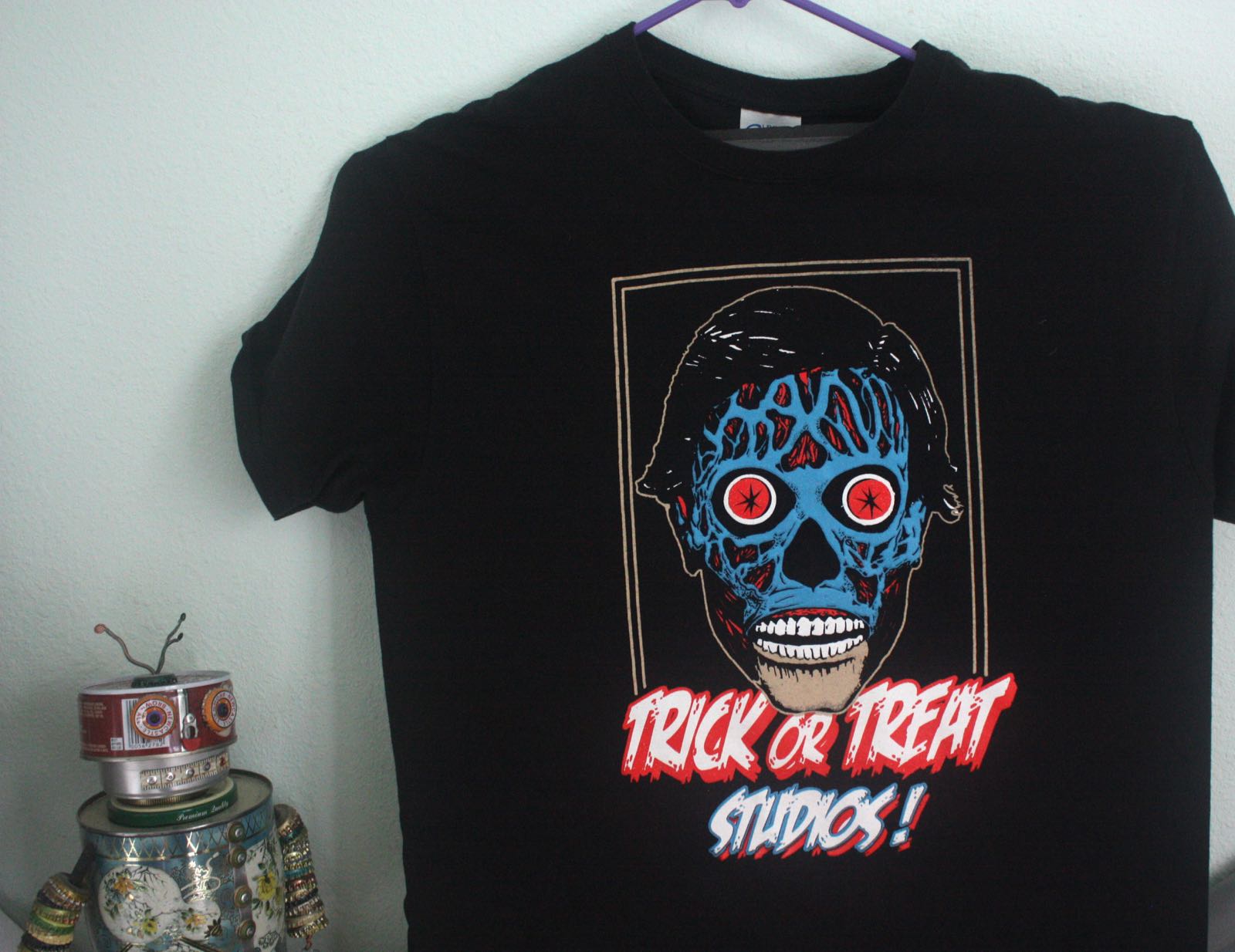 Sometimes I look at a tee hanging on the thrift store rack and ask myself, "Should I risk my $2.49 on this? Really?" In this case I did, and I'm glad. Because this tee is both local to Santa Cruz, and answers the question:
What do you do if you're a supply chain manager for a disk drive company, making disk drive production run smoothly, but your lifelong passion actually lies in rubber monster masks?
Eventually, when it becomes a choice of what to do next with your life, you put those same supply-chain/Six-Sigma skills to work producing rubber masks of famous film monsters (and a few t-shirts). And that's what the CEO of Trick or Treat Studios did.
Trick or Treat Studios is a typical Santa Cruz County entrepreneurial business; nly the product is not typical.  Trick or Treat directly employs ten or fifteen people at company HQ; it licenses the rights to copyrighted characters and images; it contracts with creative professionals to develop and prototype  products based on those characters; it makes those products at plants far from Santa Cruz; and distributes and sells those products through mail-order, other distributors and big retailers.
See? Just like making disk drives, except that rubber masks are way more fun. This tee portrays an alien from an old John Carpenter movie, the schlock classic "They Live." Remember? Outer-space capitalists infiltrate and subvert our society on behalf of the galactic financial system.
I think I've got to watch that one again.