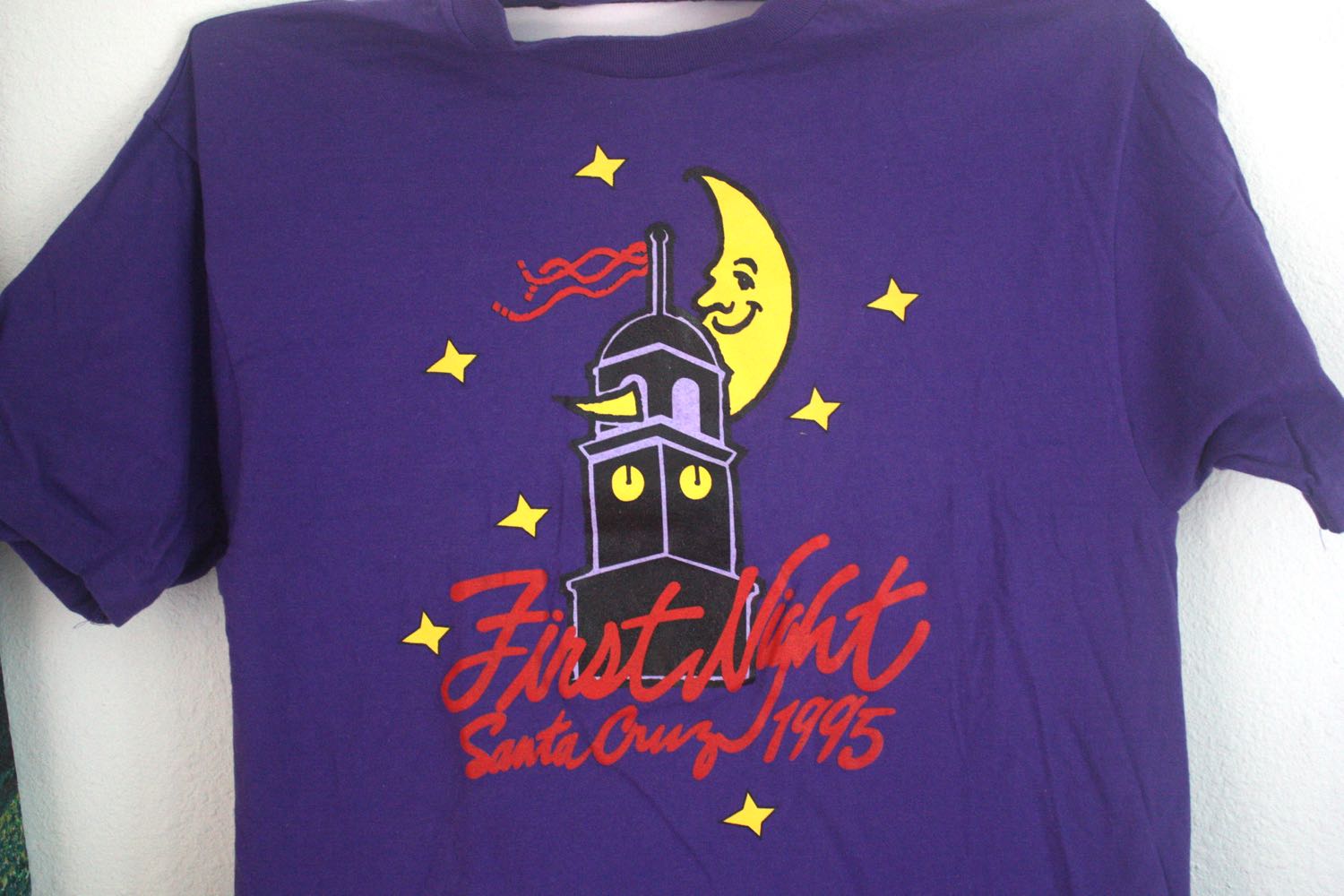 Look at this t-shirt. The image is quite sweet: a smiling, crescent moon hooks itself to a clock tower on a pleasant evening. It must be for some kind of happy festival in the small city that I live in: Santa Cruz, California.
That was the idea.  But the festival, and this t-shirt, were  born out of anger, police batons, and broken glass.
Here's the story: twenty-five or so years ago Santa Cruz was the kind of place where people had to make their own fun: build giant bonfires on the beach, shoot guns into the night, organize group trespassing, start fights in bars.  You know.  Because otherwise, not much happened in this city on the distant, trailing edge of a major metro area.
Nothing whatsoever New Year's Eve, outside of celebration at a few clubs.  Downtown Santa Cruz greeted the new years with empty streets and darkness.
So an anarchic band of townies, surfers, characters, and reckless youth began their own New Year's Eve event.  In the run-up to midnight, they'd gather at the Clock Tower at the north end of downtown. The crowd would carouse a bit, count down the New Year, carouse a bit more, and event leave.  I'm sure that alcoholic beverages had presence in the crowd.
As these things do, the non-event grew in size and popularity and unruliness.  One year, somebody was stabbed.
The next year, on New Year's Even 1993, the police showed up in force to control the festivities.  But that's now how things worked out.
You've heard of the fog of war, that state of fast-moving conflict within which nobody knows what's really happening.  Well, it's nothing next to the Fog of Santa Cruz.  The police say one thing; word of mouth says another; and nobody trusts the newspaper. People pick the narrative that they want to believe.
At any rate, very soon after midnight on January 1, 1994,  a platoon of police advanced quickly and aggressively on Clock Tower plaza. Their intent was to disperse the crowd.  Advance warning? Not very much.
Thus occurred — a disturbance.  Some might call it a riot; some might call it "refusing to cooperate on the grand scale." But all agree on this: some of the celebrants fled south through the heart of downtown and merrily broke expensive plate-glass shop windows along the way.
The next morning found the town's authorities and media aghast. Violence! Misbehavior! Expensive broken plate glass windows!  It was soon agreed: New Year's Eve could no longer be left to run itself in downtown Santa Cruz.  In my opinion, the shop windows sealed the deal; those things cost money.
And on  December 31, 1994, "First Night Santa Cruz" made its debut: a family-friendly, alcohol-free festival that completely occupied downtown with live entertainment, a safe and walkable environment of traffic-free streets, and heavy police presence.  But no alcohol.  There at last was a reason for respectable people to want to come downtown on New Year's Eve.
How did it happen? Well, control of the event was given to a hastily-thrown-together nonprofit staffed by the town's culturati: the people who've served on the boards of cultural institutions and all know each other — and everyone else who matters.  They knew how to get things done. They had the free time to do the things. They knew who to go to for donations and help.
And it worked. First Night even brought in real money.  A $25 button admitted you to numerous  indoor venues that offered full evenings of entertainment. First Night sold something over 20,000 of those buttons.
If you didn't want to pay, you could roam through the crowds with your friends, watch a parade, see and be seen, listen to live bands, and be there for the New Year's countdown. And while the streets were alcohol-free, the bars and restaurants weren't.  For some, that was more than enough.
Suddenly, First Night Santa Cruz was the place to be on New Year's Eve.  There was a First Night '96, and '97, and beyond.  The festival chugged along year after year with seemingly no end in sight.  Tens of thousands showed up annually from Santa Cruz and beyond. Below is the 2001 t-shirt.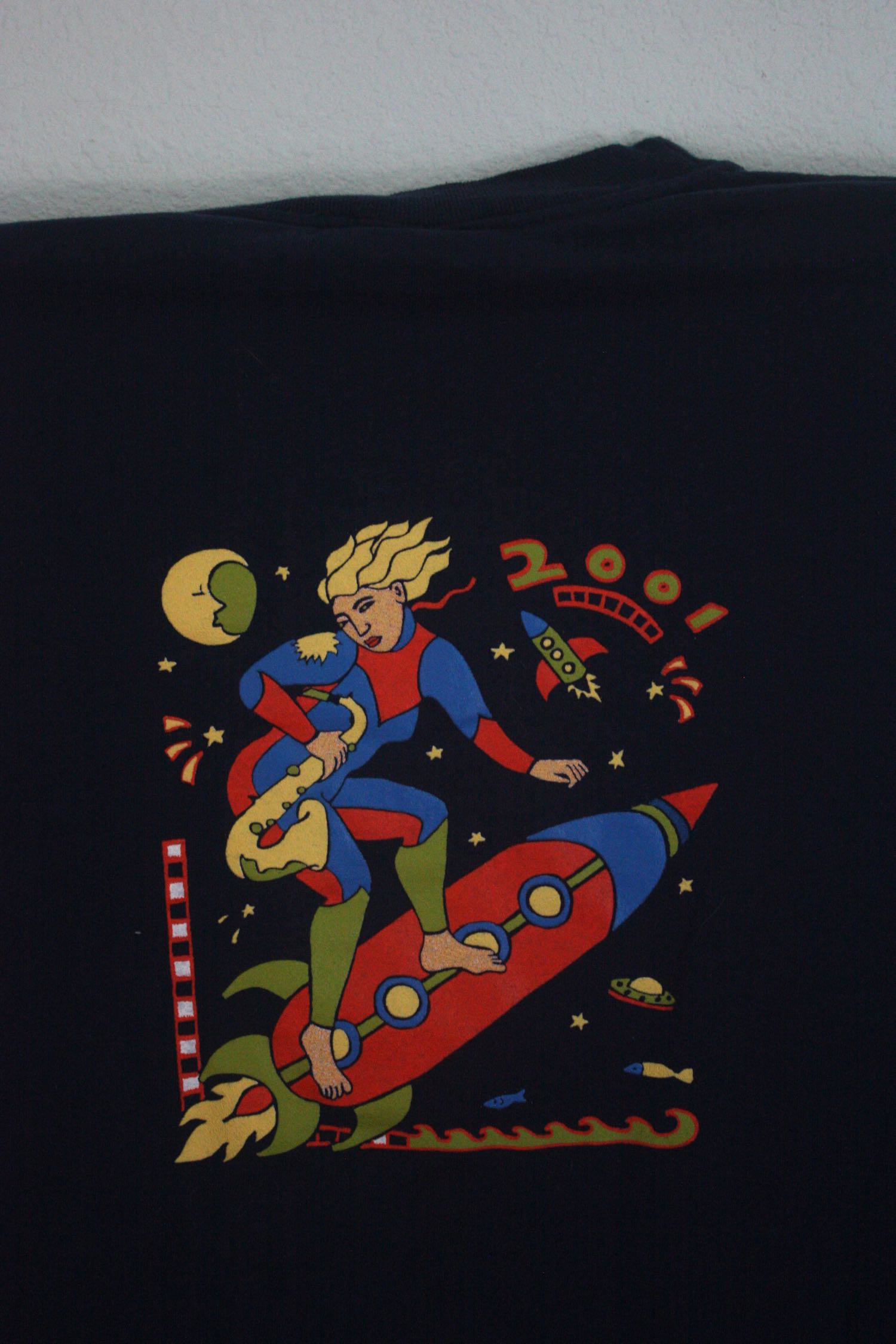 And yet, button sales began to sag.  The free entertainment and the whole free outdoor scene still drew the many thousands, but attendance at the entertainment venues was in decline.  Money got tight.  Simply, First Night programming began to bore people.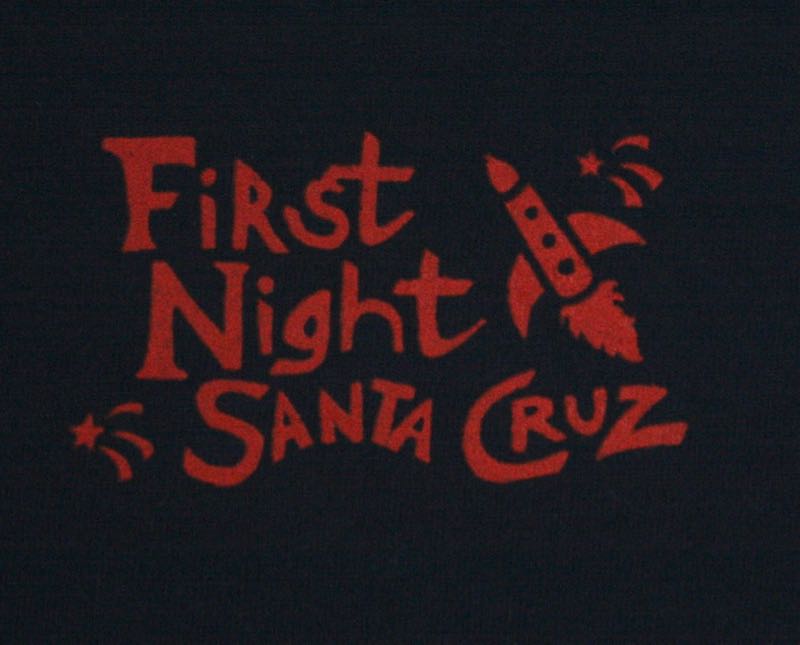 The culturati who ran First Night Santa Cruz put the same kind of show on every year: culturally inclusive, politically aware, family friendly, a touch feminist. But above all, cultural.  A typical year's schedule might include: children's dance companies, jaunty classical saxophone quartets and classical guitarists, modern jazz bands, Paraguayan harpists, folk singers, family-friendly local rock and blues groups, ethnic dance troupes, socially-important art installations, and so on.
To the culturati, this was their mandate.  It never changed, even though the acts always did. After the first few years, the community began to find the programming lackluster; not everbody, but a lot of people.
Fire eaters and giant robots and screaming, offensive punk bands might have jazzed things up; Santa Cruz is  home to all those things. But First Night Santa Cruz couldn't kick out the jams of decorum and metaphorically howl at the New Year.  Its whole reason to exist was to keep the calm — and keep glass shop windows intact.
Before too many more years passed, First Night Santa Cruz was in trouble: battered by bad weather, a bad economy, and just bad luck. They'd even missed a year.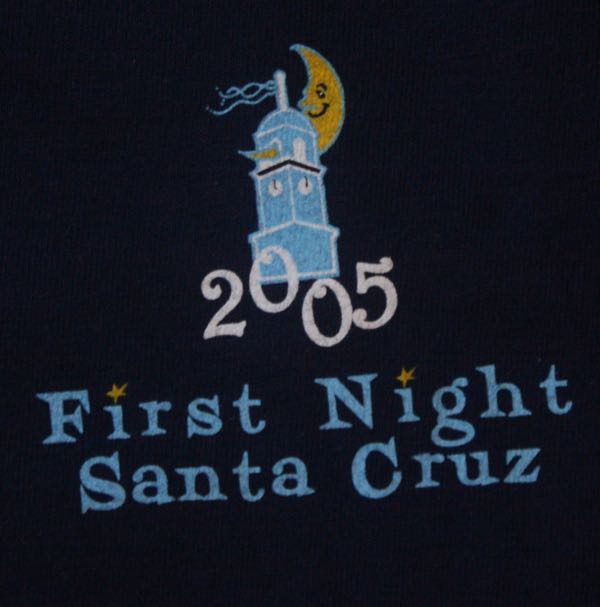 With limited funds remaining and a spunky new director, First Night did what institutions always do when they're in trouble but can't change: it doubled down.  First Night 2005 was the most cultural and significant of them all.
Below is the major t-shirt graphic.  Click to expand; there's a lot of detail. I particularly like the tutus on the fish, and the sea otter with a trumpet.  Honorable mention to the children dressed like stars, and what appears to be Glinda, the Good Witch of the West.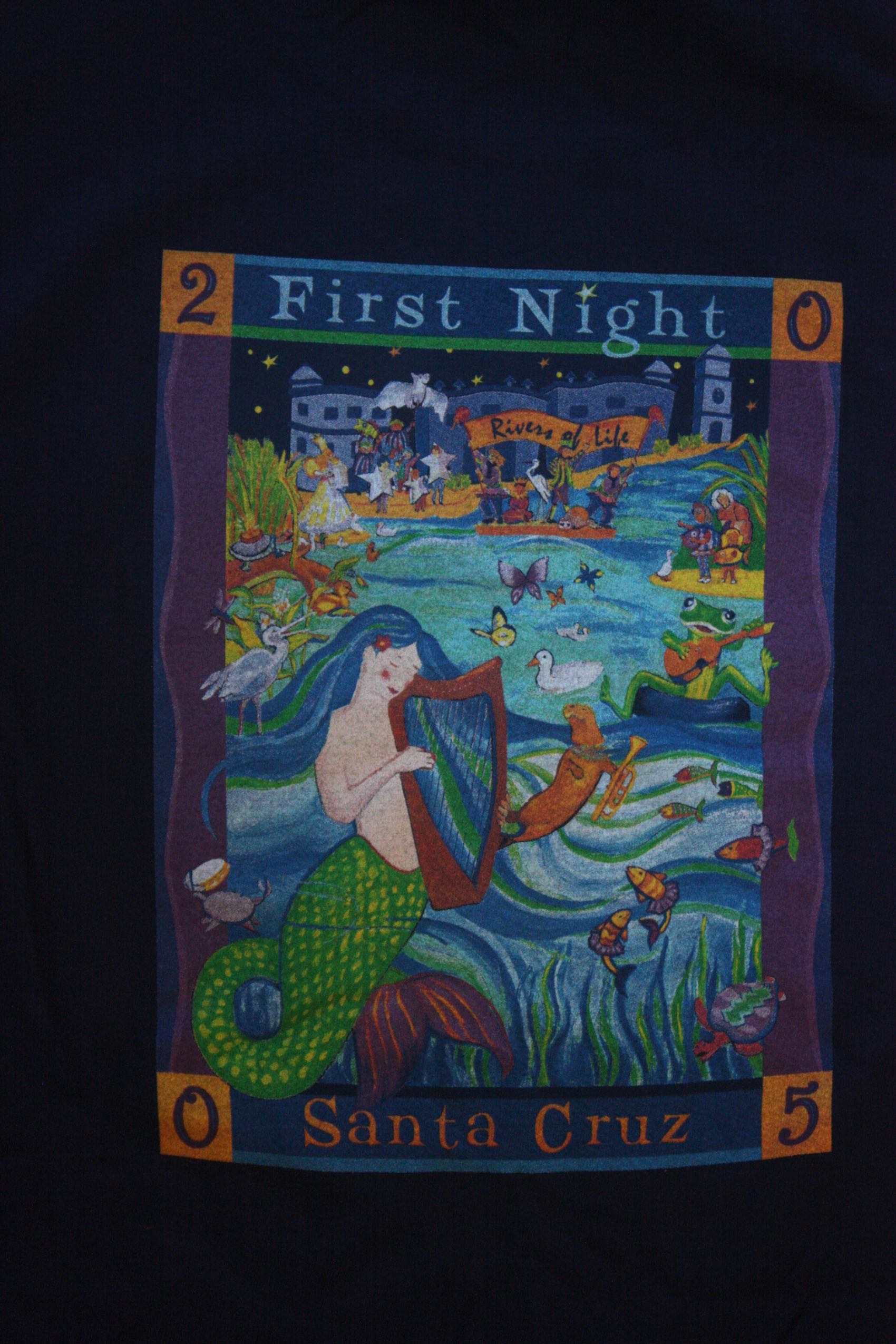 First Night Santa Cruz 2005's theme was "Rivers of Life." It honored the San Lorenzo River, Santa Cruz' badly abused hometown river, and the local efforts to fix it. It honored the United Nations Decade of Water and Life. It featured environmental cartoons drawn by children. Children painted to look like fish marched in the parade. Moreover, an entire block of Pacific Avenue was transformed into an artificial wetlands with an artificial river running through it. Attendees were invited to throw their New Year's resolutions into the river and watch them float away.
For all I know, that year's festivities were an artistic success. But this was the last First Night Santa Cruz.
And yet, downtown Santa Cruz still rocks on New Year's Eve.  To this day, people still come in large numbers: for the scene, for the countdown, for a little street entertainment, and for the many restaurants and night spots that took root downtown during the dotcom boom era. The police presence remains heavy; order is maintained.  Many merchants do a good business, and shop windows remain intact.
You can see things this way: First Night Santa Cruz kept order downtown on New Year's Eve until downtown could live without it.
And yet, anarchy cannot be suppressed. Not entirely. For upon the death of First Night Santa Cruz  "Last Night Santa Cruz" rose almost immediately.  Anarchists (the kind who would carry cards if anarchists issued cards) and free spirits gather on Pacific Avenue every New Year's Eve to stage an unauthorized DIY "Last Night" parade featuring… anybody who wants to take part.
The police worked against "Last Night" in the beginning, and are still not its friend.  But "Last Night" is peaceful and arty and a little bit crazy in the fine old traditions of Santa Cruz hippiedom. People like it. So the powers that be have never mustered the will to shut it down.
Besides, "Last Night" breaks no windows.  That's the important thing.
The more things change, the more they stay the same, and change again and stay the same in different ways.  If you want fire dancers and giant robots and participatory art in downtown Santa Cruz, the art and history museum handles that now, and rather well. They even have free live music in the evening once or twice most weeks, where you can have a drinkie on their (private) square, if you so desire. And the anarchists' community center will take care of your screaming punk rock needs.
And the anarchists' community center presents a lot of screaming punk rock.