Sometimes a t-shirt just jumps off the rack at me. It's usually a t-shirt that touches on my own past — on things that I used to know, but haven't remembered for years.  Here are a few.
Western Airlines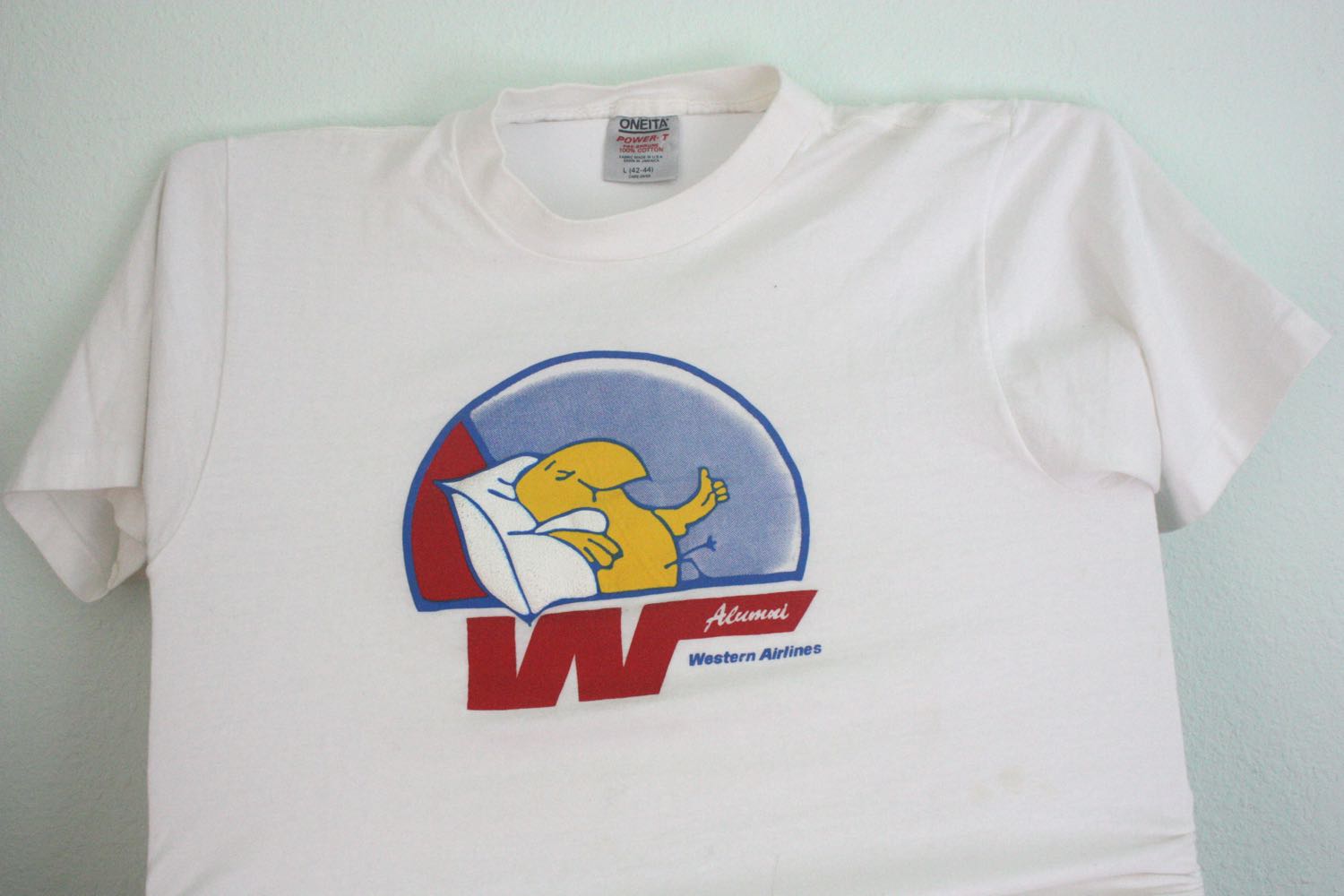 This 90s-era t-shirt made my eyes cross.  I hadn't seen "Wally Bird" in 40 years.  And I grew up with him.  He was the television spokes-bird of Western Airlines when I was a kid. And I watched a lot of television.
Back in the midcentury, Western Airlines was the luxury line  of the Western States.  Western tewardesses served free champagne on every flight (21 and over only).  Steaks, cigars, punch "volcanoes" made with dry ice (on the Hawaii runs),  typewriters in the sky for the use of passengers: You got what you wanted on Western.  Hollywood stars flew Western down to Mexico, up to Canada, over to the Rockies, west to Hawaii and even to the East Coast.
"Wally Bird" was an animated bird who'd given up flying because it was much more fun to let Western take him there.  He appeared in endless cartoon commercials. In all of them, Wally relaxed on a pillow propped against the tail fin of a Western airliner in flight.  A cigar or champagne glass dangled languidly from Wally's hand while he spoke with the rich assurance someone who knows the Good Life. .
Every commercial ended with this slogan: "Western Airlines," Wally would intone, "the o-o-o-only way to fly…."
I lost track of Western in the '80s; I took my eye off it, and it vanished.  Well, not exactly.  During the era of airline deregulation, Western merged with Delta Airlines.  Delta flew the East, Western flew the West.  The marriage made sense. When the deal was signed, Western employees put on Delta uniforms . The planes were repainted in Delta colors. Life went on.
But there were no more punch volcanoes in the sky.  And no more Wally.  Rumor has it that he's been seen atop a Singapore Airlines 787.
This tee was produced by the Western Airline Alumni, a group of former employees who hang out on Facebook and remember the days when flying was glamour.  Or at least fun.
Sista Monica
Back in the '90s, "Sista" Monica Parker was a high-powered recruiter for talent-hungry Silicon Valley companies.  But she dreamed bigger than that.  She was a big woman with a big voice, and she loved to sing: blues, soul, jazz, gospel.
For a lot of years she was everywhere on the Santa Cruz music scene.  She never became a big name, but she toured the world, recorded CDs, and lived the life.  She self-promoted like nobody's business, kept high-tech money coming in the door, and, in the end, fought cancer for years.
I heard her sing.  The wife and I were video-taping a service at the Unity Temple, one of those success-and-positive-thinking ministries that looks like a Christian church but isn't exactly.  The minister gave me a tarot reading once.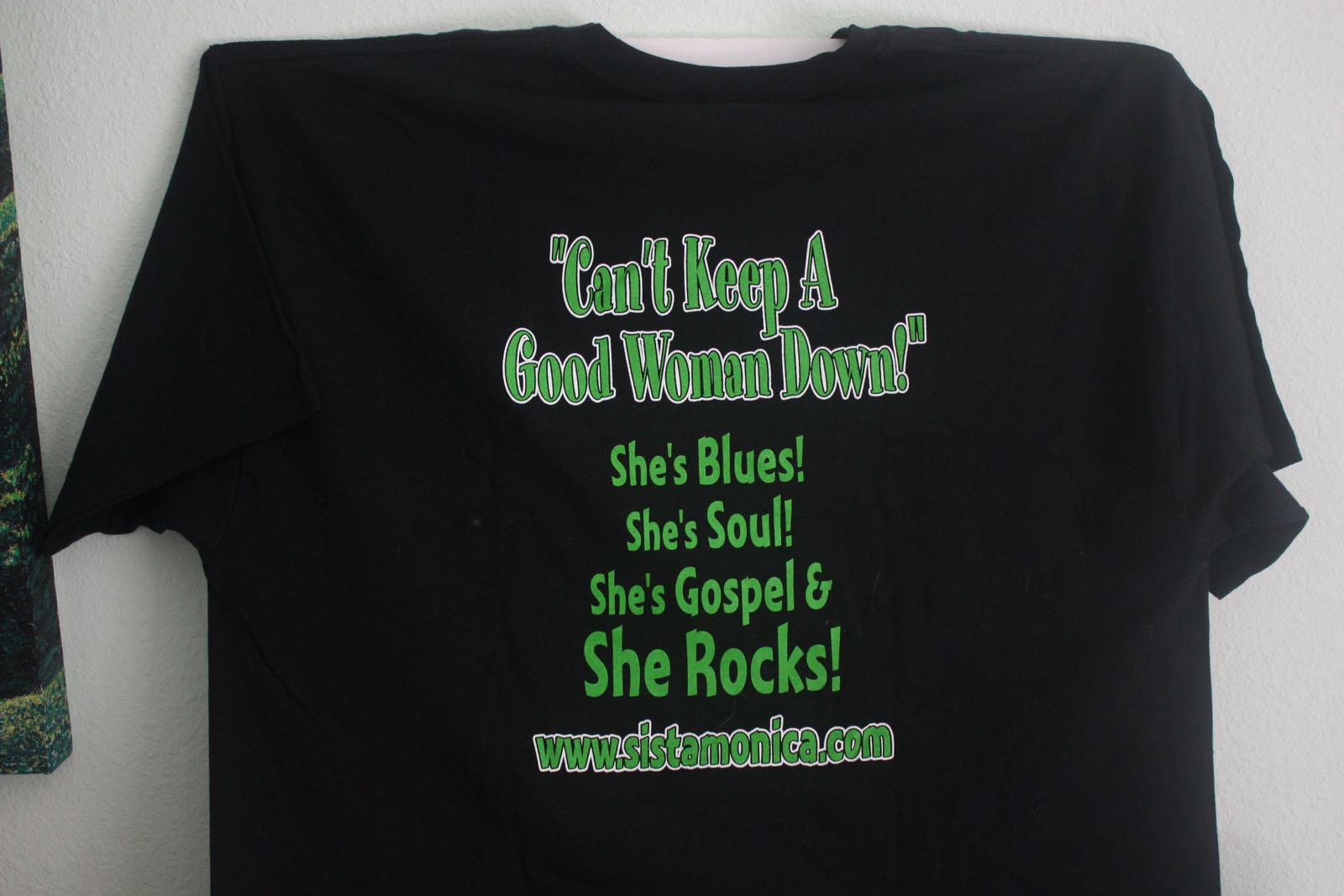 Nobody was more positive than Sista Monica; she'd been invited to perform that day, and she ripped out a version of "People, Get Ready," the old Impressions hit, that just about curled my hair.  You'll have to take my word, because I no longer have the tape.  She never sang "People, Get Ready" for the camera again that I know of.  And that's a shame, as I've never found a better version.
Sista Monica passed away around 2010.  I won't say "she'll never be forgotten." But no one's forgotten her yet.
Spenger's Fish Grotto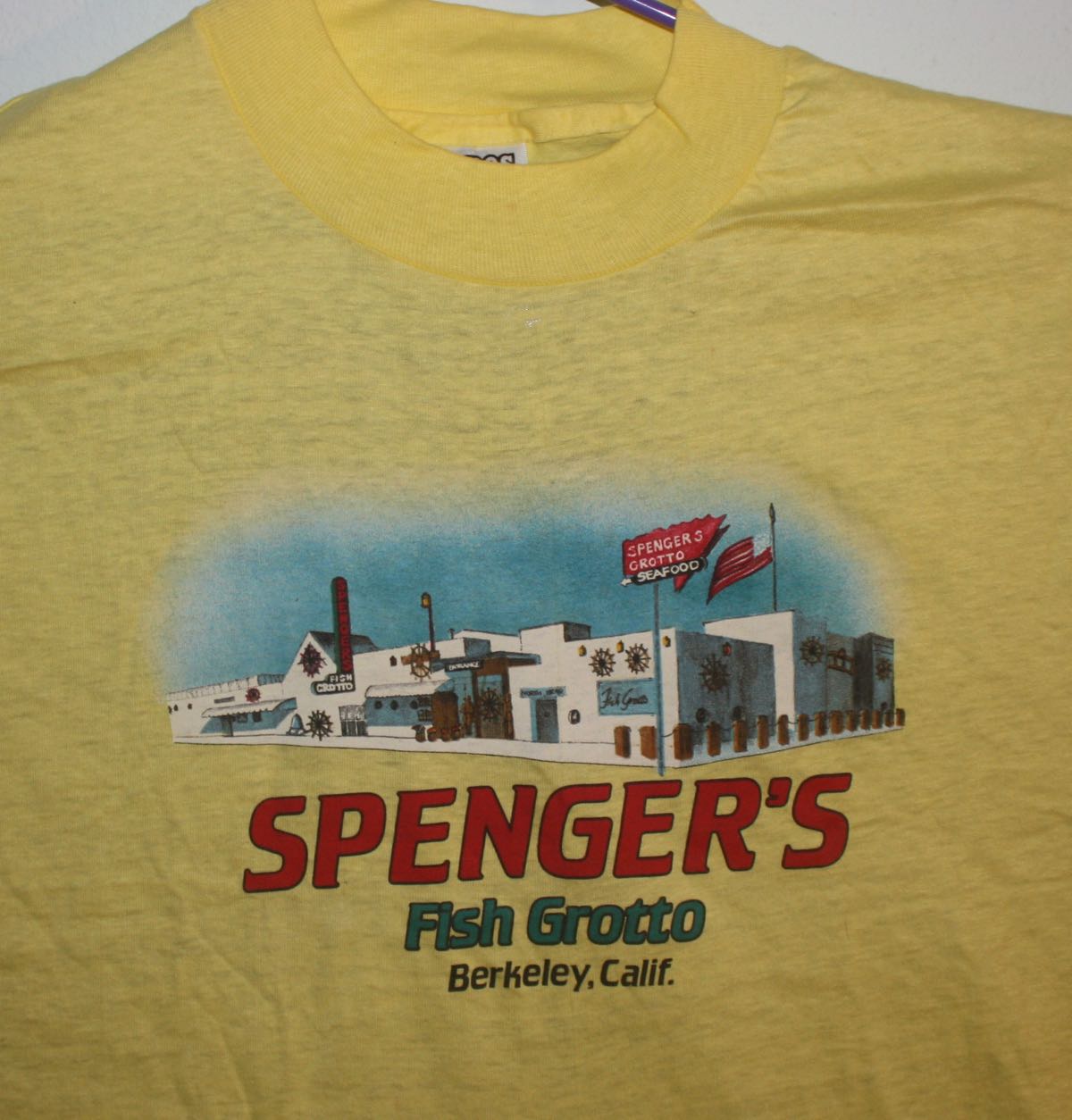 This t-shirt from the early '80s came from Spenger's Fish Grotto in Berkeley, California. Spengers was a venerable seafood restaurant much beloved by my parents' generation.
Mom and Dad dragged me there a time or two in the '60s for fried cod or clam chowder.
Spenger's wasn't fancy, but neither was the Bay Area in those days.  Really cool, but not fancy.
In the early '80s, when my Spenger's t-shirt was printed (a t-shirt's vintage can be determined by its collar tag),  I worked just a couple of exits down the Nimitz Freeway from the restaurant. My co-workers and I would lunch at Spenger's sometimes when we could give ourselves an excuse.
I remember the souvenirs tor sale behind the cashier's stand; among the toys and dolls sat stacks of t-shirts.
This brings us to one of those circular moments in collecting: it is conceivable that the Spenger's t-shirt I found at the thrift store was in one of those stacks. The shirt was made in the early '80s, and I visited Spenger's in the early '80s.
Thus it is not beyond the pale that, after I left Spenger's, the tee went its own way for 36 years and then placed itself into my hands.  In mint condition, too.    Stranger things have happened.
Spenger's was bought by an out-of-town seafood restaurant chain in '99 when the last Spenger retired; fried fish was out, ahi tuna was in.  The new Spenger's never really clicked, though; Spenger's closed for good in 2018 after 130 years in operation. That's a lot of codfish and fries.