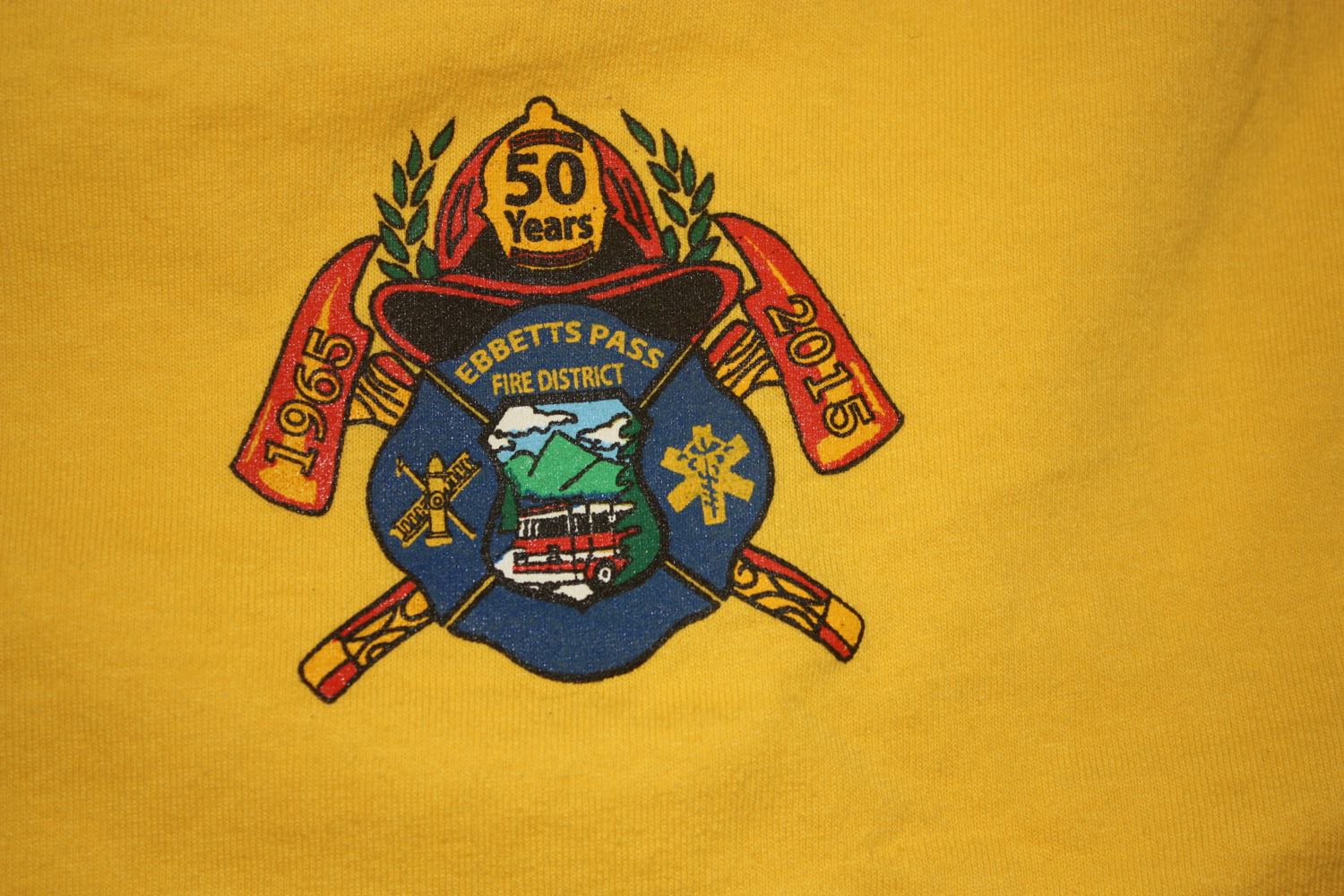 My brother-in-law was every mother's nightmare: a short-tempered, leering hot rod guy with no money, no prospects, really nothing except a cool '57 Ranchero and a string of manual labor gigs that paid under the table more often than not. In the Mother's Dictionary, a picture of his face appeared alongside the definition of "Trouble." With a capital T.
And he was five years older than Mother's beautiful, accomplished daughter, my sister, who'd fallen for this, this entity before even graduating from high school.  They married soon after she did graduate.
Flash forward ten years.  They were, inexplicably, still together. Sis had earned a master's in public education and had just begun a long career as a take-no-prisoners vocational education bureaucrat.  And Brother-in-Law — he'd become a firefighter.  I credit Sis in part; Brother-in-Law had wanted it, but hadn't organized how to get there. Sis was organized.
Brother-in-Law was good at firefighting: he loved it, in fact  Even after seniority came to him, he always chose the busiest stations, the ones that took the most calls.  No quiet 'burbs for him: he wanted the inner city: flammable old houses! Knife wounds! Frail old people with coronaries!  He even delivered babies.
Life and death, 24-on and 24-off! If Brother-in-Law's company didn't ride out on ten or twelve calls in a day, his life wasn't worth living.
Somewhere along the line, other firemen started calling him FireGod. Firemen tend to be "into" being firemen, but nobody was more into it than FireGod.
FireGod added a massive brass eagle to the peak of his standard-issue helmet.  FireGod had an encyclopedic knowledge of all the hardware on his fire truck and would make sure that you knew it, too.  At home, he had a huge collection of firefighting memorabilia that  he housed in a museum-like room called the Hall of Flame.
FireGod even collected firefighting t-shirts: over 200 t-shirts with firefighting themes. He dedicated a 20-foot-long closet to them.
So there's a t-shirt connection between me and FireGod. Though his interest long preceded mine. Still, there's always a place for a good fireman's tee in my collecction. They all address the things that FireGod obsessed with: the history, the trucks, the traditions, the gear, and most of all the firefighters' self-image.
In short, the firefighting culture. I can't tell you how many engine company tees identify firefighters with Batman. Hence this cool shirt, from a fire department that I can't identify: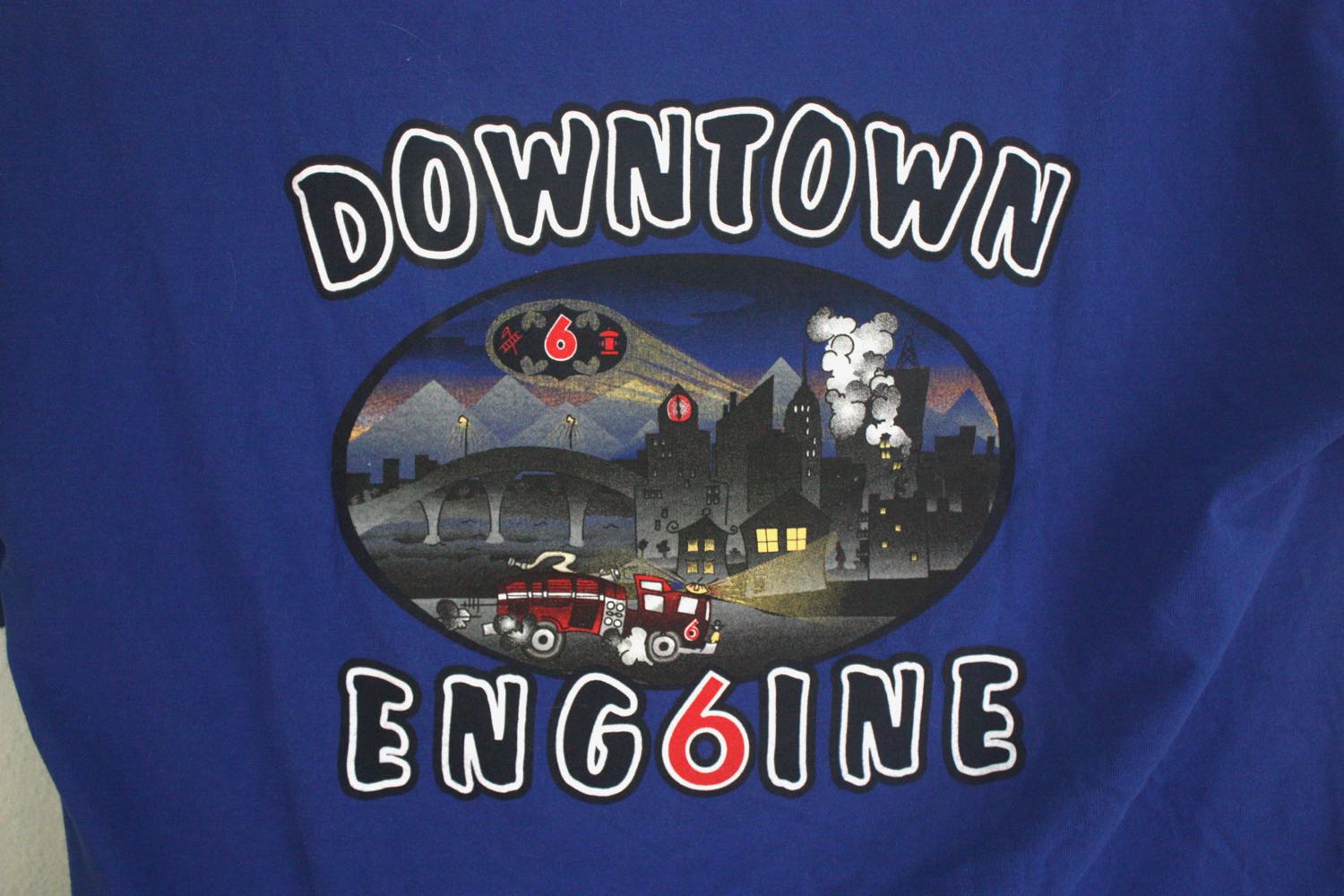 I get it, of course: firemen roar out into the dark night to save lives with their mighty weapons of water and fire and steel: to protect the helpless against implacable dangers.  They're proud of that.  FireGod used to say, "When I see people, they're never having a good day.  But they're always glad to see me!"
The emblem on the front of this tee is the St. Florian's Cross,  the "firefighter" symbol used by American firefighters — well, slightly modified to look like a bat. How could you not imagine yourself a superhero?  Especially since, every so often, you just might be?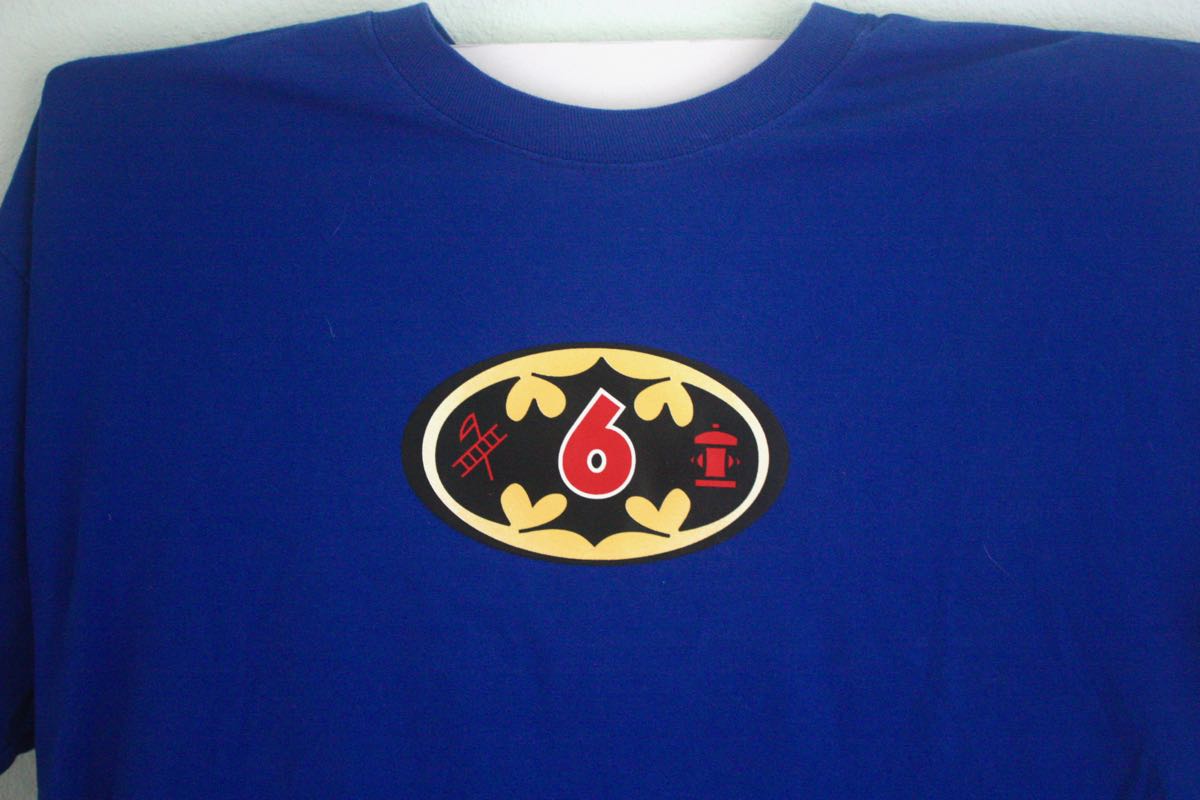 Take the East Contra Costa Fire Protection District. It had quite a few lean years and had to make do with old equipment: tired red fire trucks.  But when better times finally came, the Oakley station house got a huge, brand-new ultra-capable fire engine.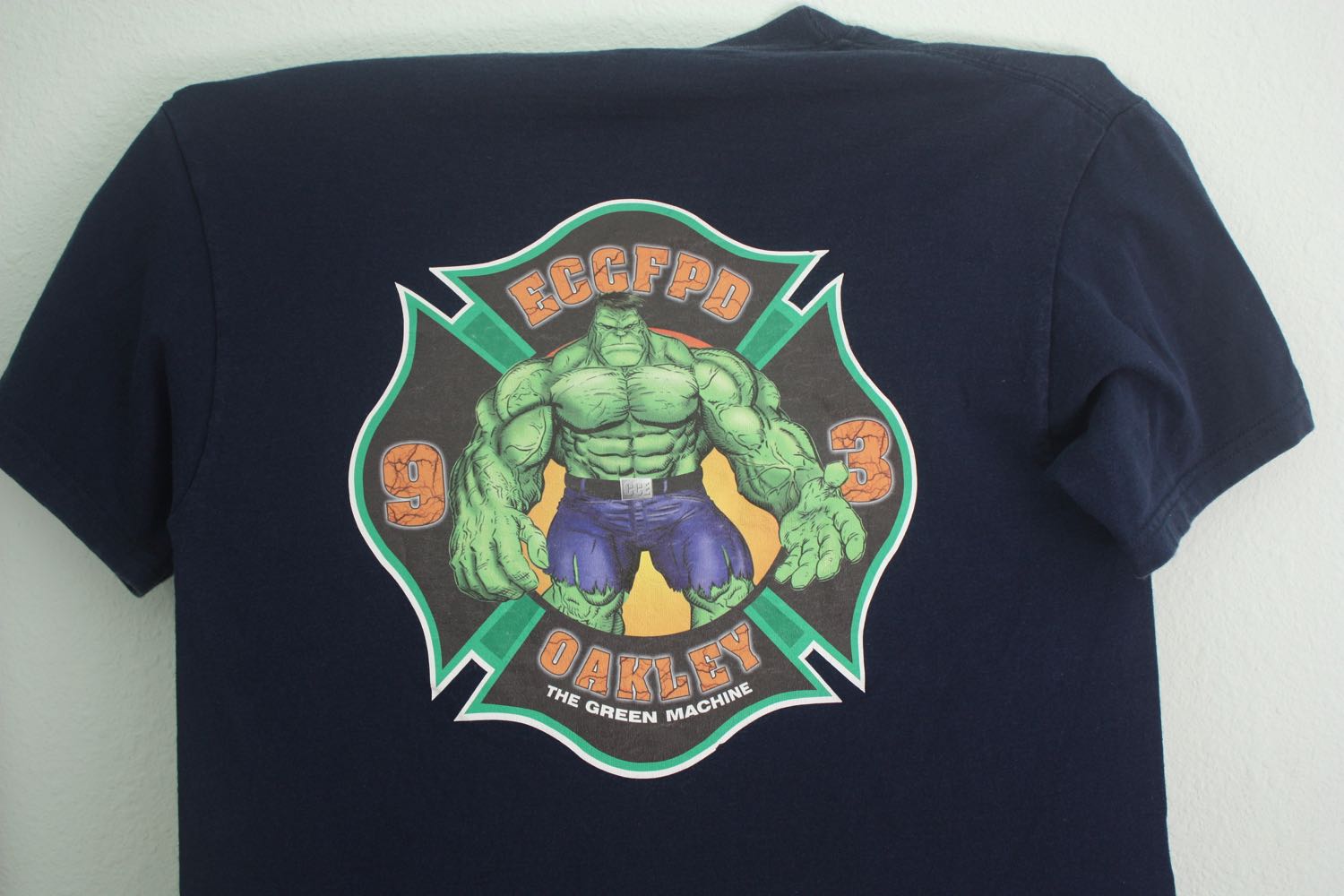 It is green.
Not everybody who fights fire stays on the ground. This California Division of Forestry Fire Protection (Cal Fire) air tanker unit flies out of an airstrip about 40 miles from where I live.  We hate to see them coming, because they're the harbingers of trouble.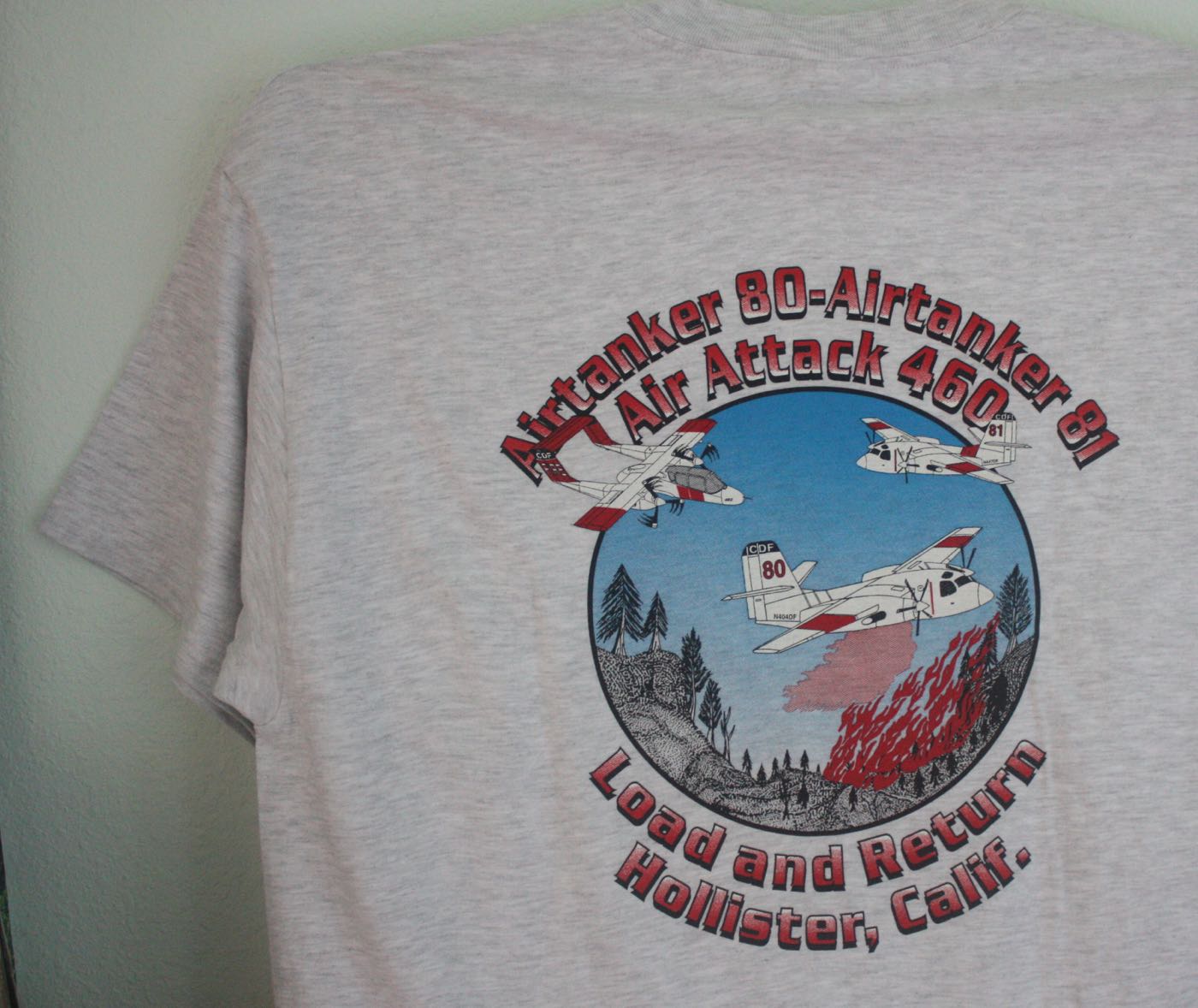 It's just another day, and suddenly comes the ground-shaking drone of old military propeller planes. Overhead, a repurposed patrol bomber orbits above the hills and you can't but think: what's burning up there? And is it heading this way?
And the crews risk their lives to keep us safe.  Just… seeing them is like getting a friendly wave from the Angel of Death.  The forest comes almost down to the ocean here.
t's a common problem everywhere in the west: more and more people moving out into the forests and country to live, where there is no good fire service.  Where this happens,  at first they depend on the state firefighters when fires get out of control.
But to keep things from getting to that point, volunteer fire departments rise up. They become the first line of defense.  And it's true that not all of them are exactly professional.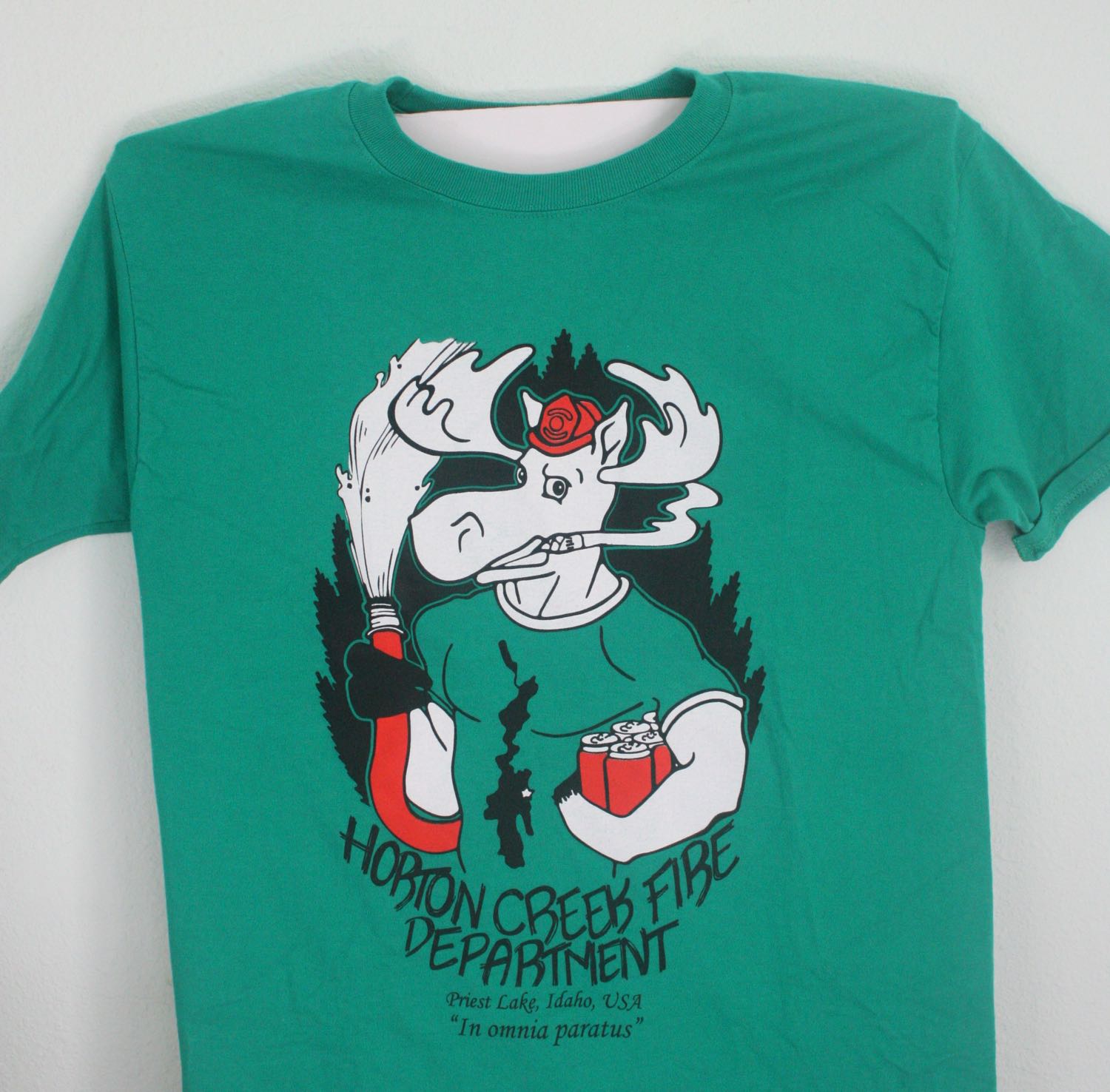 But give them time.  I like this shirt from the Ebbetts Pass Fire Protection District, up in the Sierras.  It's very down-home and home-made — like the EPFPD.
Ebbetts Pass is an obscure mountain pass through the Sierra Nevada range, 8000 feet up in the sky. State Highway 4 traverses Ebbetts Pass through sparsely-populated territory. Fifty years ago, the few locals along a stretch of 4 felt that they needed structure fire protection in the winter, after the summertime Cal Fire crews went home.
So the citizens taxed themselves and bought an old engine and raised some volunteers.  And after awhile, a few more engines, and a full-time chief.  Over the years,  the population grew and so did the crowds of summer visitors: and so the fire district needed more and better engines, more stations, more paid firefighters to anchor more EPFPD volunteers, and then paramedics and a patient transport wagon, and  a service area that expanded to over 200 square miles.  And of course, more taxes to pay for it all.
It just goes to show: a settled civilization wants firefighters.  It needs them. Without enough firefighters, and good fire prevention strategies, civilization doesn't stay settled for long.
National parks and forests also had to raise their own rural emergency services organizations. The year-round visitors need protection.   I particularly like this tee from the paramedics at Glacier National Park.  It has just the right tone of weary cynicism: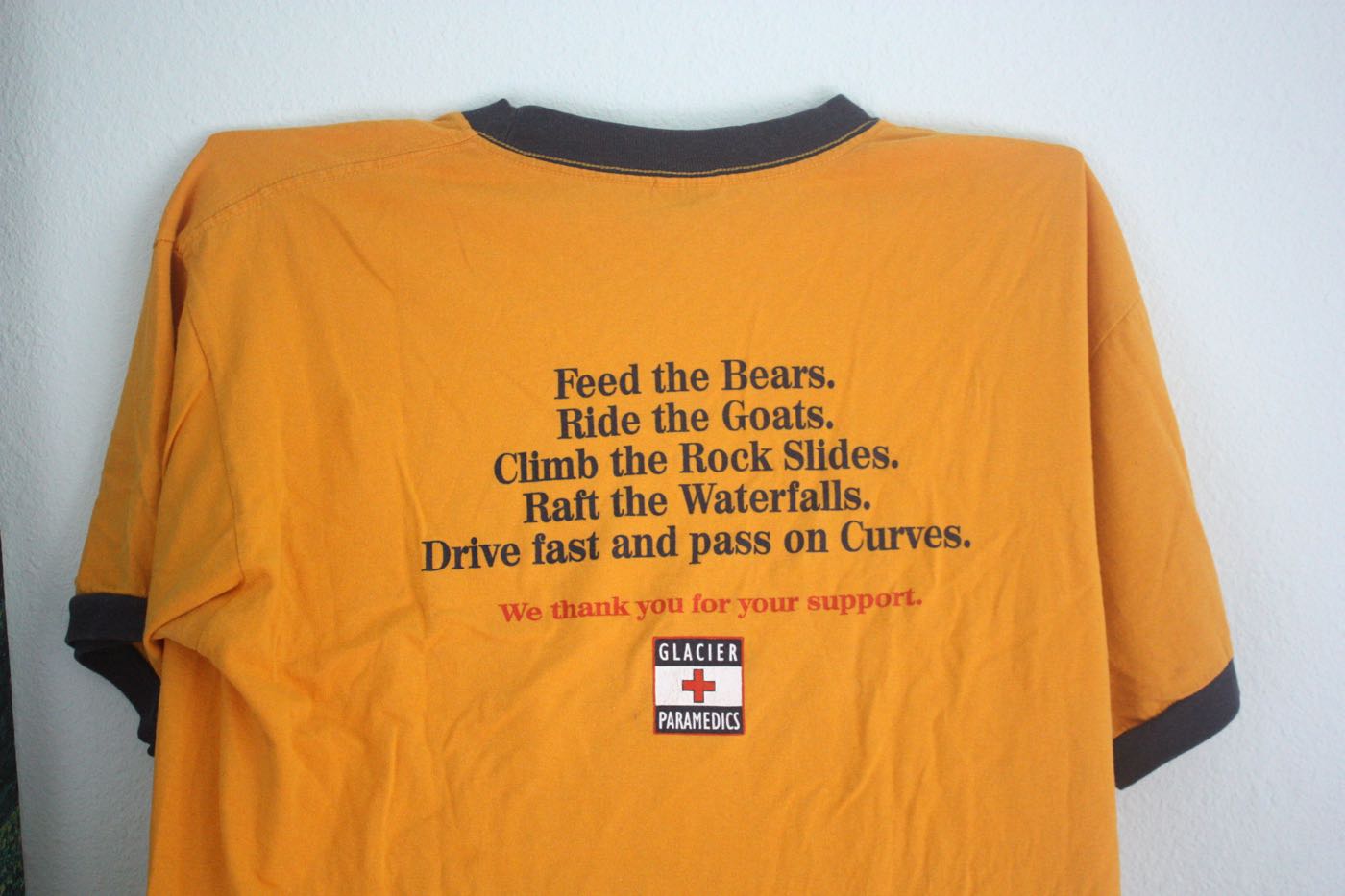 Finally, 9/11 and the World Trade Center: the death of hundreds of firemen in the terrorist attack generated — I must say — several hundred metric tons of fireman-oriented t-shirts: mostly with themes like "Lest We Forget" or "Heroes of 9/11."
I don't buy most 9/11 tees: fireman worship became something of a fetish for awhile, and many of these tees weren't even generated by firemen.  But I couldn't pass up this one, from an FDNY engine company in Brooklyn: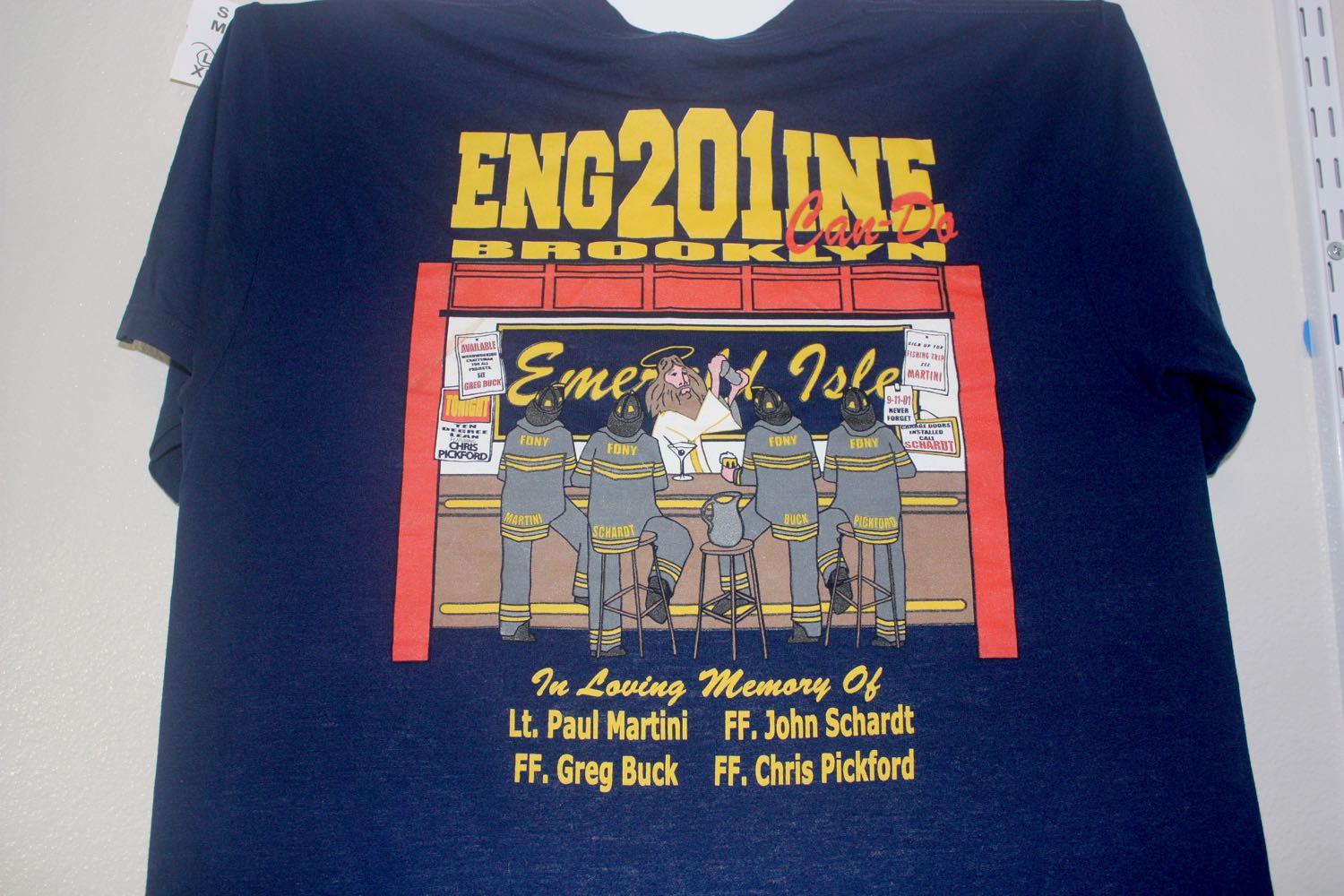 Firefighting culture is a complicated thing, and not completely admirable (what is?).  But I do like the over-sentimental — and irreverent — image of Jesus behind the heavenly bar, mixing drinks for the precinct's fallen firefighters. As if to say: truly, they're in a better place.
I never heard FireGod say a thing about 9/11, oddly.  Maybe it was because New York was 3,000 miles away. He was the kind of guy who thought about what was in front of him, first and foremost.
So he worked his career and rose in the ranks — but never to a desk job. He'd have hated that.  He even sat on the the board of the local fireman's association.  He resigned from the board when he realized that it was illegally syphoning money from  "charitable fundraisers" to buy favor — in the form of fatter contracts — from local politicians.  When the district attorney  exposed the scheme, FireGod thumbed his nose at at the board from the sidelines.
FireGod knew: the best reward for being a fireman was that you wanted the life.  He worked that life hard — too hard, as I've described.  He didn't keep himself in the best of shape, either.
He finally took a medical retirement. Parts of him hurt all the time. He just couldn't do it anymore.
And one night, a year or two before age 60, an respiratory disease or condition came up out of nowhere and killed him in 12 hours.  The doctors never did figure out what it was.  Men in his family die early, but — jeez.  You have to wonder.
A few months back one of our home smoke alarms went off around 3 a.m.  I smelled nothing, but that's meaningless.  I called 911 and a fire truck arrived in five minutes.
They could find nothing wrong; they concluded that the fire alarm just went whacky. Some of the older guys were a little pissed off to be turned out of bed for a non-fire.  But when the fire alarm sounds, you call 911.  And 911 dispatches the trucks, and the firemen make sure all is well.  Don't grouse, boys, it's the system.  And it's a good one.
FireGod knew that. I imagine he wouldn't have minded a bit.  He probably would have given me an informational lecture on the ins and outs of fire alarms, too.  Miss ya, BIL.