If a t-shirt is big enough and weird enough, I have to have it. Its meaning is irrelevant, save for this: some t-shirt designer climbed out beyond the world we know. And brought us a tee from the Other Side.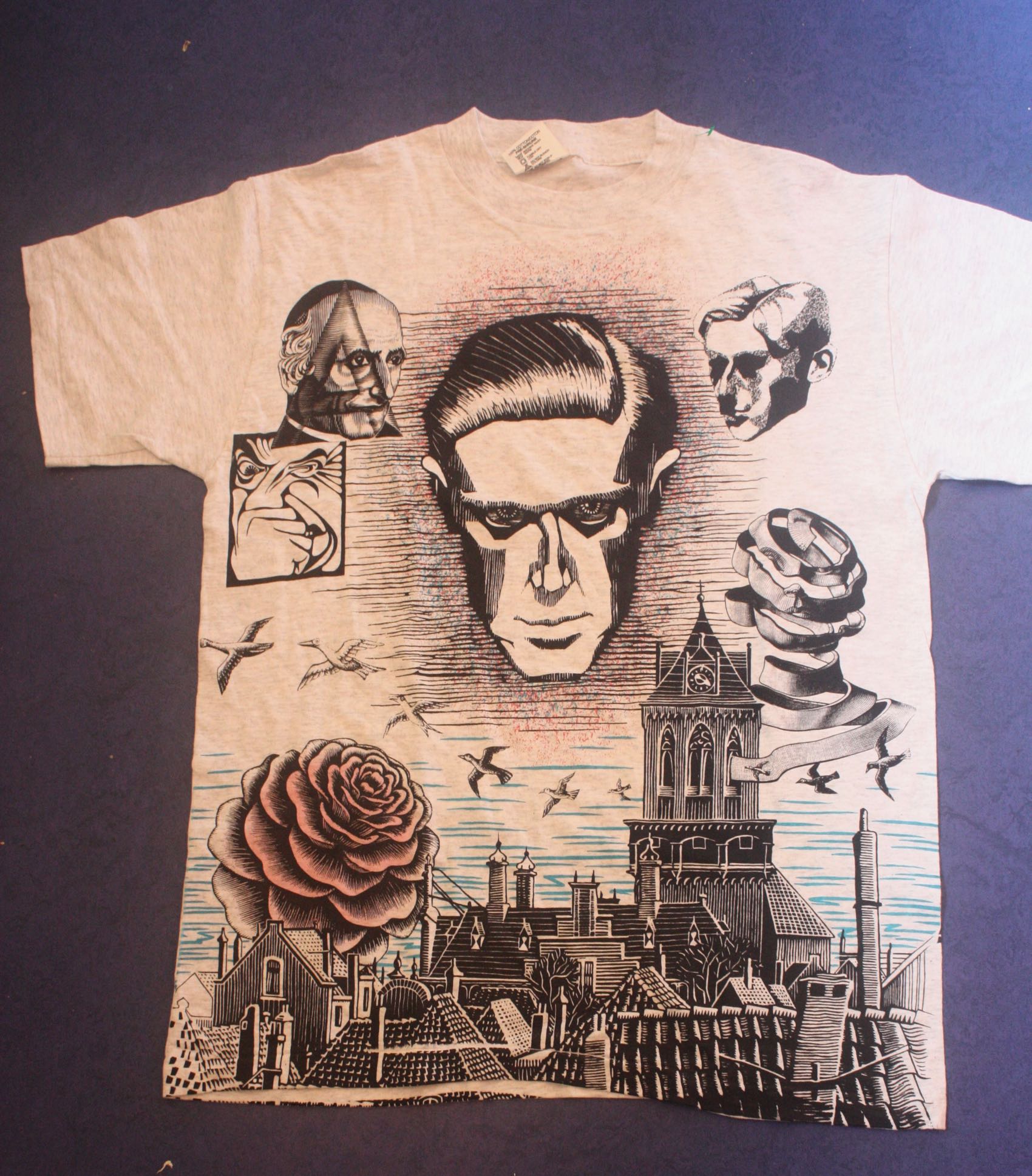 You've seen M.C. Escher t-shirts: hands drawing each other, staircases passing through the fourth dimension, interlocking lizards… You know the drill. This Escher shirt is different: it centers on a self-portrait of M.C. Escher himself, bundled with some other early Escher works, and all of it hovering above a Dutch cityscape: by Escher or not, I'm unsure.
And it's a wrap-around. Cool, or what?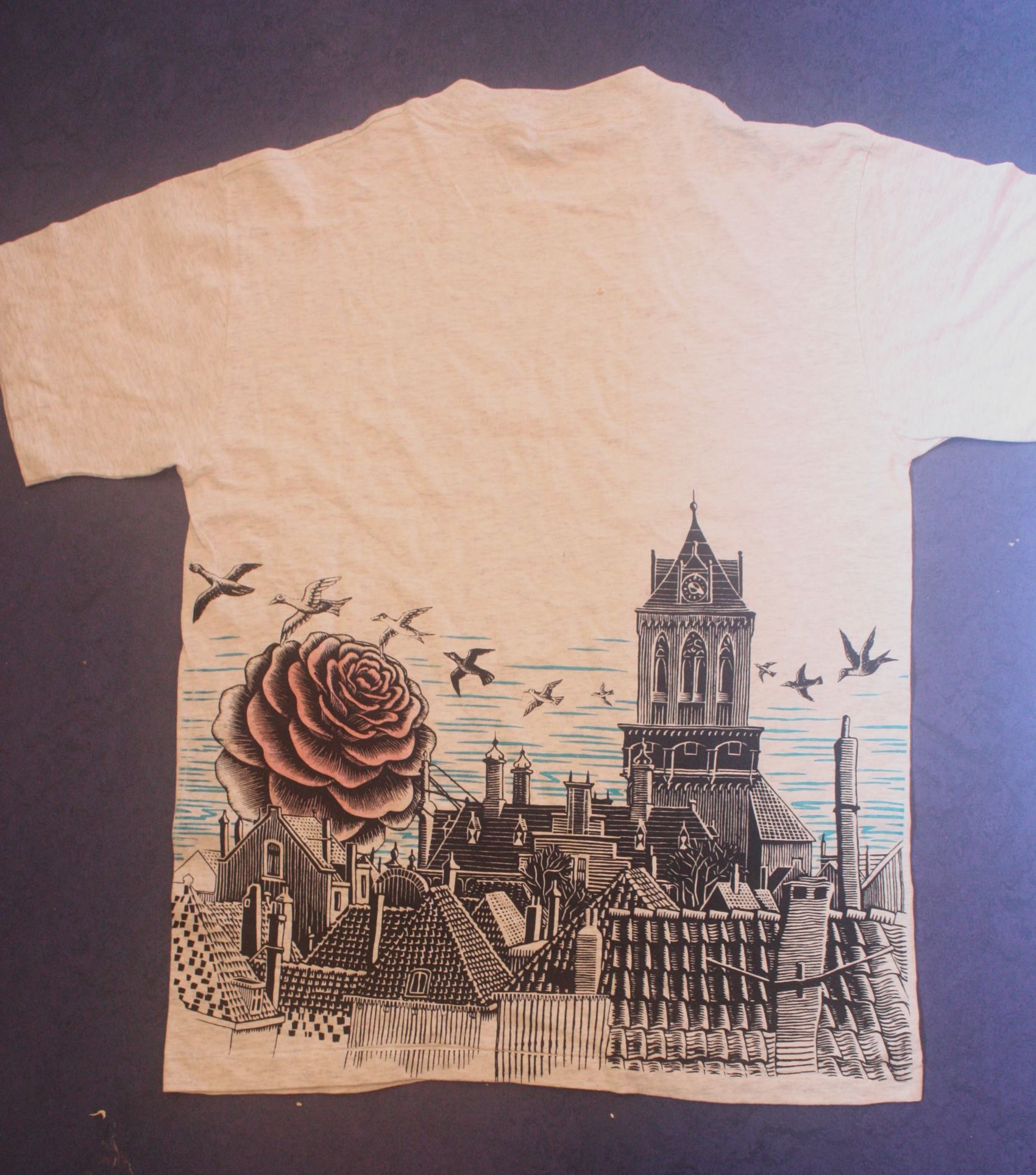 I'm from Santa Cruz; this tee was printed down here 30 years ago by a t-shirt imprinter called Andazia. Andazia licensed interesting artwork from various sources, printed the art on tees, and distributed the tees through bookstores, museums, and galleries.
For a time in the '80s and early '90s, Santa Cruz was the national font of M.C. Escher t-shirts. I even met the Andazia people once nearly 30 years ago at a t-shirt surplus sale in their parking lot. I picked up a couple of things, but nothing this cool.
Andazia's been gone since 2003. But the tee was waiting for me at Goodwill.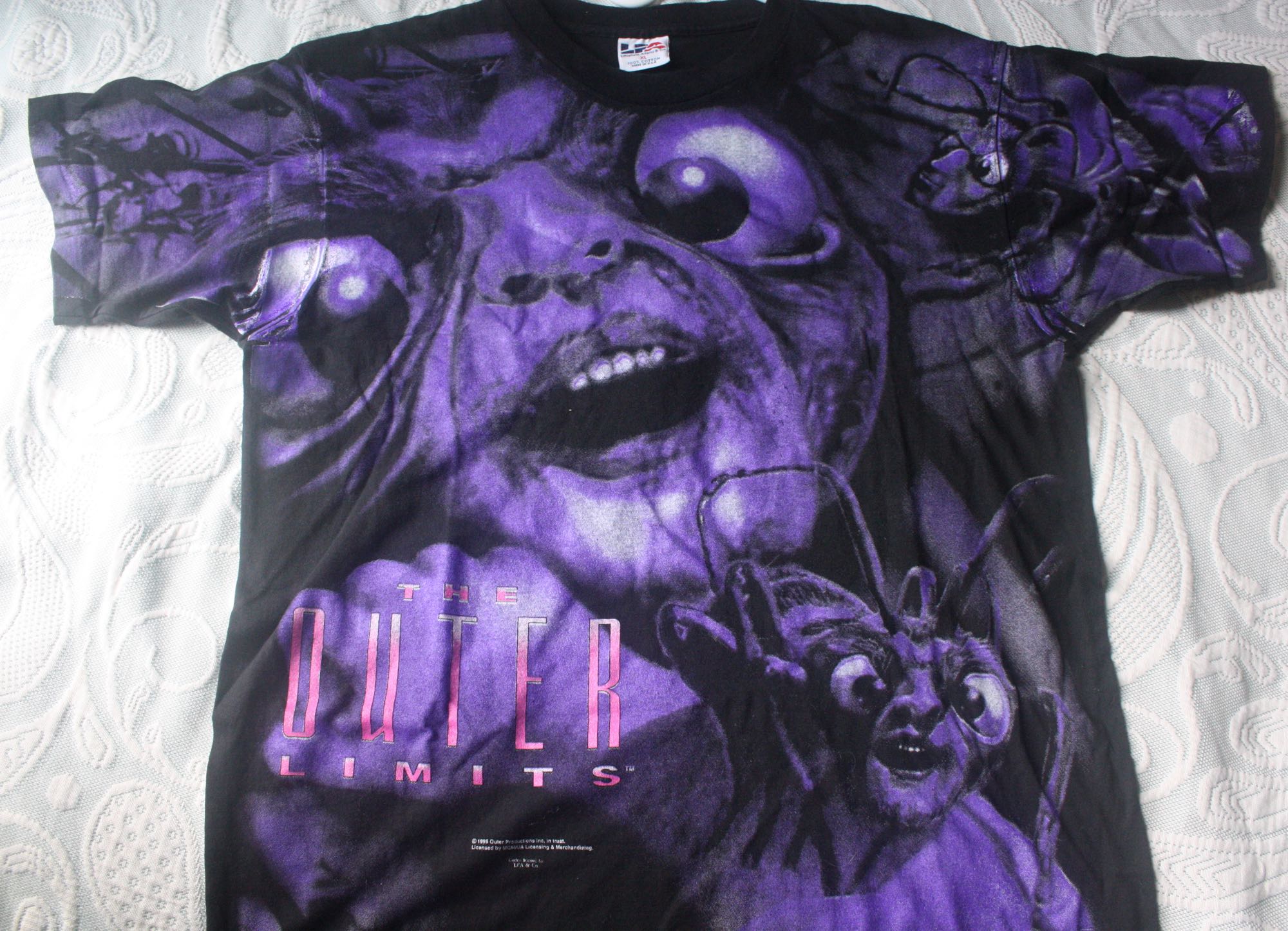 Now as far as big and weird t-shirts come, they don't come much bigger and weirder than this. The design spills across the shoulders, down the arms, and all the way to your crotch. And it stares at you. Oh my, it certainly does.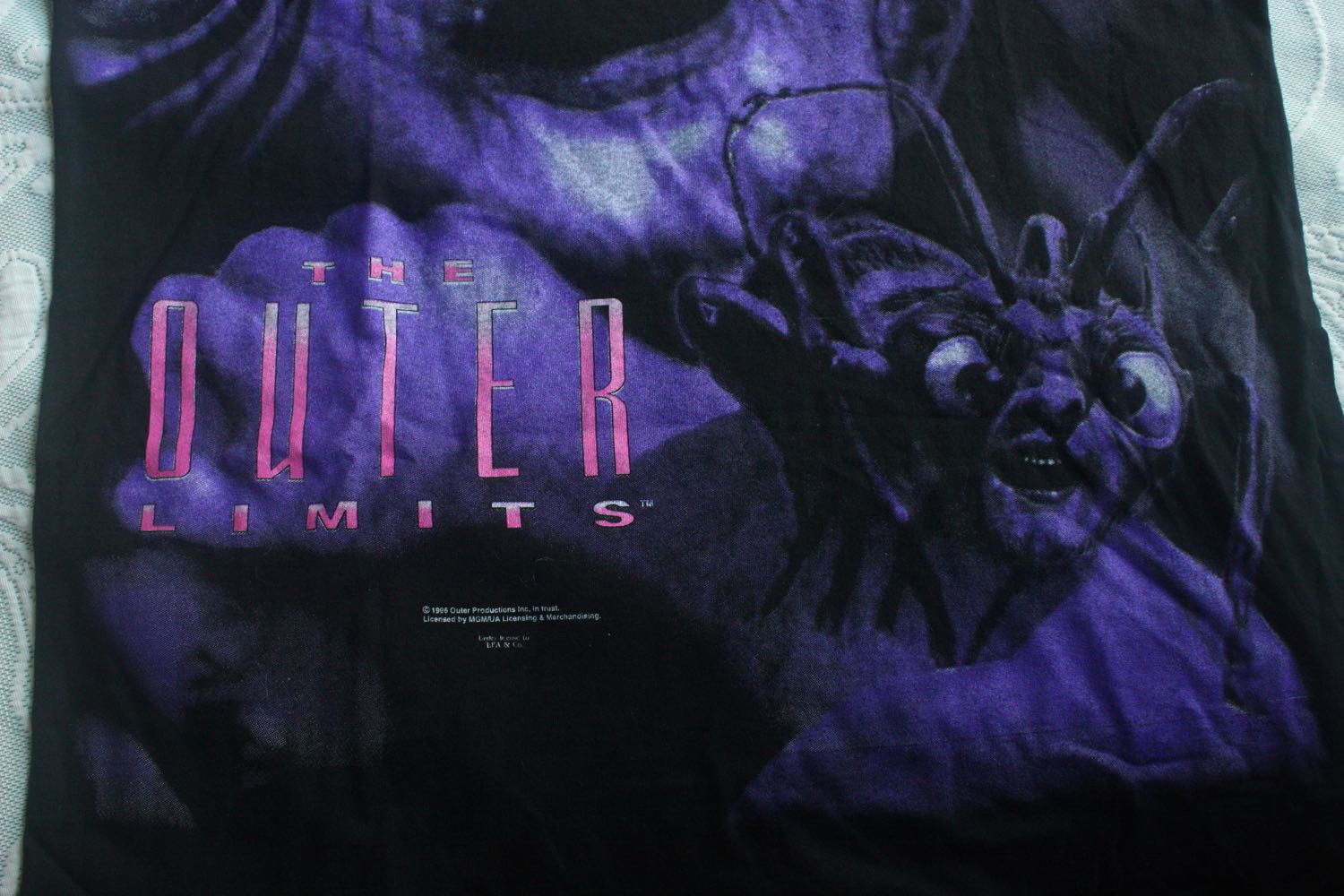 You're looking at another licensed t-shirt, this one for the reboot of the classic sci-fi television show "The Outer Limits" in the mid-90s. But the design is from an episode of the original series, "The Zanti Misfits." Said misfits were ant-like criminals with grotesque human faces, exiled to earth by their home planet. And you're looking at them.
Some of the design is silk-screen, and some is hand-applied. It's some kind of masterpiece of over-the-top men's wear. If I were to walk downtown in this t-shirt, every eye would be on me — perhaps in shock, but nevertheless on me. I'm not going to.
This tee was designed and manufactured by an outfit called Littlefield, Adams, and Company, which placed tees with licensed designs in discount department stores. Can you see this tee hanging with pride in the "Boy's and Men's Clothing" section of a Bay Area K-Mart, circa 1996? And it's Blue Light Special Time…
I've got many cool tees, but few where the design so absolutely dominates the entire shirt. Here are some lesser but still excessive tees:
I'm no big fan of Swedish black metal bands, but I had to take this shirt home. Sure it's all bones and skulls like so many metal shirts. But it has that special Gothic zing of the fur-clad headbangers from northern Europe and Scandinavia. A black griffin skeleton that nearly covers the whole tee? Gimme.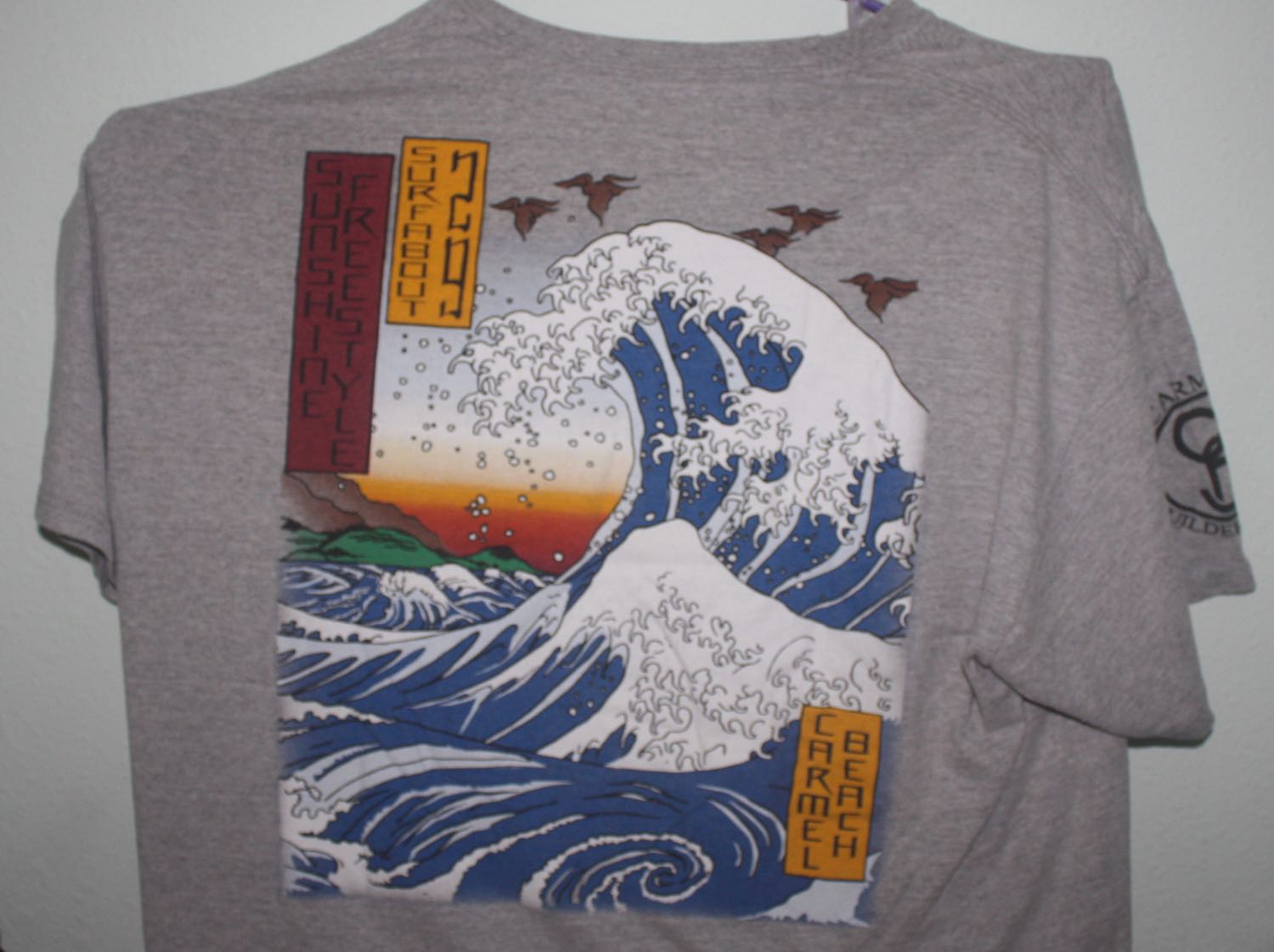 Now, I am a big fan of Hokusai waves, and this Carmel surf contest tee well rips off the Japanese woodblock print master with an elegant and over-the-top full-width design. And pelicans. The pelicans make it.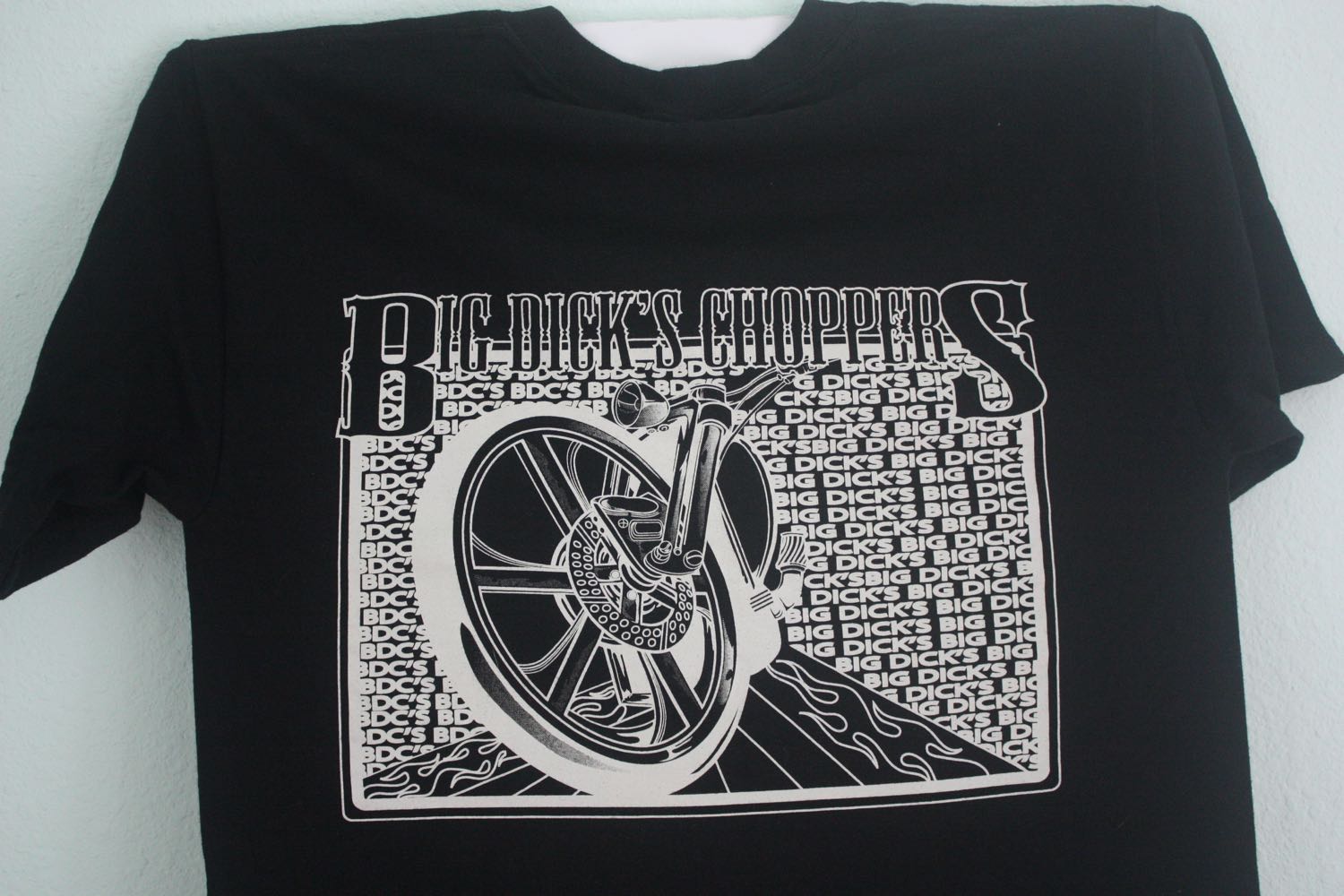 I've got nothing to say about this one. Nothing.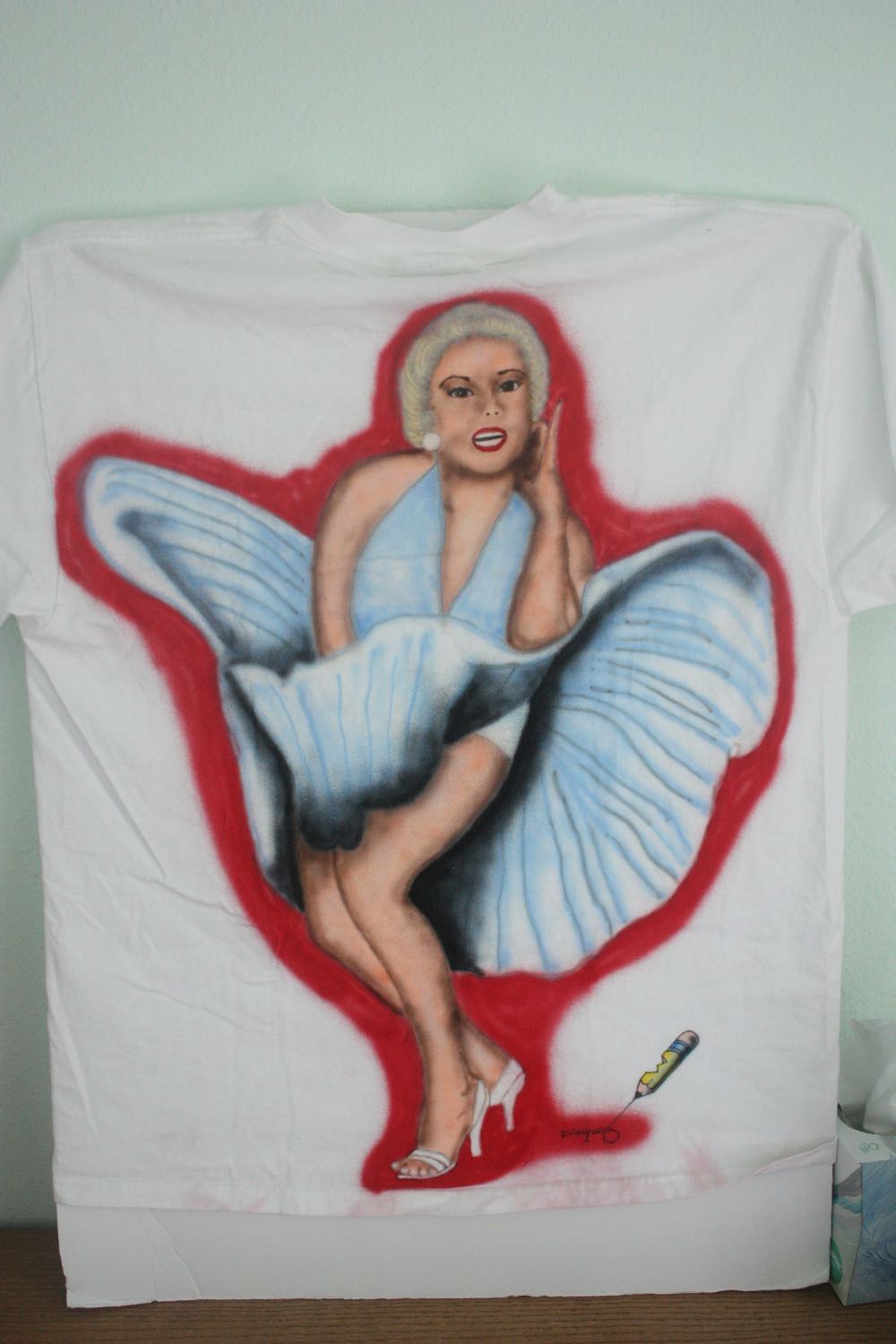 We'll end with an airbrush Marilyn. Nothing says excess like a crazed portrait of a relentless '50s sex goddess, executed by a local artist over Salinas way.
I love this job; even though I don't get paid for it.