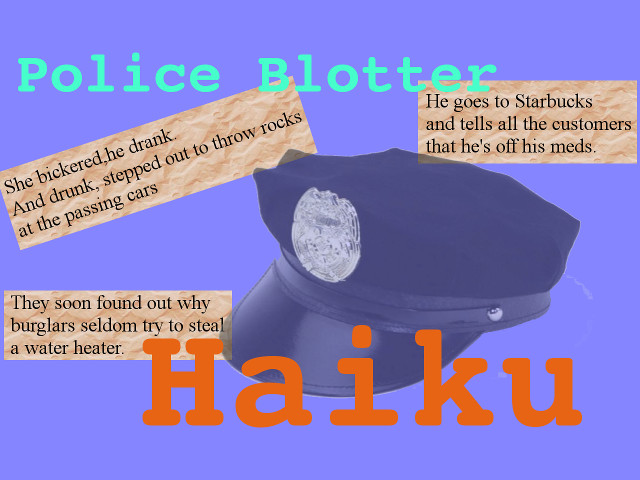 I put up a project on Kickstarter to fund the launch of "Police Blotter Haiku: the Book" (not what I'll call it). And you are more than welcome to go over there and see the rather odd video I made in support of the project.  And maybe even drop a dollar or two to help it along, though that is not at all obligatory.  Here's the link.
http://www.kickstarter.com/projects/572102501/help-launch-police-blotter-haiku
For those of you with other things to do besides keep track of my life:
Police blotter haiku are 5-7-5 haiku based on true crime stories taken from the police blotter columns of newspapers large and small.  The police blotter column is where the human comedy –and human tragedy – lives: the two drunks who crash a truck and each claim the other was driving; the jilted boyfriend who deflates his ex-girlfriend's tires in retaliation; the man whose guilty conscience makes him run from the cops – even though he's not wanted for anything. By anybody.
I've been writing these haiku for years.  People seem to like them. The haiku now have their own blog, Police Blotter Haiku, although only a small proportion of the haiku I've written appear there.  Most of them appeared in a now-vanished blog of mine and haven't been republished.
So I think it's time for a book.
That's where Kickstarter comes in.  It's a social-media platform for funding projects of any sort: artistic, technological, for-profit, non-profit, whatever. You make a proposal, set a target amount, and provide prizes and rewards that persuade people to back you.  You only get the money if you meet your target goal.  But it seems to work for a lot of people.  Maybe it'll work for me.
I want the money for publicity.  Because thought people seem the books I've written, nobody much buys them.  It's hard to get publicity.  But I have a plan this time, and you can hear all about it at Kickstarter.  And there are a few other ways in which money can make the book better.
Anyway, follow the Kickstarter link to at least watch a bizarre video and listen to me orate police blotter haiku (with reverb effects), and perhaps make a pledge if you're so inclined.  But I'll still be your pal if you're not.
I haven't written new haiku for a few months, but I've start again and they're working out fairly well. I put up a new batch on www.policeblotterhaiku.com just a few days ago. Here's one:
Shots fired, three men flee.
The bullet holes in the wall
have little to say.
I feel a little odd about asking for support. Maybe I shouldn't feel odd.  We'll see. In the meantime, thanks as always for being here.