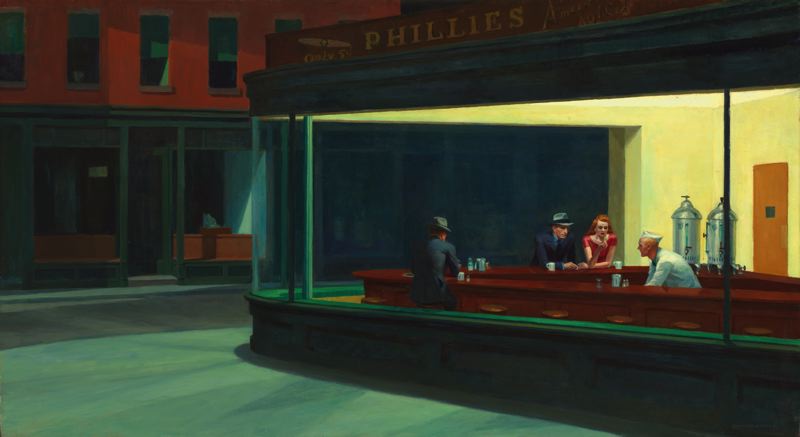 The time is 7:05 am. It is a weekday. And from the big table by the front door, we watch the West Side of Santa Cruz drive up for its coffee and bagels.
Outside, an old pickup on giant tires parks jerks to a halt. A weather-beaten, thirtyish man emerges: in hoodie, board shorts and work boots. Back in the cab, the Customary Dog sits erect on the bench seat.
The hoodie man charges into the coffee house and draws an extra-large house brew from the spigot by the register. The word CONTRACTOR is not written across his chest in 100-point type. But it ought to be.
This coffee house is an odd duck, at least at 7 in the morning. Latte orders, cappuccinos: they're few and far between. It's a workingman's joint here and now, and most everybody heads for the giant thermos of pre-brewed coffee. Or, if they're fancy, to the brew bar where the barista has set up a drip filter and cup for them. She knows her regulars, and preps their brews-of-choice as soon as she sees their cars pull up.
A fat university cop sits at the front table, speaking in low tones to lean, dried-out men with the look of retirees. In the background a worn young woman hovers near the ATM machine. Her tight jeans and low-cut blouse show too much — joylessly, with the feel of someone whose night furnished not enough rest and whose day is an ordeal stretching ahead.
A hulking civil servant stalks past with hollow eyes, shirt half-out of his slacks. We know each other, but for him it's too early for more conversation than the flick of one eye. I know what his job is like, and his health. I understand.
At two tables near the back, indifferently-dressed women peer at old laptops – apparently here to use the free WiFi on their way to whatever job keeps body and soul together. There is little conversation of any kind; not face-to-face or even on a cell. The mechanical sounds of fans, blowers, steamers and compressors dominate the room. They fracture and neutralize the light jazz drizzling from wall speakers.
More trucks pull up, some with more dogs. More men emerge, in hoodies and boots. Hoodie men have come to our house lately, to fit it for new siding and trim the trees, and paint. I groan when I write the checks, but their hourly pay is little enough for physically demanding work where injury's a risk and health insurance isn't so common. The man who trimmed our trees walked with a limp; earlier this year, a chain saw caught him across one thigh.
And yet "the market" – our new god – tells us that these people are less valuable and more dispensable than, say, an advertising executive.  For no reason that would make sense in a sane world.
It is not just coffee that draws the crowds here, but the bagels as well. Bagels of a dozen flavors, split and toasted, fresh from the bakery: with cream cheese, with hummus, with eggs, with bacon, with tomato and onion, or any combination thereof. Carbs, a little fat and protein, a vitamin or two, and a big jolt of caffeine with milk and sugar: it's the low-priced fuel that launches devalued people into another day in the salt mines.
The coffee house staff works like a machine: serious young women in constant motion. Orders in, orders out, one after another, with rarely a bobble or wasted movement. The cashier passes the coffee order to the barista at her left hand, who probably has already started it. The bagel order, written on a yellow-sticky note, she slaps on the bagel prep station behind her.
The bagel cook endlessly slices, toasts, spreads, fries, and assembles, stopping only to slide the finished sandwiches across the counter in flat black baskets and call out the orders in a steely voice: garlic bagel with easy cream cheese; onion bagel with egg; whole-wheat bagel with hummus and tomato. On and on. If we are each of us in this place the hero of our own comic book, facing villains with names like PsychoBoss or Captain Overwork or Doctor Poverty, then these bagels are the Breakfasts of Champions. And they will suffice for another morning.
And then they are eaten: some at the few tables, in silence. Others, God knows where: their owners will take them "to go" and run out the door with a wrapped bagel in one hand and a paper coffee cup in the other. Will they eat it one-handed, behind the wheel? Devour it at their desk, at the job site, or in the teacher's lounge in the minute or two before the work day begins? The answer to these questions, you and I will never know. But we can surmise.
An hour or two later, this coffee house will be a different place: fewer customers, none of them in much of a hurry to be anywhere. "The market" looks more kindly upon them – or perhaps upon their parents. They'll order more coffee drinks and sweet pastry. They'll come with friends, and chat. Some will establish themselves at a table and spend two or three hours attempting the Great American novel, or at least the Great American Term Paper. Laptops will stream YouTube videos; young men in horn-rimmed glasses and funny hats will laugh over-loudly. This is what we expect of coffee houses.
But this is not all that they are. Nor everyone who uses them.
So ends another dispatch from the West Side of Santa Cruz, where some people live the good life all day long. And a whole lot of others are just getting by.