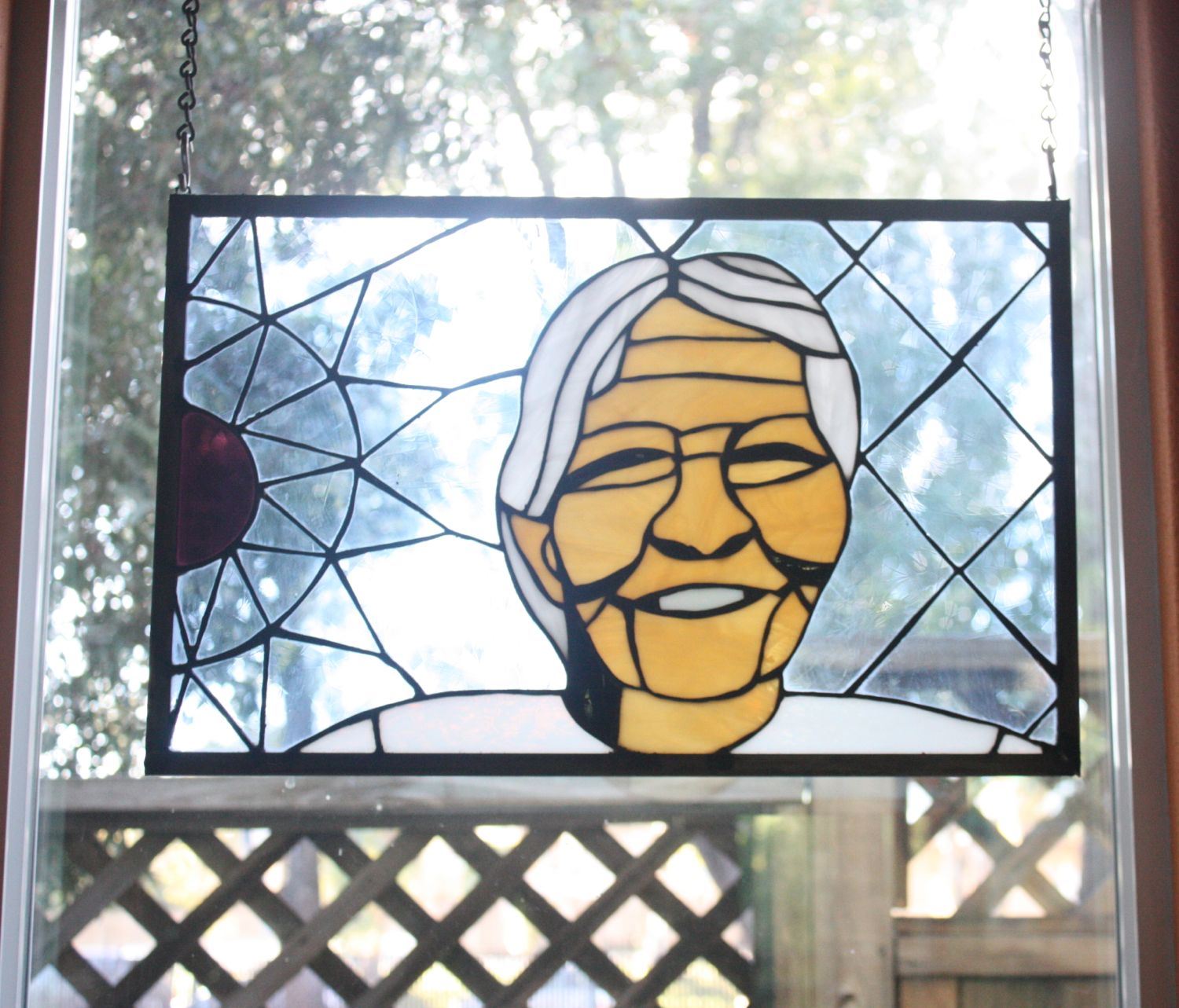 Inspiration, like water, flows downhill. Some years ago I began depicting faces in stained glass — using only the glass itself, without painted-on features. Technically I'm not great with glass, but I made some progress. Perhaps I'll take it up again someday.
If you know anything about glass, you know that it only cuts naturally in certain directions. You can push the limits, even go beyond them with the right tech. But aping the smooth transitions of the human face with pieces of glass and copper foil? Not so easy.
Fortunately, I had a book to show me the way. Back in the '70s, before digital photography, each summer a traveling photo studio followed the county fair circuit in the western states. The studio offered fast, cheap large-format black and white portraits of you, your family, your buds, or whoever you cared to pile into the box-like studio-on-wheels. I remember seeing it at the local fairs back when I was a teen.
This wasn't what you'd call subtle photography; the studio crew shot, cooked, printed, dried and delivered in 15 minutes. It needed high contrast, powerful can't-fail lighting. But the product was portraiture that working people could afford. They could dictate how they wanted to be seen, like the patrons of posh society photographers .
After a while the portrait shooter, Mikkel Aaland, realized that he had something special and began asking customers for photo releases when he got a particularly striking portrait. Eventually, he published a book called County Fair Portraits that shows off the most affecting portraits. If you follow the link, you'll see some of them.
All those very human faces etched with lines in high relief: they showed me exactly how to cut the glass. They gave me some ideas about shadowing, too. The glass panel above was inspired by a portrait of an Apache woman taken at the Arizona state fair. Again, follow the link and you'll see the original image.
I got three glass panels out of that book. Below find the last one I cut, a qualified success; my attempt at glass painting to indicate shadow eventually went wrong; the paint deteriorated.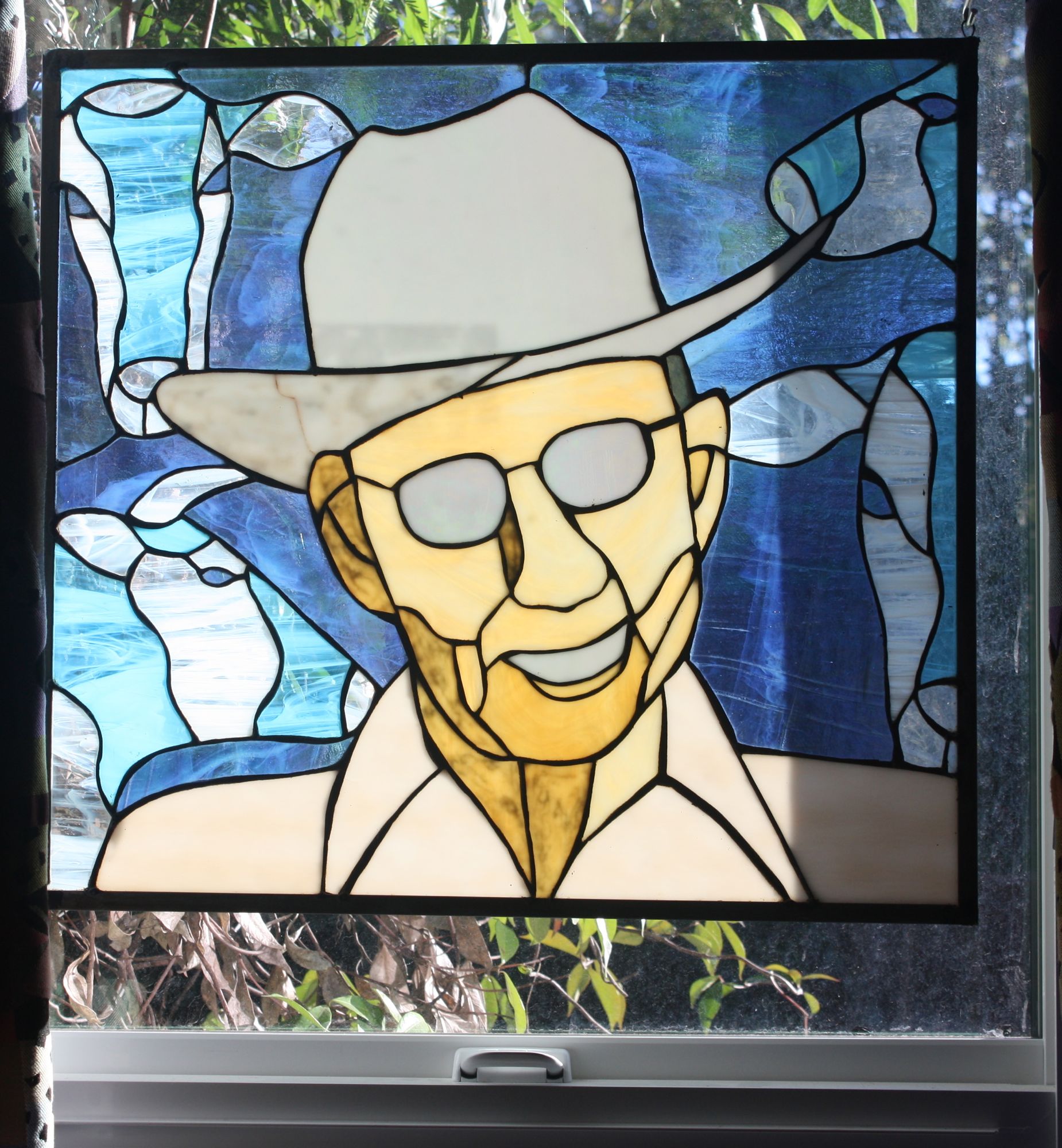 The original photo was of a 80-year-old cattle rancher, a cheerful man. I gave him a backdrop of blue sky filled with spectral cows who might have nuanced feelings, if cows can, about his long career. I choose this photo in part because it much resembled my mother's second husband — an outwardly friendly and generous man with a well-concealed dark side.
All this became possible because Aaland thought to keep his negatives.  County Fair Portraits was not a huge success — I got my copy, remaindered, 30 years ago — but I keep finding people who know it and were inspired by it. Inspiration runs downhill, brings nourishment to others' imaginations. They, in turn, may inspire others.
The Internet is full of photos, but Aaland provides context and background — a larger portrait of a time and place and social strata, the people who lived in it, and how they chose to see themselves. You can lose yourself in it. The book sits on my shelf and inspires, to this day. I pick it up almost every time that I notice it.