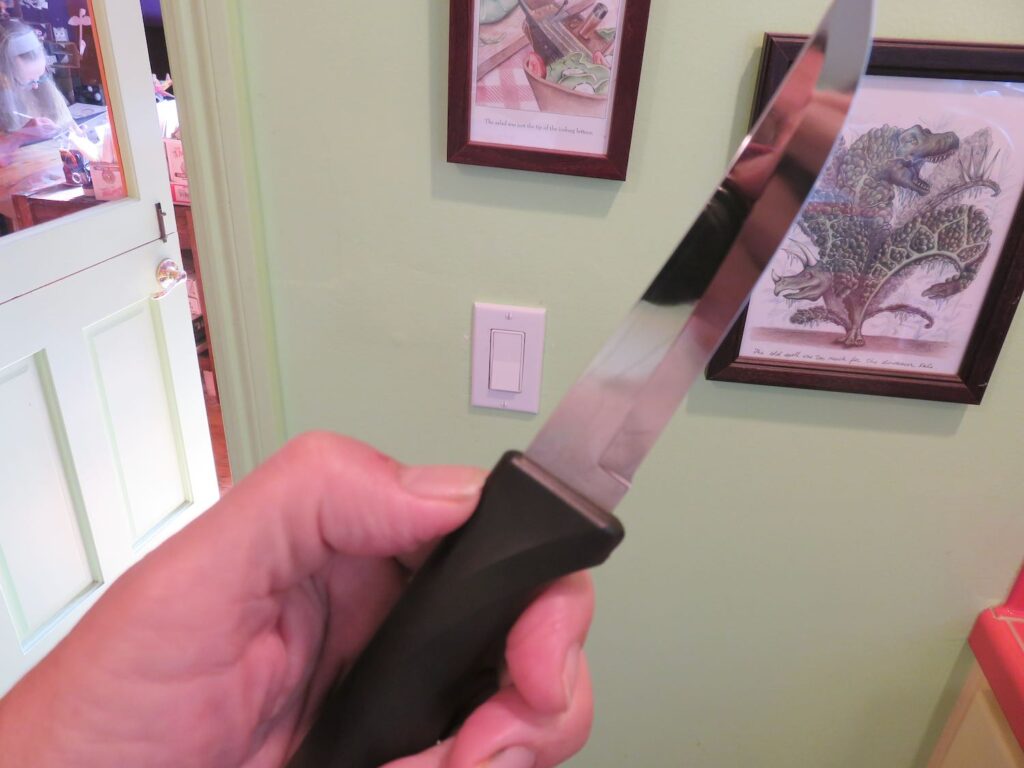 I'm not normally one of those guys who names his stuff. My laptop is "laptop," my car is "car," my shoes are "shoes." They're all part of me. They don't need names.
But there are those possessions that actively seem to want to cause me trouble. They have their own agenda. They get names.
Like Fang. Fang is a hefty pairing knife with a big molded handle: easy to grip. Cuts through an apple like it was Jell-o. Really cuts through just about anything organic. You can bear down on Fang; it doesn't whimper.
But sometimes I whimper; because my fingers are organic, and too often they has gotten in Fang's merciless way. Fang never gives you a free clumsiness pass, as our old dull knives did. There will be blood, every time.
Under Fang's tutelage, I've become a more careful and precise knifeman. I line up my vegetable in advance. I place the knife correctly. I hold the item to the counter with a steady grip, but keep my hand out of harm's way. I plan the operation carefully. I refrain from chopping wildly.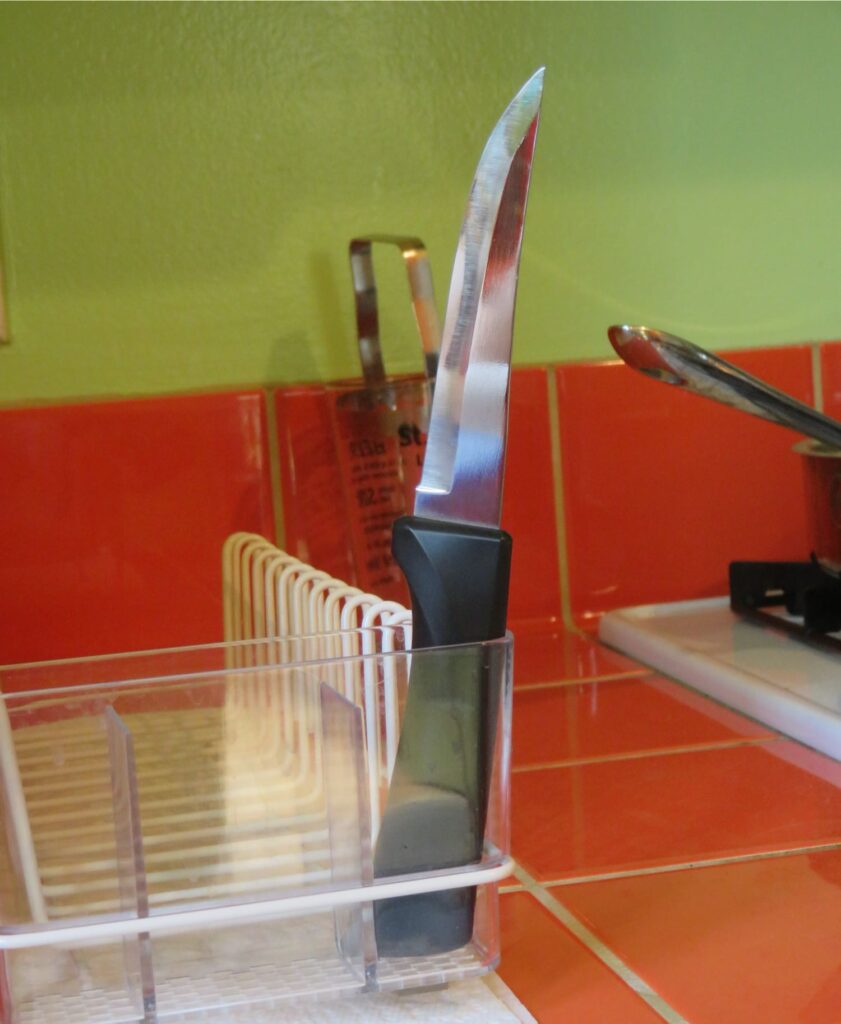 Because if I do, Fang will hurt me. It is expert in a very primal and basic form of conditioning. Even when drying in the dish rack, Fang sends out edgy vibes: be careful, or beware.
Fang is a good metaphor for human existence: we make our own trouble by how we interact with the things around us. Few things hold more potential trouble than a big, sharp knife in the hands of a hungry man.
"Donna" our washing machine is another matter. Donna is no metaphor. She's a drama queen: truly. She has Needs, many. She wants pampering. All we really did to deserve Donna is what we didn't do: find and read the operating manual online before punching BUY! Online major appliance purchases? Never again.
To be fair, we were desperate. In the middle of a pandemic, our 28-year-old top-loader choked to death on a wool blanket. A well-masked repairman came out to perform the last rites and offer grief counseling.
We lacked much choice because our laundry enclosure is a tiny closet on the landing between the first and second floor; it was built too small by the surfin' contractors we bought the place from 30 years ago. Back then the installers squeezed in our old machine with a shoehorn, but washing machines have gotten bigger since then. We only had a couple of choices. Donna was the one that would 1) fit, and 2) didn't come with reviews that read BEWARE.
And she was very water efficient. We have a drought going on. Donna it was. Even though she was a front-loader, which we didn't want. Front-loaders are finicky.
We didn't know the half of it. After the installers did their magic and wedged the machine into place — telling us, by the way, that the water hookup was falling apart and needed replacing — we finally read the manual. The machine needs:
To be throughly dried when use is complete for the day. With a rag. So it won't grow mold and make your clothing smell.
To have its plastic detergent magazine removed when the machine is inactive — so it won't grow mold and make your clothing smell.
To, if at all possible, please pretty please have its door left open when not in use. (If you have small children, that's on you.) So it won't grow mold and… And of course if the door is open, we can't close the door to the laundry closet, ever.
To close the valves on the the water hookup when the machine is not in use. Because it's delicate. "Oh, the pressure…" And our hookup is just barely hanging in there. Plumbers await in the wings.
We will skip over the special monthly maintenance procedure, and more more more.
My wife said, "That's not a washing machine, that's a… prima donna." So "Donna" I named her. She even looks like one, with that gimlet eye and gaping mouth opened in bombastic song and one dramatically outstretched "arm."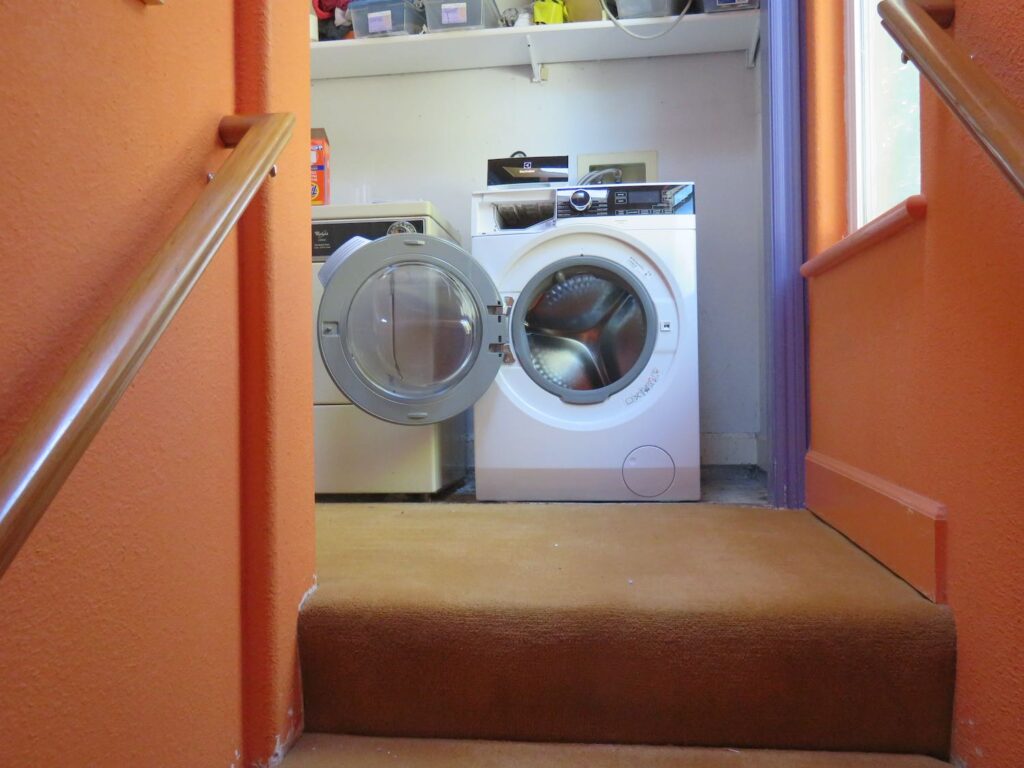 So now, there she is, the center of attention every time we climb the stairs. She even has her own window with stained glass art and a nice view of the acacias. Donna has it all. Including a name. We are but her slaves. And remember…
Always read the manual before pressing BUY.