I've owned it for almost 40 years.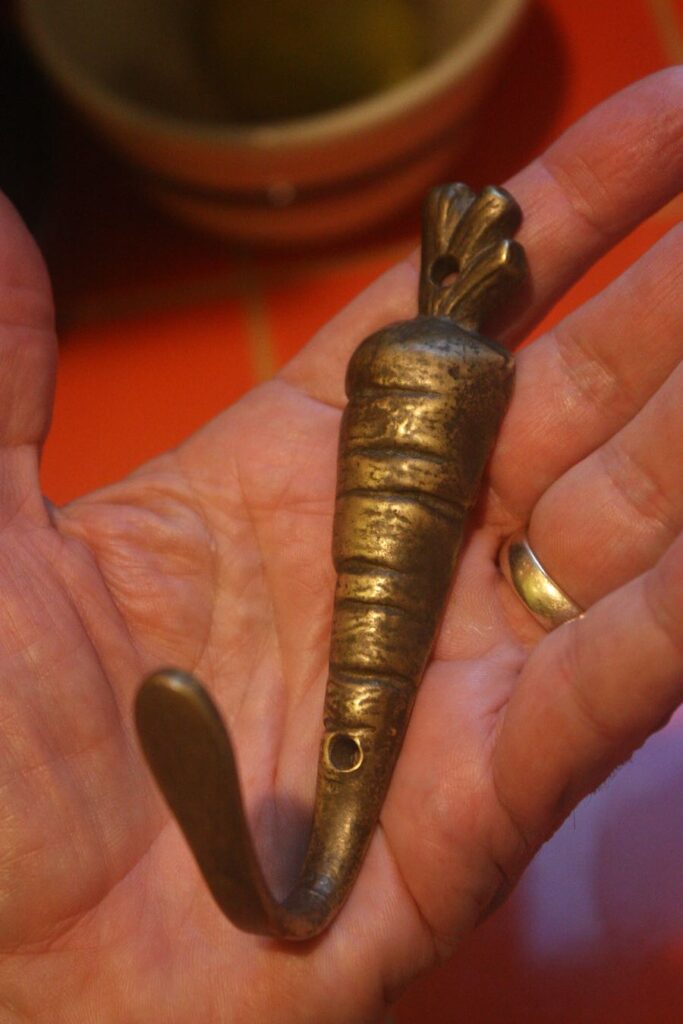 It's a coat hook: a cast bronze coat hook in the shape of a carrot. It has a look: stylized and hand-crafted, but competently executed and completely a carrot. That you can hang a coat on. It has real heft in the hand, considering its size; you notice. When I look down at it, it looks back at me. I'm a bronze carrot, it says. Deal with it.
But it's just a coat hook, though apparently unique. I've never seen nor heard of another like it, anywhere. "Coat hook" and "carrot" are concepts that few metal workers combine. And I should tell you that in 40 years, no coat has ever hung from it.
Back in those times, a carrot was my totem. I looked like a carrot: tall, skinny, a little bushy on top. Not orange-colored at all; but I had played a carrot on TV. Well, small-town public access television, in an amateur children's show put on by a few idle college grads and film fans. "Command Duck and the Quacketeers" we called it. Blame it on the '70s, I dunno.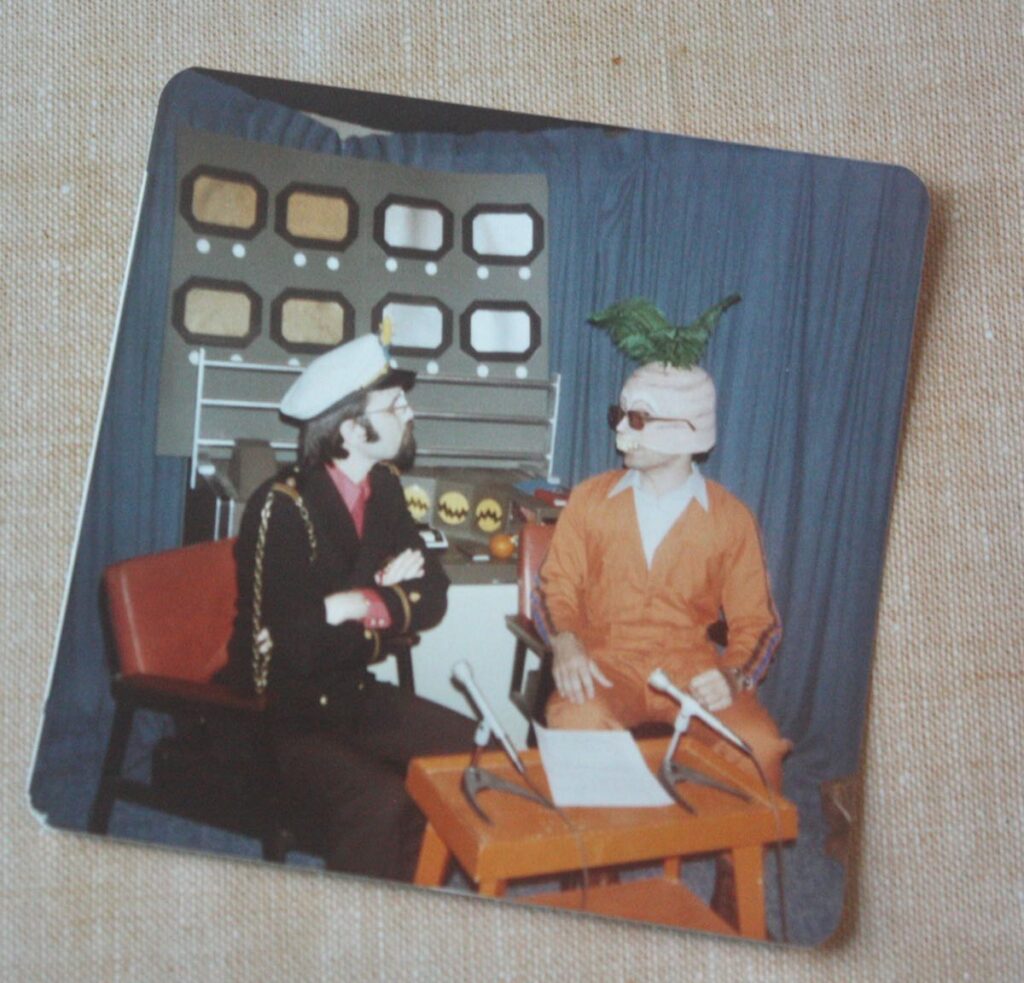 I was the Cosmic Carrot, an intelligent alien vegetable who'd come to teach earth children all about good nutrition. The carrot costume just sort of happened; somebody knew about paper maiche for the carrot headpiece; my mom had a source of orange coveralls. For my sidekick, I found a squeaky dog toy in the shape of a grinning carrot: "Squeaky" was his name. Squeaky and I were very close. He's still around here somewhere.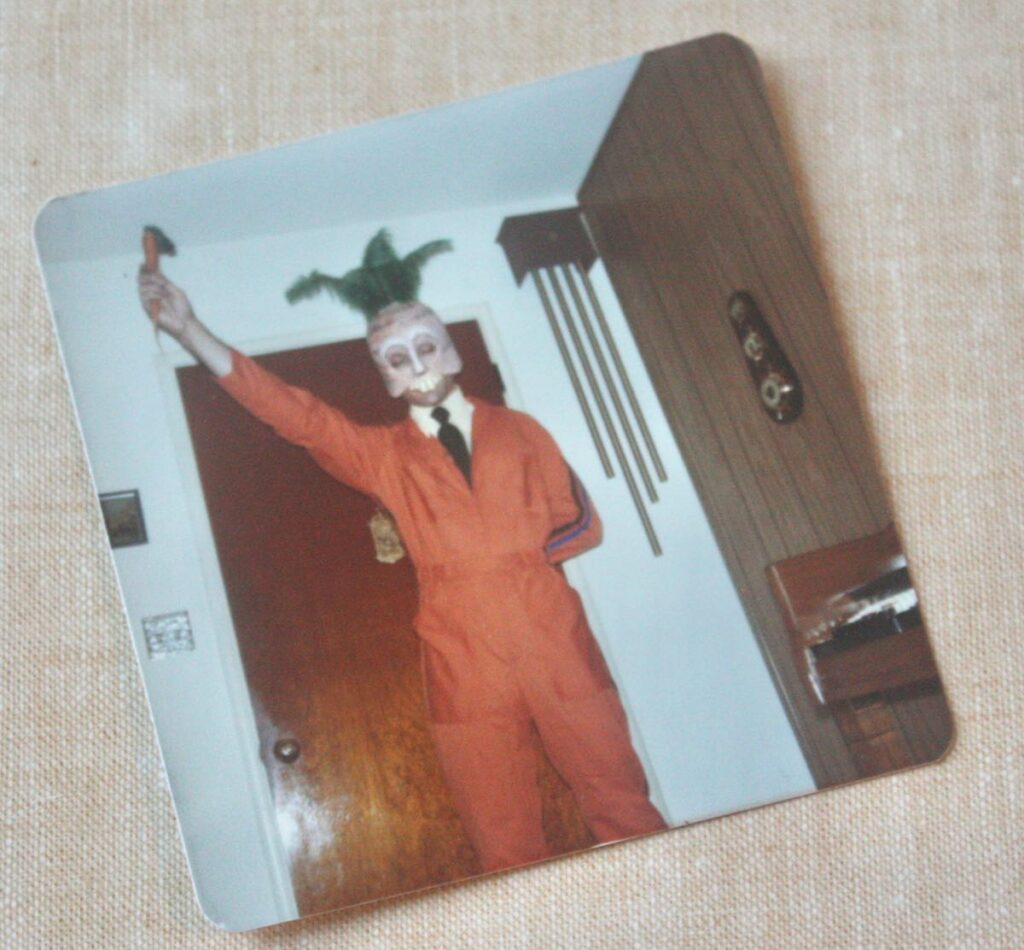 I moved to the big city. The carrot costume came along for the ride: to the occasional party, even to another public access show Still… you could go years without seeing the Carrot.
One day while traveling, I pulled over for a half-dressed craftsman selling in the dust by the side of a side road. This was in the hippie backwoods of Northern California back when there were real hippies and even real backwoods.
He was a feral polymath: naked to to the waist and burned dark by the sun, hair like a brown puffball. He turned his hand to anything that interested him, he said: mastered it, and then moved to the next thing. Lately he'd learned to refurbish and refinish furniture. Renovated chairs and tables and desks and bookshelves scattered across the front of his shack: dirt cheap in the dirt. They were all gorgeous. But nobody was there to buy.
If I'd had need of furniture, I could have furnished an apartment for $150 and you would have drooled. But I didn't. He shrugged; furniture was already in his past. He'd just taught himself to sand-cast in bronze. Did I want to see the latest?
Of course.
He brought out a few small castings, including the carrot. "That one's $5."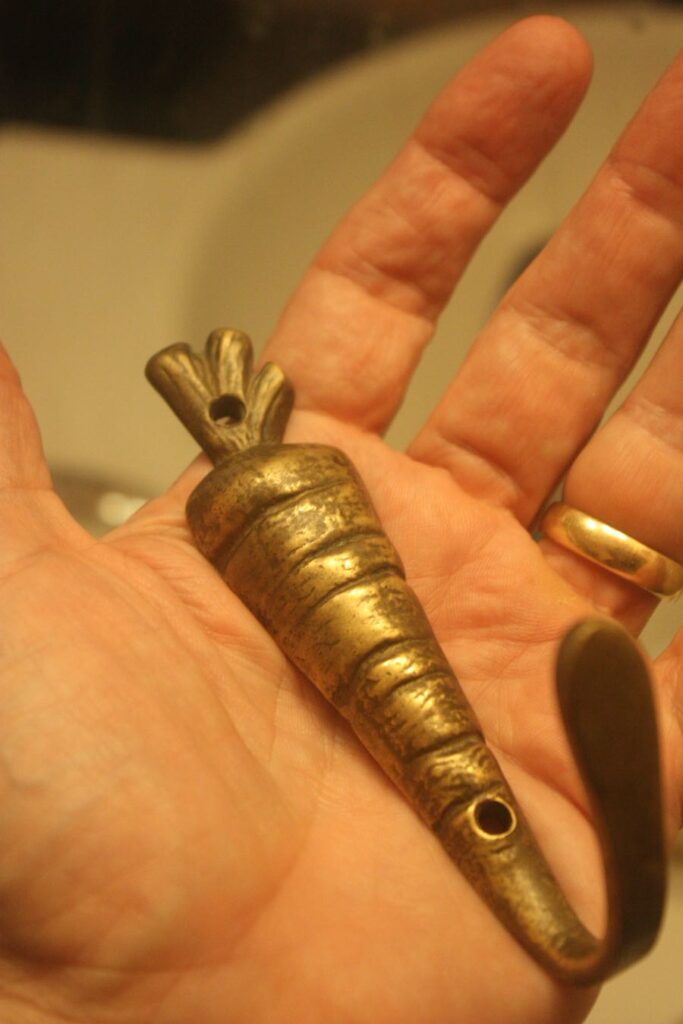 It did catch my eye.
Now, I was and am cheap when it comes to buying for myself, but… it I had liked being the Cosmic Carrot. He wasa strange but earnest nerd who (usually) meant well. And people liked me being the carrot, for some reason. Maybe I was still the Carrot. Maybe I always had been. With some hesitance, I paid him his five: a hand-cast bronze for the price of a good breakfast. Told you I was cheap.
This was no life-changing experience: just, perhaps, a confirmation of who I was. So back at home, contemplating the thing, I told myself that when I came to the place where I would make my stand in life, I'd put that carrot on the wall and hang a coat on it.
That place was not a rented flat in a failing relationship; nor was it in the next two apartments I rented.
For the past 30 years I've lived in one small house with the woman I love. And yet the carrot coat hook has never been hung. There never seems to be space for it, or a use for it. We have closets, after all.
The carrot sits on my nightstand these days, and before that it lay on shelves, in boxes, even in storage for a bit. I've always known where it was, though: could always put my hands on it when I wanted to. Obviously it still has significance.
But I'm retired; dare I say, "old?" Where else is there to hang it?
Lately, I've been spending more time in the garage. It's never held a car: just leftover junk and lately, our cache of household necessities in time of need: our "inconvenience store." Given the times, the store will be with us for some time to come. So I spend a fair amount of time out there doing shipping and receiving and recycling.
I also cleared some space for exercise: a big mat, a weight bench, a set of adjustable dumbbells. Over the past two years of staying close to home, I've lost 50 pounds by dint of eating healthy and on our own schedule (my wife has also lost weight). I'd been a life-long weight trainer but stopped a few years ago because of age and time and schedule. Lately some of the strength has come back, thanks to more time in the garage.
And I got a radio for it. That's actually a big deal. We live by broadband these days, and I stream most radio. We no longer even had a good radio, outside of the car's. But my favorite local radio station stopped free streaming; its evil private equity owners now require a fee. For radio. It's a hell of station — KPIG radio, Freedom, California, and it comes in strong here. But I didn't have a radio. Who has radios?
Well, now me. A quality portable with a big whip antennae, excellent sound, and no digital features whatsoever. Completely analog down to the tuning. You know that's getting hard to find now? I played KPIG on it yesterday during my workout and while sitting quietly in cool-down after. It's great music, intelligently chosen. And I felt something odd. Kind of like peace.
I may be spending a bit more time out there; it's full of things that should leave and maybe make room for things that should come. There's even heating. Which is good, because it's separate from the rest of the house. Sometimes when the weather's cold I throw on a jacket before heading out there.
Who knows? That carrot coat hook could find a wall after all.