When I was a kid, Las Vegas was a mirage of glitz and class and discrete sin that rose out of the desert.  Vegas was all about high rollers in dinner jackets. Sinatra crooned to the crowds. Comedians named Joey and Shecky and Don made them laugh.  For the common man, ranks of slot machines stood at attention like one-armed soldiers. The common men could see Sinatra, too, but they had to bring their one good suit or dress.
Sure, the Mafia ran the place. But they were almost like the Chamber of Commerce — hit men.  Money laundering and siphoning profits works best in a stable environment, so the made men maintained Vegas' smooth, classy image. It was good for the business that they were there to do.
"Classy" is out now, at least for the masses.  It's about excess and acting out. And you're not wearing a dinner jacket, maybe not even your only suit.  No, you're wearing a t-shirt.
See that tee up at the top of this piece? Go to the Luxor, a casino/resort built into a giant glass pyramid.  Go the gift shop, buy that godawful tee and transform yourself into an honest-to-God Pharaoh. Parade your 4XL magnificence before your subjects in the slot machine ghetto. They can but bask in your pharaonic glory. That's Vegas now.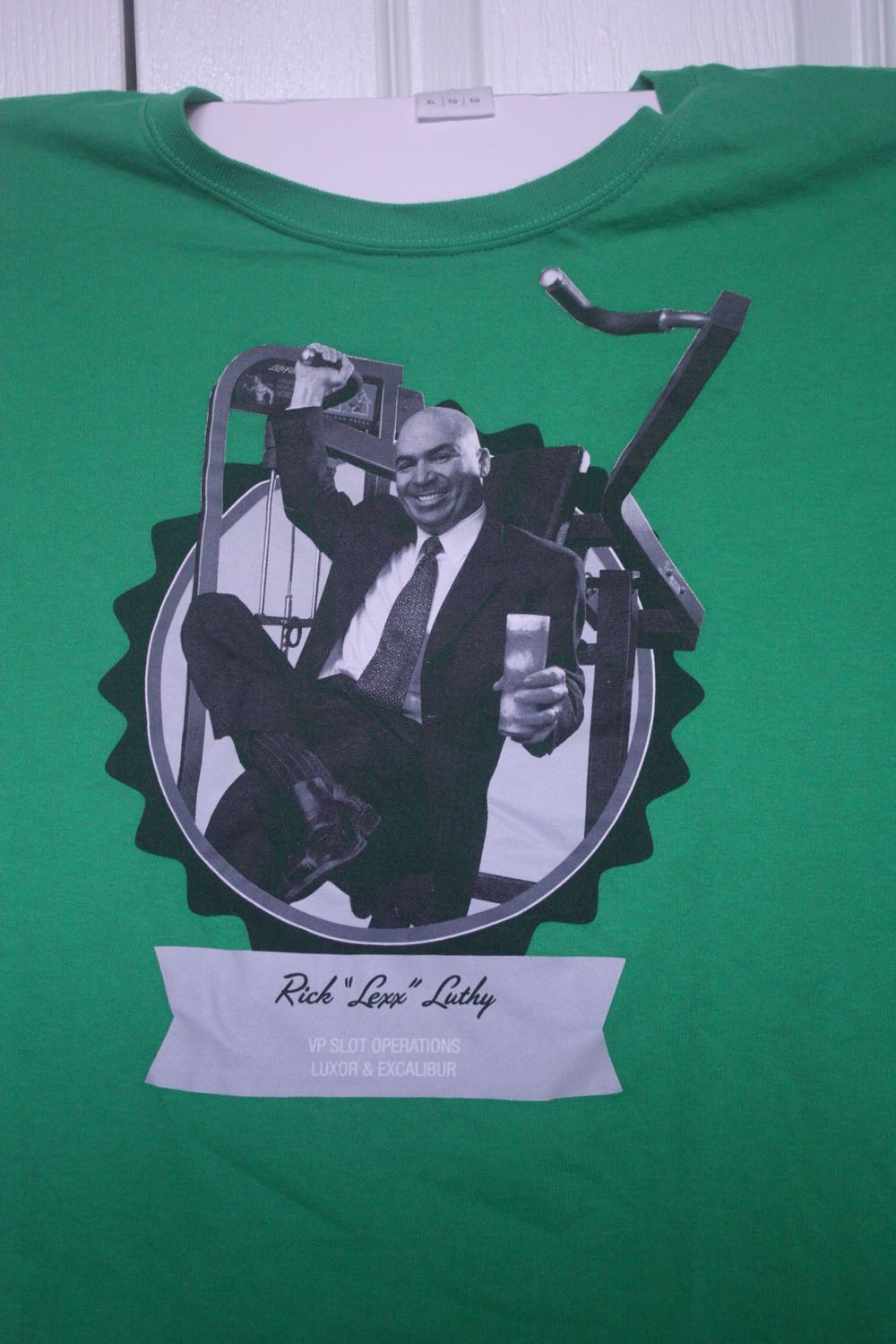 Meanwhile, upstairs, the VP of Slots for the Luxor is posing for his portrait as a dangerous supervillain with a drink in hand. "Lex" Luthy? Oh, please.
What happened? Vegas went straight; the Mob was out, corporations were in. There was money to be made, but also new competition from Indian casinos. So the industry repackaged Vegas as the place where your every fantasy could come true, no matter how cheesy.  And safely: "What happens here, stays here," crooned the TV ads.  The folks back in Wichita never had to know.  Just bring money.
That ad campaign's been running for almost 20 years.  And people believe it. So much for class: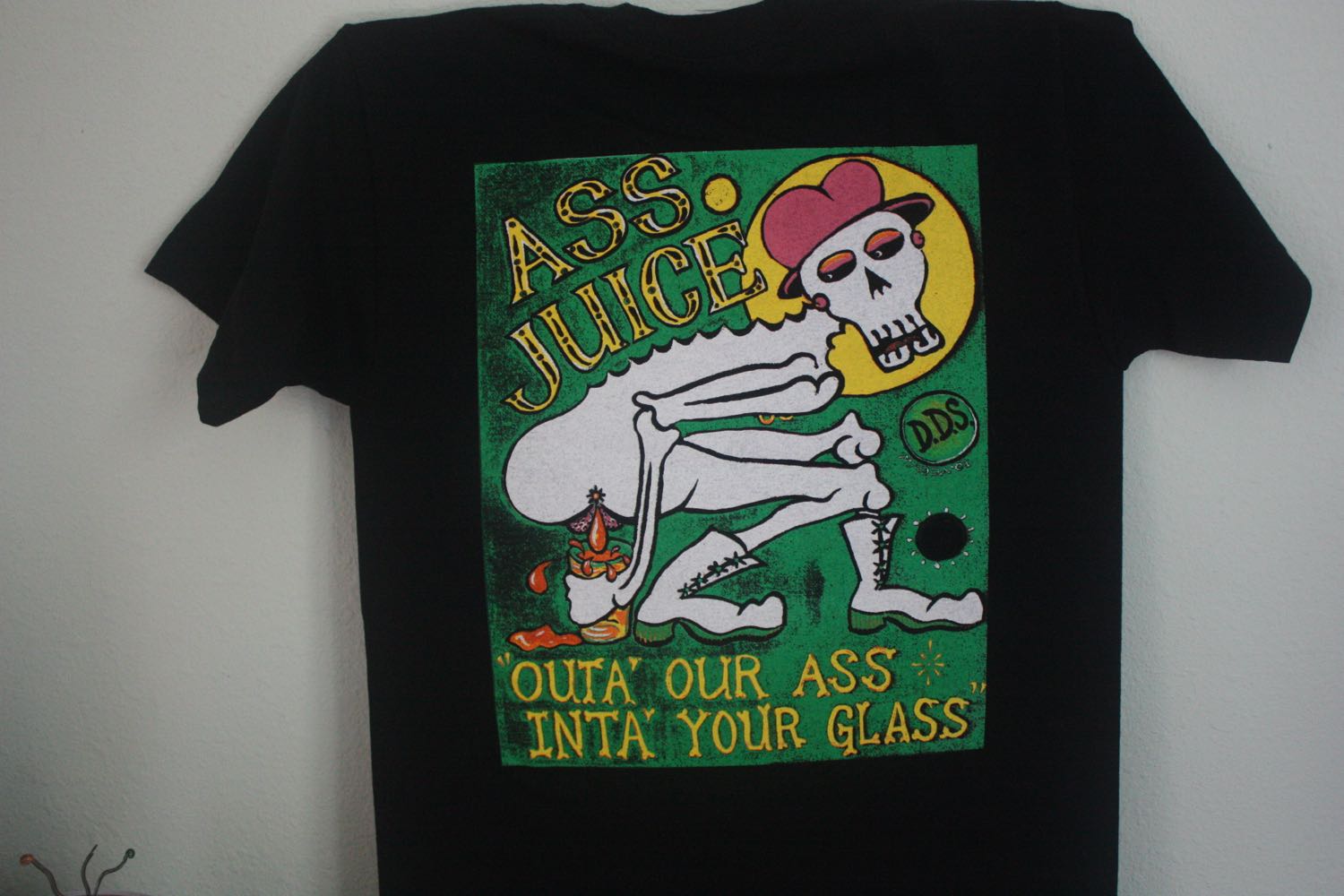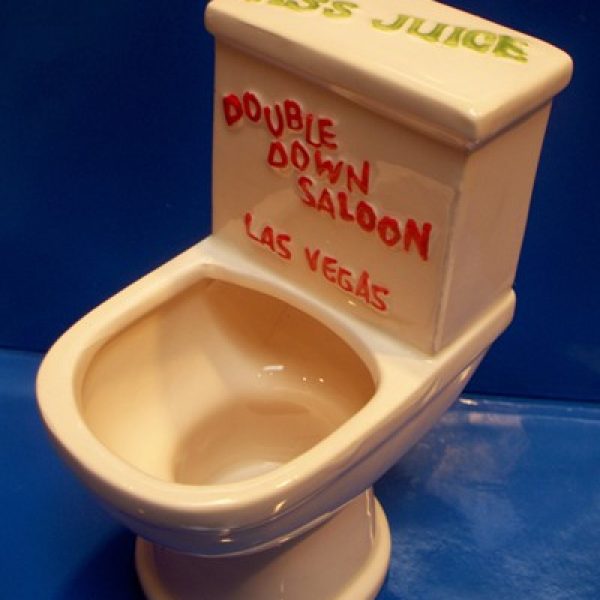 In Vegas, the Double-Down Saloon is well known for its motto "Shut up and drink!" and its signature cocktail, the Ass Juice: vodka mixed with something brown and fruity, perhaps prune juice.  It's only a few bucks, but for $15 more you can get it in a commemorative mug shaped like a toilet.
Fun, huh? It looks like something you'd find in a roadside souvenir stand in 1955, somewhere east of Tulsa.  The mug would be on display next to the donkey-shaped cigarette box that pushed a cigarette out its butt when you lifted its tail.  My aunt had one of those.
But if even that's too genteel, you can go to the Griffin, a Vegas-traditional joint with skilled bartenders, fashionable dimness, a firepit, and oral sex t-shirts.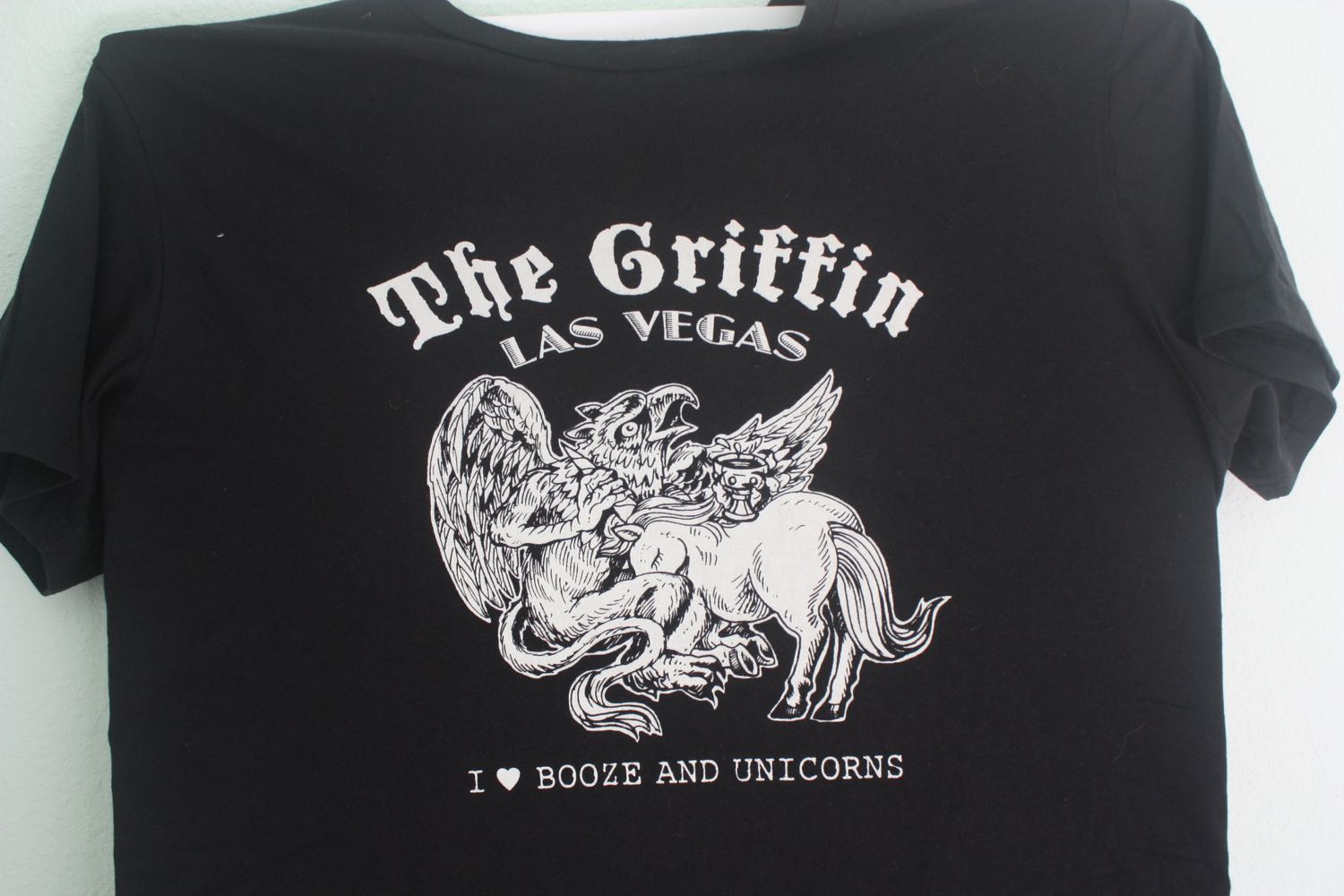 But it's just funny animals and fellatio, right?.  What's the big deal? Have a Manhattan, reputed to be the best in town. The Griffin's bartenders are supreme.  But that t-shirt.  Just… why?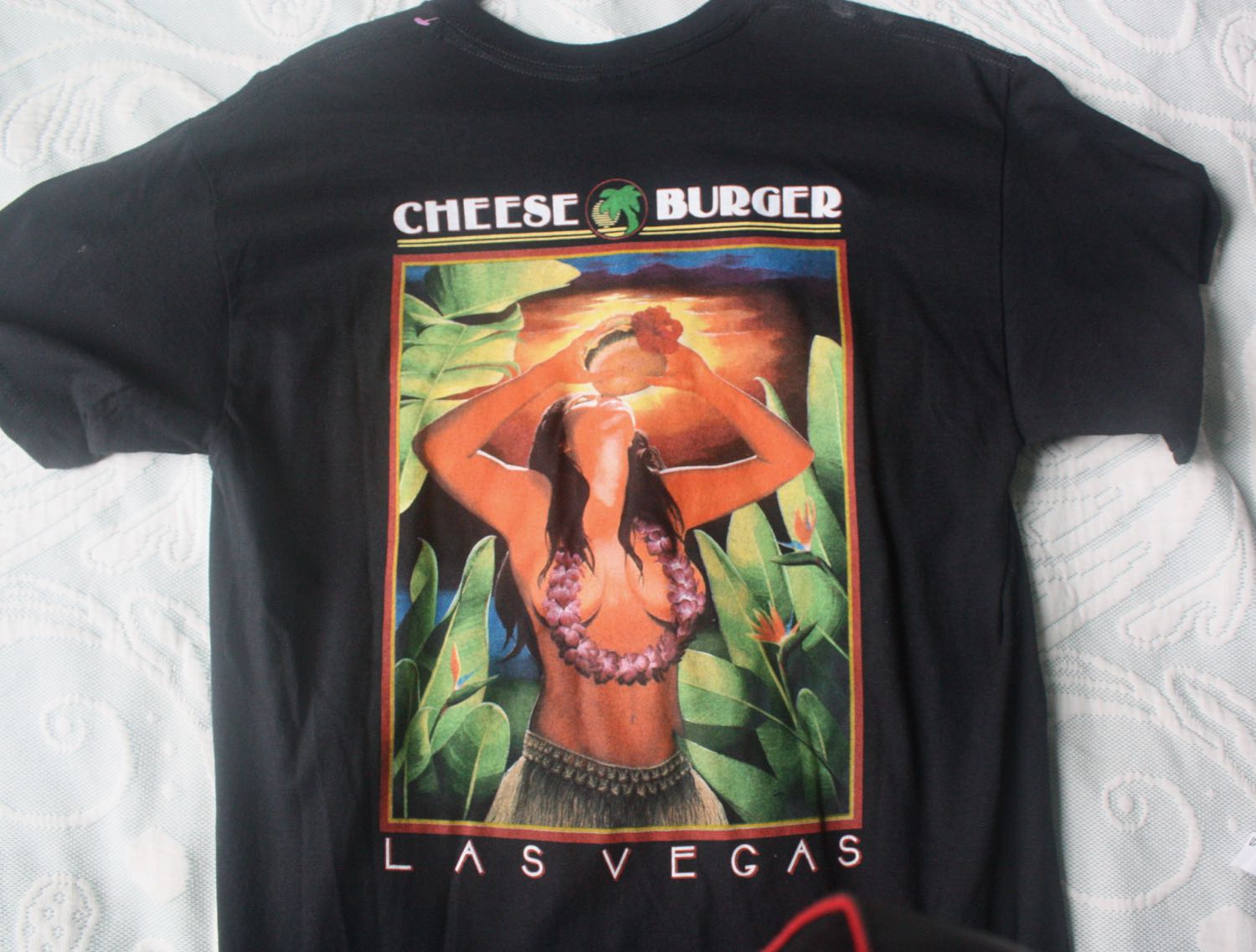 And this: "Cheese Burger" is a Hawaiian restaurant chain that offers plush cheeseburgers to the tourists, and other Hawaiian specialties.  They opened a Vegas branch in a casino, and of course the sedate tees from their Hawaii restaurants just wouldn't do.  There had to be a hyper-sexual Vegas version
Sex, and more sex, or at least the promise of of it. Excess without end, at least in theory.  That's the Vegas selling point.  Though I don't know what they were selling here, or who was selling it: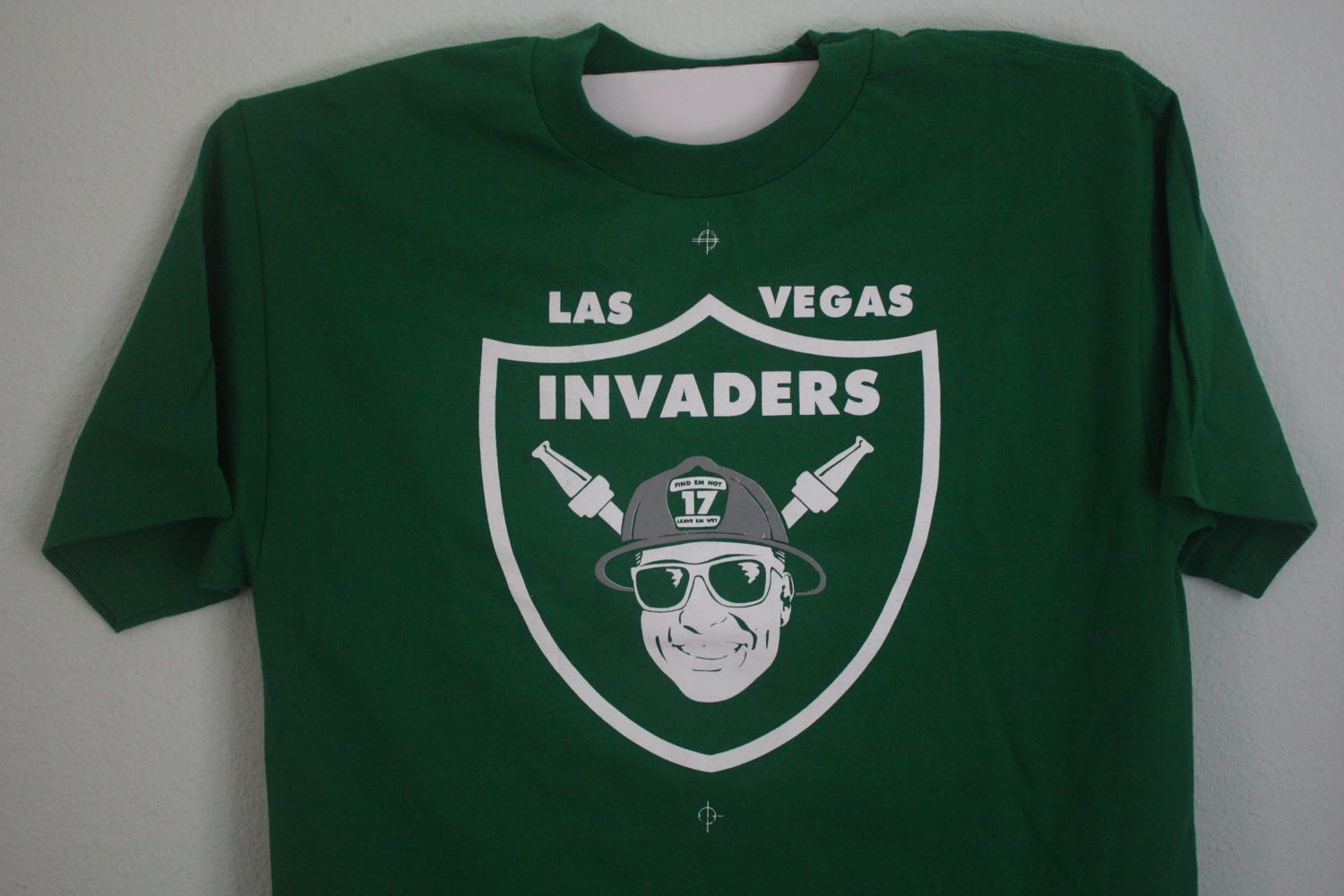 I've looked and looked, but the "Las Vegas Invaders"  evade all Internet searches. All I see here is a leering man wearing a fire helmet with two firehose nozzle "horns." "Find 'em Hot. Leave 'em Wet," reads the motto.  Hijinks from some firemen's muster? Who knows? But stay classy, Vegas!
Oh, some people try.  Vegas is a big convention town, and conventions issue their own tees.  Eventually the attendees have to go home and face the wife (or husband) with their convention swag, so these tees are more restrained. This firemen's convention tee makes the old Rat Pack into firemen, as a tribute to Old Vegas.  And why not?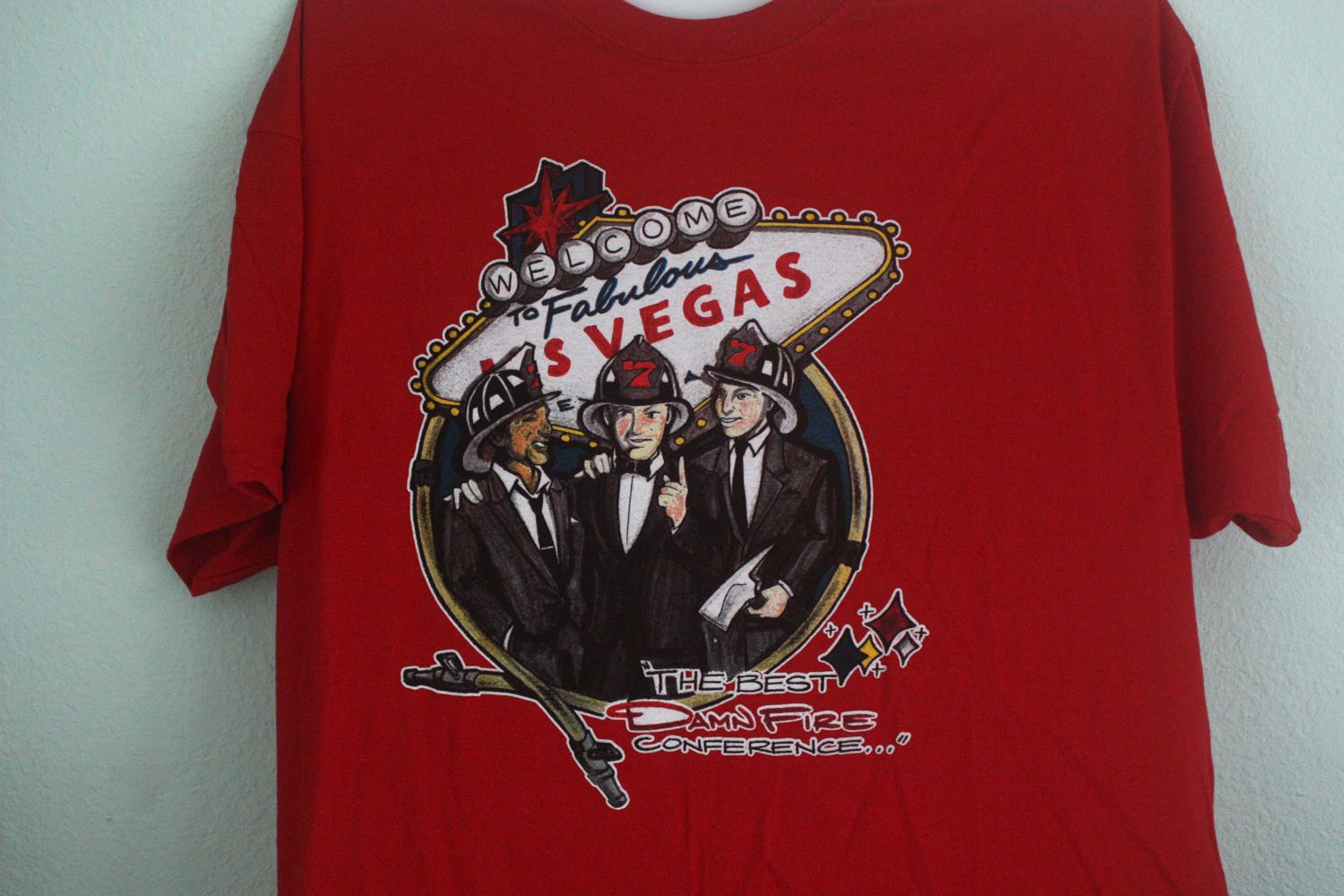 And a car show tee is a car show tee, even if glitzed up a bit for Vegas.  Vegas isn't Vegas without slick cars.  I'm glad that the classic VW Bug fans of America have to have someplace to gather, and Vegas is still a competent and affordable convention town, if you pick the right dates.  This crowd even had VW drag racing.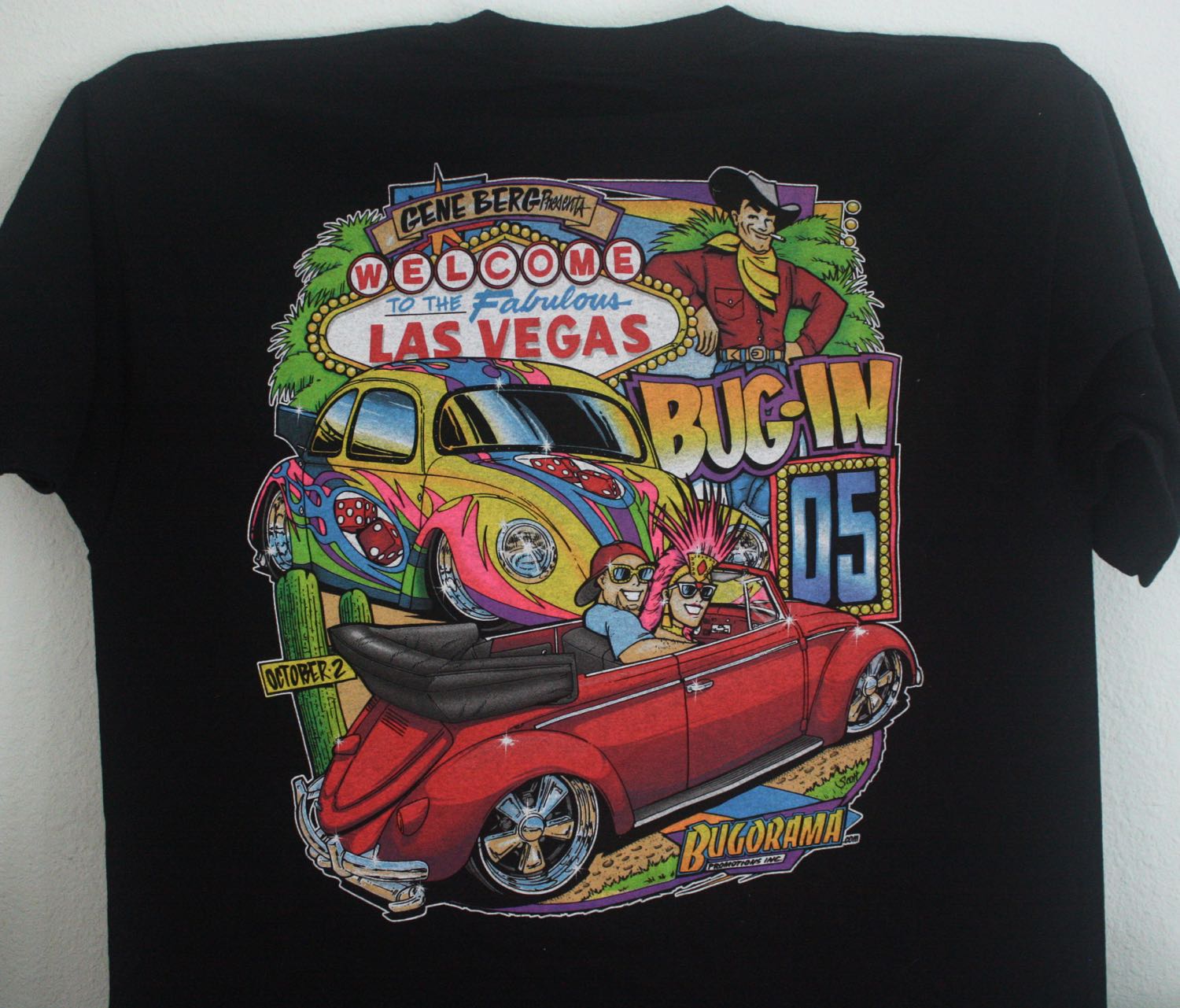 Mag-wheeled VW Beetles aside, Vegas is the rampaging id of America; the unmentionable excesses of every American institution come together here: military, corporate, criminal, governmental. All these power groups love the Vegas desert.  You can do anything there, and walk away. Back to Vegas. No one will see.
The mob used to vanish people in the desert; the mob is gone, but people still vanish. Radioactive caverns lurk underground, left behind by atomic bomb tests known and unknown. In nearby Area 51, the military and its corporate friends test aircraft that they refuse to acknowledge, but which we pay for generously.  They break environmental laws and endanger the health and lives of hundreds of contract workers. They threaten oblivion to any who talk.
Forty minutes outside Vegas lies Creech Air Force Base, where 900 drone pilots fly armed Reaper drones on the other side of the world. And kill people, at the push of a button.  They can bomb a village in Yemen and still get back to town in time to drown their sorrows with an Ass Juice at the Double Down. Just keep 'em comiing, bartender.
It's all in the desert. No one can see. You can do anything in the desert. What happens here, stays here.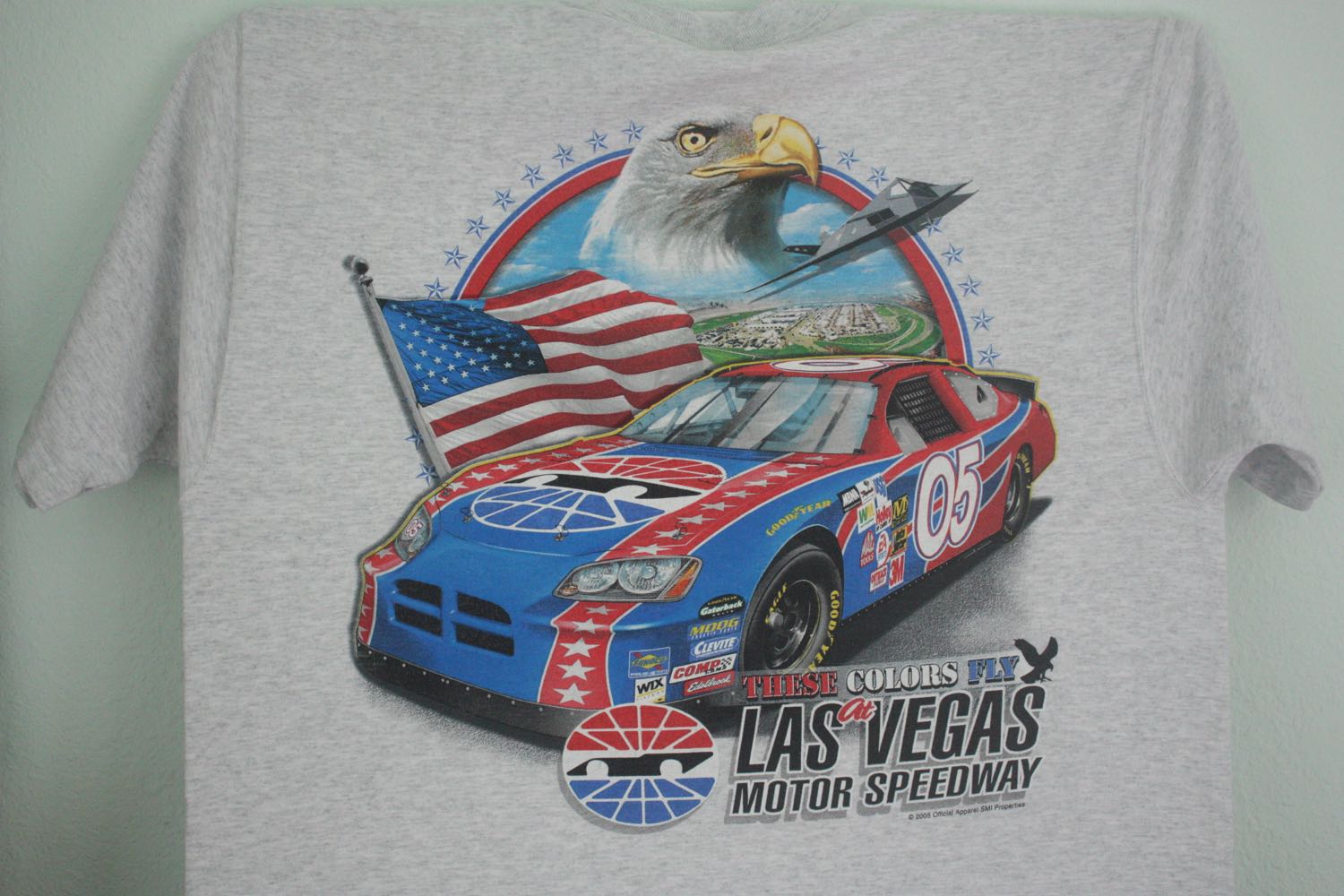 That's why this is my favorite Vegas t-shirt: the American flag, hyper-fast racing cars,  stealth warplanes,  an American eagle, greed, and money.  They are the components of Vegas America, all schmushed together by this t-shirt into one malodorous, wrong-headed heap.
And in the far distance lie the towers of the Vegas Strip: the land where dreams rarely come true, though you're encouraged to think so while someone rifles your pockets.
Or is that just entire the United States of America anymore?  Operating under Vegas rules now:  for everyone, everywhere.