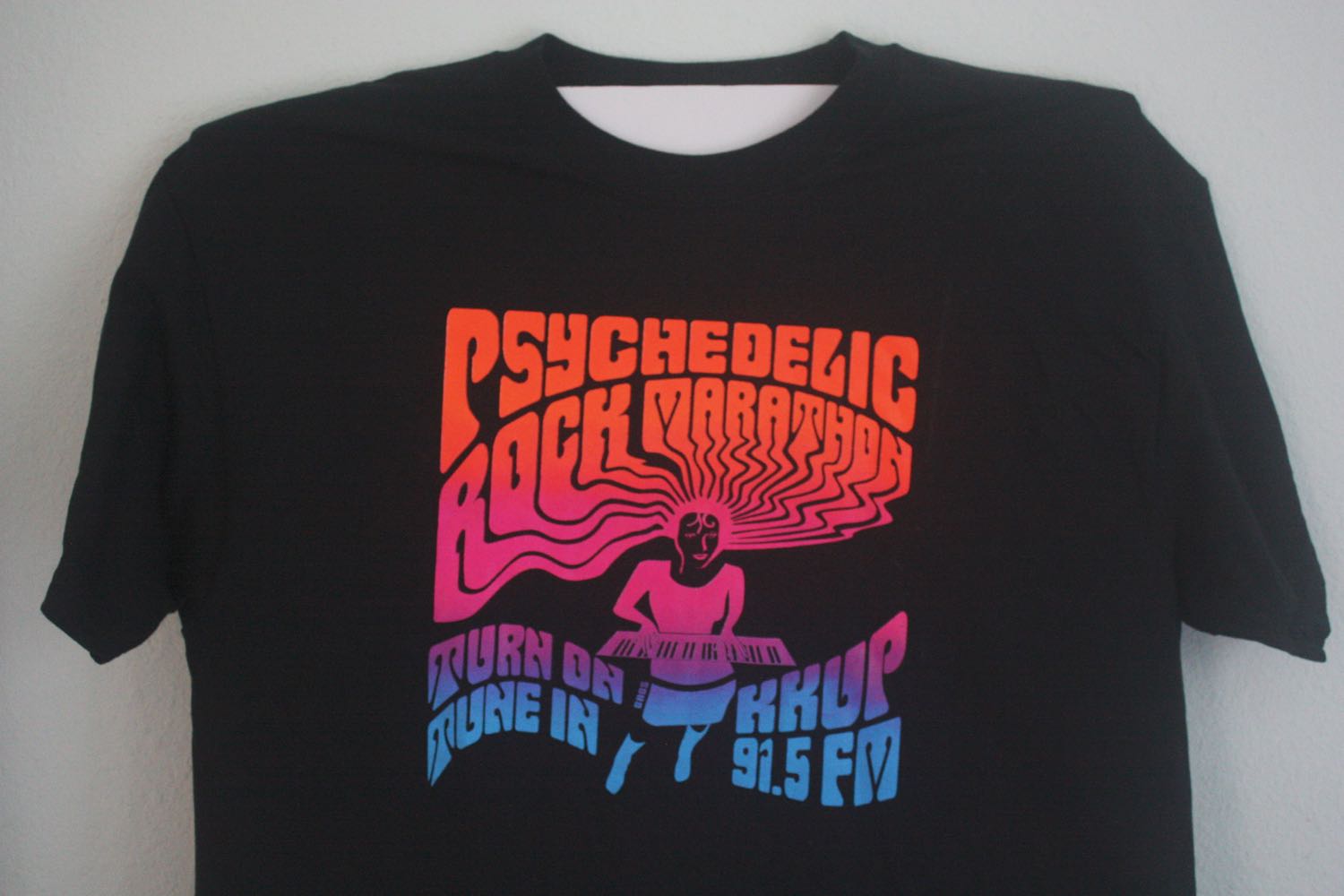 Community radio stations perpetually have their hand out. Their plaintive cries haunt the airwaves: "Please, please donate to help us continue bringing you the programming that you love so much." And for your donation ("$50 or more!") you usually get a station t-shirt.
But they're all different otherwise. Some are radical, amateurish, and low budget. Some are hyper-slick and arty and well-funded;. And some are dens of  music genre junkies who;re there  to share the music that they love. Their station t-shirts reflect this.
Let me state, for the record, that community radio station KZSC puts out some pretty odd t-shirts.  KZSC is  a self-supporting creature of the University of California at Santa Cruz. Student participation is what that school is all about.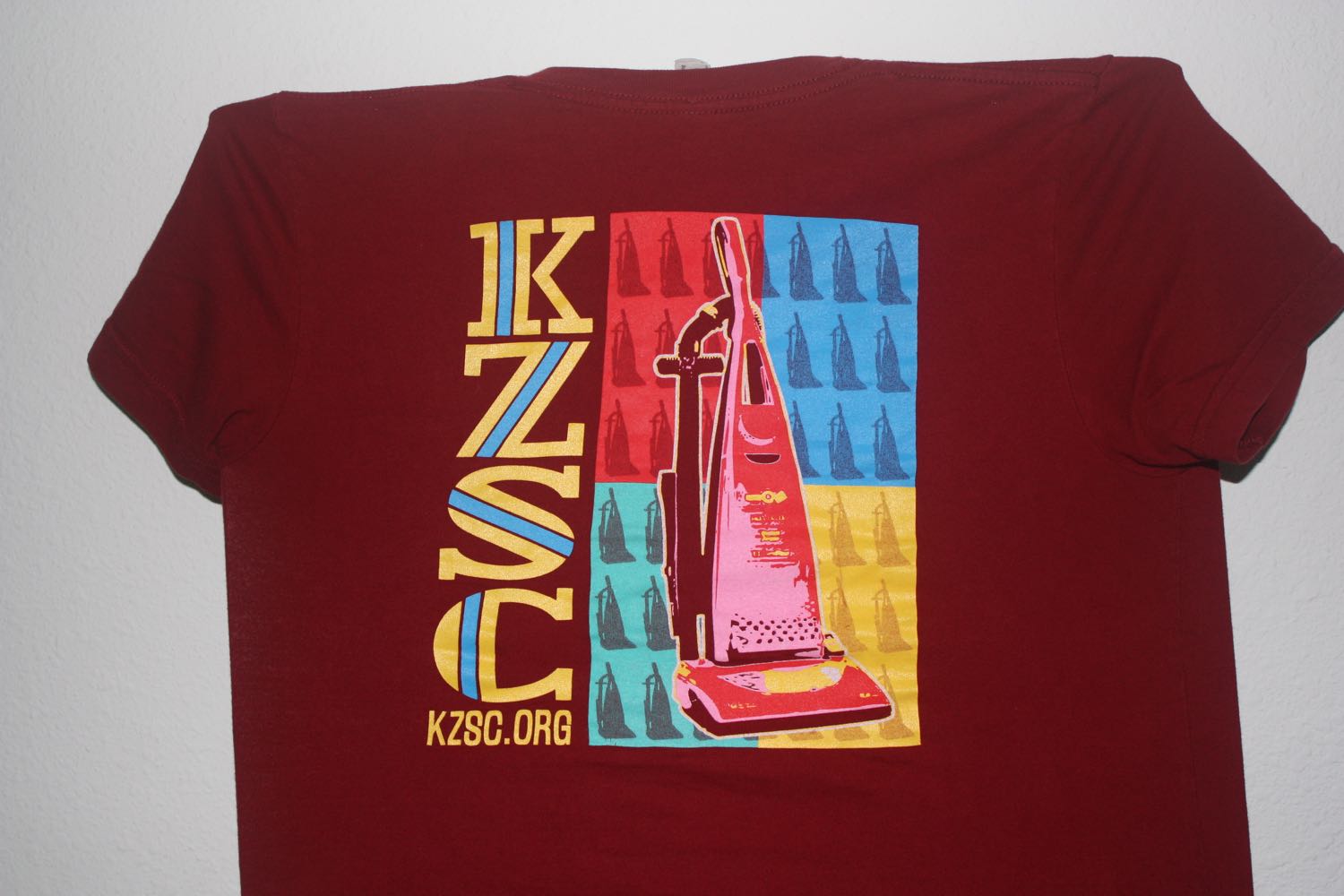 So for much its history KZSC has picked its t-shirt designs from student submissions.   And yes, the final products are not especially professional. If you can't parse out the meaning of a tee covered in vacuum cleaners, the other side reads "Corporate Radio Sucks."
But that's UCSC for you, a rebellious, counter-culture campus with no football team and a banana slug for a mascot.  Three freshmen started KZSC as a pirate operation back in '67. They had a home-made ten-watt transmitter in the basement of a dorm.  The administration happily signed off: "Sure, go ahead, but please call the FCC when you can get around to it."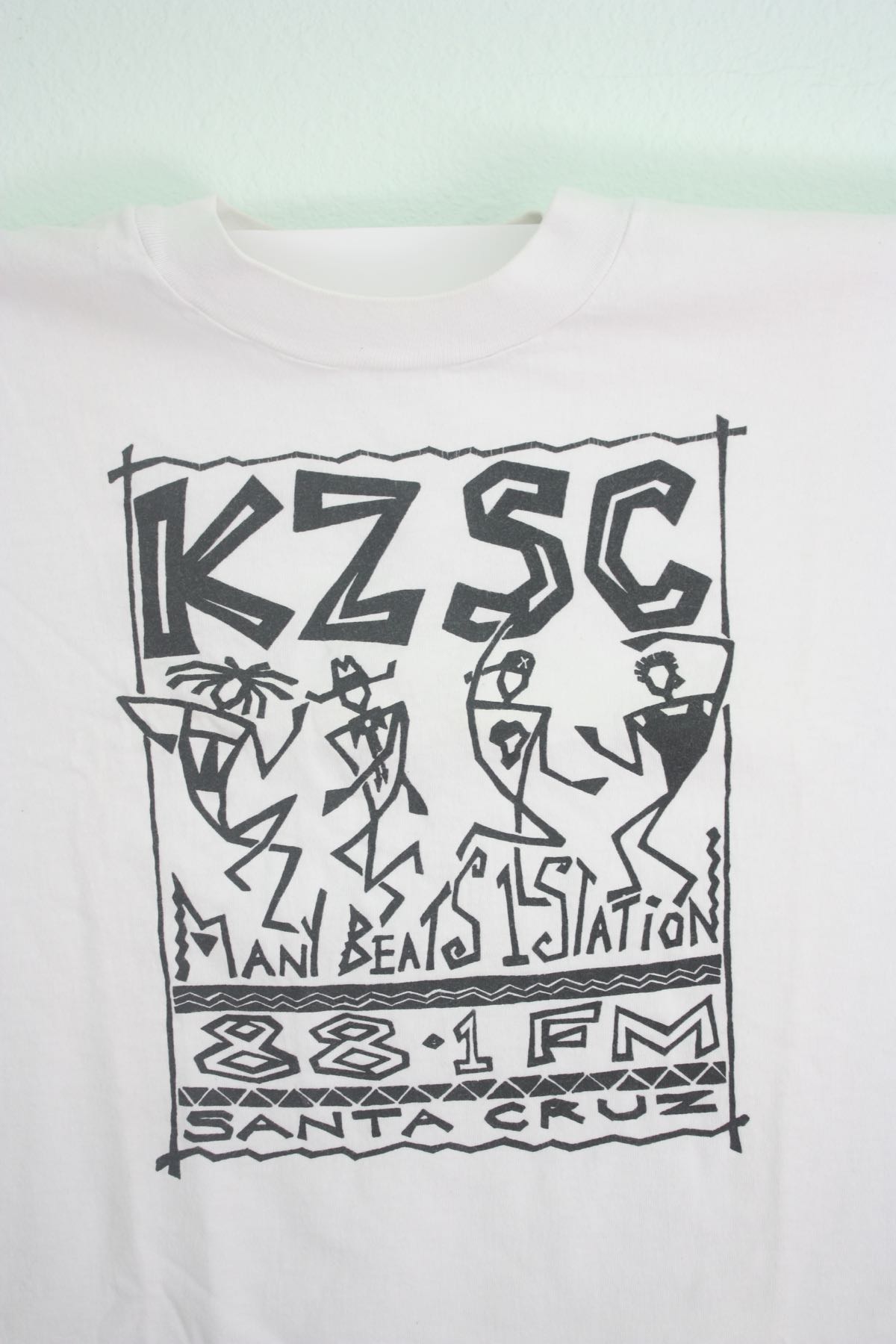 Were those the good old days, or what? True, it wasn't long before the FCC was knocking on dorm room doors at eight in the morning. But  all worked out eventually.
KZSC is still student-run and mostly student-programmed,  with an advisor to keep things on track.  Students even raise money to keep the station alive.
And they're all young, and learning, and don't always do things well the first time.  But that's all right. In a liberal arts/research university with few occupational programs, KZSC gives students real-world expereience: in operations, management, production, community journalism, and more.
KZSC programs the new music and the old music, and even gets the local news out there, with a heavy dollop of social justice.   We locals like it.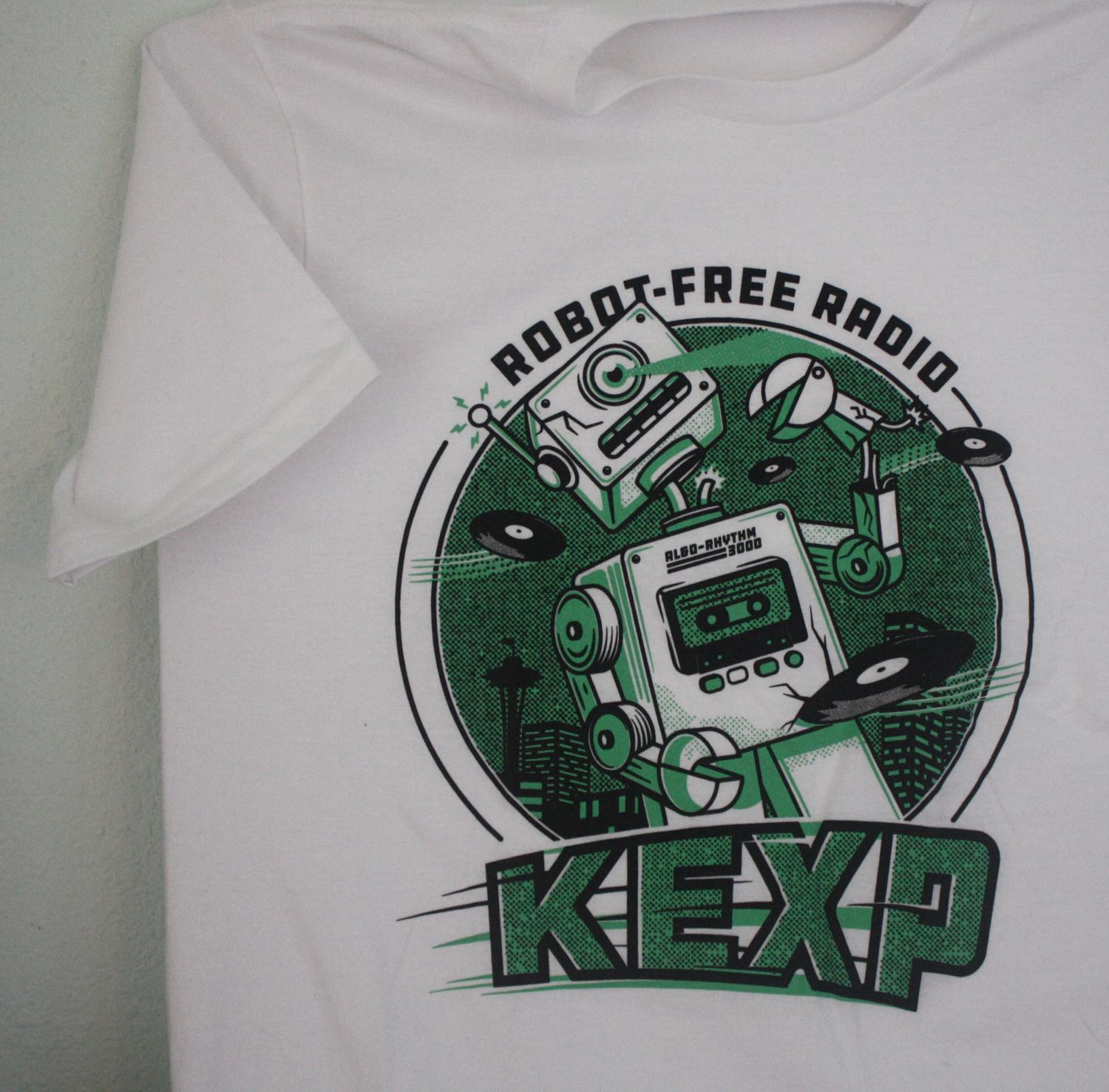 And then there is KEXP.  KEXP is what happens to a community radio station when it finds itsel floating in cash  and is so hip that it calls itself an arts organization.  Radio's just a tool, bro. KEXP is affiliated with the University of Washington, but nobody would call it a college station.
And it's in Seattle, home of the rich hip.  KEXP plays all the music that's hip. KEXP even tells you what music you should think is hip. KEXP broadcasts live performances and concerts.  KEXP supports new artists in the PNW.  Their website is so loaded with performances and podcasts and archives that it's hard to find the live feed.
KEXP has deep-pocket backers and a budget of mlllions and well-paid staff. KEXP has a postmodern campus in the Seattle arts district with its own ultra-hip coffee house and record storeKEXP's t-shirt is witty, professional… and hip.
I've listened. I don't think I'm hip enough. I like KZSC better.
And I like KKUP in Cupertino, California — in Silicon Valley, just over the hill from Santa Cruz.  Unlike KEXP, KKUP is about 100 percent volunteer and 100 percent listener supported. Unlike the kids at KZSC, a lot of KKUP's volunteers are already pretty savvy when they walk in the door. It's Silicon Valley, remember.
The programming is practically all music from a couple of dozen different genres.  Every month the station runs a two-day music marathon for a single genre:  all blues, all Latin, all visionary, all Dead, and more.  The marathons double as a fund drive, and the station issues t-shirts for many of them. KKUP's 2008 Psychedelic Marathon tee is a great deal of fun..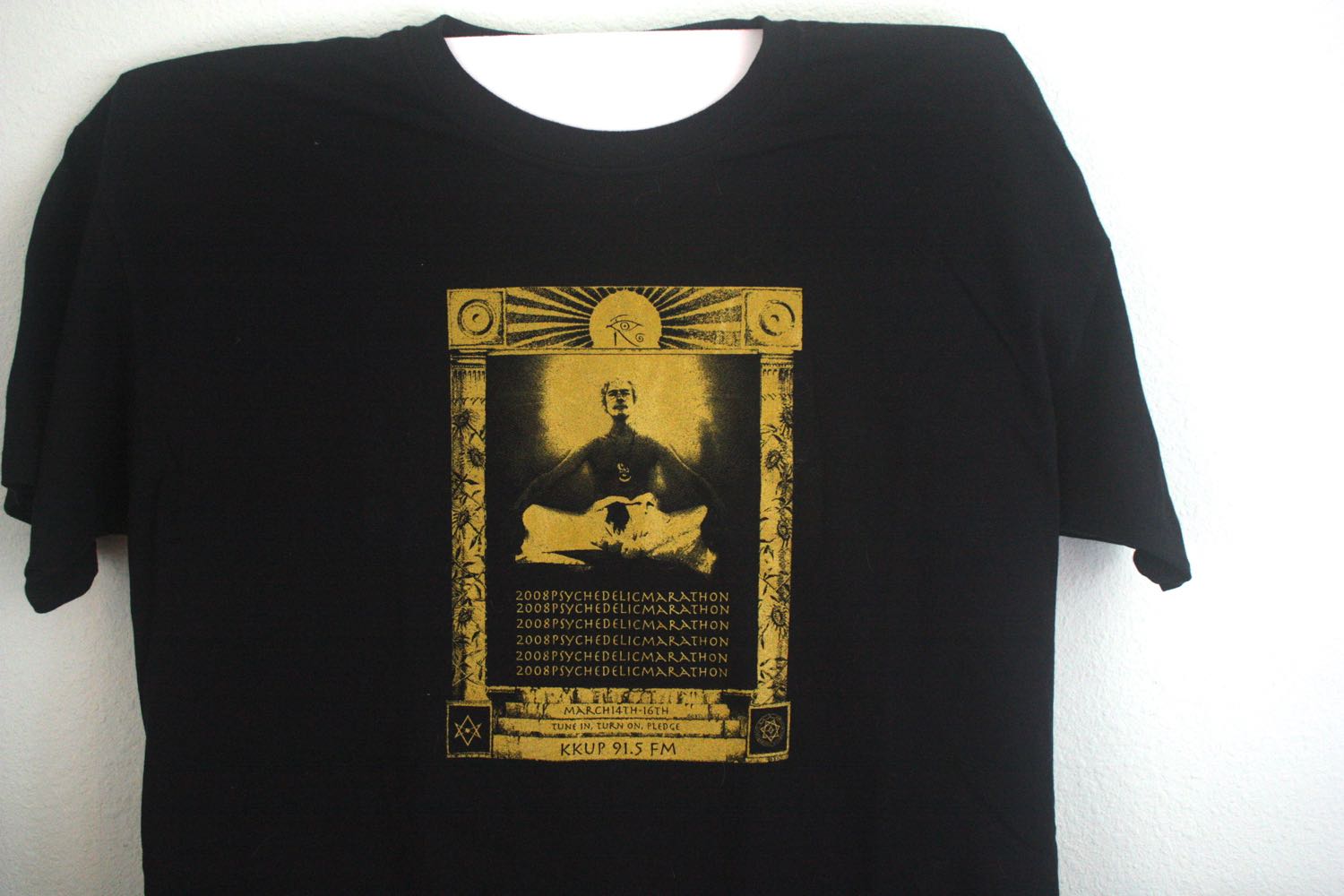 But my real favorite is KKUP's 2007 Bluegrass/Country/Folk Marathon t-shirt.   Not just because it's a great image, but because it's about a man who mastered radio itself.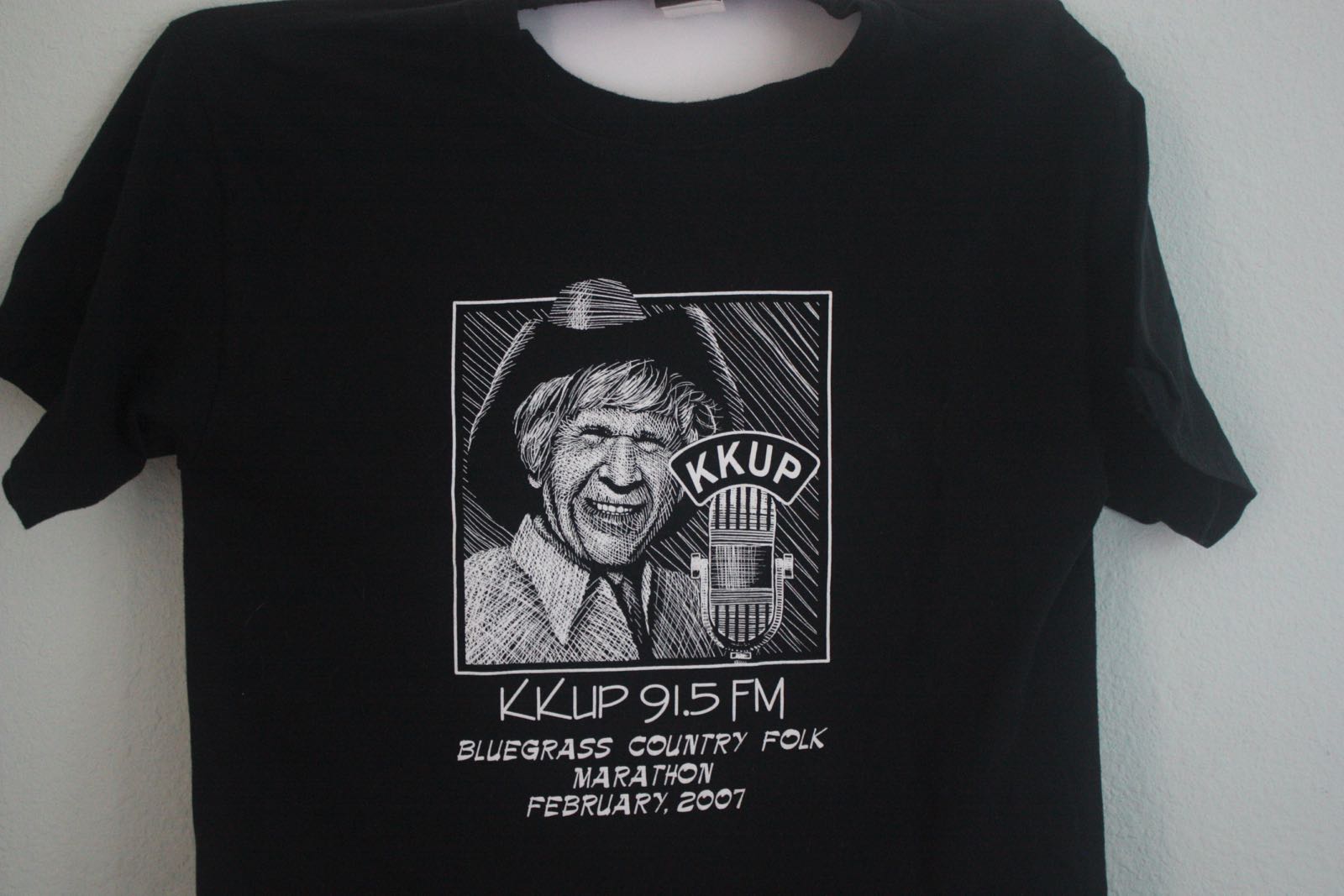 The tee bears a scratchboard portrait of country music great Buck Owens, beaming out from behind an old-school radio mike.  Owens had died recently, after a long career in country music and radio station management.  He was a good musician,  a smart businessman, and the originator of country music's stripped-down "Bakersfield Sound" : twangy, basic, loud. And he was all about radio. It made him.
In the '40s, Owens was based out of Bakersfield, California, a hard-scrabble oil town full of Okie transplants.  They liked country music there. Owens went downt to LA to make a few records and played a lot of backup, but not much came of it. He went up to Washington state for a change of scene. and bought a piece of a radio station.
It was his job to pick music for airplay.  He was a good judge of tunes, but the job bugged him. Two recordings would both appeal to him, but one would get lots of listener response while the other one died on the air. He just didn't get it.
He worked on the problem for a while and finally figured it out: he was listening to music on high-fidelity studio speakers, but his audience was listening to the tinny AM radio speakers in their cars. Those cheap, small speakers were okay on sharp highs, but anything subtle or bass-heavy turned to mush.   Music producers weren't thinking about automobile speakers when they mixed their music.
So Owens did. He went back to recording music, and back to Bakersfield, too.  But this time, he hooked a pair of tinny car radio speakers to the mixer and twiddled the tracks  till the music sounded strong on them, not on the good speakers.
And Buck Owens turned out the sharpest, twangiest music you ever heard in the front seat of a '59 Chevy Bel Air: the Bakersfield Sound.
That sound brought Owens a string of '60s hits,  a string of successful radio stations, a successful TV show, and his own nightclub.  Because Buck Owens figured out how to work radio, in more ways than one.
He was truly Mr. Radio. Whatever else he was, honor him for that. KKUP did.