I'm an old middle-class guy on the West Coast who's never been to Hawaii. All my old-middle-class guy friends have gone, some repeatedly. I never plan to. The thought holds no interest.
And yet I possess half a closet of aloha shirts, like the one above. I have my reasons, some practical: I'm long-waisted and can't keep my shirt tucked into my trousers. Aloha shirts are usually worn "out," which solves that problem. And I like the aesthetic.
What you see above is a reverse-print Reyn Spooner pull-over aloha shirt made of "Spooner Kloth" (a tough 60/40 cotton-poly mix). The soft colors, the painterly floral design across the chest: it all appeals.
Here in California, many old coastal guys love their "Spooners." We wear them all the time, and we tend to own more than one. Fortunately, society seems to understand. And wives find us easy to buy for: a Spooner, honey? You shouldn't have!
If you're contemplating the difference between an aloha shirt and a Hawaiian shirt: there is none. "Aloha" is a Hawaiian greeting that connotes friendliness and caring. As Hawaiian tourism grew in the '1920s and '30s, colorful and airy shirts were sold to tourists as "aloha shirts."
In Hawaii, they're still called that; elsewhere, "Hawaiian shirt" is generic for any shirt in loud colors with a pattern of figures and pictures. And though there's nothing innately Hawaiian about an illustrated shirt, aloha shirts are everywhere in the islands now.
The locals can buy aloha shirts made for their tastes, not just those of tourists: made and designed in Hawaii, too, by Hawaiian residents. Aloha shirts are even political.
Here's a shot of a couple of Hawaii state legislators at a committee meeting; that's a Reyn Spooner on the right, and a Rix on the left. Rix is one of the popular local shirt brands.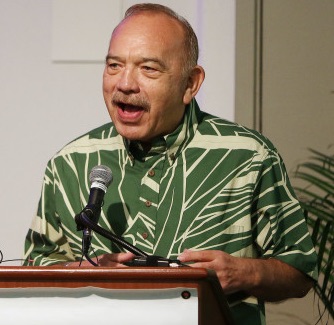 Sig Kane is another popular local-to-Hawaii brand; here at left, one of theirs is being sported by a former governor of Hawaii. The pols also favor local shirts from Hawaiian Force and Tori Richard; some even have shirts made custom by local designers.
Among all that, Reyn Spooner aloha shirts have been a Hawaii/West Coast presence for decades. Reyn Spooner ("Reyn" is pronounced "Ren") was a Hawaii-based sportswear manufacturer and retailer. It designed and made Hawaiian- and Pacific Rim-themed themed clothing in Hawaii, and sold them in its company stores in the islands and also through west coast retailers.
Reynolds "Reyn" McCullough was an old-school men's clothier and resort—wear designer. In the 50s, he shut his retail clothing business on California's Catalina Island (he grew up there) and started over in Hawaii because, you know, Hawaii. But even in Hawaii, McCullough wouldn't sell the local aloha shirts: too sloppily-cut and garish for his taste.
But in the '60s, somebody showed him how sewing a shirt with the colorful fabric inside-out ("reversed-print") would get him the more muted, sun-faded colors he wanted. Without the sun. And shirts were a go.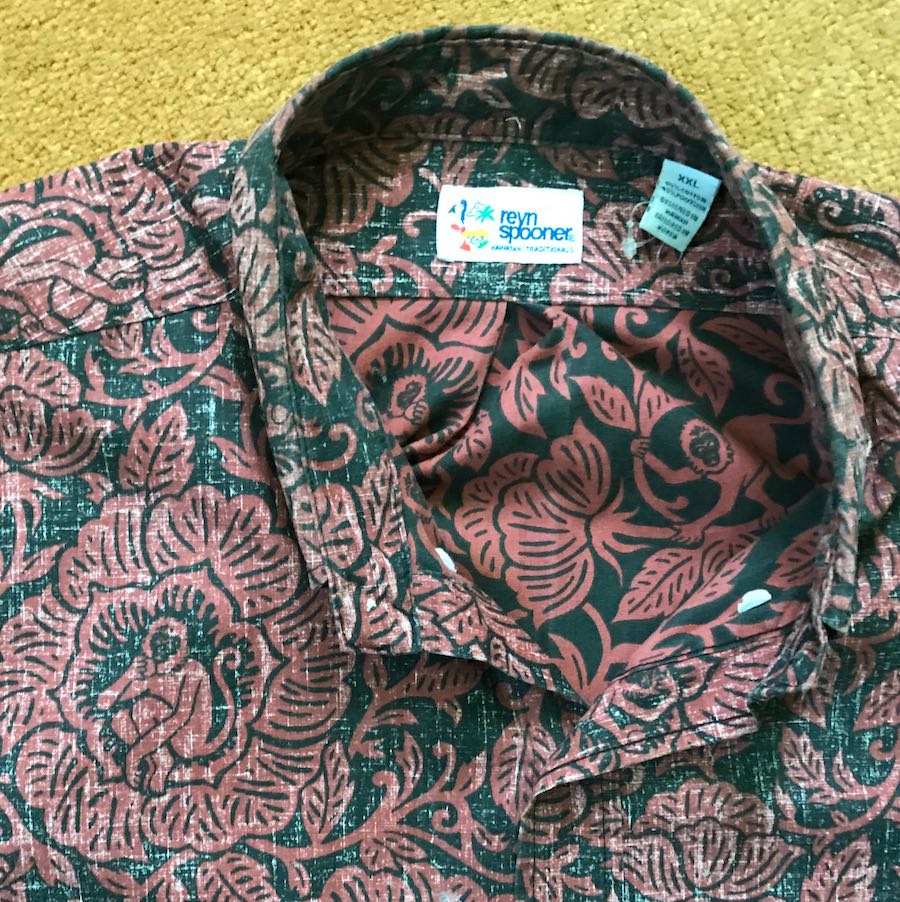 Along with reverse-print, McCullough's shirts brought the Ivy League: aloha shirts with a trimmer, tapered fit on some models, plus button-down collars and more of a shirt-tail. The fabric print on the pocket always, always merged into the shirt's overall fabric pattern. Some were Spooner Kloth, some were cotton or rayon.
McCullough and Reyn Spooner subsequently sold boatloads of tasteful aloha shirts to well-off Hawaiians and mainlanders. The concept was called "Boardroom to Beach." Your CEO could wear a Spooner at the company retreat while maintaining his (or her) dignity. Like the Lahaina Sailor: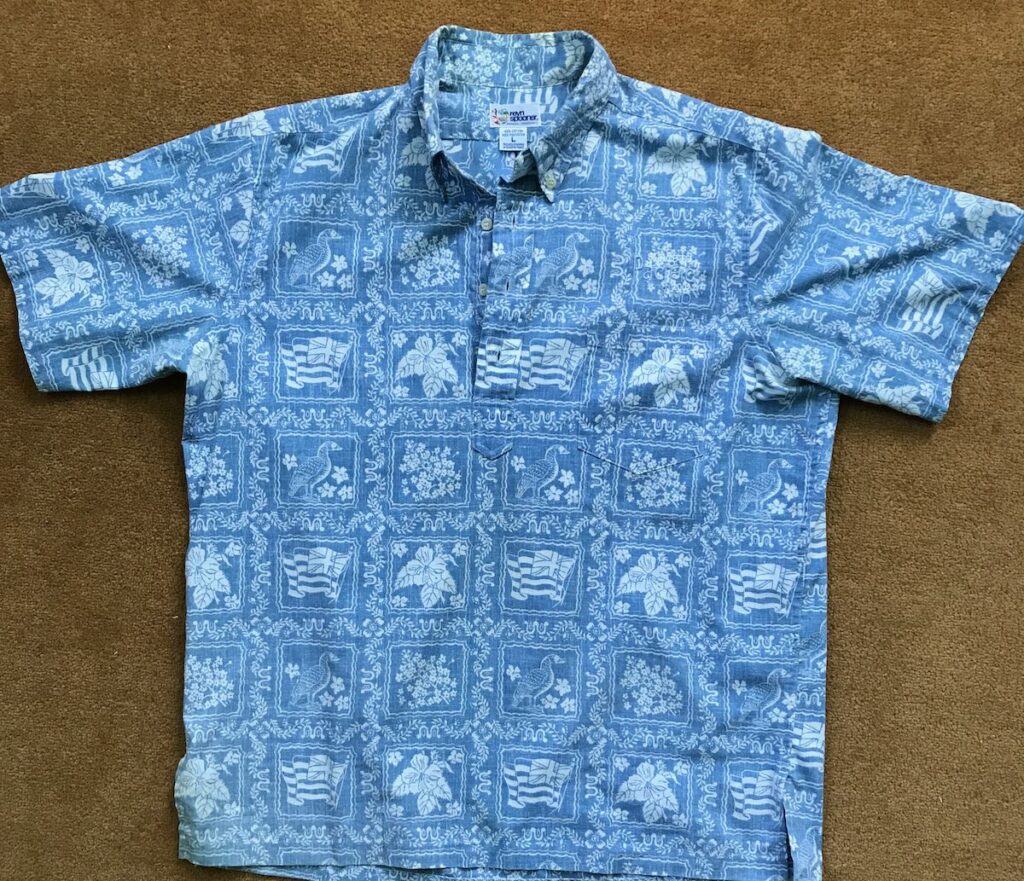 This design's been on sale since the '60s. A Lahaina Sailor is loaded with respectable Hawaiian icongraphy; in other words, it's dignified and possesses a very low cheese factor.
The Lahaina Sailor doesn't sail me away, but I got two cheap at a thrift store, and it makes a respectable office shirt. I had a manager who, I swear, must have slept in his medium-blue Sailor. Because he was either never without it, or he had three of them. Note to the management team: Lahaina Sailors also come in navy blue or black for extra gravitas.
Here's another of my favorites, yet another reverse-print pullover design with a print derived from Hawaiian quilt work. It does things to my eyes, but I like those things. Pullover woven-cotton aloha shirts were popular many decades ago, before there was such a thing as knit sportswear. Now, they're less common, but worth it if you like an uninterrupted design across your chest.
For Spooner Dudes like myself, Spooners are like potato chips: you don't stop at one. Fifteen to 30 Spooners is an average-sized collection for a typical old Spooner dude, and some young dudes, too. Spooner Dudes wear Spooners constantly. Spooners look sharp, not sloppy, thanks to MacGregor's Ivy-League cut. And yet those soft colors give them a laid-back appeal.
Spooner artwork is usually of high quality and relevant to the Great Pacific Rim, if not always Hawaii. And they're built like tanks: the Spooner Kloth models are almost invulnerable, prone only to tasteful fading and softening fabric. Spooner Kloth shirts drip-dry and don't even wrinkle. They let the breezes in on hot days; on cool mornings, with a t-shirt underneath, they make a good, lightweight windbreaker.
Here's another Spooner of mine, with a Japanese-inspired design: fans, cranes, and more. This one also gives my eyes a workout: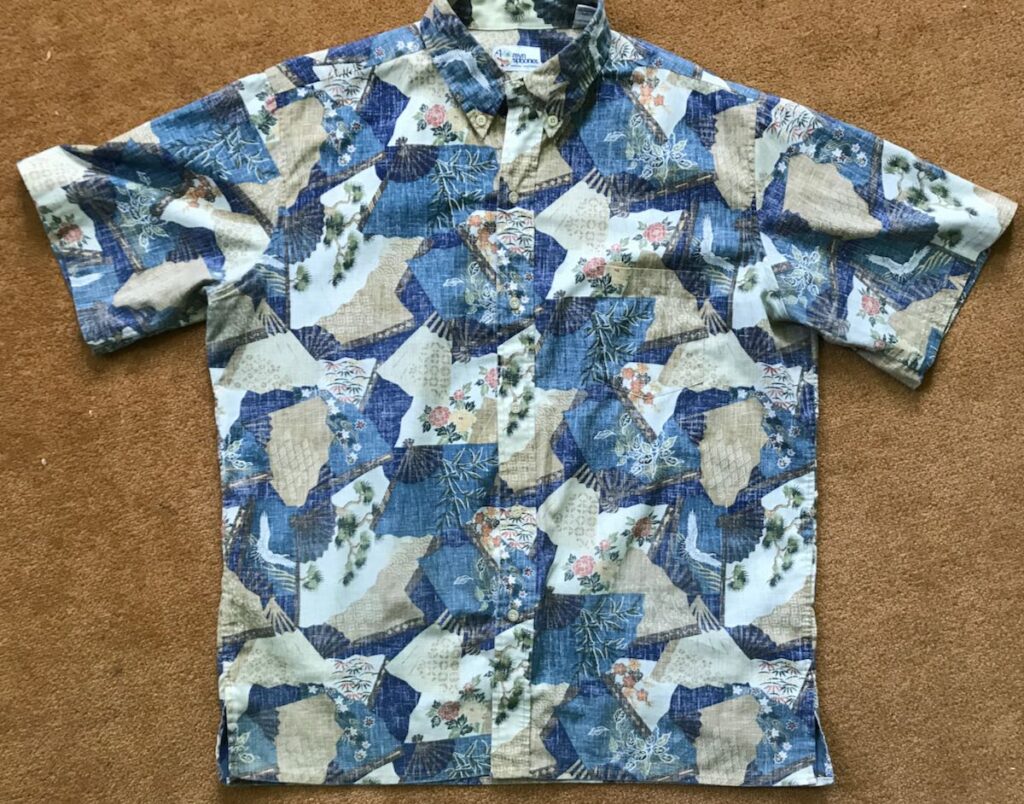 I've bought Spooners new, but most of my favorites are 20 to 30 years old and came from thrift shops. They all look like new except for the following one, which is from the '70s. Some of the seams are a little loose, and it's not even made of Spooner Kloth. But it still looks pretty good.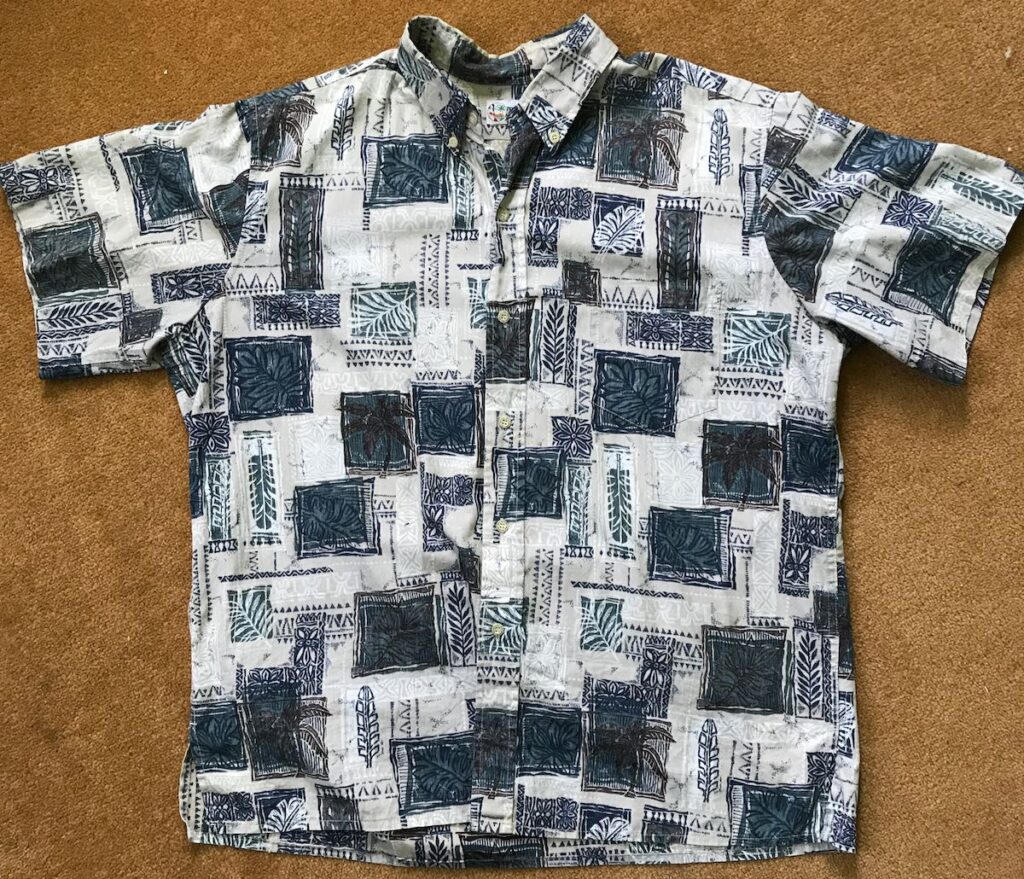 Spooner Dudes rarely jettison their Spooners voluntarily. So when I wear one of my thrift shop finds, I'm likely wearing a dead man's Spooner. That's okay: the Dude may die, but the Spooner carries on to the next Dude if at all possible. It's The Way.
That said, here's a Spooner that I actually bought new. They will give you a bright color if you ask nicely, and once again it's a shirt you may have to decode. Oh, all right: koi fish. I wonder if there'll still be Spooner Dudes in 75 or 100 years.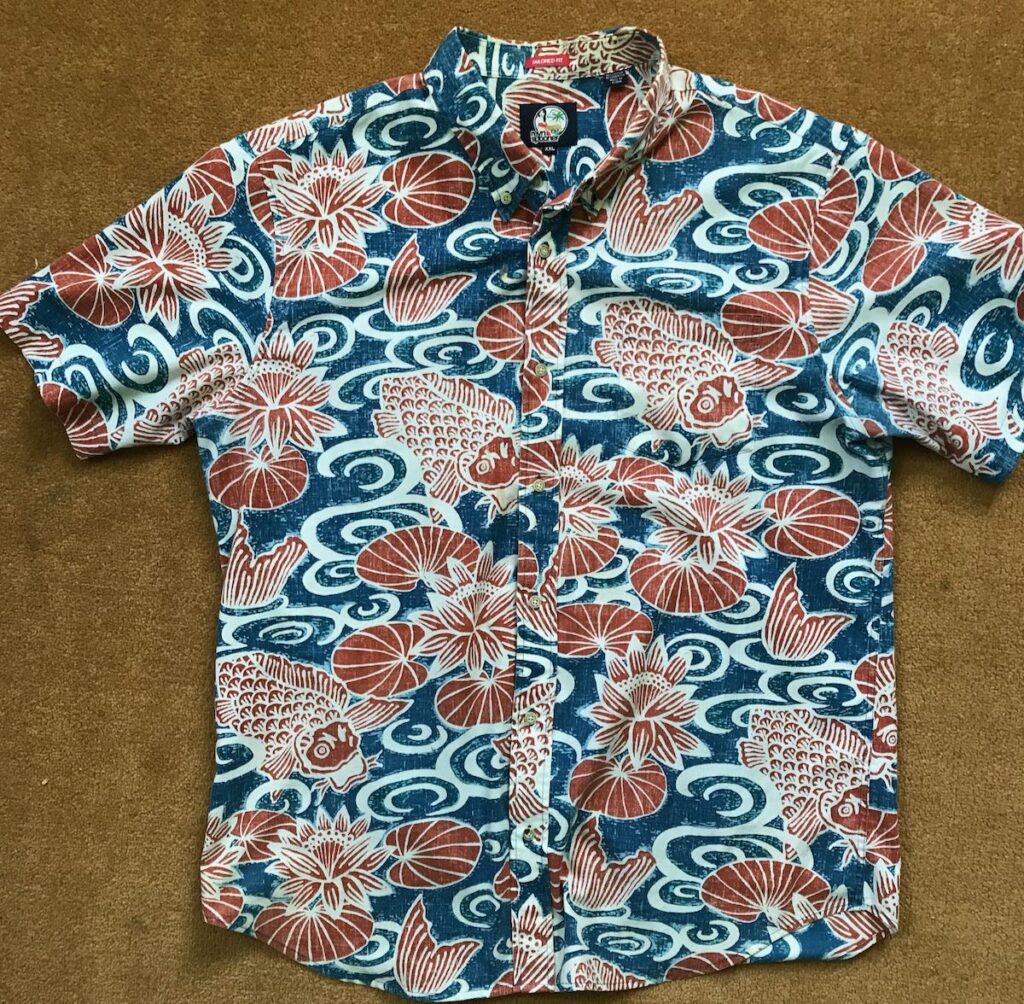 Reyn Spooner was a big name in Hawaiian-made aloha shirts, but it wasn't the only name, or even the biggest. Hawaii has its own local shirt-makers and designers, always has. And other mainlanders also founded Hawaiian-based sportswear companies like Alfred Shaheen and Tori Richard (which you may have heard of, and which still makes all its shirts in Hawaii).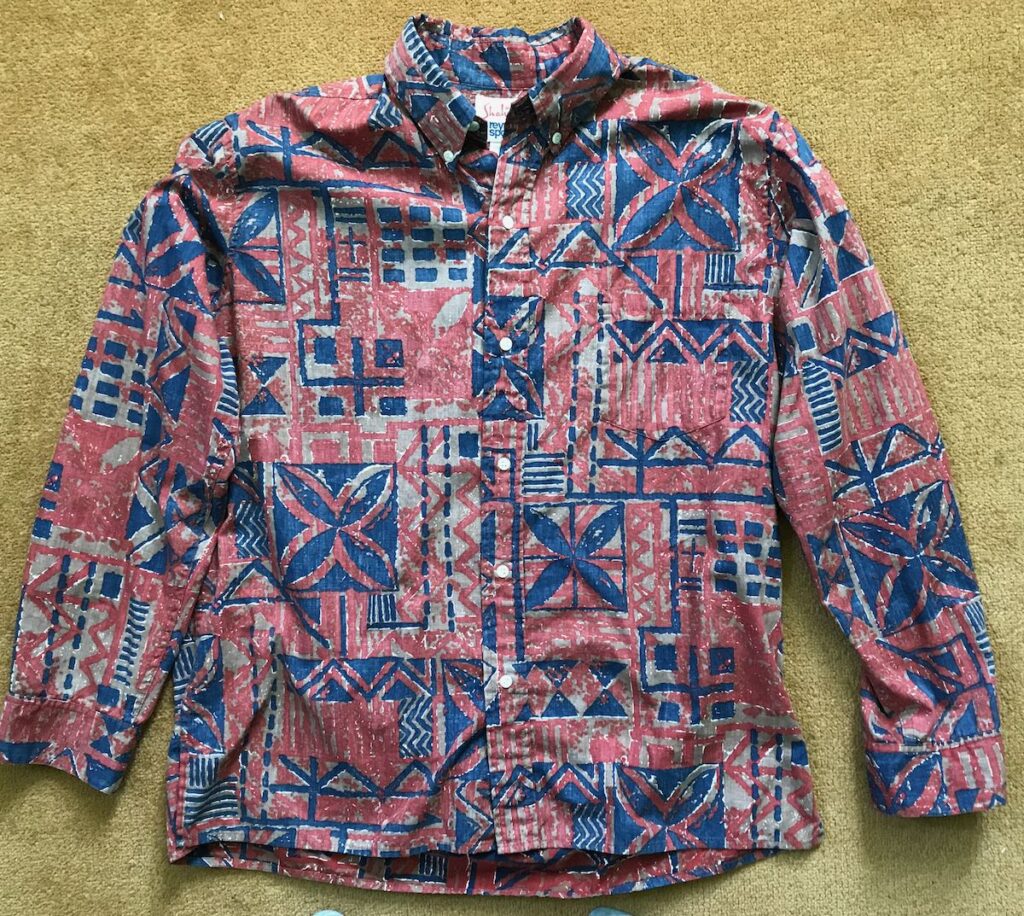 Above is a Reyn Spooner long-sleeve with a licensed Shaheen design based on traditional Hawaiian tapa fabric block prints — except for all the polychrome madness. This shirt gets a lot of looks. Shaheen was special.
So yes, there's a lot of Hawaii aloha shirt talent to choose from, if you don't mind ordering by the Internet: always has been, always will be I hope.
And that's good, because Reyn Spooner and I are parting ways. They changed hands: twice. The second time, a new CEO and design team were brought in to "broaden appeal" beyond the aloha zone. Headquarters moved to California; the latest designs resemble medium-quality cartoon art in flat colors. Production's been hip-hopping around Asia for some time now. Reyn Spooner no longer makes this old duffer's aloha shirt.
But all is not lost. Because you have to ask: when you replace the old guard at an iconic sportswear company, just what does the old guard do after they've cleaned out their desks?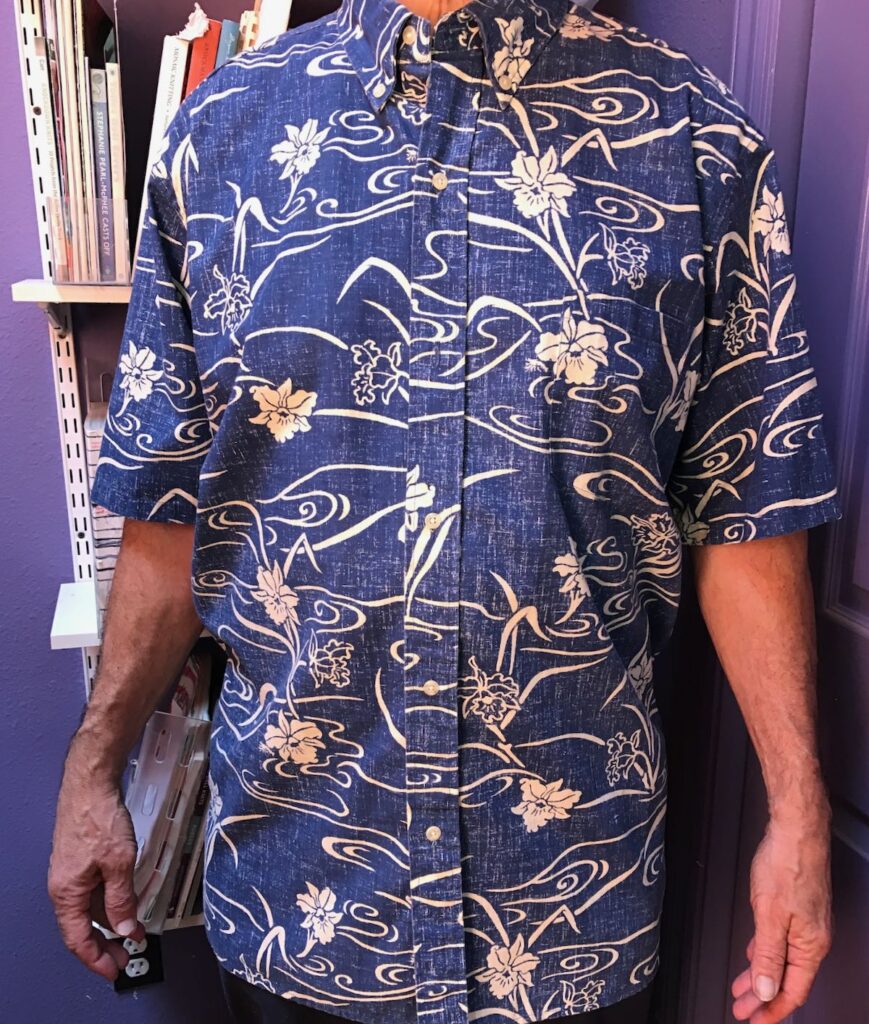 Why, start their own business back in Hawaii under another name and make more aloha shirts, just the way they used to. With a shop, and local production, and some online sales and distribution. I was lucky to find these guys on the Internet; but I was also motivated. I've bought a couple of their shirts. Here's another one.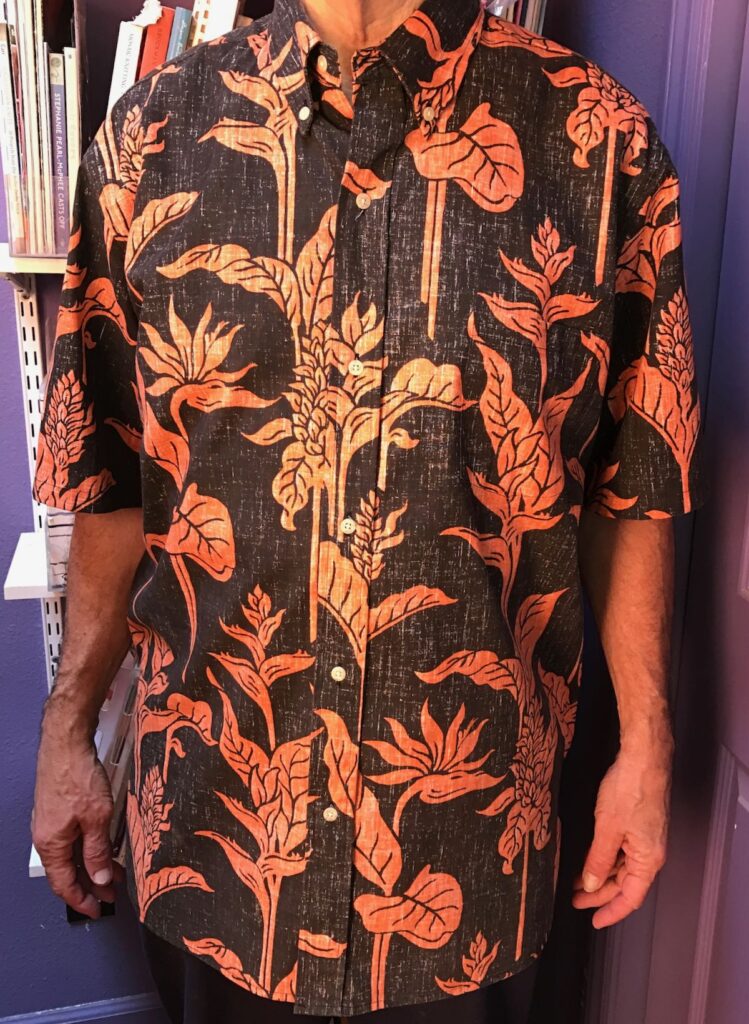 Yep, these are definitely Spooner Dude material: dignified (mainly), reverse-print, conservative, and built like tanks. The makers even have their own version of Spooner Kloth. Welcome to my new favorite shirts.
To be clear: I have no fetish for authenticity. It's true that the world is full of generic "Hawaiian" shirts with derivative designs, usually made under contract in the cheaper parts of Asia.
But I never bought Reyn Spooners because they were "real Aloha shirts." I bought them because they were real, period. And the ultimate cool duffer shirt.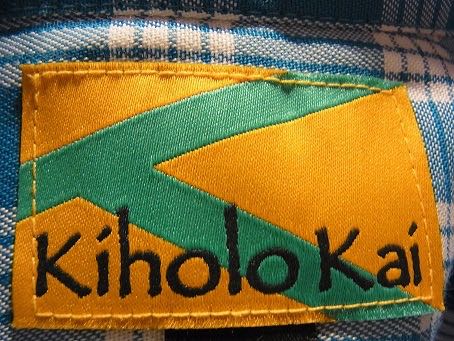 They still are. Just, under a different name.