Death imagery and sports go together: there's always a old rival to "slaughter" or "wipe out." I remember a high school pep rally built around a fake funeral for our football team's opponents that evening. I didn't go to football games.
Sports competitors and fans wouldn't have worn skulls back in the '70s. But when skulls became acceptable, they also became a natural fit for some sports or leagues.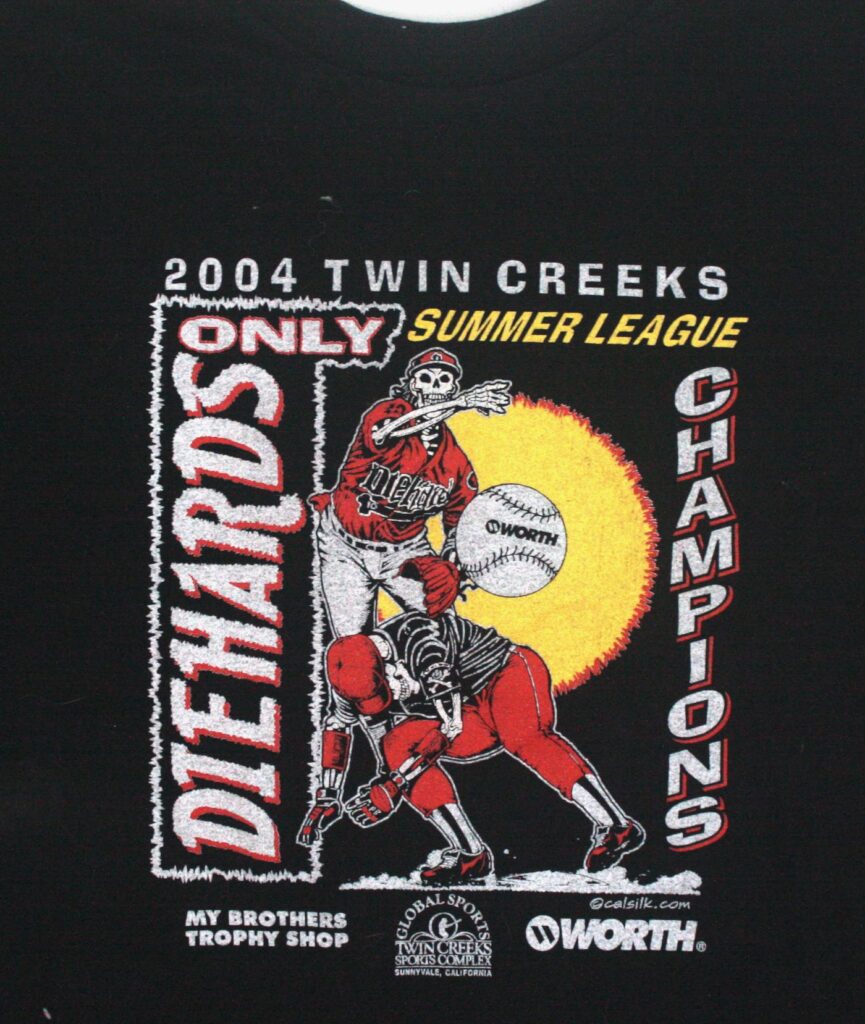 If you believe the t-shirt, this summer baseball league expected its plays to play to the death — and beyond.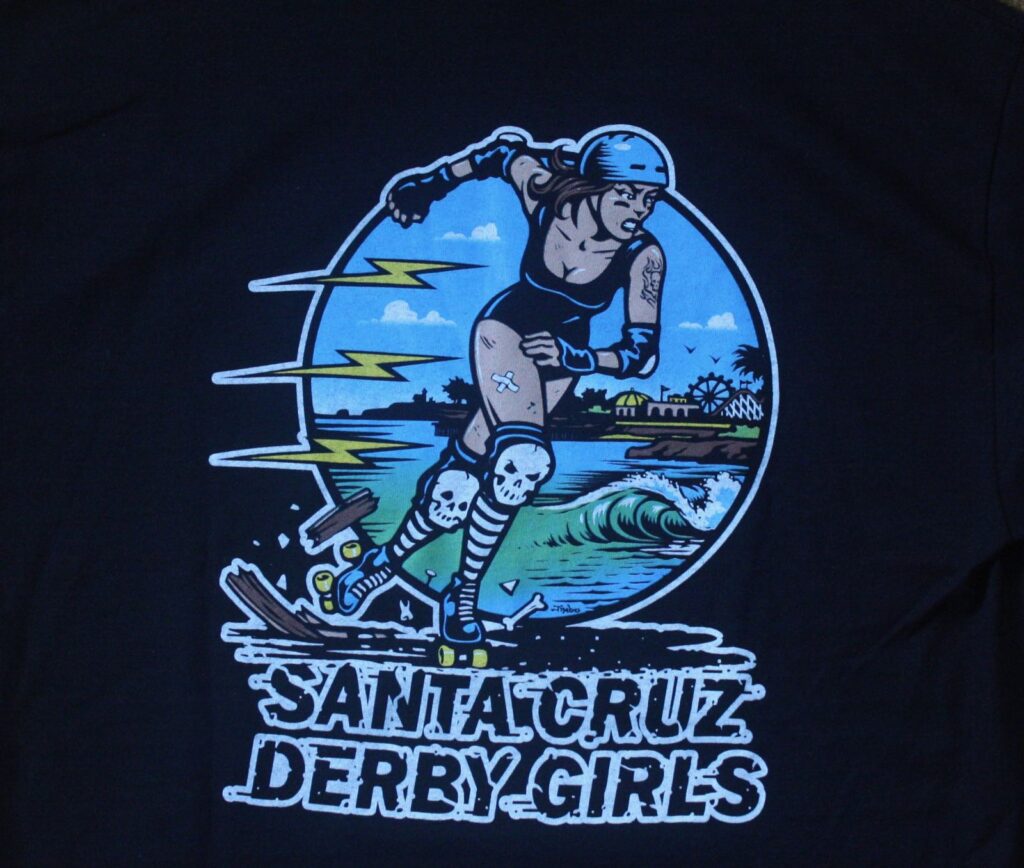 Women's flat-track roller derby players like to take the persona of '50s-era tough dames, complete with monickers like Nuclear Nancy.
A couple of skull knee pads didn't hurt this design one bit. Yes, you can buy such things, but they don't look as cool as the ones in the drawing.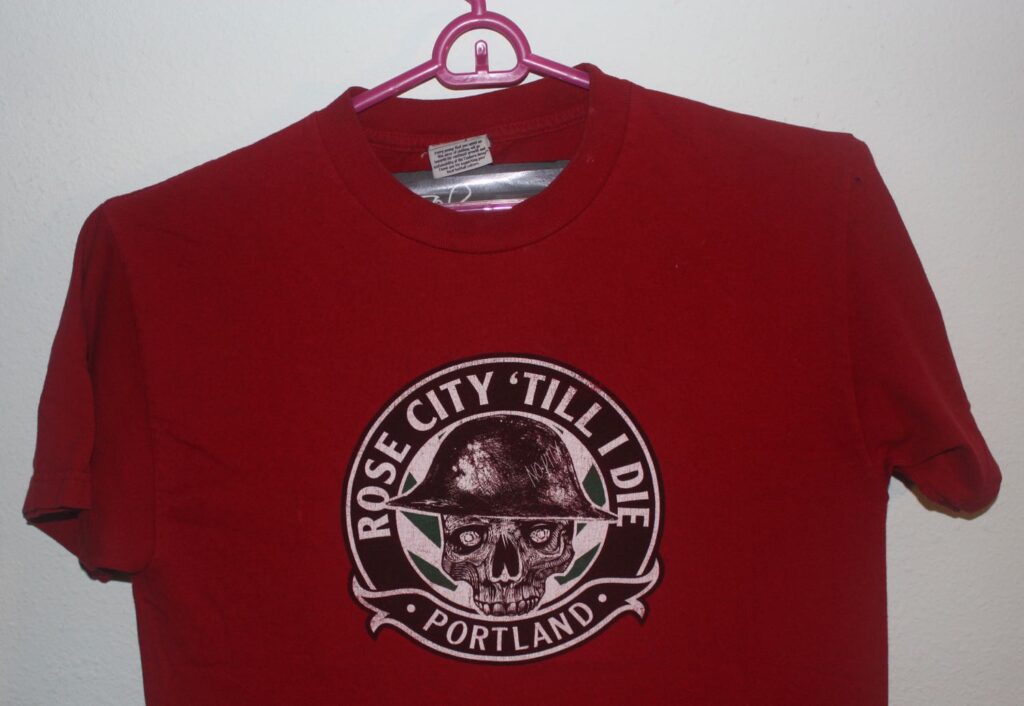 Sometimes even the fans want to tell you how bad-ass they are. I like this wooden skull t-shirt a lot.It's from an outfit called the Timbers Army is an independent supporters group of the Portland (OR) Timbers professional soccer team.
The Timbers Army attends each game. They are enthusiastic: they drum; they chant (chants from all over the world, in fact); they sing; they blow horns; they take up a substantial portion of the bleachers. It being Portland, they even support progressive politics.
And they sing the song "Rose City Till I Die" whenever the opposing team scores a goal against the Timbers.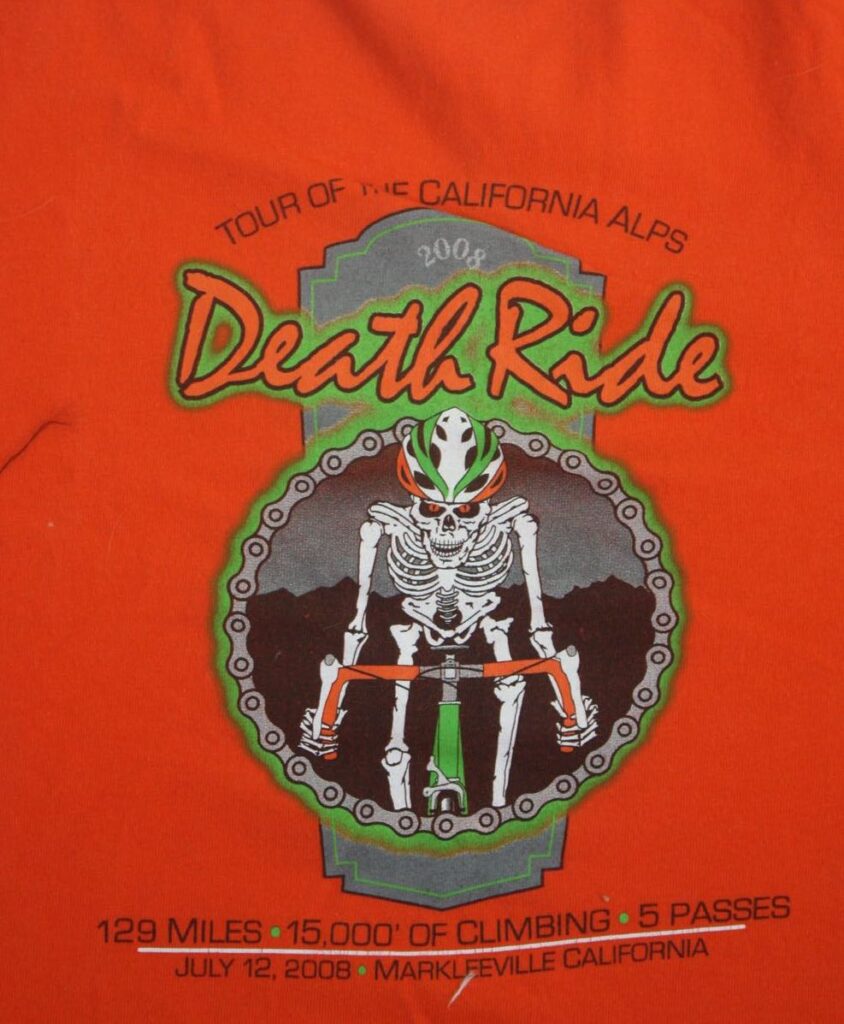 Skulls can be about competitiveness; but they could also be about the pain or danger that the competitor had to face. Like the skeleton in the "Death Ride" tee up top here. Fifteen thousand feet of climb in a bike race of 129 miles? That may not kill you; but it could make you feel like you were dying.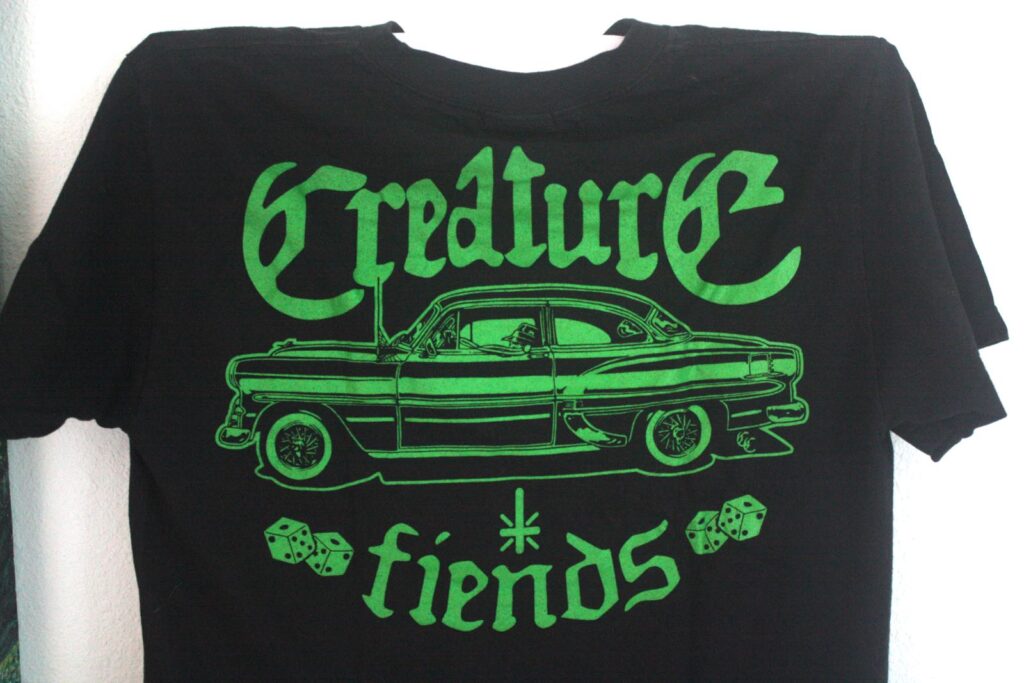 Skateboarding supports all sorts of outrageous graphics: whatever bloody and grotesque imagery to satisfy the skateboarder's inner (or outer) 13-year-old. Creature is a line of skateboards and other products under the NHS skateboard conglomerate based here in Santa Cruz. It's common for the design made for a skateboard deck to also be issued on a t-shirt, and that was done in this case.
And yes, if you look closely you'll see that those are skeletons low-riding in that classic sedan. Skulls and skeletons aren't a huge skateboard motif, but anything shocking is fair game for a skateboard graphic.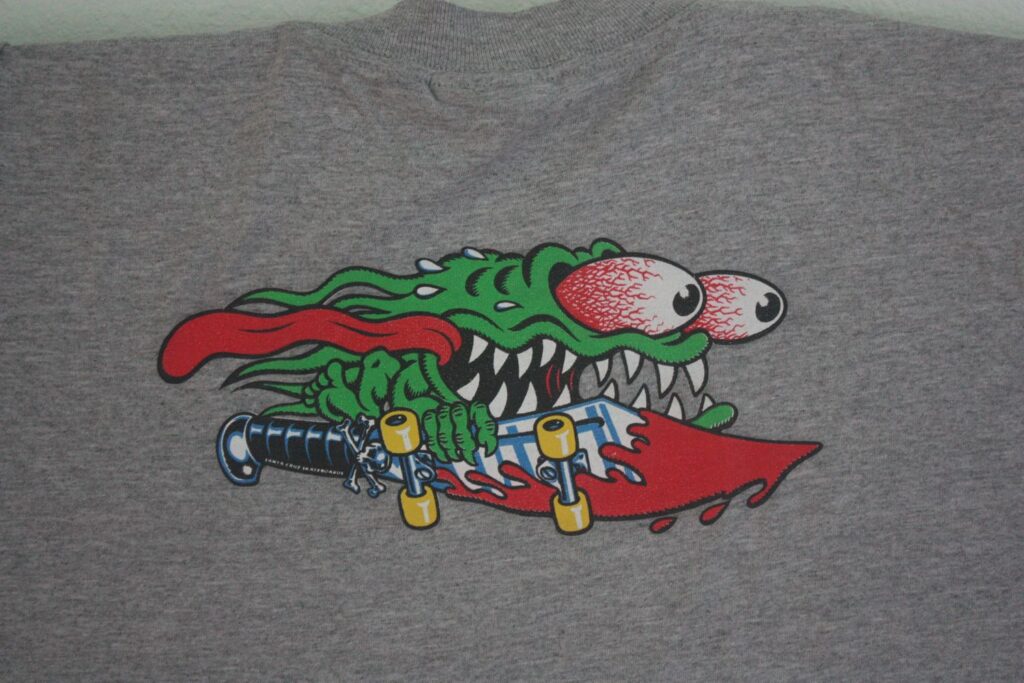 Besides, "Slasher" substitutes well for a skull. He's one of two well-known iconic graphic characters used by Santa Cruz Skateboards (another lobe of NHS). The other icon is the Screaming Blue Hand, (Just do an image search; it is what it says it is.)
Both Slasher and the Hand are the creations of Santa Cruz skateboard, surf, and music artist Jim Phillips. Phillips is pushing 80 and not all that active anymore; but his artist son Jimbo stays active in Santa Cruz to this day. This site features many t-shirts with Jimbo's designs.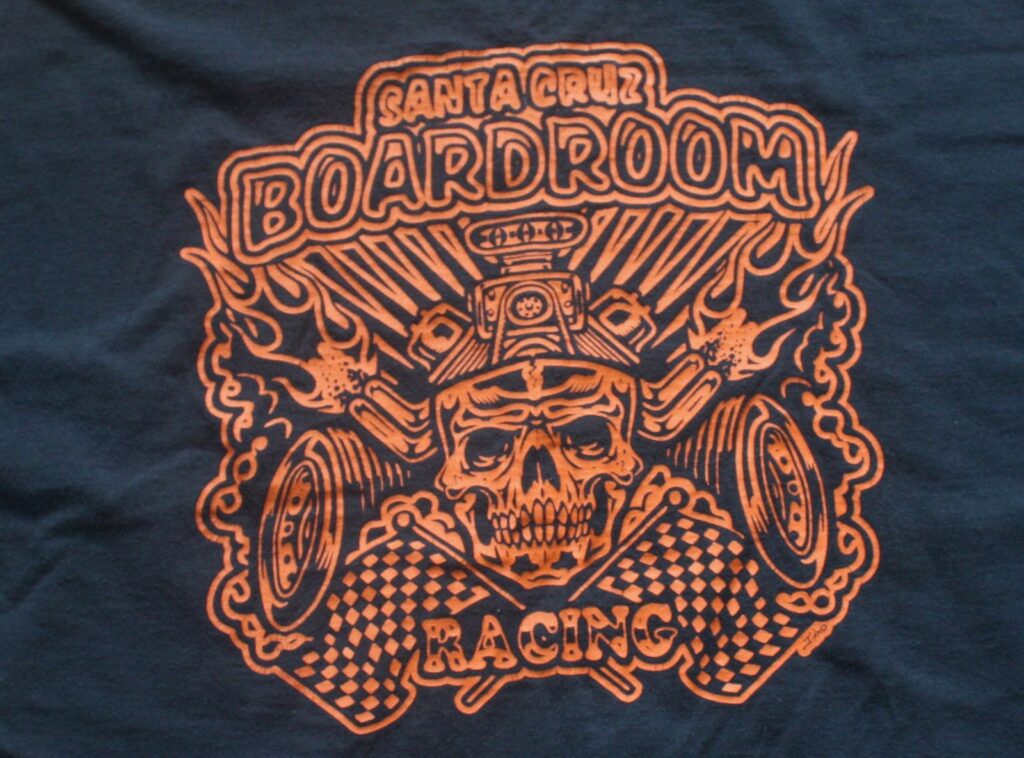 In fact, here's one of Jimbo's designs now: for a venerable Pleasure Point skateboard dealer and its skateboard team. It is a giant, drag-racing skull. Because skateboarding above all is about conquering the many obstacles in your path. And being a bad-ass. When you're 13.