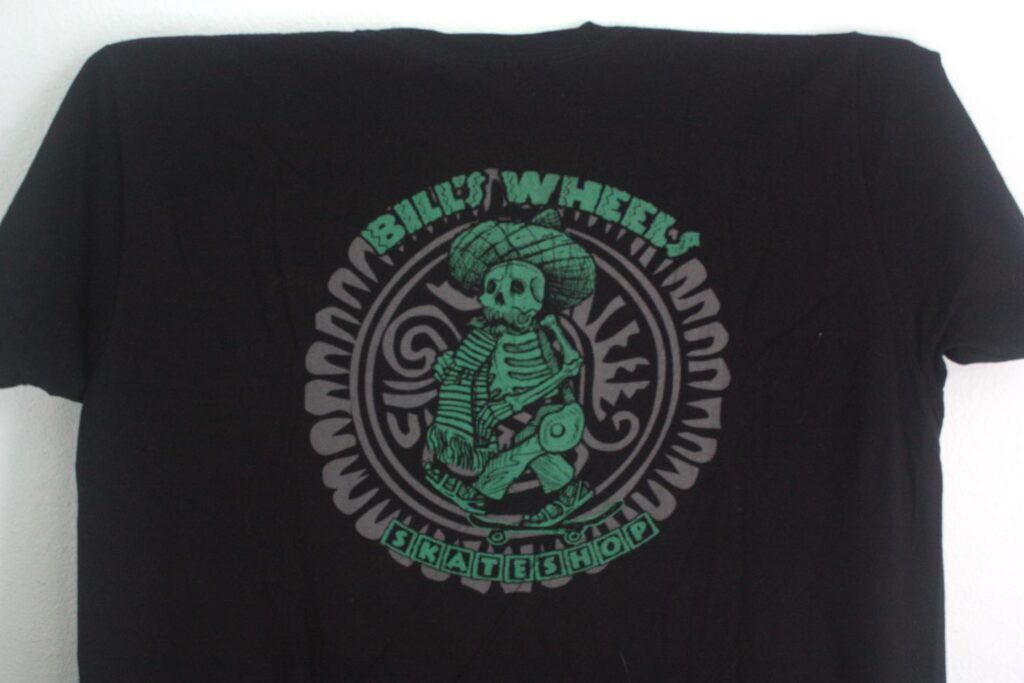 Before America's craze for skulls, there were calavera: Mexico's skulls and skeletons of remembrance, ever popular for the Dia de Muertos in Mexico, and increasingly popular in the States.
Forty or fifty years ago you saw calaveras only sometimes. Friends would come back from Mexico with a clay sculpture of a bright blue bus full of skeletons, or a candy skull or sugar skull from Dia de Muertos celebrations. Sometimes, here in California, you'd see one on a poster from a La Raza community group.
Mexican culture has a nuanced view of the death: death is omnipresent and inevitable. But… why not have some fun with it? In wood, in clay, in paper maiche, in candy, in wax, and even on paper? Make the skull a symbol of the past, of life — and also of its transitory nature.
But as America donned skulls as symbols of assertion, citizens with not a drop of Latinx culture in them adapted calavera images for clothing because, you know, SKULL (but different skull). As I've said before, we Americans like to dance to the music without listening to the words.
Take the tee above — that's based on a well-known calavera lithograph from a century or so ago. It was plunked on a Bill's Wheels skateboard/skate shop tee in Santa Cruz.
Why? Just speculating, but Bill's neighborhood is more Latinx than most of the rest of Santa Cruz; so this design could easily be a nod to those cultures. But aside from that it's a skull; skulls are awesome to adventurous adolescent males, and that's much of Bill's customer base.
In the original litho, the calavera carried a bottle of booze;. I note that the bottle was omitted on this tee, perhaps because of the customer base's tender age.
The tee's central image originated with the Master of Calaveras, the Mexican lithographer Jose Guadalupe Posada. Posada's calaveras celebrated the dead and mocked the pretensions of the living; they say, we are all bones.
The average skateboarder may not care that much; but if you do, follow this link to my much-neglected blog for an article on calaveras, Posada, and his many works. Many of which you will have seen already in your travels.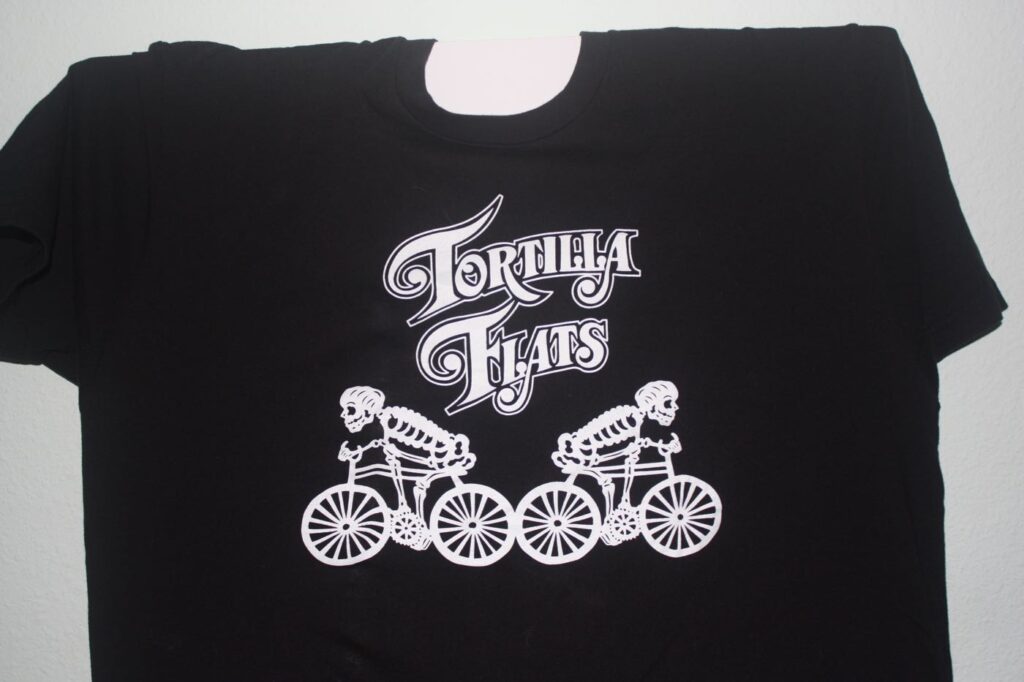 For example, this Posada image — calaveras on bicycles — was repurposed for the t-shirt of a local restaurant.
This bicycle t-shirt — for a cyclocross bicycle race —features a candy skull. At first glance, Posada is not in the room: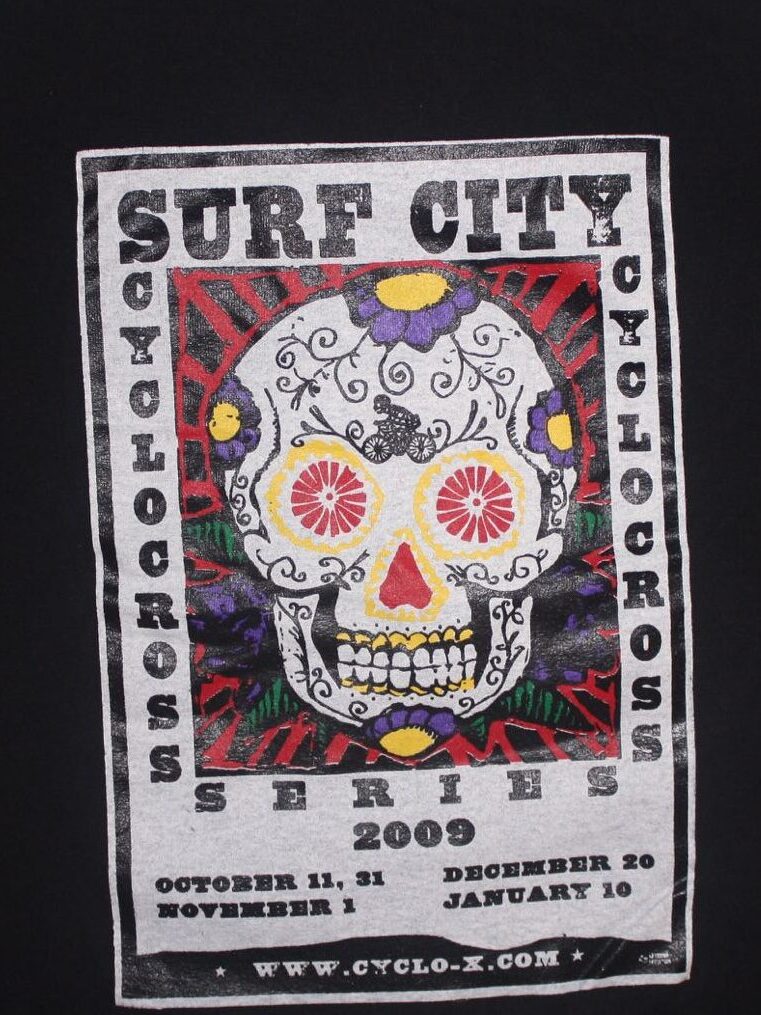 This is a skull you'd eat; It's a cheerful image if you see it that way. It can be an offering to the dead; and on Dia de Muertos, day of remembrance, that's a comforting thing.
And it seems an odd choice at first: cyclocross is a grueling form of off-road bike racing. The course is so rough that competitors must dismount for certain stretches and run while carrying their bikes. The skull you'd expect would be a fierce one, denoting adversity and risk.
But if you look very closely, you will find between the orange-slice eyes a small drawing of Posada's skeletal bike rider. There is a nod there to the rigors of off-road bicycle racing. And life, and Posada. This is truly a bicycle candy skull. The shirt's image manipulates Mexican cultural symbols with some flair. It surprised me.
Other good calavera t-shirts don't surprise me at all: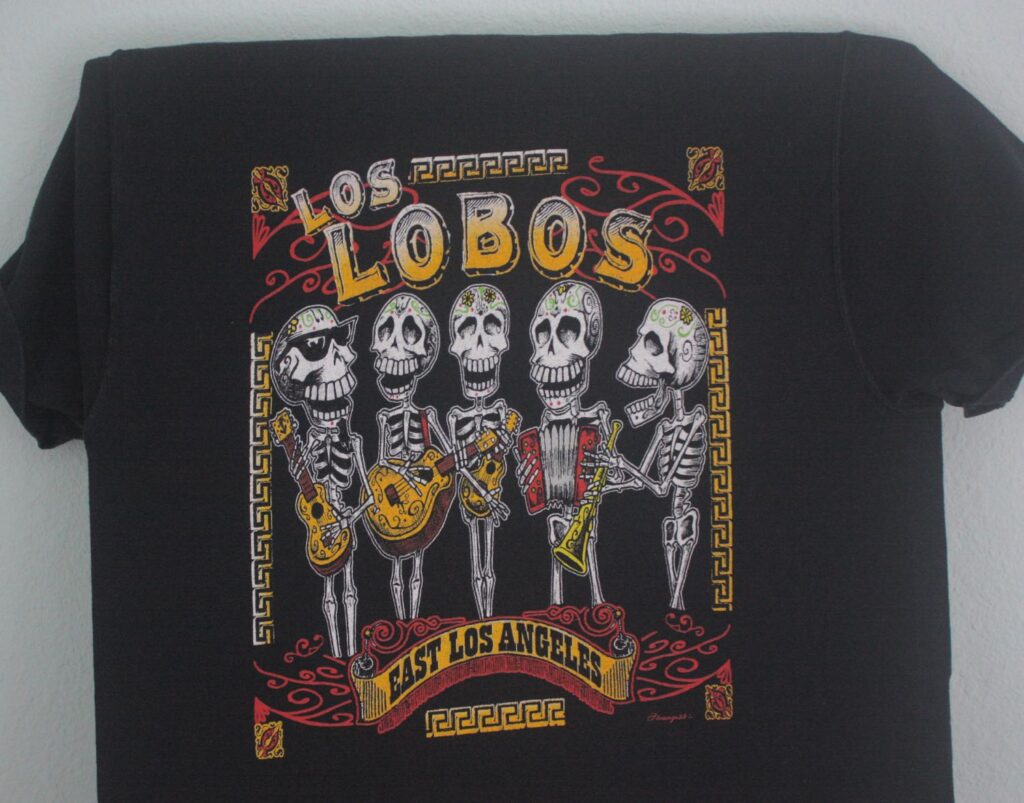 Los Lobos are a very popular and venerable Latinx rock band out of East Los Angeles. They've been around for almost 50 years. Los Lobos knows exactly what calaveras mean: and the joke is that they are the calaveras: "old bones" from a past time who somehow still totter on on stage and perform.
And there's this: a calavera or candy skull — and intense.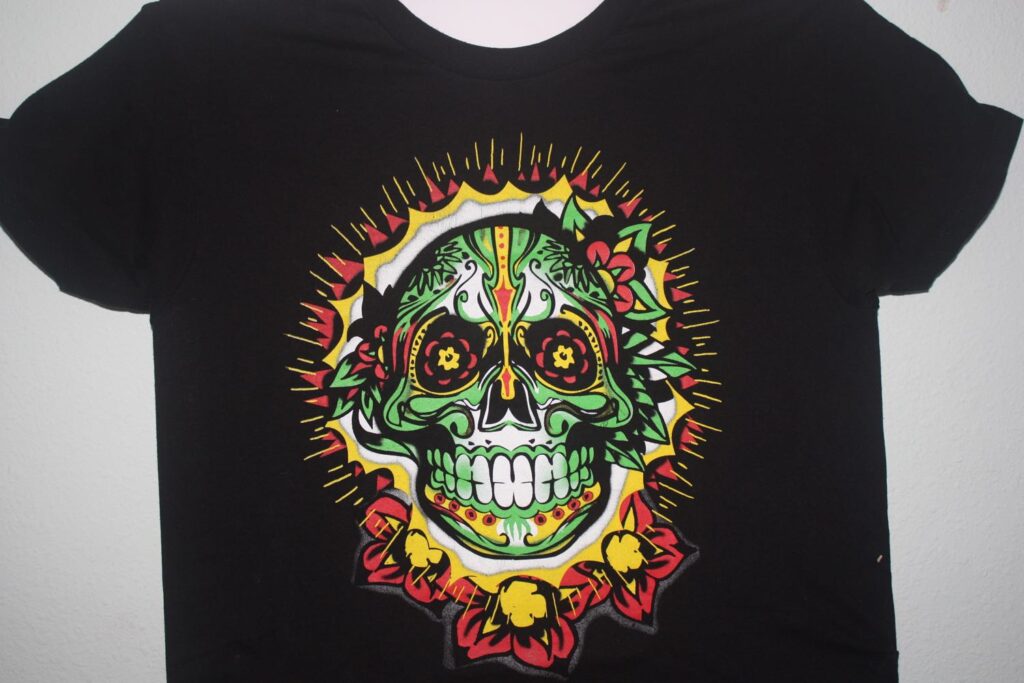 I can't find out who drew this design, or why. But oddly enough I've talked with the guy who printed the t-shirt. All he could remember was that the artist came from Watsonville. Watsonville is Santa Cruz' majority-Latinx neighbor city to the south.
Perhaps this calavera says that the past is always with you. And so are the Latinx. Don't forget.