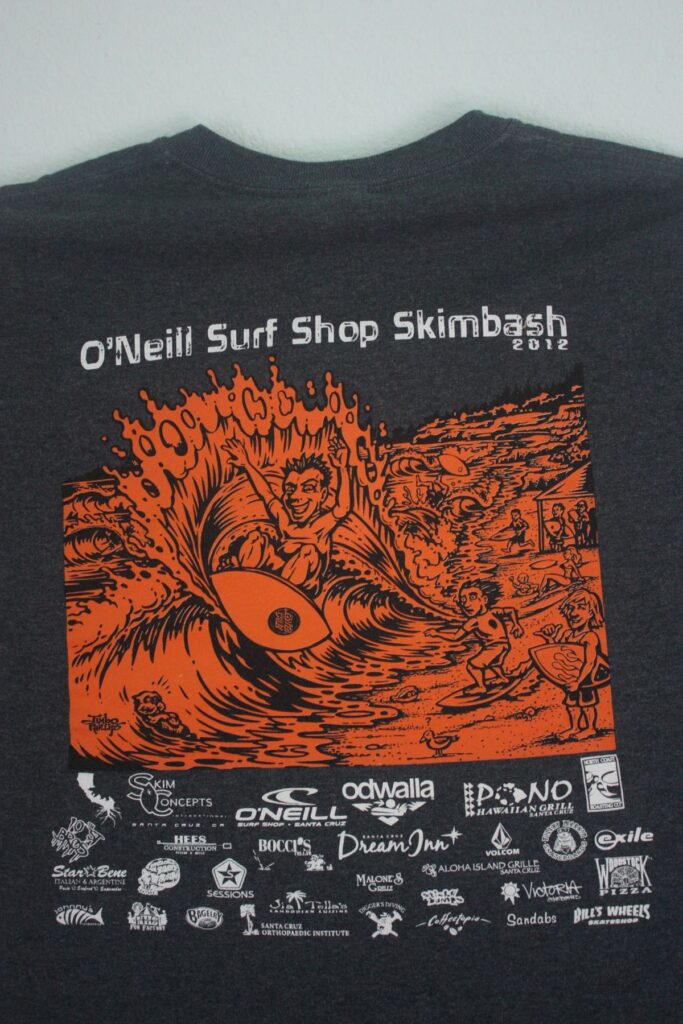 How do you see Santa Cruz? Garden of earthly delights? Hedonistic hippie haven? Eternal. smirking adolescence gone wild on the surf and in the streets?
If it's that last bit, you want Jimbo Phillips to design your t-shirt. Oh,he can do the other two, and does. But if you want an image of a leering young male dominating in the surf or on the sidewalk, Jimbo is your man. Jimbo grew up here, drawing. He's got the male adolescent zeitgeist down cold.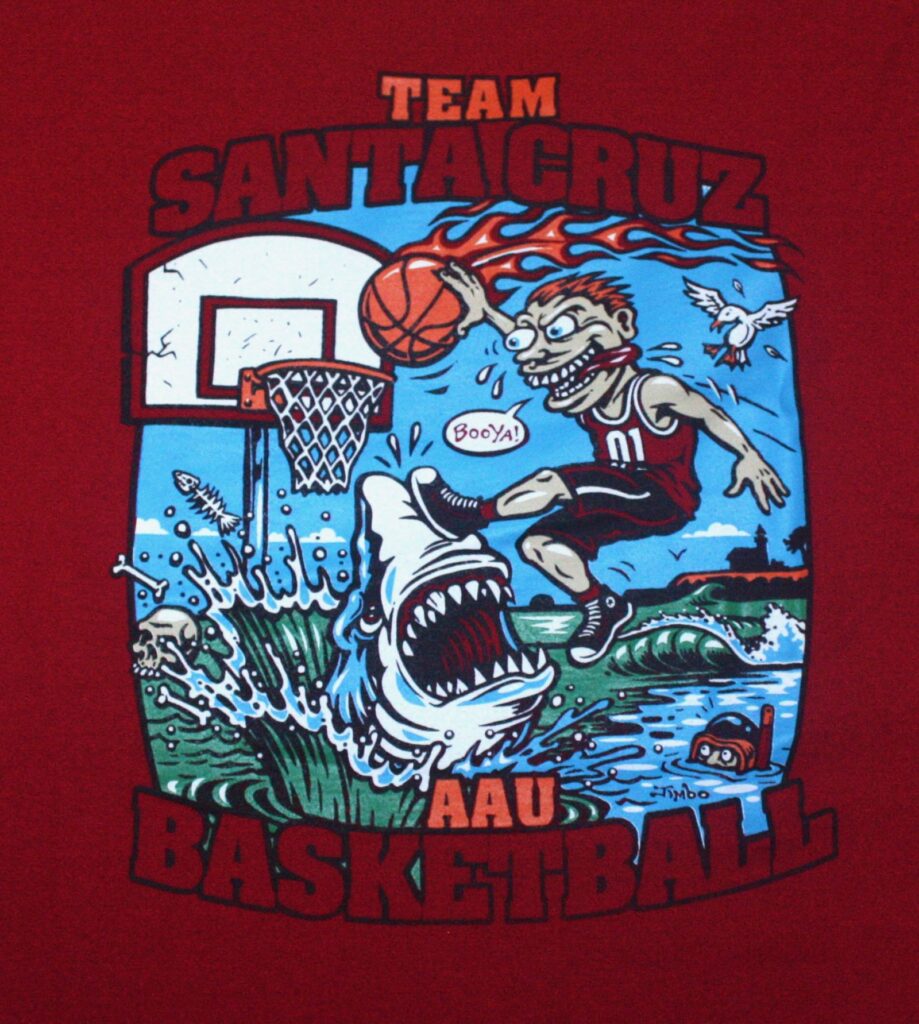 I call it the Jimbo Leer. It appears on tees that he illustrates with surfing, skateboarding or athletic themes. Here's a good skateboarder leer: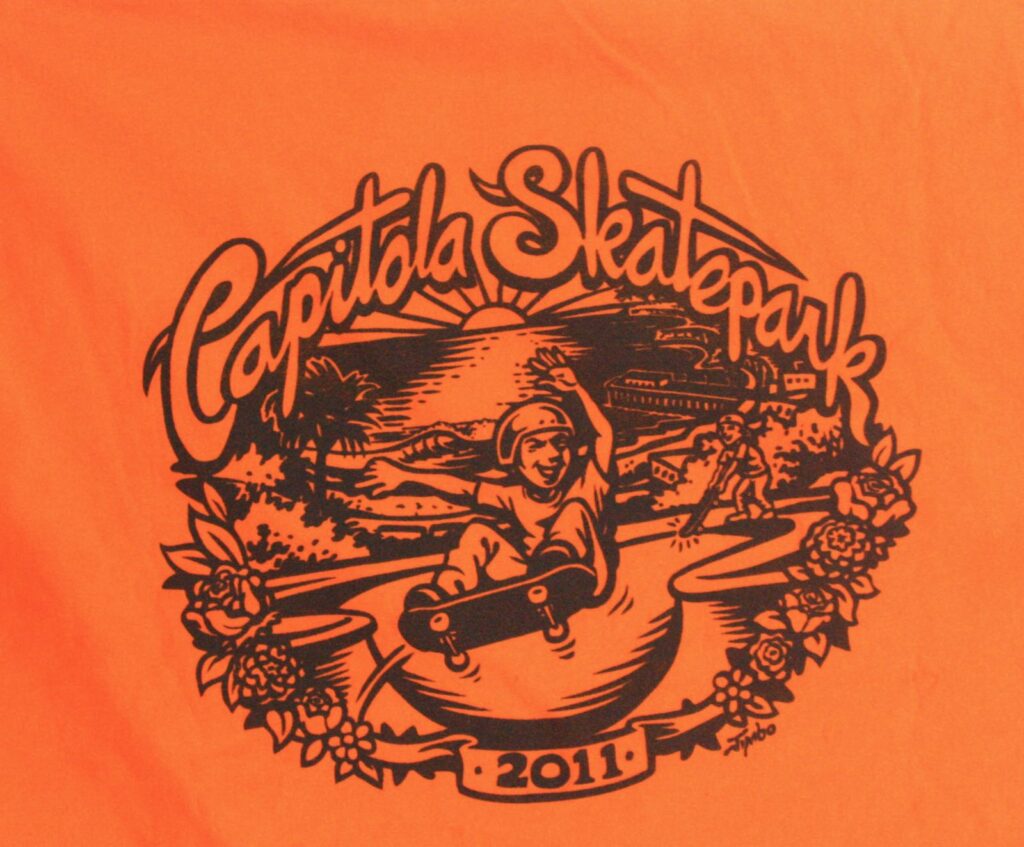 Here's another: school's for fools!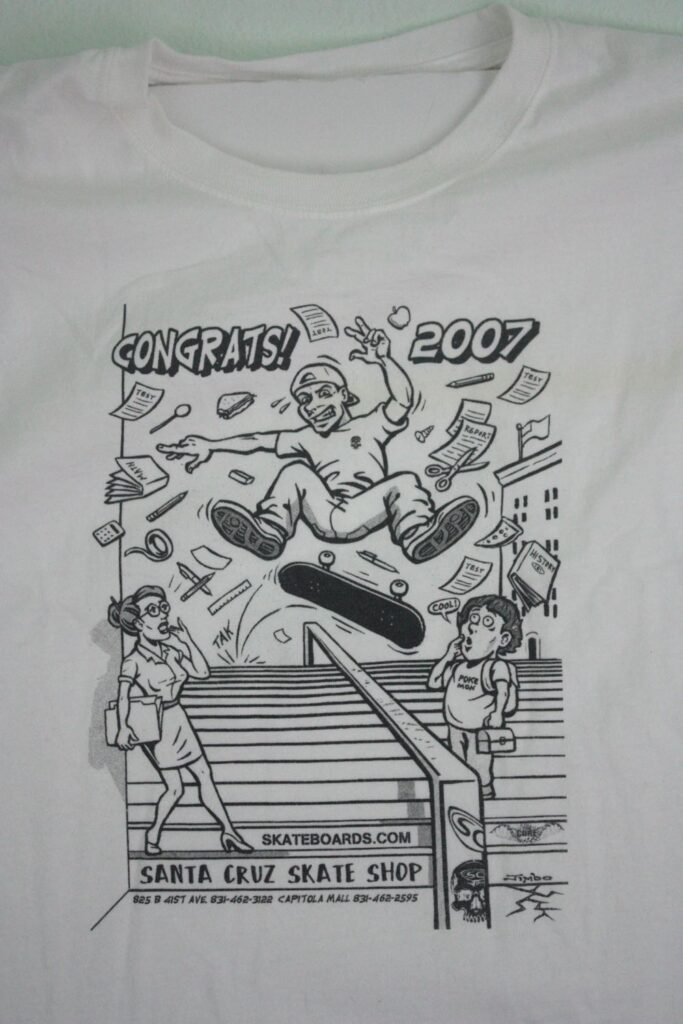 Jimbo Phillips can draw tough women athletes, too: a Santa Cruz roller derby queen skating in the waves –by God, I think at Twin Lakes Beach. I wouldn't say she's leering, but stay out of her way.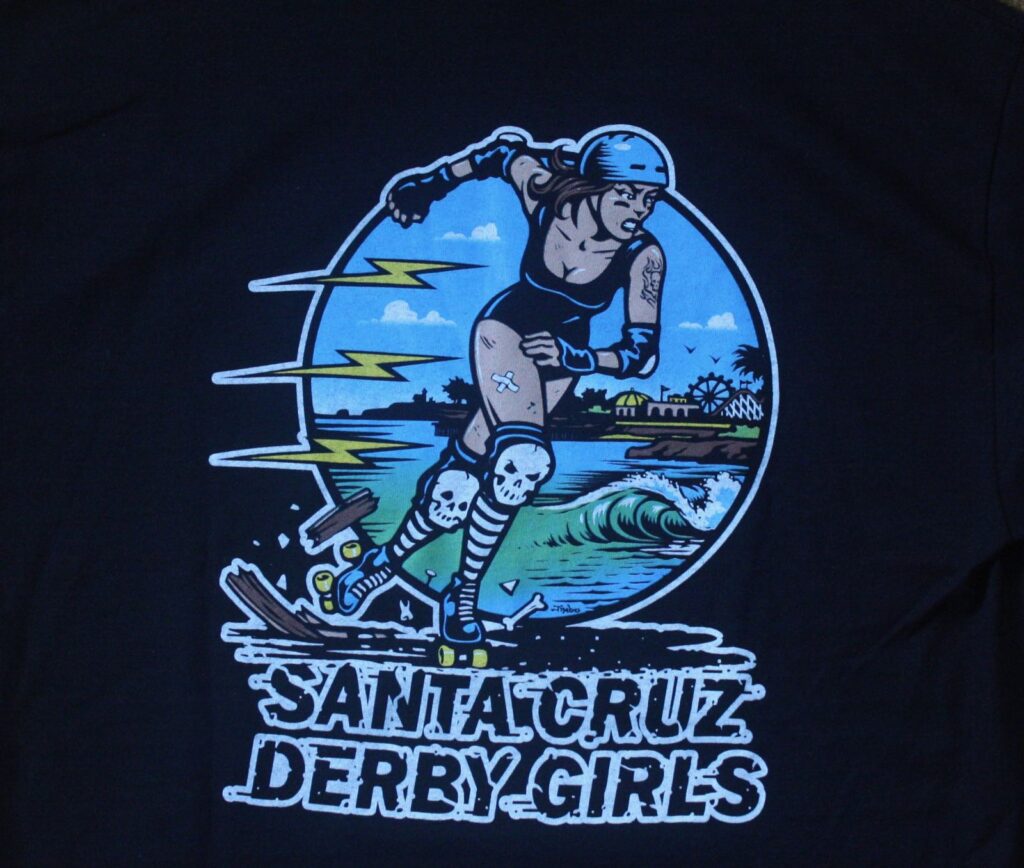 In this tee, for a water polo tournament, Phillips even make an octopus leer.
Here's one last leer: I 'm not 100 percent sure on the message here, but the tee is pretty striking.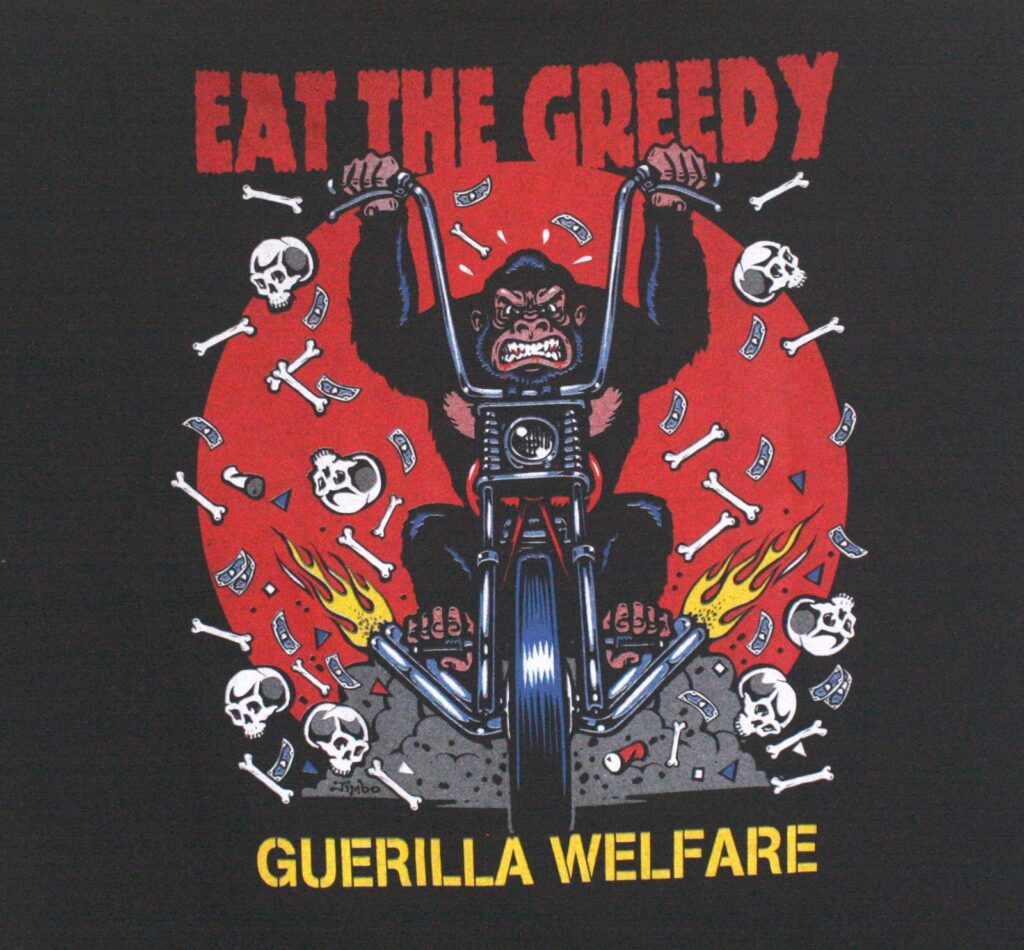 As a young man, Jimbo Phillips worked for his father, legendary skateboard artist Jim Phllips. They illustrated skateboard decks with monsters, eyes, fang, blood and drool: just what the skateboard market's target demographic of 13-year-old boys really likes. They'd like this one: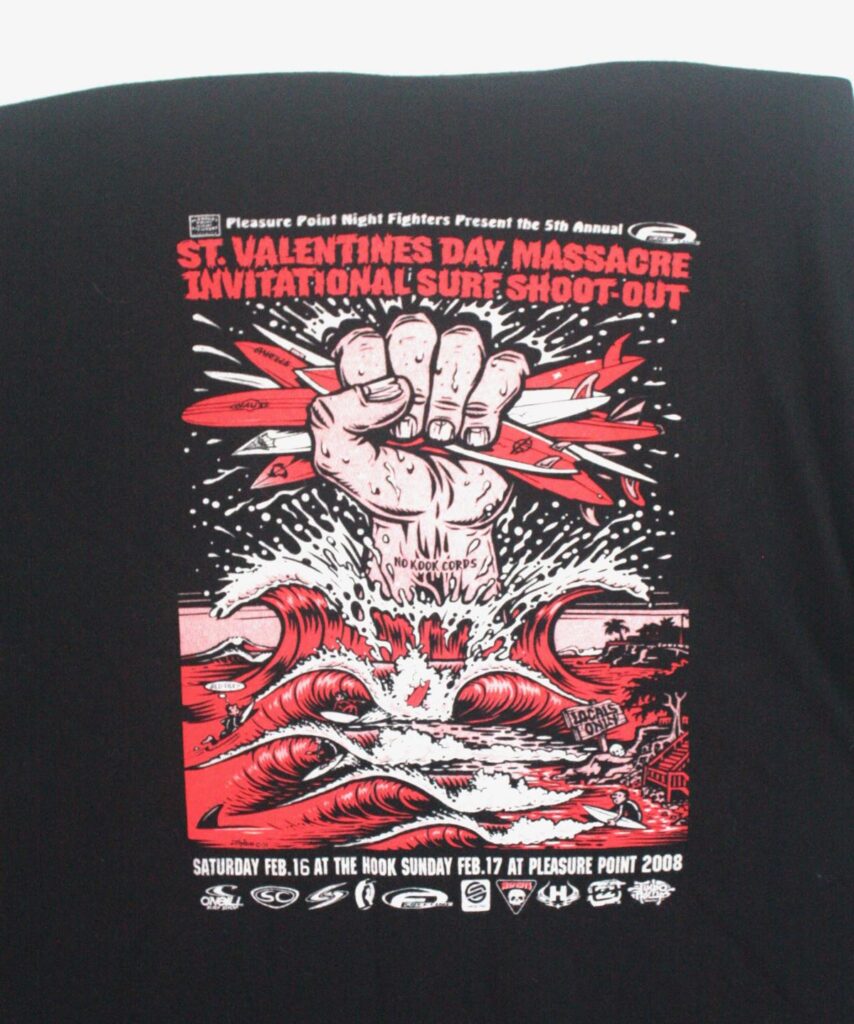 And this one, for a venerable Pleasure Point skateboard shop.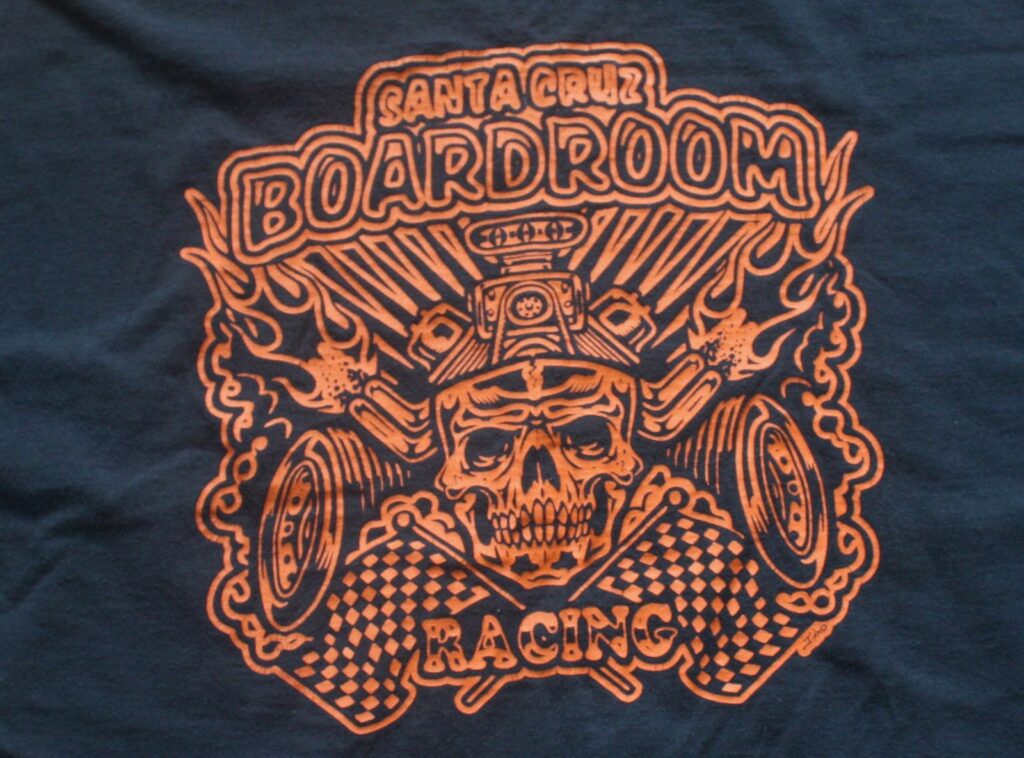 What young boardsportsmen like — the bulging eyes, the attitudinal monsters from their own id — they keep on liking. They want that look even as they grow up. Thus Phillips draws his own line of grotesque monster tees even today; I don't have any, because they cost real money.
But like many other working artists in these parts, much of Phillips' work comes from commercial commissions. The many shirts he does for local businesses and events can be found at thrift stores, my source of interesting tees.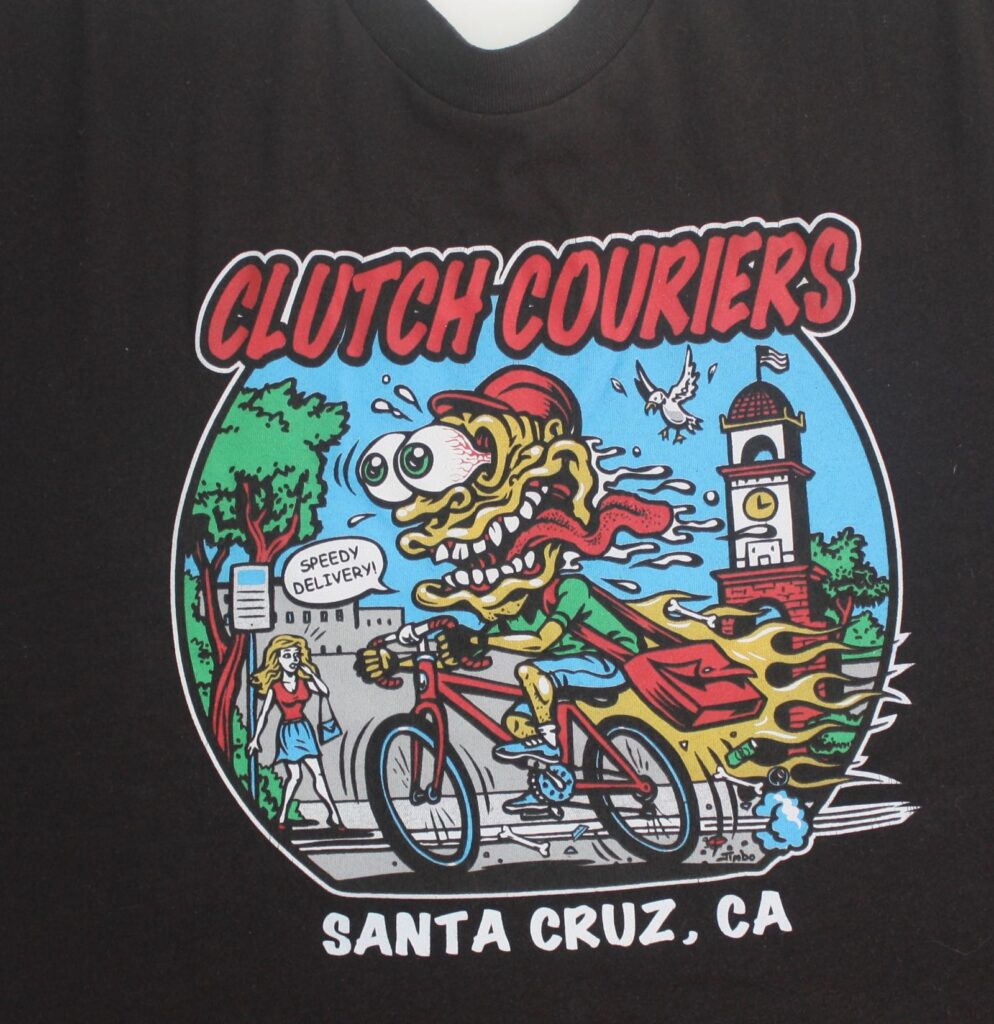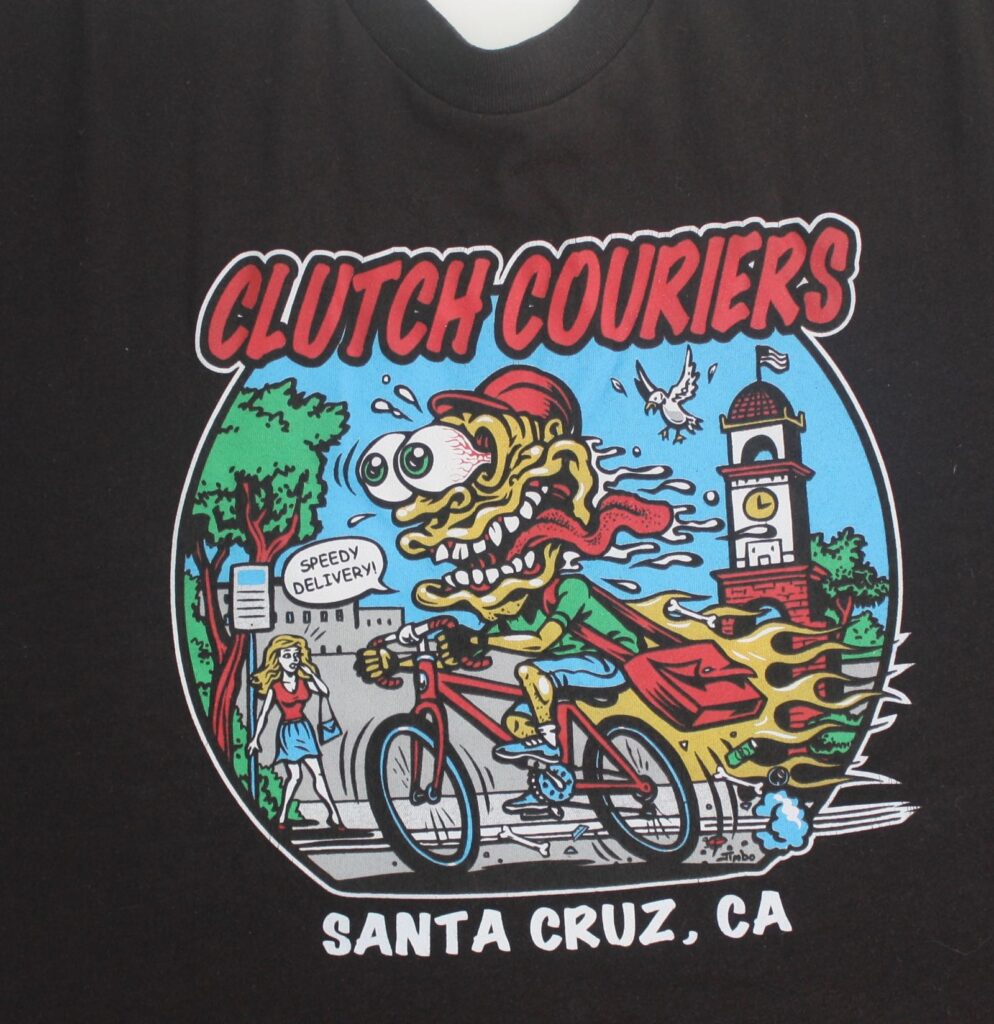 I pick up every Phillips tee I can find, because I like his style. It is distinctive: informed by underground comics, by "low art" like the work from Ed "Big Daddy" Roth's studio in the '60s, and by other alternative masters. The t-shirt above is very Roth-influenced: bulging eyes, snaggle teeth, a speeding vehicle, flames.
Like his mentors, Phillips draws efficiently and cleanly; he draws a good line, like his father before him.  And he's always fun. Here's another Roth-style "car monster: for a local business: it's got the Jimbo Leer and flames and teeth and bulging Roth eyes.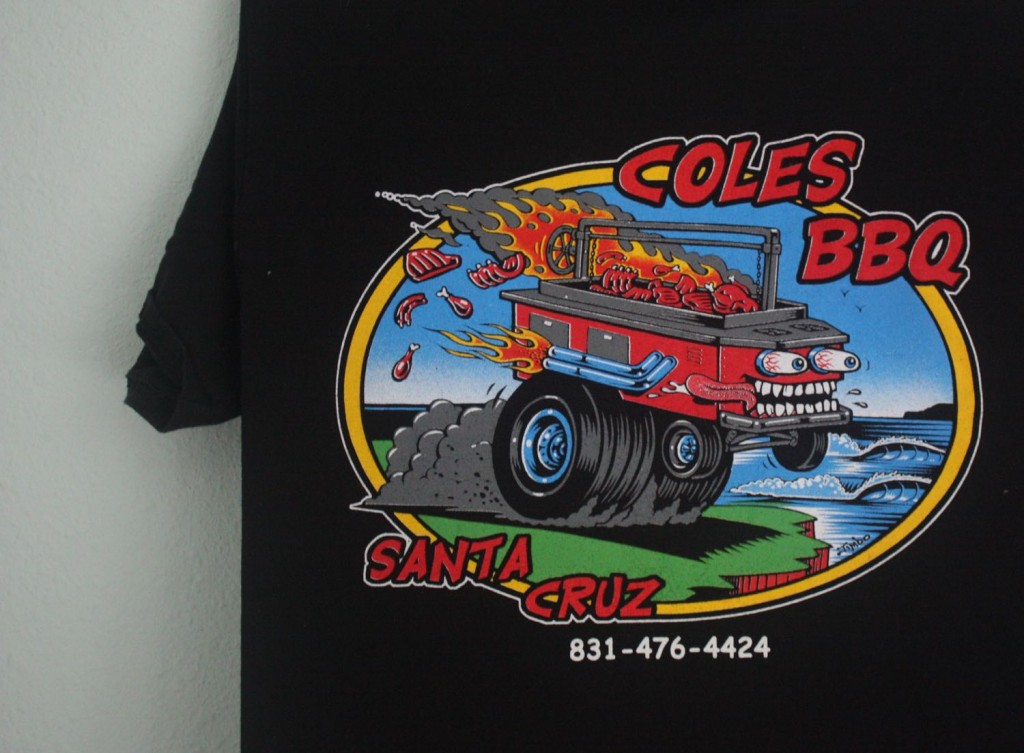 This tee from Phillips is not so attitudinal, but very much in the spirit of Santa Cruz (where even the meatballs ride the curl of spaghetti waves in oceans of marinara).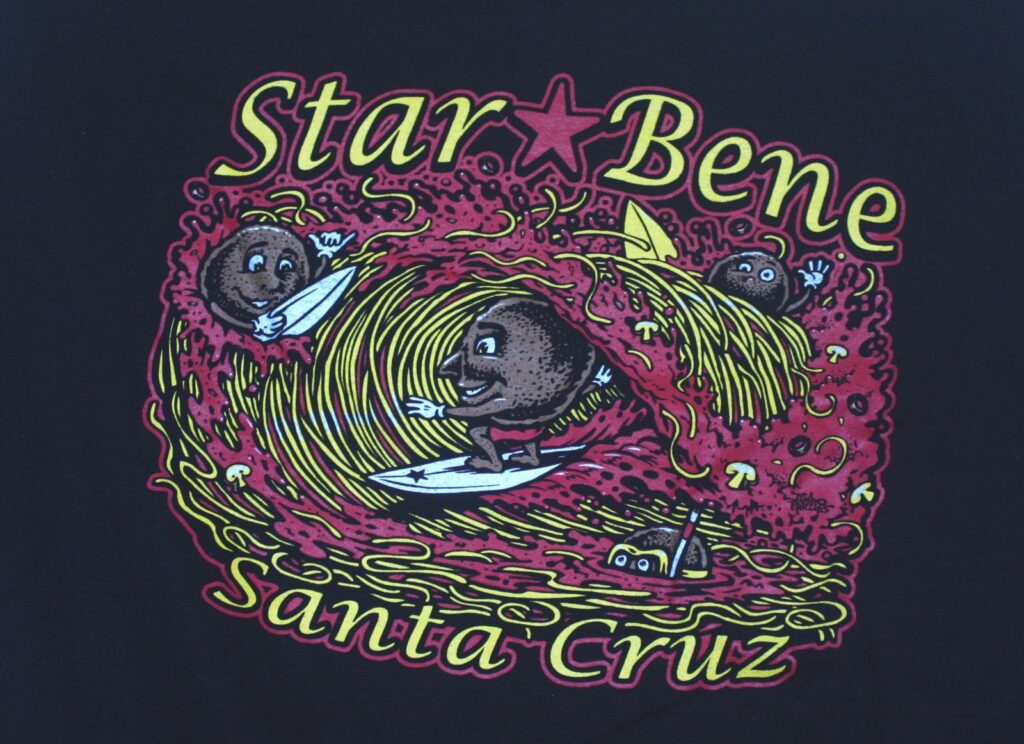 Here is a surf-themed shirt commissioned by a local electrician for his business. Many tradesmen in these parts grew up surfing and still head out to the waves daily or weekly. The shirt includes the true trademark of all electrician shirts — an electricity pun. "Service that will shock you!"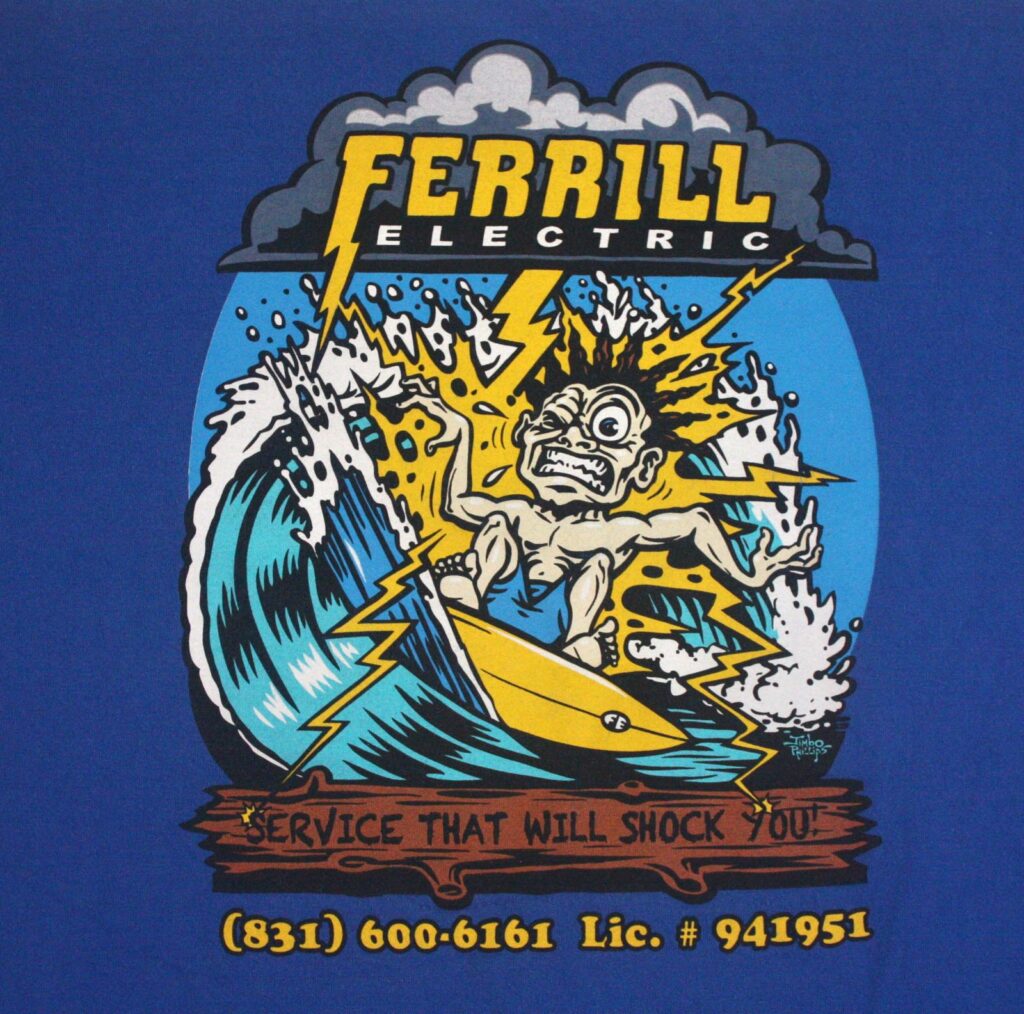 Phillips does turn out tees that have nothing to do with adolescent males or board sports or Rothian monsters. This one's for a local consultancy that helps rehabilitate damaged natural habitats, and makes tools for doing so.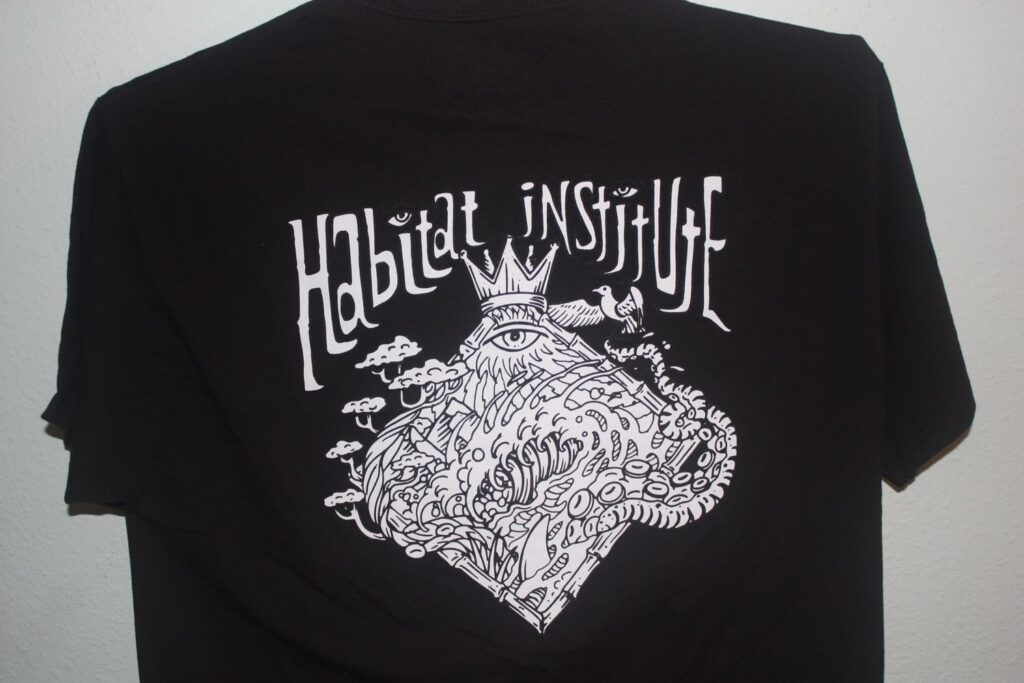 Here's another t-shirt that's outside Phillips' usual purview. It was commissioned for a well-beloved local restaurant and resort hotel over on the beach in Aptos. The shirt is very much about the romantic moment — though that koi fish has real attitude.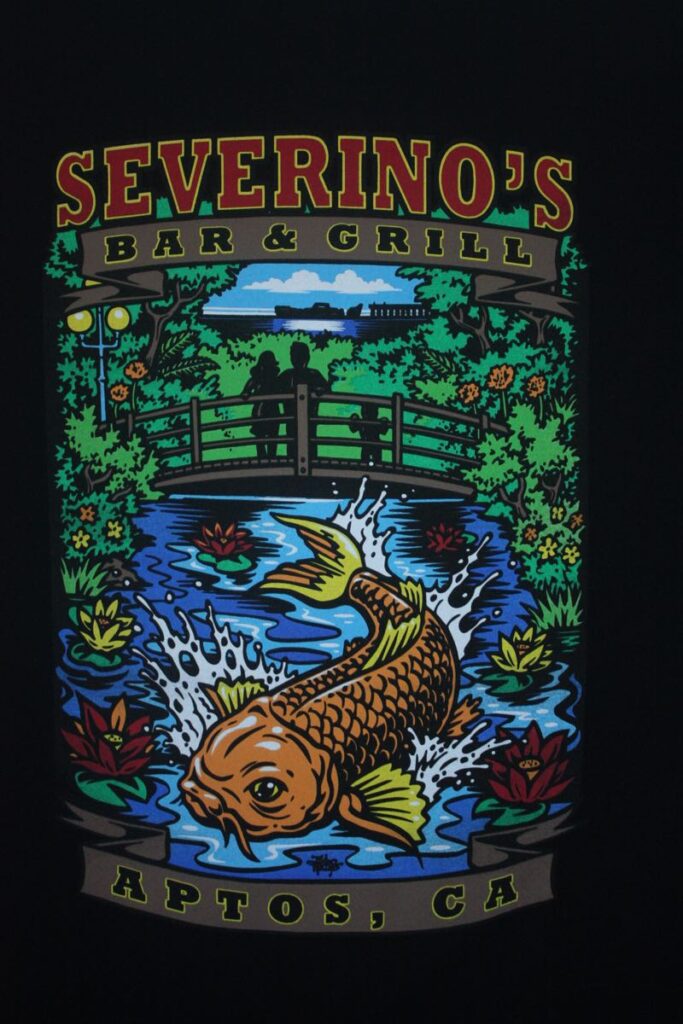 Phillips does tees for local cannabis providers, too. "Lemon Tree" is a variety of cannabis that comes from these parts.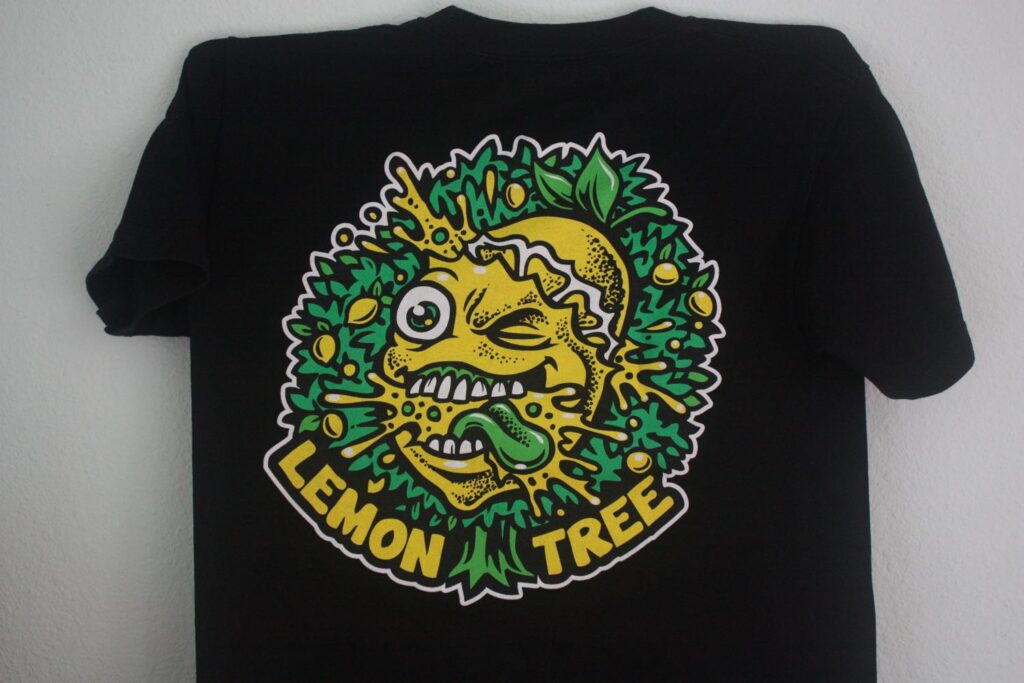 He also did this tee for Tree Lotion, which makes cannabis-based body lotions for health and well-being.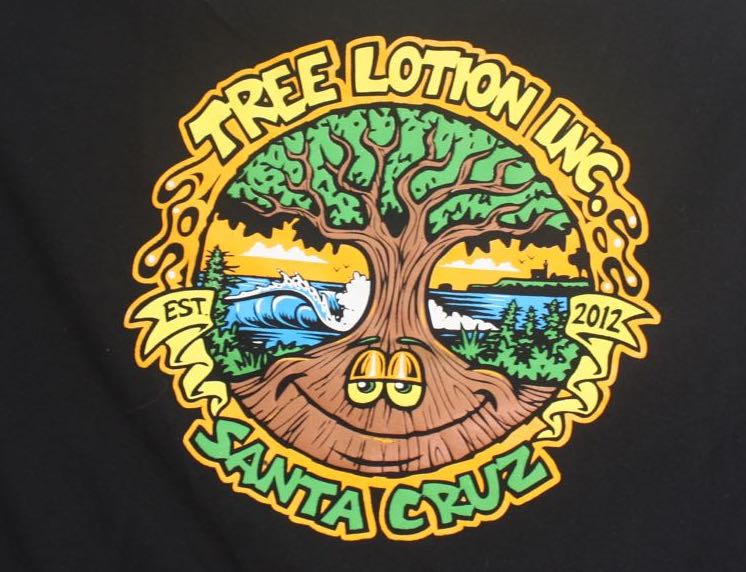 Phillips is part of a collective of local commercial artists who work together on a variety of larger projects: the "Made Fresh Crew." The MFC operates its own silk-screen shop for tees and other clothing: I believe that Phillip's cannabis shirts were printed there. I saw the Lemon Tree shirt on sale in the lobby.
More than a few different MFC team t-shirt designs are floating around town; this one was done by Phillips.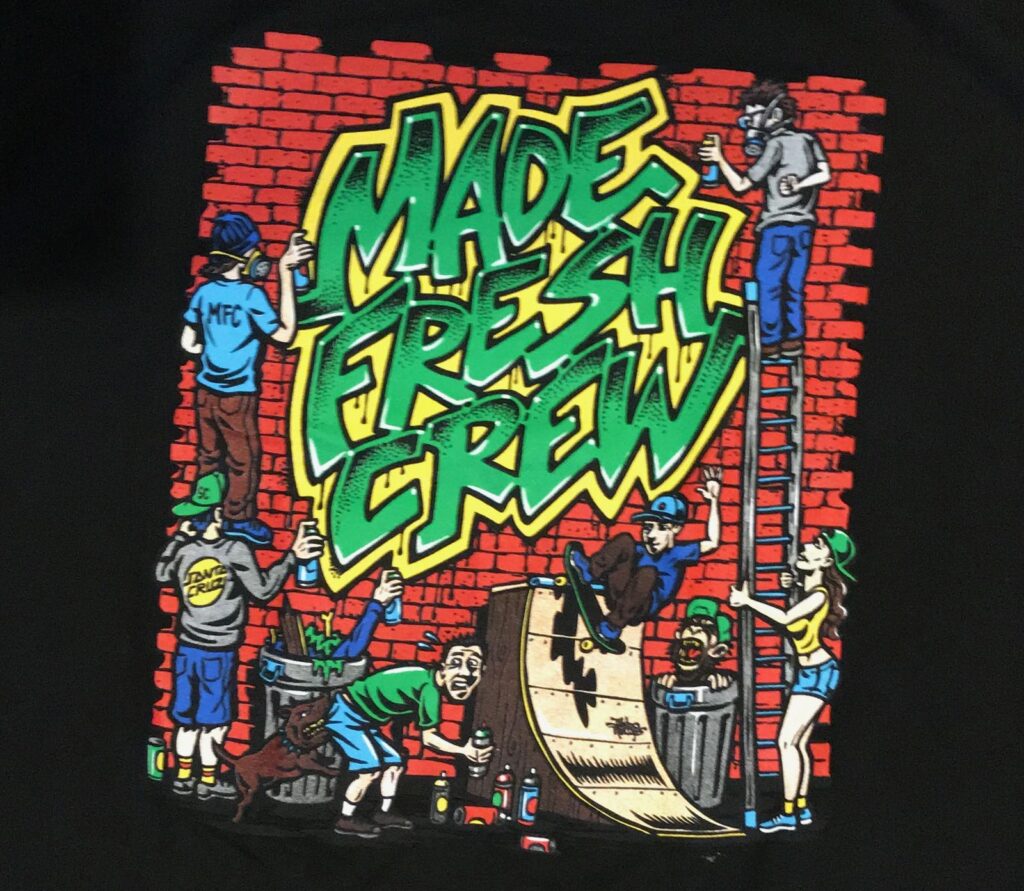 I included the t-shirt blow to show how long Jimbo Phillips has been at this game: this tee was commissioned by then-local disc-drive maker Seagate back at the turn of Y2K.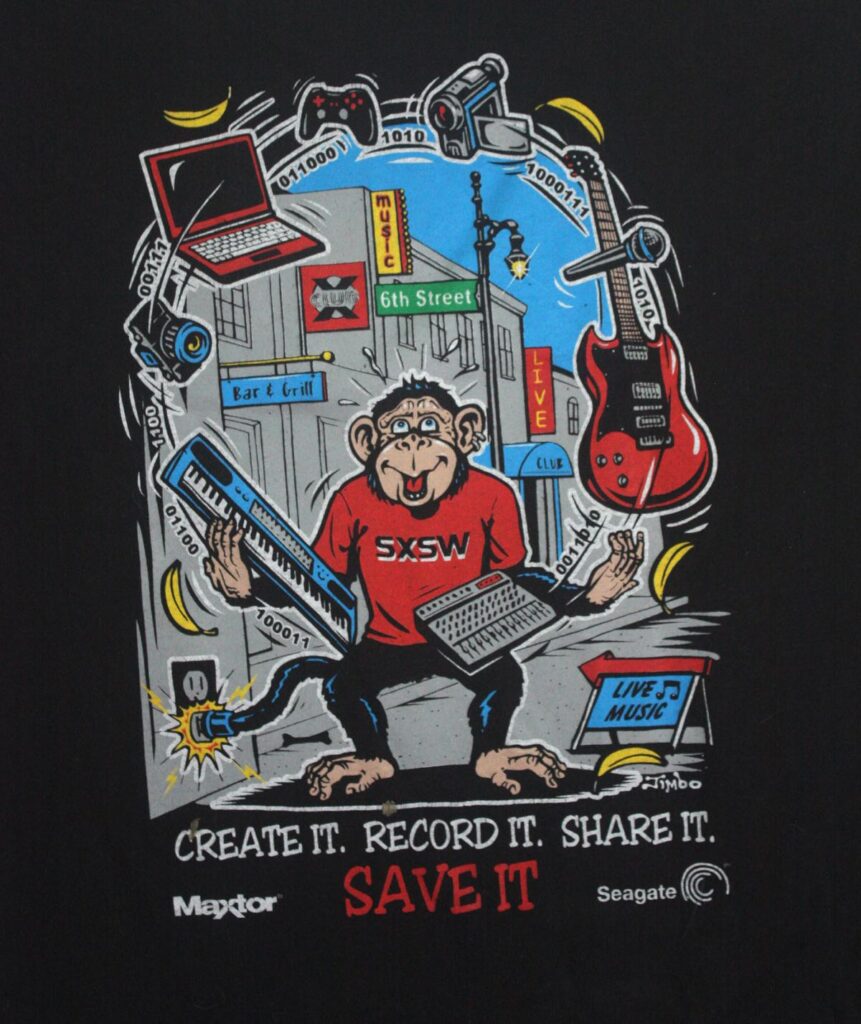 In those days, Seagate had a vision: that every home would have a small closet full of mass storage devices to hold all the household's downloaded movies and TV and home video and music and images for the house network. It didn't work out that way. This would have been a tee that Seagate's reps took with them to the SXSW festival in Austin.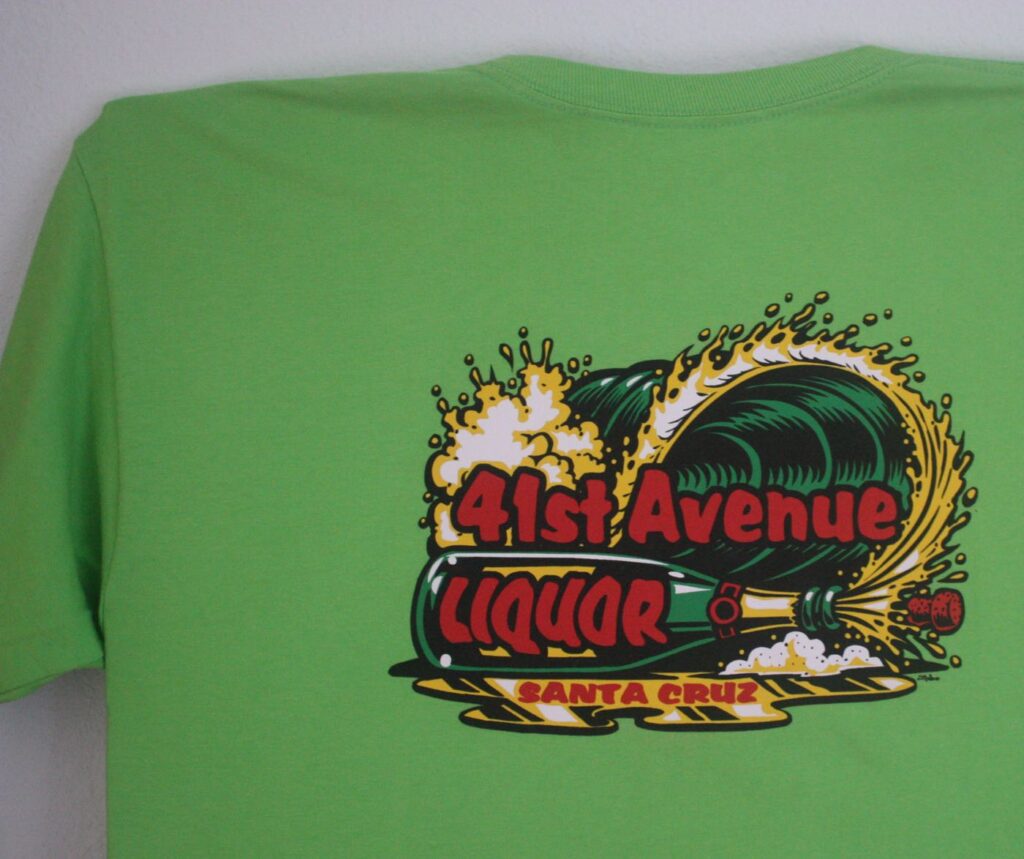 From disk drive giant to liquor store, the independent commercial artists of Santa Cruz gives business and the community what it wants. And even in the simplest shirt, their style shows through. There's no signature on this one, but I can spot a Jimbo Phillips wave a mile away.