This is where I get to do music reviews based on t-shirts I've found from local bands. Not that I know a damned thing about music.
China Cats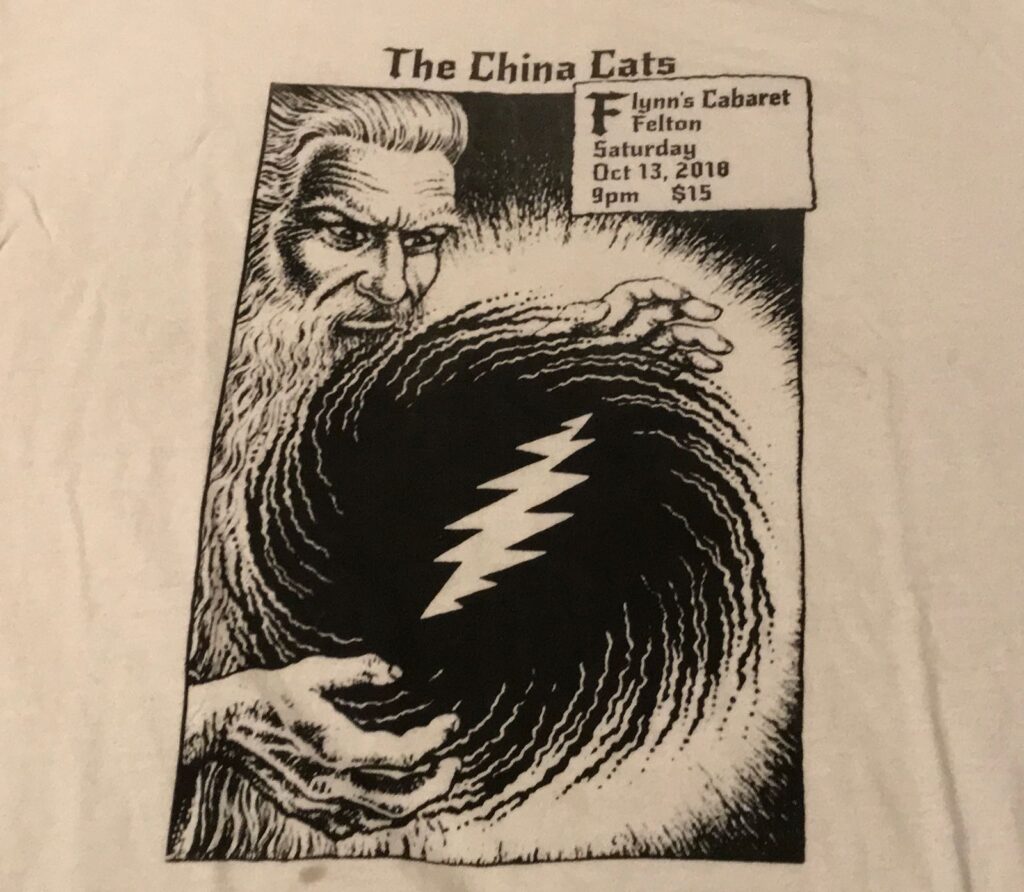 Interesting t-shirt, made for a concert up in Felton. I'd never heard of the China Cats, and from the tee I didn't figure them for a Grateful Dead tribute band. In retrospect there's a clue there — the lightning bolt –, but I'm no Deadhead. I missed it.
The China Cats are locally-based and long-term popular. Their mission statement: interpret the Dead's music for the here and now, beyond just paying tribute to the past. I've YouTubed them a bit, and this non-Deadhead finds them pretty listenable.
The band took its name from the Grateful Dead's most intensely psychedelic piece, "China Cat Sunflower." Here's a link to one of their shows.
Tess Dunn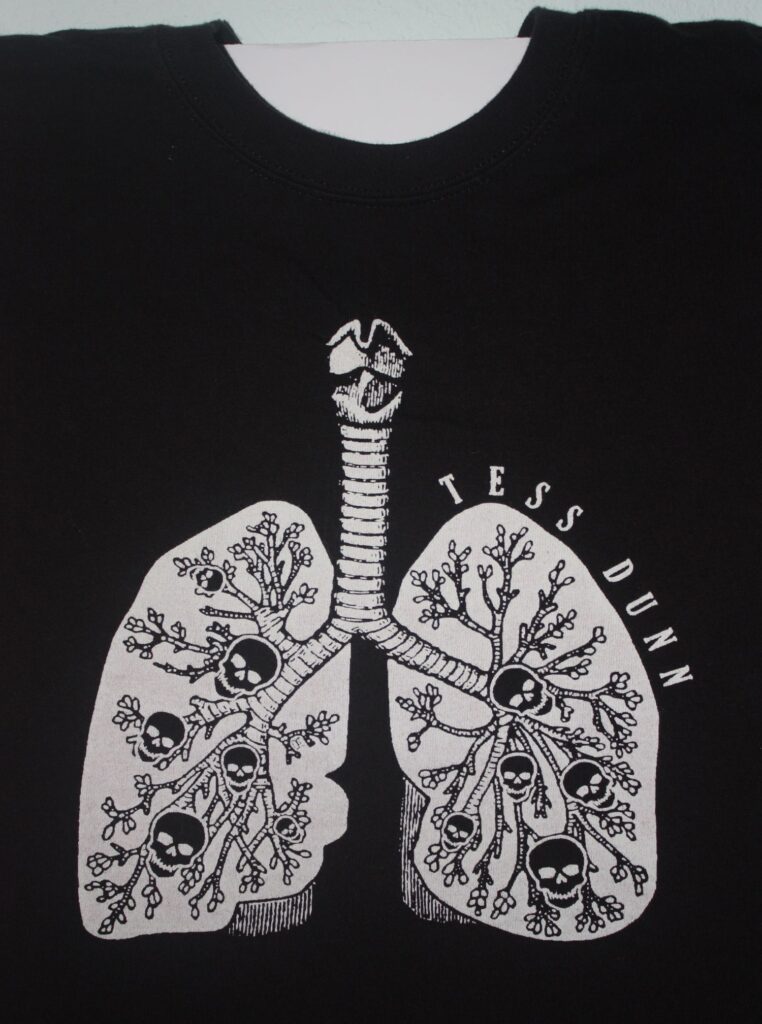 It's a t-shirt that makes you take notice. Tess Dunn had good luck at being noticed, at least locally.
Dunn's been a performing singer/songwriter from the age of 13. She started with happy, cheerful power pop, and got a lot of attention because:
She was a 13-year-old singer-songwriter.
She was pretty good. Her music didn't speak to me, but I'm three or four generations up the line.
She has cystic fibrosis, a genetically-inherited lung disease that tends to kill you early and cause problems way before then.
Her dad is a long-time local writer/journalist/editor/author/film-maker with connections everywhere.
That last bullet point is cynical, and you may think dark thoughts at me for it. But not many 13-year-olds with bands get a long feature in the middle of the Good Times.
Dunn embraced the cystic fibrosis issue hence a t-shirt depicting a set of lungs filled with skulls. Young, talented, upbeat, and doomed: she had the whole package. And then… she disappeared.
But not really. Now in her 20s —more bouts of illness under her belt, more jaded, but maybe not quite as doomed — she repackaged herself for the stage as T3tra. No more power pop: electronica now, with darker lyrics to match her mindset.
Hey, people change. So, change the music, change the brand, perform in a mask, and consign the past to the past. Not a bad idea.
I listened to a few tracks of the new stuff. I like it, being somewhat life-battered myself. Dunn's in Marin now. Here's a video.
The Coffee Zombie Collective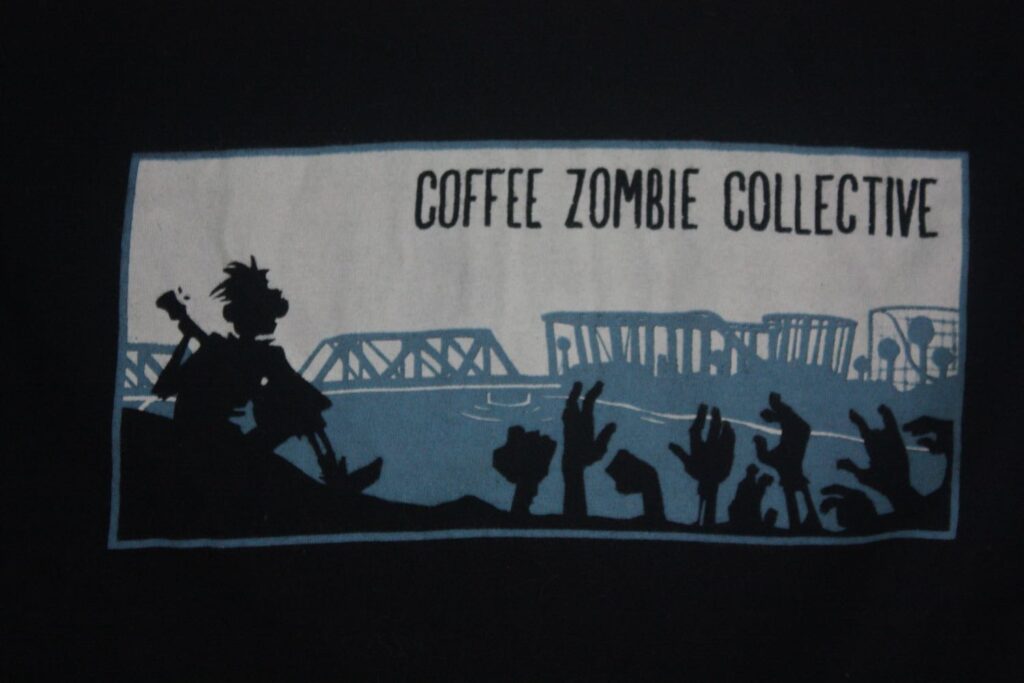 The Coffee Zombie Collective is a Santa Cruz-area acoustic band that does playful takes on oldies . Coffee houses, street fairs: you'll run into them. This tee design is the cover of their album "If I Die in Aptos…" Finish that sentence with the phrase, "…I'll rise up as a zombie in Santa Cruz on the bluff just below East Cliff, overloooking the railroad bridge and the Log Ride."
Watch them play a sorta bluegrass version of "I Will Survive" in a tent eight years ago: