I own my share of women's roller derby tees. They're colorful, bombastic, and fun. I like the names of the teams: tough-girl names like Harbor Hellcats, Boardwalk Bombshells, Cannery Rollers, Dames of Destruction, and so on.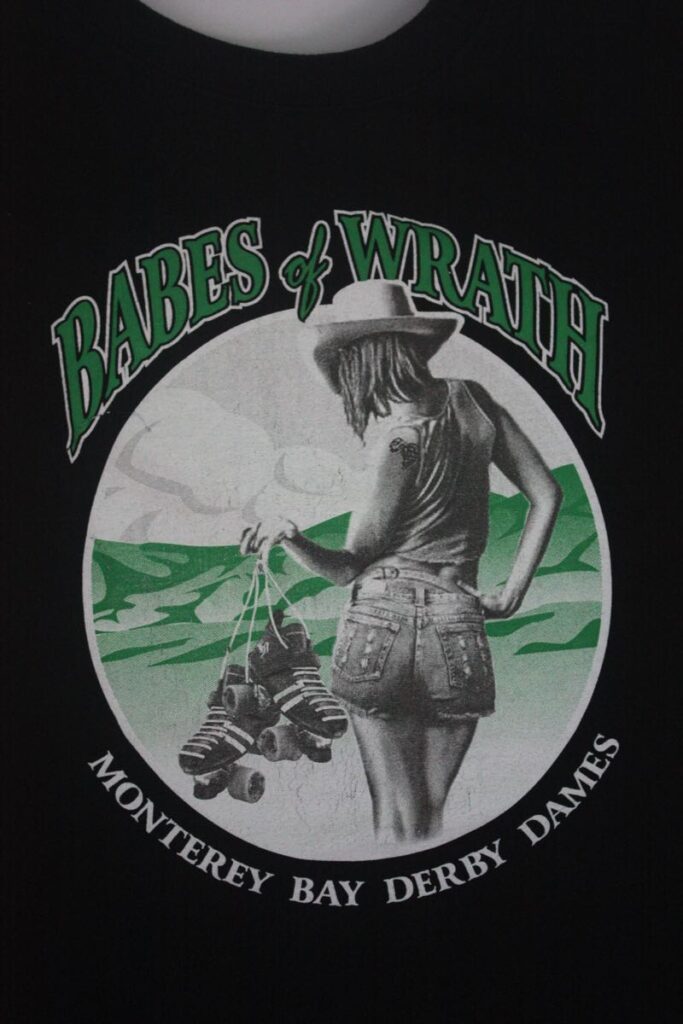 But this t-shirt is my favorite: a hard blonde dangling a pair of skates gazes up at a dry California hillside. Her face is hidden. The league name is "Monterey Bay Derby Dames." The team name? "The Babes of Wrath."
That name brings a smile to this old John Steinbeck fan. Monterey Bay here in Central California is Steinbeck territory, along with nearby Salinas where Steinbeck grew up.
Monterey County loves its Steinbeck references. The layout of this tee even copies the original dust jacket of Steinbeck's novel, "The Grapes of Wrath." God, the things you discover when you're collecting t-shirts. Small things, but — weird.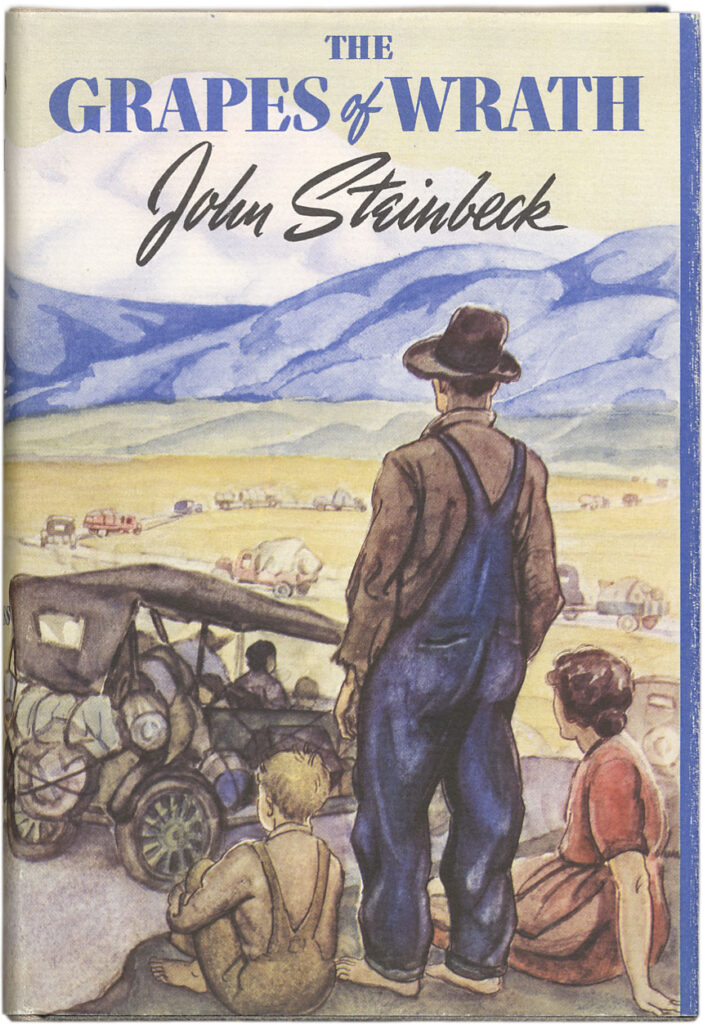 I grew up in the same state, a little later and a ways distant. Still, the people who raised me were of the sort that Steinbeck described: cleaned-up and better-paid and working factories by then instead of the fields. But in their youth they'd picked the same crops and drunk the same wine and fought the same fights. Steinbeck celebrated them. To read his books was to read about where I came from.
So he was one of my early heroes. One of the others? We'll get there.
Like Steinbeck, Roller Derby was big in the mid-20th century: Leagues, tours, television: the game was everywhere. By the early '70s it had lost popularity and faded: only to be resurrected by women who wanted to have what the old roller derby queens seemed to have: boldness, toughness, excitement, and the sense of belonging to something bigger. A sisterhood of warriors, if you will.
The old roller derby organizations were profit-making businesses. Today's Derby women largely run their own leagues as non-profits, with fund-raisers and volunteer work weekends and all that. They don't get paid, or not much. That's the way Monterey Bay Derby Dames (now Monterey Bay Roller Derby) works. And Santa Cruz's own derby organization, the Santa Cruz Derby Girls. Money's not the point.
So, why do all this work? Because for women who spend their days wrestling spreadsheets or code and doing combat at budget meetings or design reviews or chasing children, it's a chance to let your inner tough dame out to rage.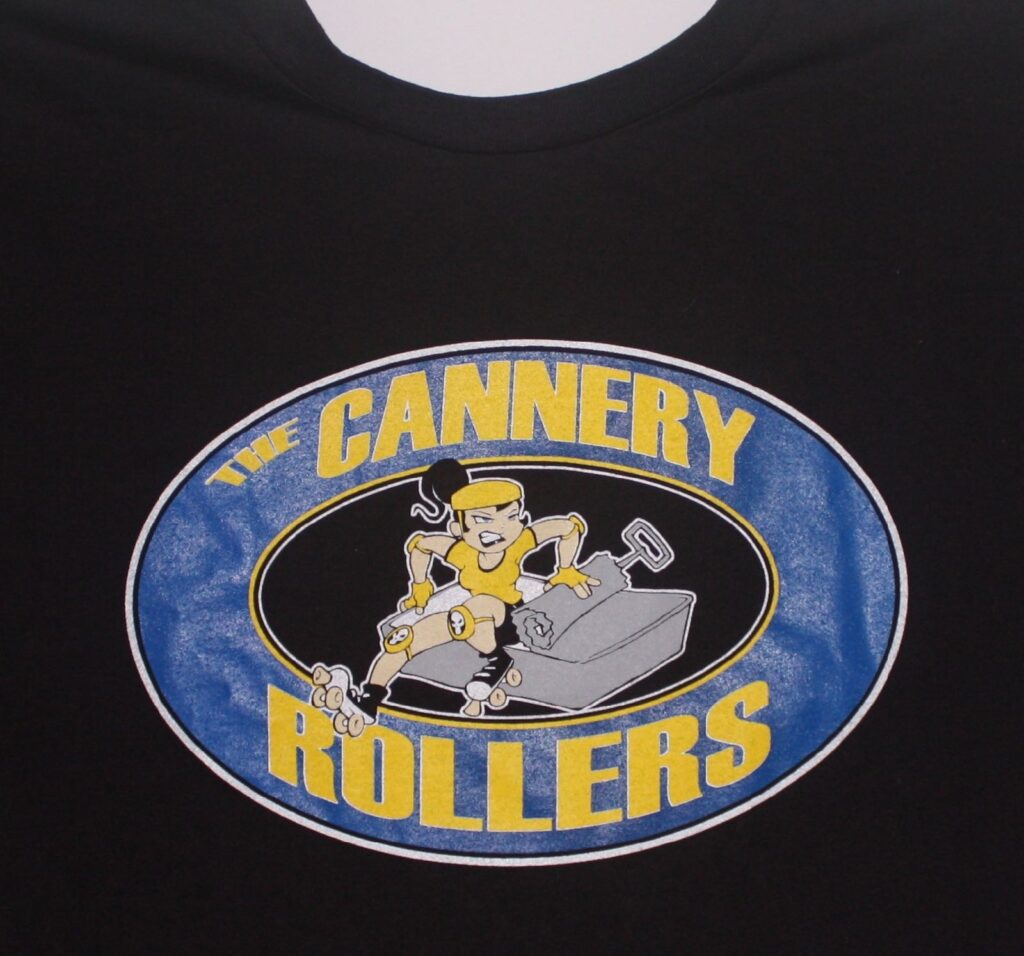 And so women's flat-track roller derby was born and propagated.  And it's everywhere. Most of today's derby queens skate on flat courses in gyms and auditoriums; the big portable banked tracks that that old teams hauled around are expensive to store and move and maintain.  If you can do without the banked tracks, fielding your own local league becomes more doable.
Strap on the skates and pads. Position your helmet. Don a derby handle like Neon Nightmare or Hell Louise or Skirt Vonnagut. Glide out onto the track with your arms raised while the (volunteer) announcer shouts your name and the crowd roars. The spreadsheets can wait: prepare to do damage. And take some.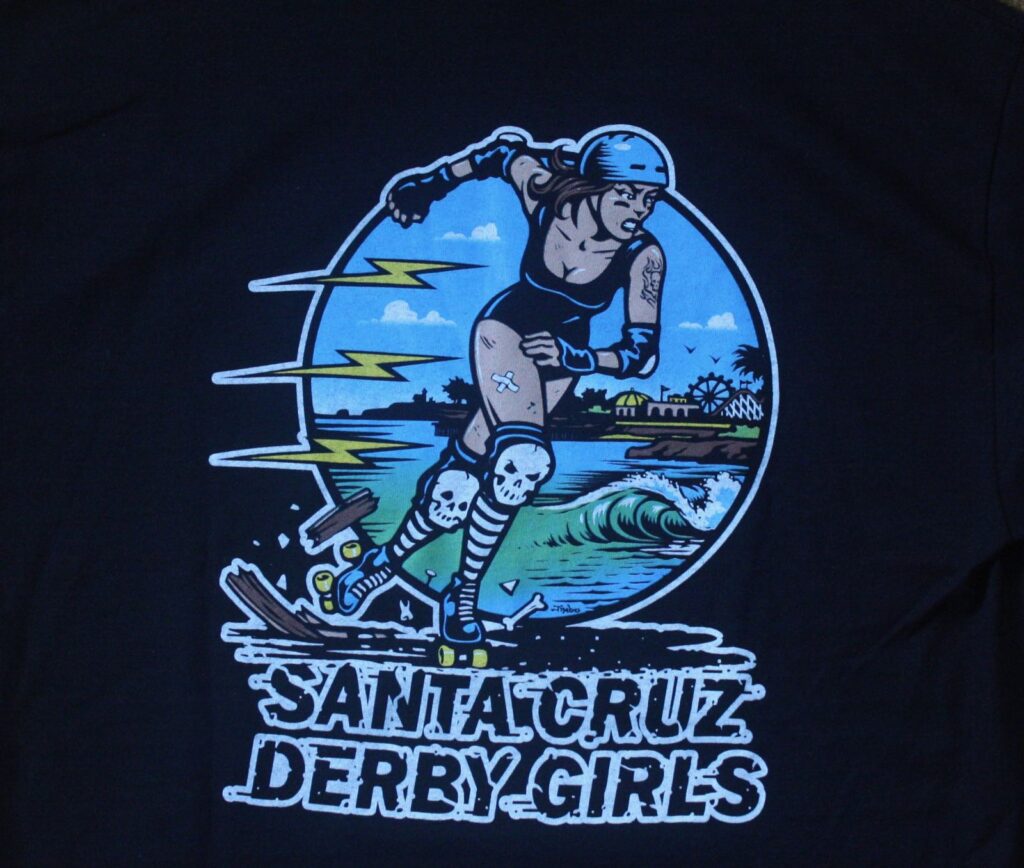 Who knows? You might be the next Joan Weston: my other childhood hero.
Joan Weston, the Blonde Bomber. Queen of all jammers and women's captain of the San Francisco Bay Bombers out of blue-collar Oakland, Calfornia. The Bay Bombers were the finest Derby team ever, or so my 10-year-old self believed. They had my allegiance like the San Francisco Giants never did. And I loved the Giants.
I watched the black-and-white broadcasts religiously from 30 miles away on the old Philco. Hell, they might have been color, but the the Philco wasn't. Live local games at night, sometimes, and recorded/syndicated games on Saturday afternoon: all on KTVU Channel Two, the big independent TV station.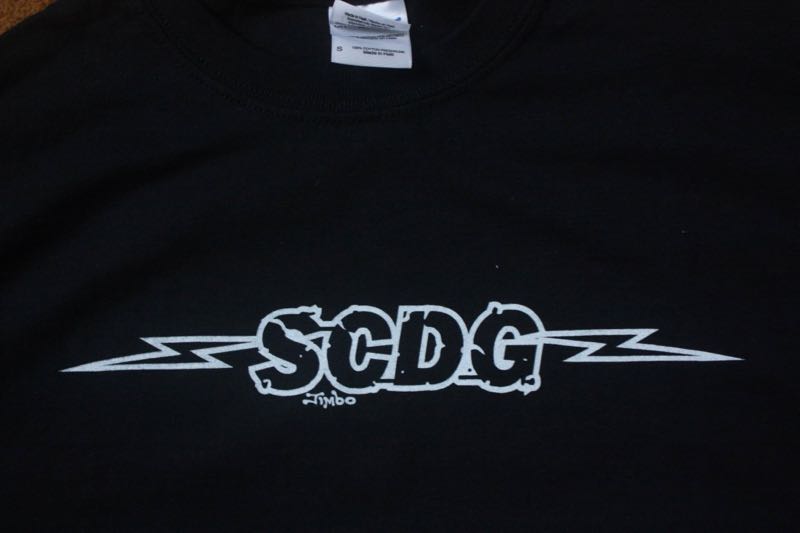 Joan Weston was five foot eleven of yellow-haired woman athlete from a time when that was an impressive height for a man. Weston was strong, physically accomplished, and a master of any sport that she tried her hand at. That's who the woman on the t-shirt reminds me of.
Weston played pivot: she could break away from the pack like a jammer to try for a score, or hang back with the blockers and play defense.
The point was that in this mob of medium-sized drab-haired woman skaters there was this — no other words suffice — giant blonde Viking in a black helmet, dominating the game.
There was Joan Weston — the announcers always called her Joanie — bursting out of the pack to go raiding for points. There was Joan Weston, holding the line against enemy jammers swooping up from behind. She could knock them off their skates with a well-placed hip- or shoulder- bump, or a hard forearm. She might even send them over the rail. And when she was out jamming and the other team's blockers knocked her off her skates, she was up on her feet in an instant to charge back into battle.
Baseball was fine. Basketball was fine. But watching Joan Weston was like watching a superhero. She even had an arch-nemesis, the almost-as-good but unforgiveably sneaky Ann Calvello.
In pro wrestling, you'd refer to Calvello as "the heel." She was a screaming, cheating, tattooed, broken-nose villain who eternally opposed Joan Weston, "the good girl" in the drama.
Old-time roller derby was always frozen halfway between a real game and an exhibition. That rivalry was pre-scripted, and many other things. But the flying teeth? The injuries? Maybe not so much. Those games looked real, at least to me.
And amidst all the sweat and teeth and cheesy spectacle, Joan Weston was a modest, kindly, educated woman who just wanted to use her talents. (And Ann Calvello was just a grown-up tom-boy who'd skated with the boys as a young girl and liked having fun.) Weston was a women's softball star in college, but there was no good career in that game. In her time only the Derby offered a woman of her physical skills a way to make good money in professional sports.
So she went out there and did battle, and well. She made her money and got out in one piece — as she often said, all she'd ever really wanted.
In the '60s, in fact, Joan Weston was America's highest-paid woman athlete: with the caveat that Roller Derby wasn't a "respectable" sport.
But when today's women look back in time for role models, they don't look at the woman tennis players and golfers of old. They look for warriors, and bands of sisters. The times call for them. And there are Joan Weston, yes and Ann Calvello. And the Derby. And once again, the Derby is everywhere.
After the Roller Derby organization folded, Joan Weston kept busy with exhibition games and even ran a roller derby school in the East Bay. Long unmarried, she hitched up to a fellow Bomber from the men's squad and taught derby skills and played "Park and Rec" softball until she died. The New York Times ran her obit. Not bad for the star of a sport that wasn't "respectable."
So that's why I see Joanie Weston staring up that hill in Steinbeck country. For Steinbeck's people, life was both a challenge and an opportunity. It might break you, it might not. But you persevered. You tried to be what you wanted to be, and get out in one piece.
Besides, Ann Calvello might be up there somewhere. Plotting.
As for the Babes of Wrath, the team no longer exists,; neither do the Cannery Rollers and the Steinwreckers. These were all separate teams that played each other under the Monterey Bay Derby Dames/Roller Derby organization, and the group's changed the way it's organized.
But Monterey Bay Roller Derby still fields an all-star team called the Beasts of Eden. I'm looking out for a t-shirt.