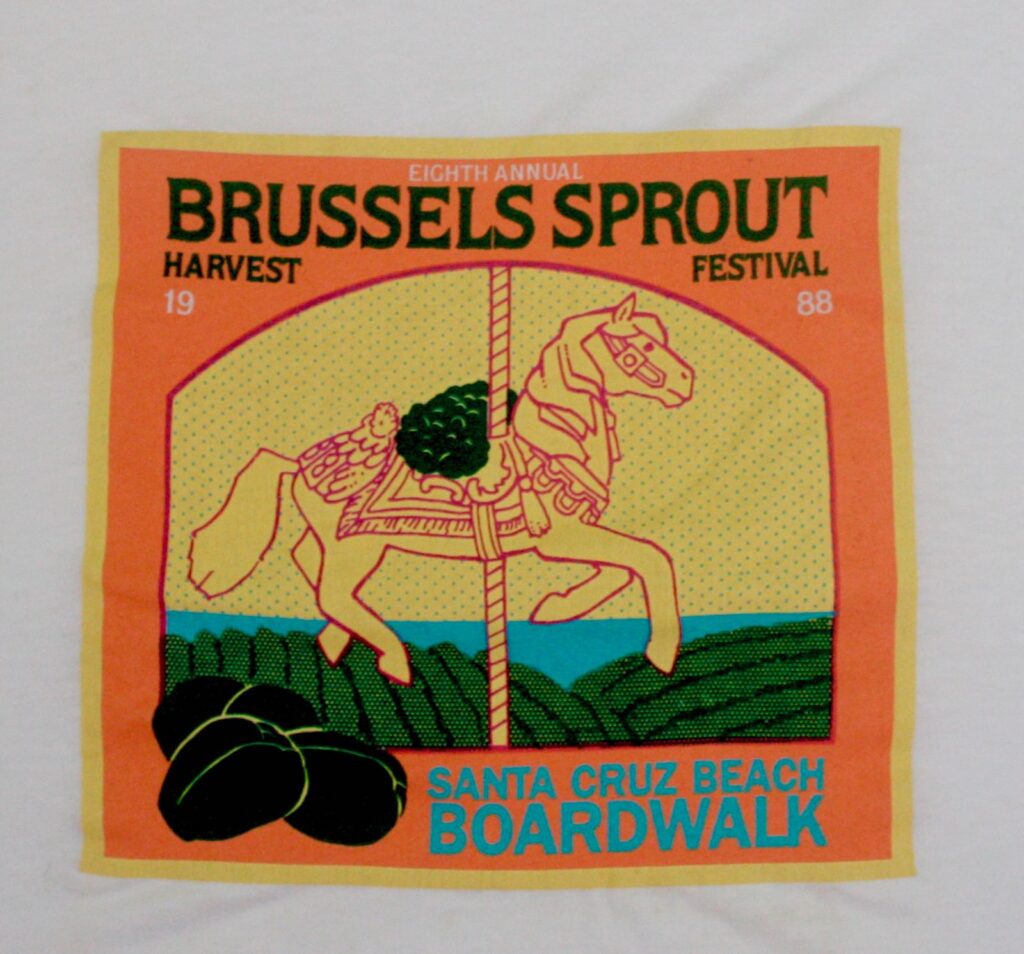 A carousel horse carrying a load of brussels sprouts on its back? From the Santa Cruz Beach Boardwalk amusement park? Say what?
When I first thrifted this tee, I thought, "This isn't serious. Right?" Most people hated brussels sprouts back in the '80s and '90s when this festival had its (short) run.
Even the farmers who grew brussels sprouts locally — the coast between Santa Cruz and Davenport is prime sprouts territory — copped to the fact that brussels could be bitter and nasty in those days. Especially when boiled, as American mothers who hated their children usually served them.
And yet, here was this brussels sprouts extravaganza, run every October at the Beach Boardwalk to draw more tourists in the off-season. Management was going for something different, something kind of kicky and off-beat. They got it: a kind of bizarro-world version of the Gilroy Garlic Festival.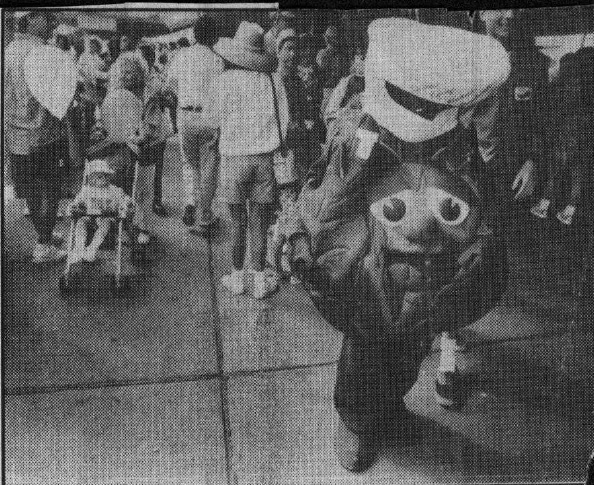 At the Brussels Sprouts Festival, happy tourists could enter the Brussels Sprout Toss, to test their arm at precision sprouts throwing and maybe win a prize. Or play Sprout Putt, and bash the miniature cabbages around a course with a golf club. Or just watch the festival's Little Sprout mascot cavort in the crowds.
Visitors could eat brussels sprouts pizza, chocolate-covered sprouts, sprout kabobs, and even sprout-on-a-stick. Not to mention the brussels sprouts ice cream, which was reputed to be truly, completely vile.
Meanwhile, professional chefs competed to produce the most creative brussels sprouts dishes: brussels sprouts fritters with fresh tarragon mayonnaise, brussels sprouts foogath with coconut and cilantro, brussels sprouts chowder.
The sheer, surreal novelty of it all eventually proved insufficient. The festival puttered along into the early '90s, neither doing too well or too poorly, until Boardwalk management finally decided that it wasn't worth all the effort required to stage it. They replaced it with robotic dinosaurs. Brussels sprouts just didn't make the grade.
But wait, you say: "I like brussels sprouts. They're great — if you know how to cook them."
And you're correct — now. Two things happened after the festival folded: home cooks discovered the joy of broiled brussels, fried brussels, deep-fried brussels, and even brussels with bacon. Boiling was left far, far, behind.
Second, the brussels of 1990 are not the brussels that you eat today. Today's brussels are new breeds that are much, much milder in taste; bitterness no longer impedes brussels lust. Haute cuisine discovered the brussels sprout, and now it's a culinary star. The local growers are happy, happy, happy.
One more point of interest: the Boardwalk actually launched two off-season festivals in the early '80s: the Brussels Sprouts Festival every October, and the Clam Chowder Cook-Off every February. The chowder cook-off was co-sponsored by Santa Cruz Park and Rec. Of the two, the chowder cook-off still soldiers on year after year; clam chowder is iconic in these parts, and the pro/am chowder competition draws a lot of attention. And Boardwalk visitors.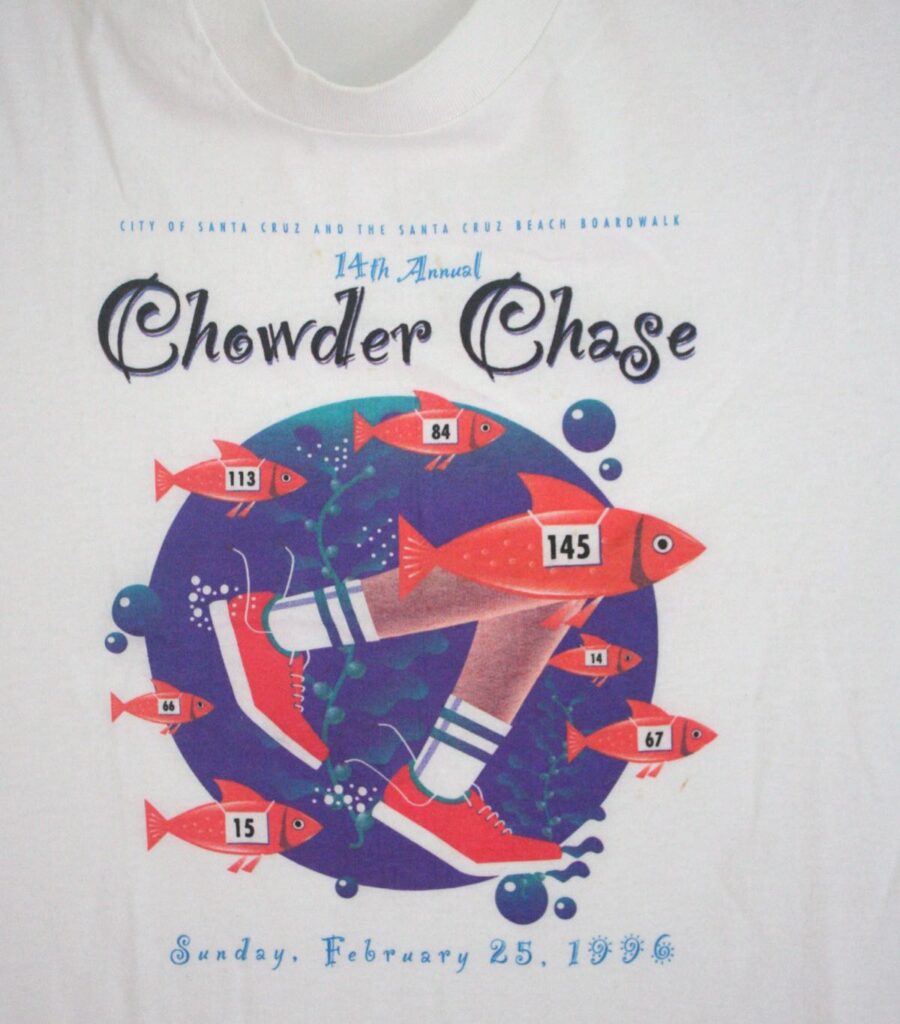 I never found a Chowder Cook-off t-shirt, if one was ever issued, but I do have one for an associated foot race called the Chowder Chase. The Chase, which took place from the '80s in the '90s, led runners on an eccentric course in and around the Boardwalk and finally down the beach.