The Cycle of Life: there's a t-shirt for it. Three, really: for the birth, maturity, and death of First Night Santa Cruz. This cultural institution was born December 31, 1994, and died on January 1, 2005.
First Night seemingly came out of nowhere: a family-friendly New Year's Eve party that booked over 20,000 paying customers its first time out on New Year's Eve 1994. Just a year earlier, it was something that nobody had even dreamed of.
A $25 button admitted you to venues all around downtown Santa Cruz for a full evening of family-friendly, culturally aware, safe, playful (I hate that word, but even the t-shirt is "playful"), alcohol-free entertainment.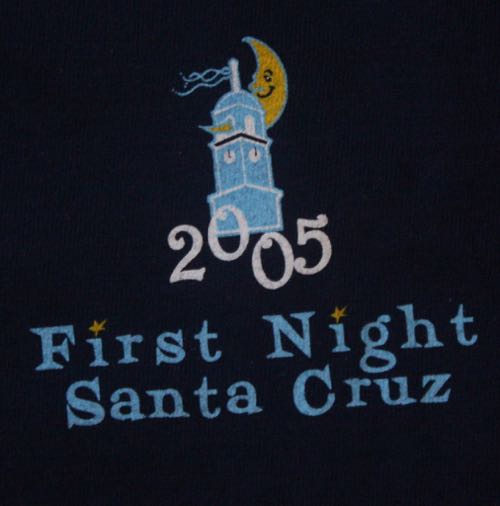 And if you didn't want to buy a button, you could just hang on the alcohol-free streets with the mob and your friends, and jump into a bar if you wanted a nip. There was free street music, too.
For some, that was more than enough. It was middle-class progressive college town Nirvana, baby, with heavy police presence.
And yet First Night never would have happened without the riot. Right there, in the dark streets of a dull, post-earthquake downtown Santa Cruz, one year earlier to the day. A crowd of DIY New Year's Eve celebrants, the only people downtown on New Year's Eve '93, clashed with a platoon of disapproving police at the downtown Clock Tower. Much damage ensured.
Unacceptable! the town cried. (Especially the merchants with expensive broken plate-glass windows.) So plans were made, corporate donors scouted, and money raised. The town's culturati made First Night happen in less than a year: a safe, acceptable New Year's celebration, by Vishnu!
And it came back the next year, and the next, all through the '90s. First Night and Downtown were the place to be.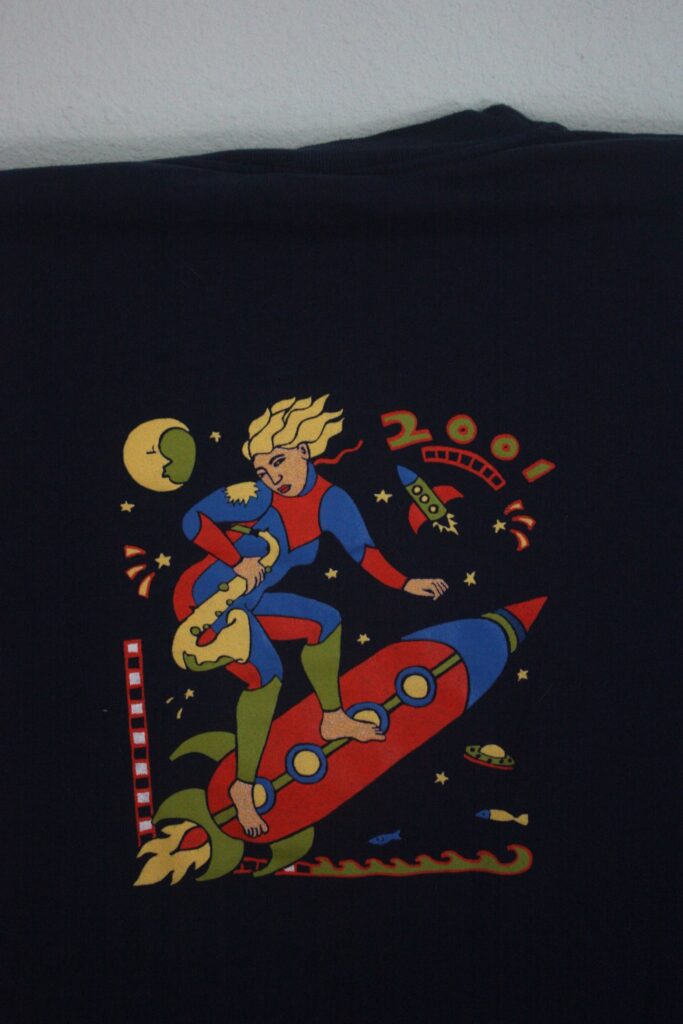 Fame, success and, maybe, complaisance: put them together, and they make "maturity." This is the t-shirt of First Night Santa Cruz's maturity, from 2001. Witty, a little goofy, slightly feminist, very handsome, and professionally "playful." First Night rolled on, and yet: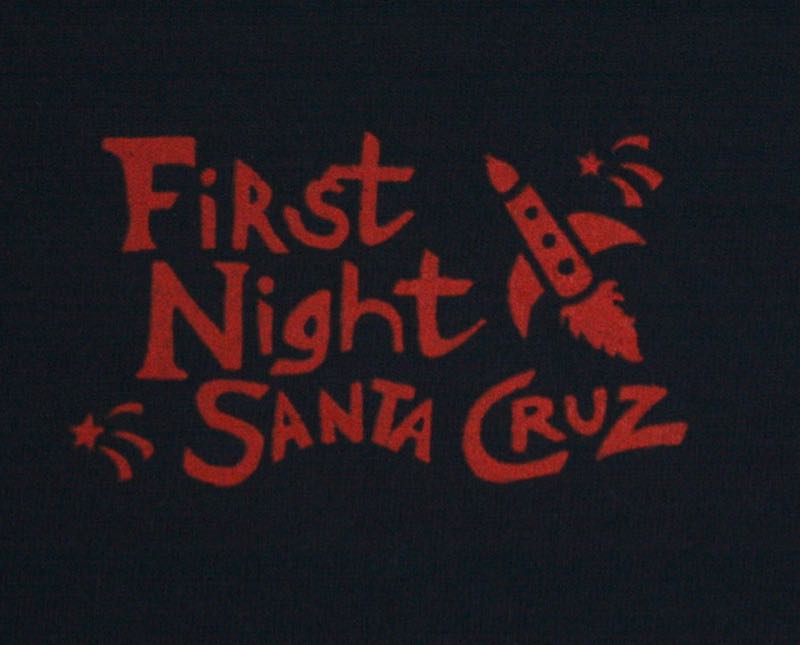 Button sales weren't what they were. More people bypassed the venues to simply hang in the streets; others (like myself) just stopped coming. A certain sameness had crept into First Night festivities.
But this sameness was the city's mandate: family friendly, intellectual, meaningful, safe, nothing too raucous. First Night did not veer from its course; maybe it couldn't, politically or culturally.
Time went on. Things happened. Things changed. And then First Night had its last night.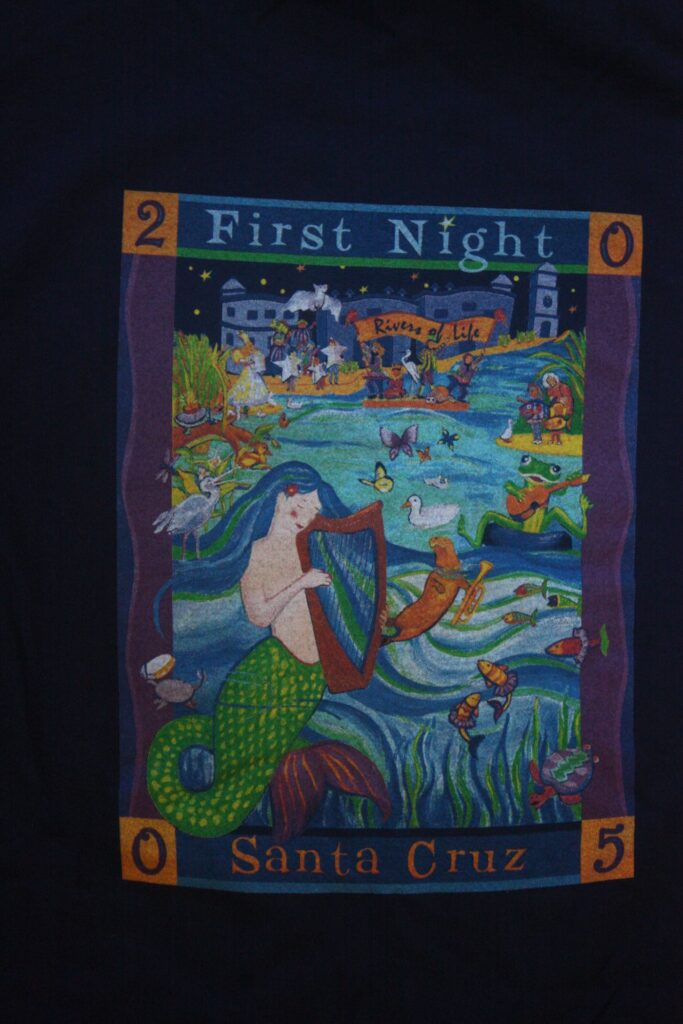 By New Year's Eve 2004, First Night Santa Cruz faced trouble on all fronts: times had been bad, sponsors had dropped out, attendance was down. There'd even been a rain-out. That year they'd lost their old director and had to find a new one tout suite: to put another First Night together in little time and with half the budget. So they dreamed big:
First Night 2005 had the theme "Rivers of Life," honoring water and the environment. An entire block of Pacific Avenue became a virtual wetlands with an artificial river — yes, real, flowing water. There were environmental-themed activities, children's environmental art, and a plethora of yes, family friendly acts and activities.
Even the t-shirt is over the top with goofy environmental humor: fish in tutus, the sea otter with a trumpet. children dressed like stars, a UFO landing, and what appears to be Glinda, the Good Witch of the West, playing an accordion. You know who that really is, right?
And yet that was the last night for First Night Santa Cruz. The sponsors took their money and went home.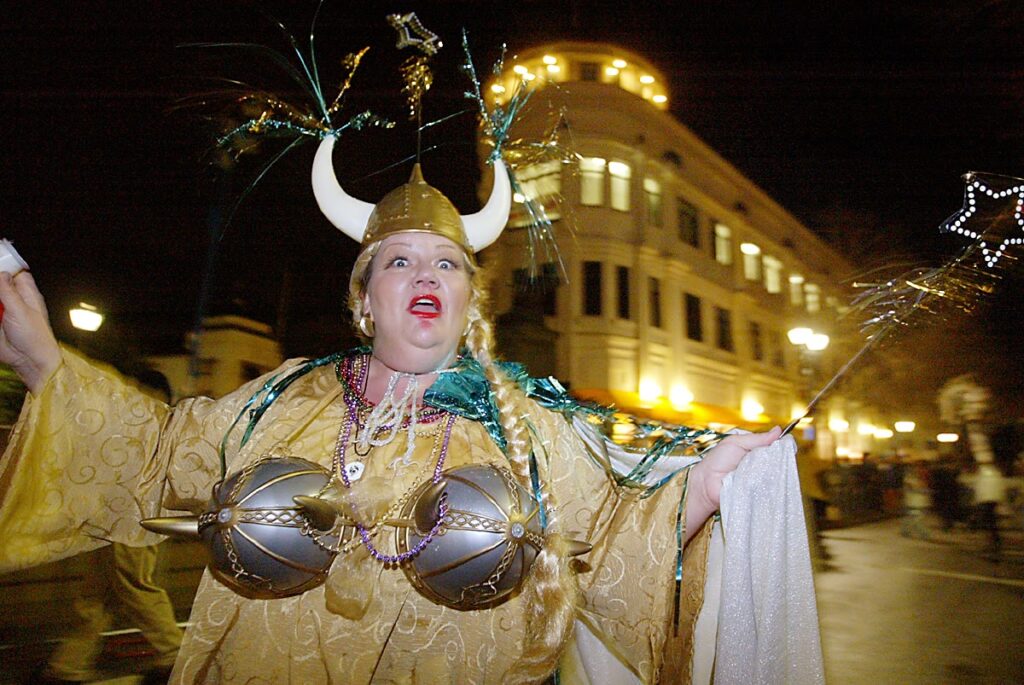 The next year, downtown Santa Cruz still rocked on New Year's Eve. Because during all those years when First Night held center stage, Pacific Avenue developed clubs and bars and attractions that could draw people on their own.
The local anarchists and committed leftists even put on a DIY, unpermitted "Last Night" parade early on New Year's Eve every year. It went on for years. And a continued heavy police presence kept the peace every December 31. Even if the cops wished that the Last Night parade would just go away.
But the still revelers reveled downtown on New Year's Eve in the clubs and restaurants and at an outdoor music stage or two. All was well, or well enough.
And now, years later, downtown Santa Cruz is in decline once more. The interesting stores have closed, chased out by high rents, retirement, and e-commerce. Expensive, mediocre restaurants and chain stores dominate Pacific Avenue. A persistent homeless population is more evident.
"Everybody" doesn't go downtown anymore. Foot traffic is down. And now, coronavirus and empty storefronts.
Do we need another riot to restart the cycle? I hope not. Downtown, for some, is still the place to be. Or they want it to be.
But we'll see.