This is a tourist town and a college town and a surfer's paradise. We have a lot of restaurants. They come and go: sometimes swiftly and sometimes not.
And when a dead restaurant leaves a t-shirt behind, I'll pick it up. It's history: the sort of neighborhood history that vanishes quickly from the public consciousness. And thus worth preserving.
Kong's Market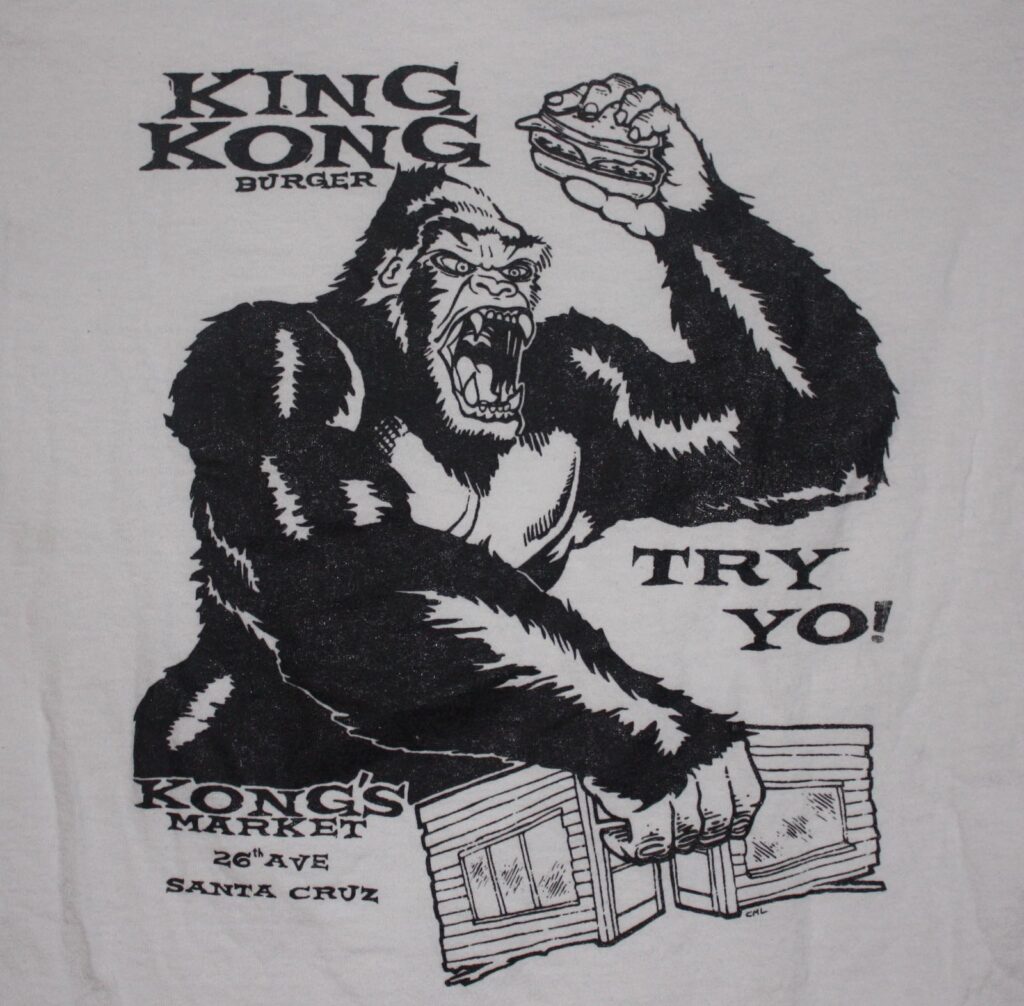 Kong's Market was a mid-county surfer and locals hangout. Mid-County loved Kong's for its friendly owners, home-made eggrolls, and burgers of monstrous size and modest price. The proprietors — Sang Soon Ahn and his wife Soon Ja — were well-liked, hardworking, and generous. It's been said that if you needed a keg for a BYO-ish party and didn't have the money up front, Ahn would front you the keg until you could pass the hat.
But the Ahns didn't own the building (it was owned by the original Kong grocers' family) and at some point in the 2010's they could no longer make the financials work. They lost the business and their home, and moved to Watsonville. So Kong's on 26th Avenue is no more.
And yet, there soon thereafter was a Kong's in Watsonville. The Ahns found an affordable space in the Plaza Vigil business incubator downtown. The new Kong's Burgers & Café got great reviews for its Korean-fusion food and, of course, Kong Burgers.
La Mission Mexican Restaurant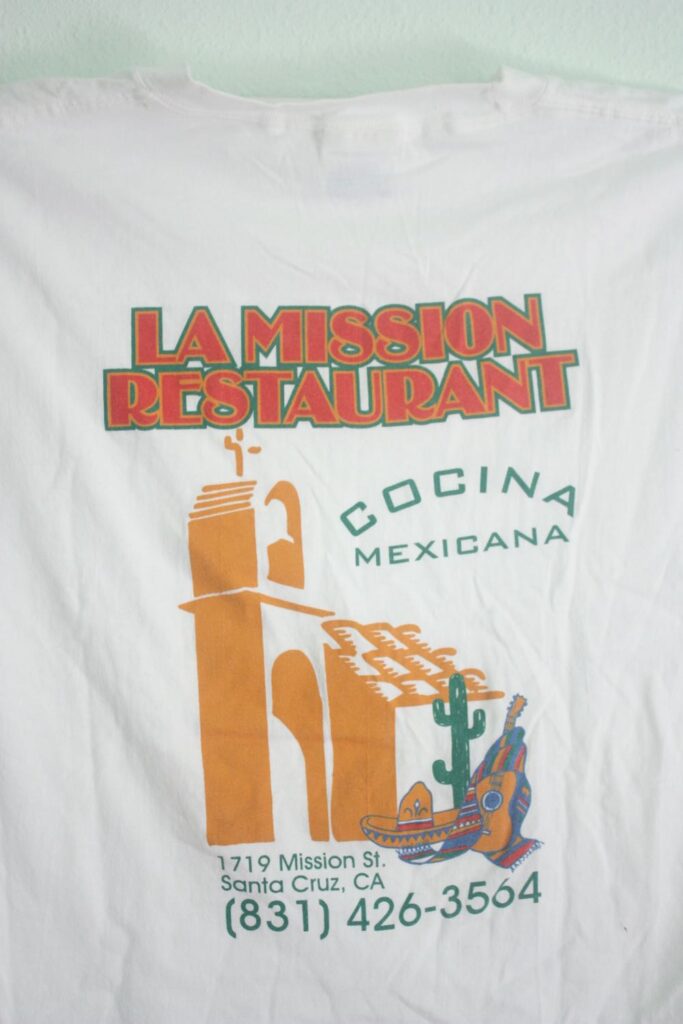 If you were a low-paid office worker on Santa Cruz's West Side, as I used to be, the occasional office lunch would take place at either Sabieng Thai, Tam's Chinese, or La Mission Restaurant (Mexican).
Why? They were nearby, so lunch wouldn't take too long; they all had cheap lunch specials; they could all seat 10 or 20 at a table. And they had beer. Those were the parameters. I can't tell you how many "goodbye" lunches I ate at those places.
But not so many at La Mission, because it closed seven or eight years ago. Mostly the La Mission isn't missed. Their Mexican dishes were okay, but not wonderful.
Except for the soup. They made an awesome chicken posole with hot corn tortillas and little bowls of condiments laid out with precision on either side of the bowl. That, I miss. And every time that I look at this t-shirt, I get hungry. A "farm to table" restaurant occupies the old space now.
Rebecca's Mighty Muffins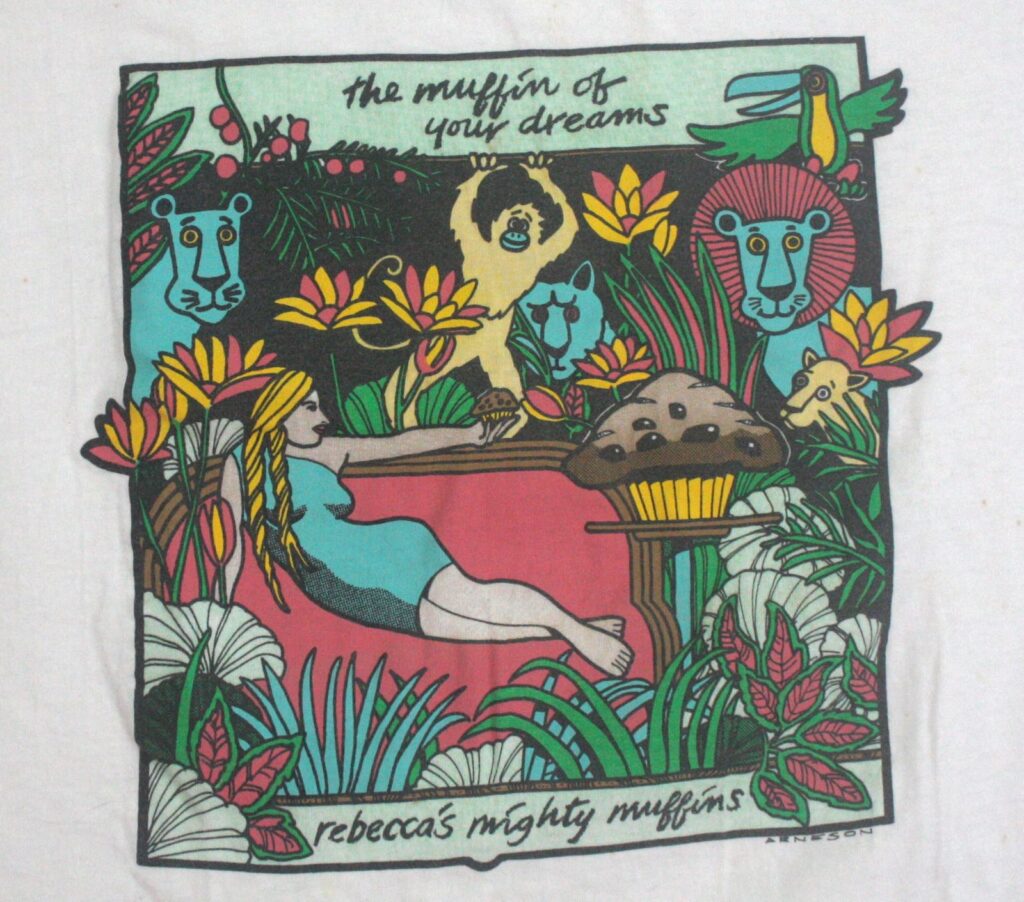 Rebecca's Mighty Muffins: a classic '80s "hip" business name. You know: humorous with a slight but ignorable double entendre. This t-shirt is from the middle or late '80s, if I interpret the collar tag correctly.
Rebecca's store on Front Street was a downtown pastry hot-spot from the '80s into the '90s, with its huge spread of muffins and pastries. Coffee house culture hadn't completely taken off here yet, and a lot of folks went to Rebecca's to drink, eat, and just hang out.
Much of the product was said to be of the healthy variety. Personally I was a big fan of their black-bottomed macaroons; I'm not sure how healthy those can really be.
Rebecca — it's the owner's name — also ran a wholesale muffin business, and after awhile closed the storefront to downsize and take a little more time to smell the vanilla. As of the late 2010s she was still in the baking business in some capacity.
Marini's Candies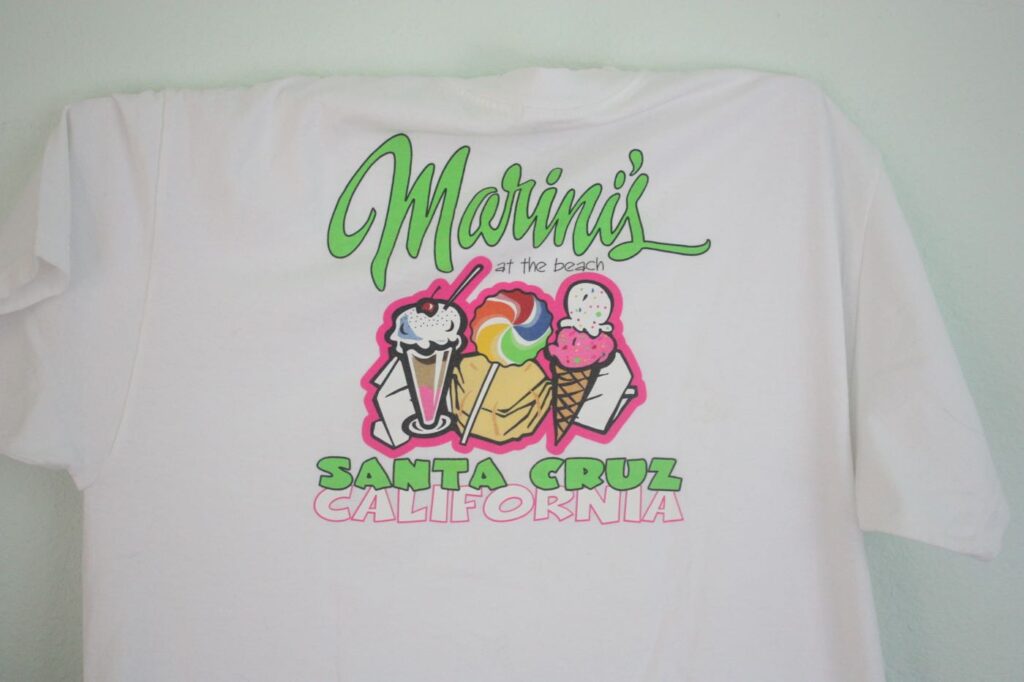 Rest assured: Marini's Candies is not dead. You will still find Marini's candy stores on the Municipal Wharf and out on the Westside. But the downtown store closed a couple of years ago. High rents and reduced foot traffic made it a losing proposition. And I miss it.
The Marini family put money into making Marini's Downtown a showplace, and it it was my go-to for a hot fudge sundae and salt water taffy. Marini's brought in a Santa Claus with a real beard every year at Christmastime. One year, I taught Santa the "hang loose" sign.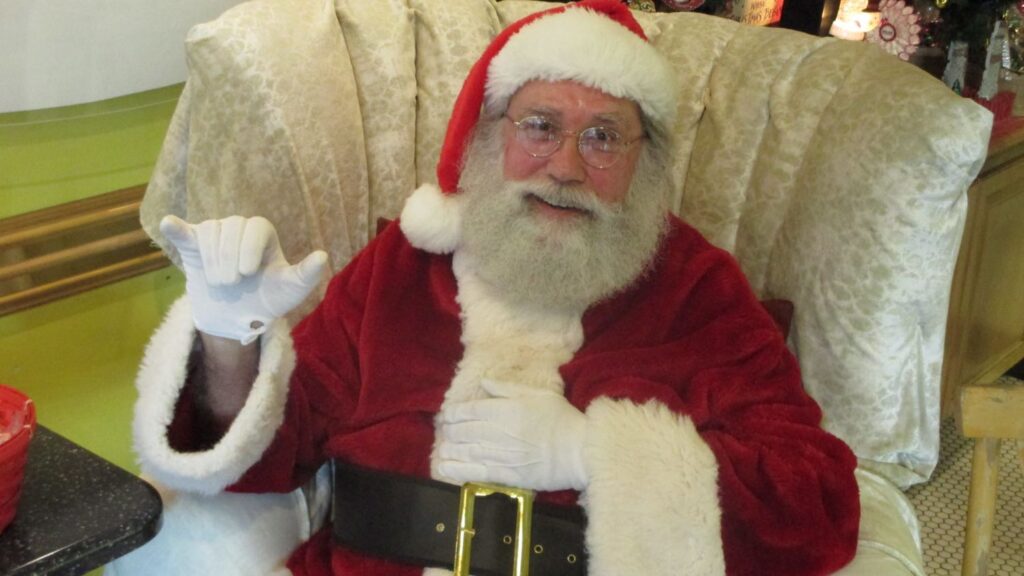 So here's a Marini's shirt for those of us who miss the downtown store (even if it's for their beach store). The family says they could move back downtown someday if they can find a smaller place. But in the meantime, there is no Santa on Pacific Avenue anymore.
Caesar's Calamari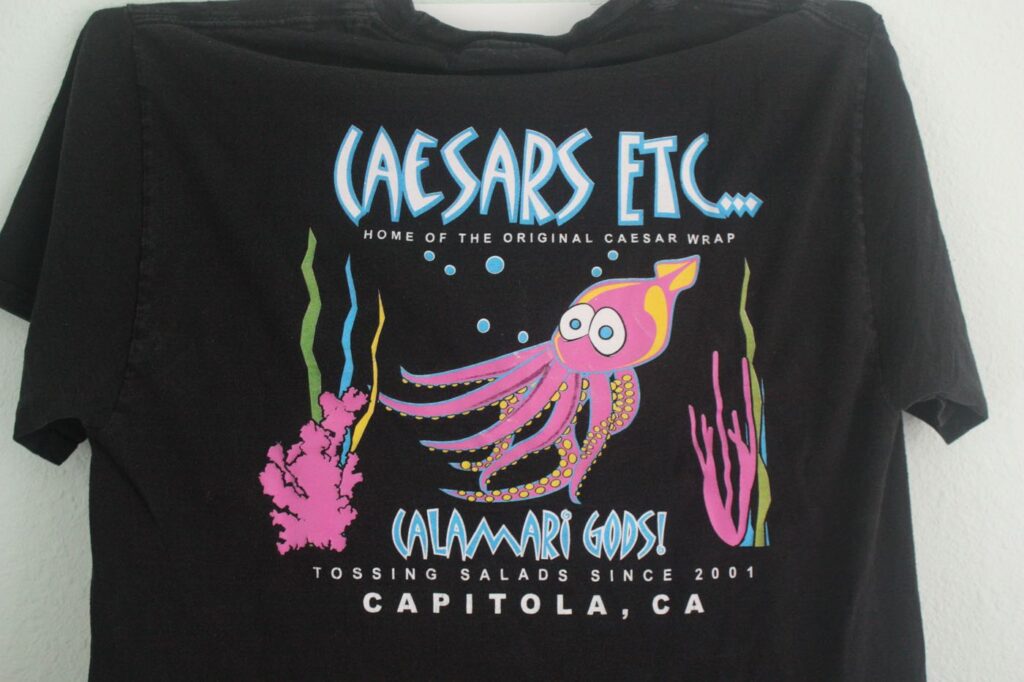 This tee appears to be from a salad-and-calamari food court business over at Capitola Mall. Caesar's Etc is long gone, and I never visited: but I like the t-shirt.
I don't know why the place failed: the food court crowd might not have warmed to the concept; or the failing mall pulled Caesar's down with it. The Caesar's business still exists in Monterey.
Finn's Coffee.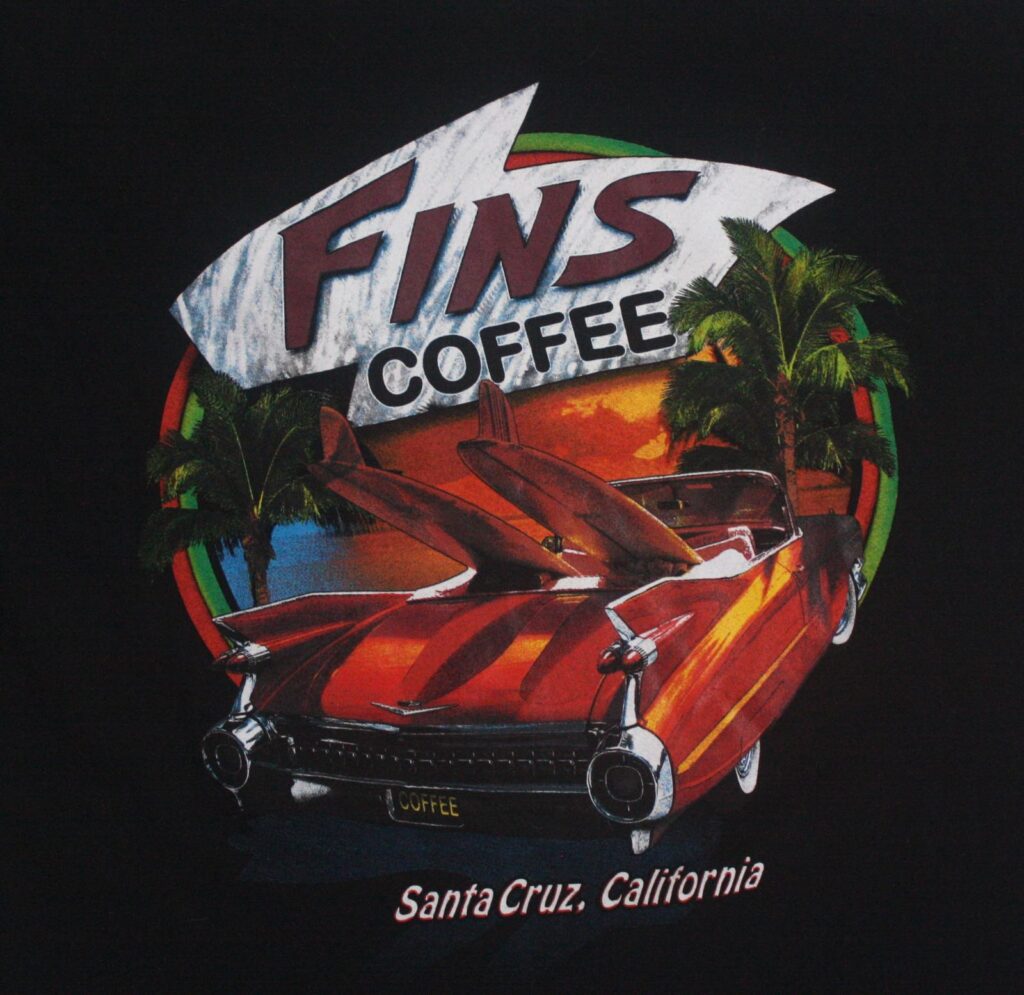 In the beginning, there was Beach City Gas Station, a locally-owned service station with a coffee shop so popular that eventually the gas station went down and a coffee house rose in its place: Fins, named after the fins on classic cars (and maybe surfboard fins).
Fins was an attractive place.. Plus, it was conveniently located northbound on Ocean Avenue so you could pull over and grab a coffee on your way out of town.
Fins shut down without notice three days before Christmas 2018. It left behind disgruntled employees and a brief note on the door announcing the owners' retirement.
The building's current tenant is a cannabis dispensary: how many does that make around town, now? Probably more than there'll be in five years.
The Acapulco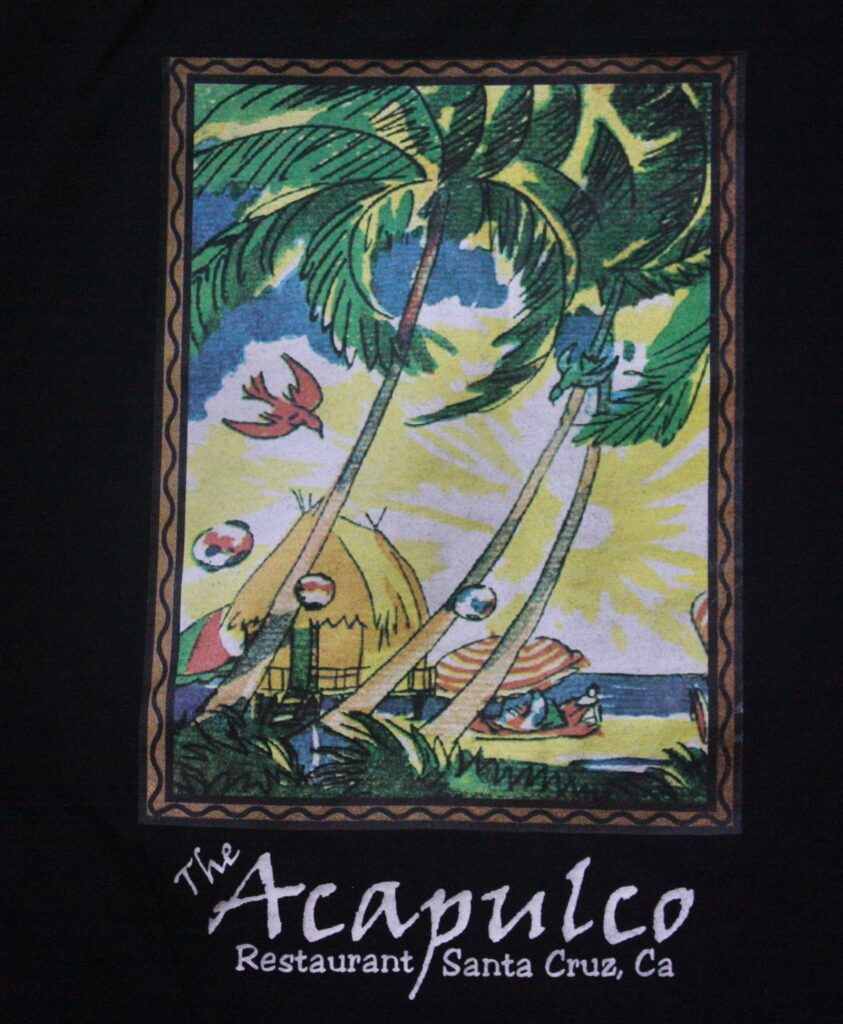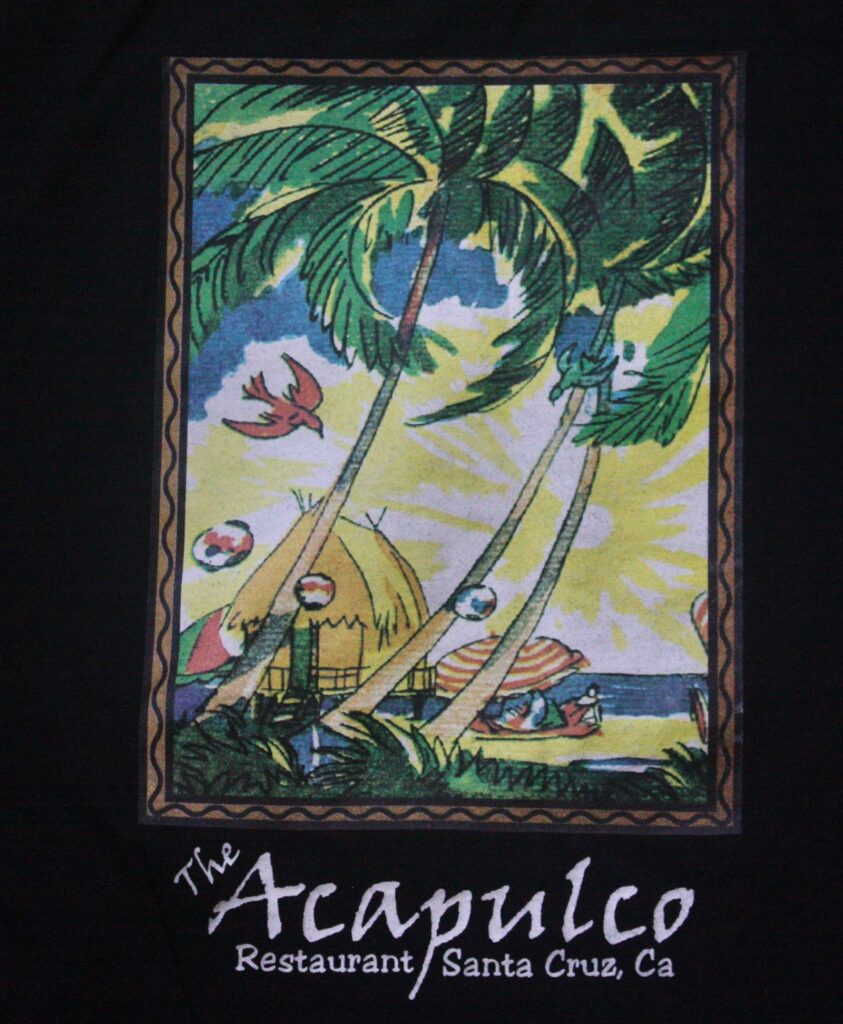 This family-owned Mexican restaurant was a Pacific Avenue fixture for over 40 years.You went there for fish tacos, margaritas, Mexican-style seafood, and Taco Tuesday. The Acapulco was okay; we ate there a time or two.
A family member was running it in 2012 when the family trust that owned the building — a trust which he was part of — leased his space out from under him to neighboring restaurant Pizza My Heart. That made for the end of the Acapulco — and perhaps some interesting family discussions .
At one time there three Mexican restaurants on Pacific Avenue — the Acapulco, Tampico Kitchen, and El Palomar — and now only El Palomar remains. In this time and place, taquerias are on the rise but old school Mexican restaurants are an endangered species.