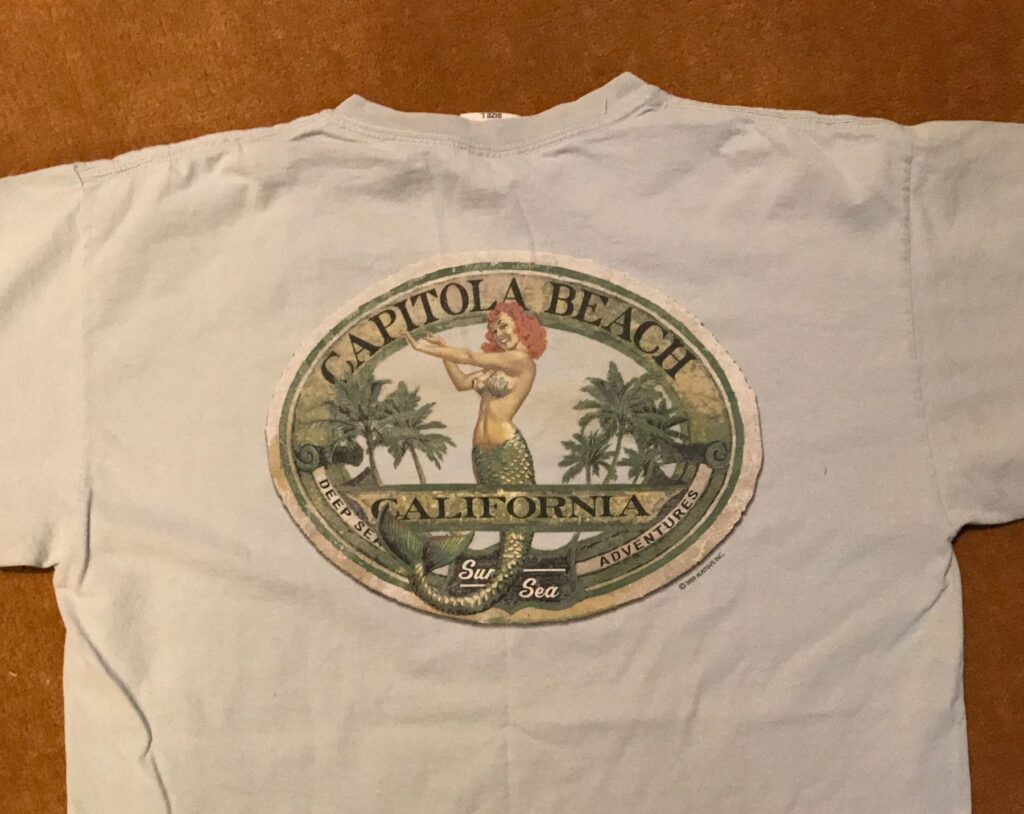 Capitola is Santa Cruz' neighbor city to the east, separated from our fair city by an unincorporated community called Live Oak. Because Live Oak gets its mail from the Santa Cruz Post Office, all the mailing addresses give "Santa Cruz" as their city. People have grown to adulthood in Live Oak thinking that they lived in Santa Cruz. Guess who never voted?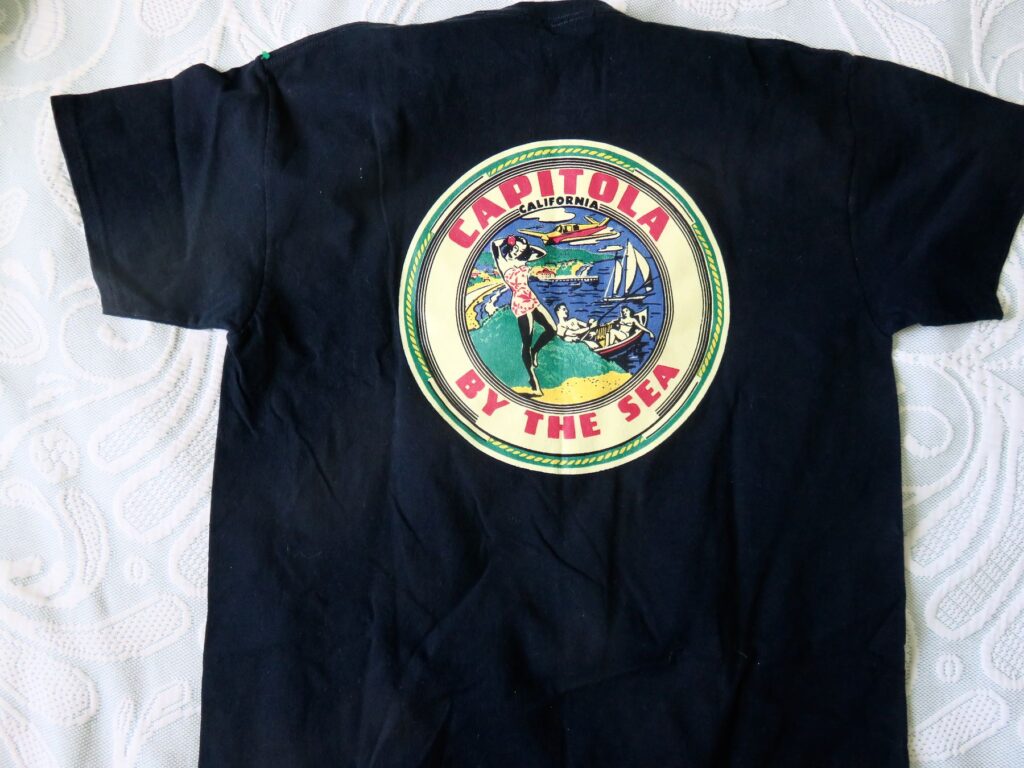 But everybody in Capitola absolutely knows that they live in Capitola. They paid good money to live in Capitola, money they've made in abundance elsewhere. Capitola is a pretty little seaside resort town with warm weather, cute neighborhoods nice beaches, nice restaurants, and nice surfing. That is what it is, and all that it has ever been.
Even the churches can be a little on the cute and privileged side (though this one has since built itself new digs in Aptos). You want to read the postcard home from "J" to his Father in Paradise about how well he's been treated by His wonderful (and filthy rich) Episcopal Church in Capitola.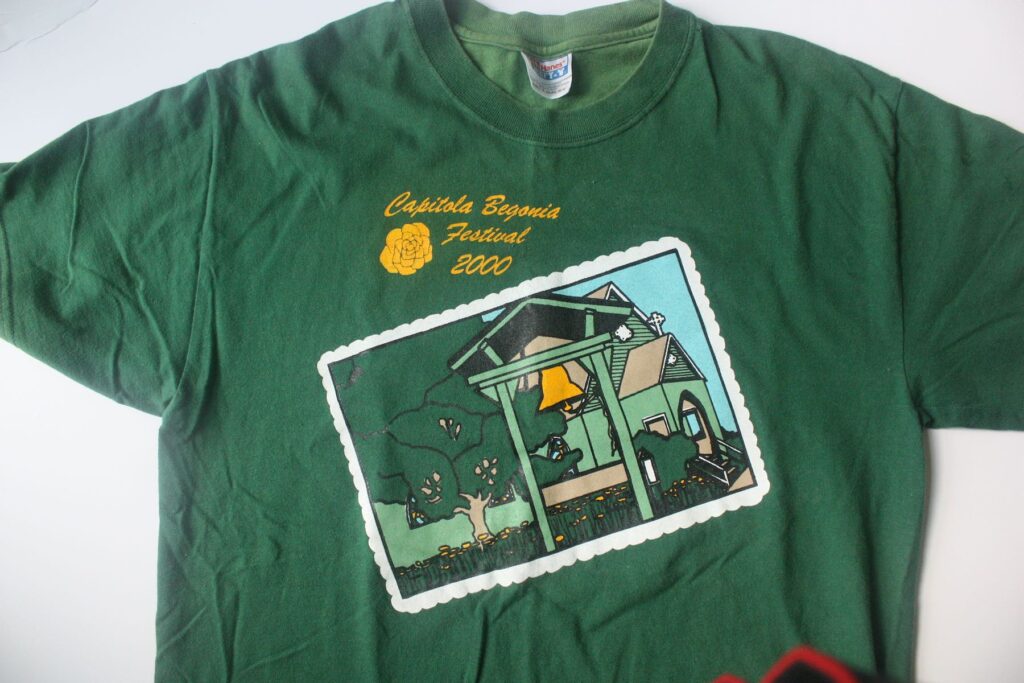 Among the residents, the most popular sport is narking out your neighbors to the city for making unpermitted property improvements. There is no rough side to town, no poor 'hood, no danger, no trash. It's perfect. Artificial things often are: not real, but perfect.
Because Capitola is officially the oldest tourist trap in California: from the 1870s on, when it got a rail connection and people began to flock there in summer from the hot inland valleys.
They still do, for the lovely beach and cove and old-fashioned Mediterranean tourist architecture and vacation housing in Capitola Village, the main tourist neighborhood. Not to mention the many cute shops for tourists in Capitola Village, and the nice esplanade right along the beach with drinks and dining. Capitola was never ruined by tourism; tourism shaped Capitola.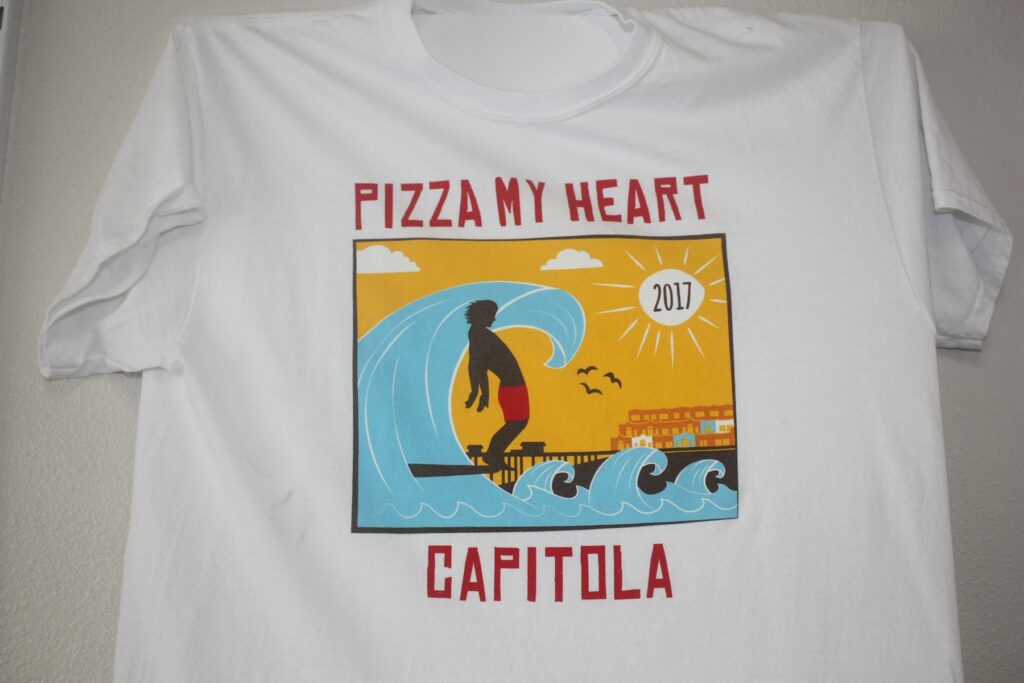 Capitola tourist tees often adopt a vintage style to claim the town's "heritage" as an old-school visitor attraction. Capitola does attract a well-heeled class of tourist. Nearby Santa Cruz, with its seaside amusement park and giant Main Beach, is more popular with day-trippers on a budget.
Locals come to Capitola, too, from Santa Cruz and Aptos and other nearby communities. There are some good beachside bars and clubs along the beachfront Esplanade. The Esplanade's a good old-school place to drink, watch the water, and wonder if that man or woman at the other table is eying you with interest.
Capitola has easy surf breaks for visitors and closely-guarded more interesting ones for the locals; but that's true in Santa Cruz too (yes, even "Live Oak" Santa Cruz). The "Capitola Surf Mafia" t-shirt is a joke, though not exactly. Surfers can be territorial, and that's not just a Capitola thing.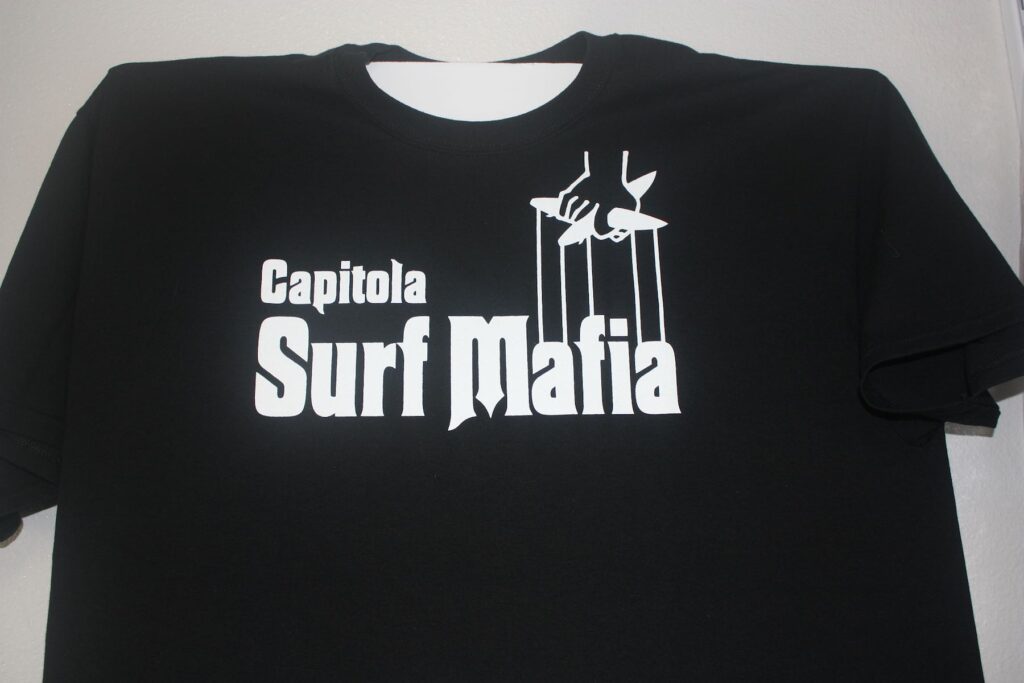 Fortunately, Capitola's skateboard park belongs to the taxpayers, and nobody else. As skateboard t-shirts go, this one's almost elegant.
The food is good in Capitola. Parking isn't, and Capitola's got a reputation for making parking and parking tickets into a profit center. The Capitola police are efficient and professional and keep the streets orderly and serene as ordered. Disorderly people tend to vanish. The Police Officer's Association car show tee shows a certain spirit: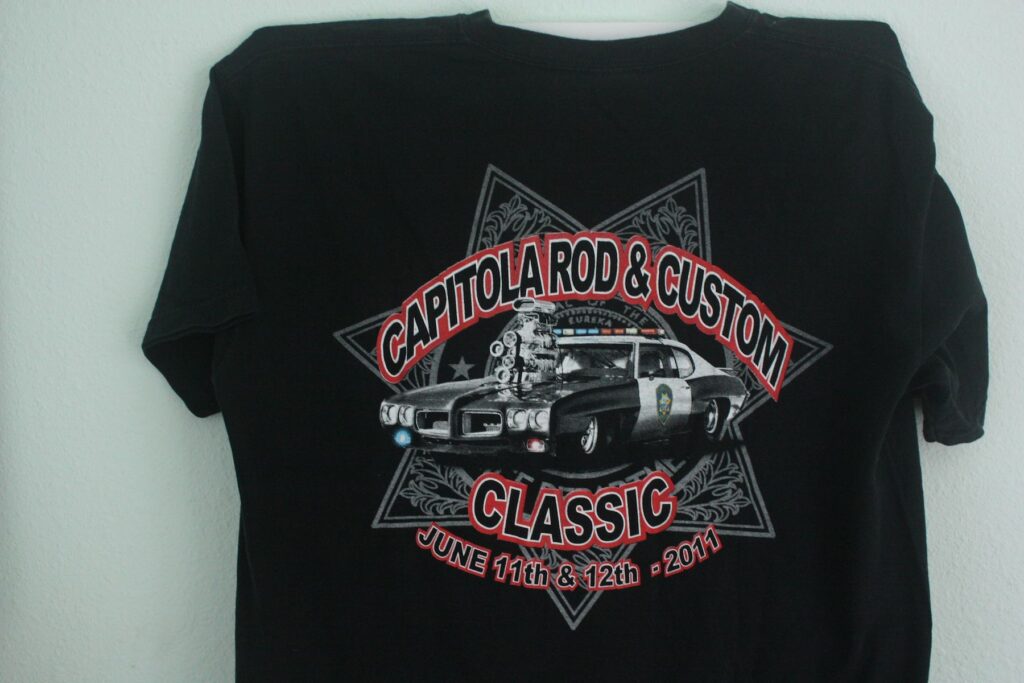 The Capitola tees you're seeing here are largely about tourism and recreation, because what else is there? A regional shopping district at the edge of town generates welcome sales tax revenue, but no t-shirts of note. Even the Capitola's Art and Cultural Commission job is largely about staging free entertainment for tourists. The graphic at right is the "chest badge" for that very nice t-shirt further up.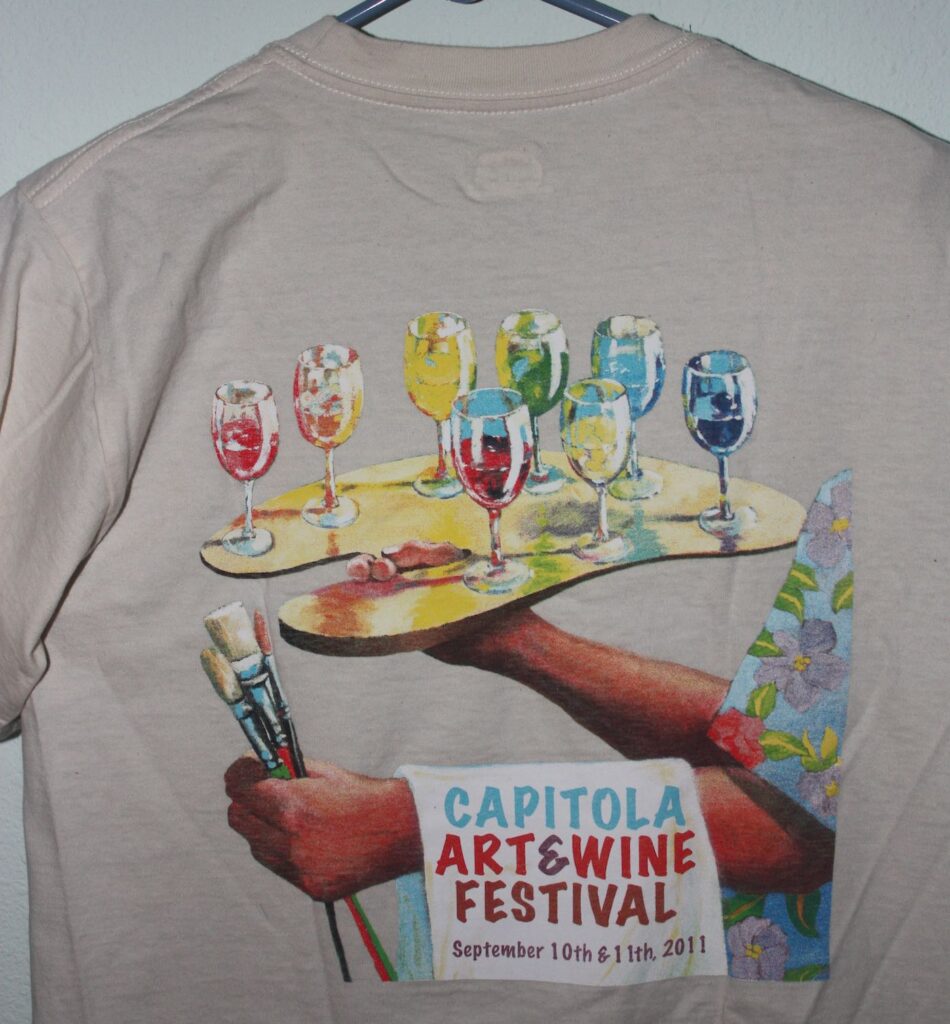 Though the town does stage a very nice Art and Wine Festival. That's the festival a town holds to attract people with money to spend — when it doesn't have anything special to be festive about. The tee is lovely; the Hawaiian shirt just makes it special.
To give Capitola credit: they kept their popular Begonia Festival going for decades after the county lost its last begonia grower. I believe that they finally ended it in 2017, when even the last begonia grower the next county over went out of business. There was no place left to get begonias for the various festivities, especially the decorated boat parade.
I don't have any Begonia Festival tees, but I stole one off the Internet, and a graphic of the festival poster from 2016, which I do own. I'd say, "You'll get the feel from these," but it's all over the place. The Lion King? Really?