A Golden Triangle t-shirt does not make you a druggie bad-ass. But I guess somebody went there, bought one, and hoped that it would.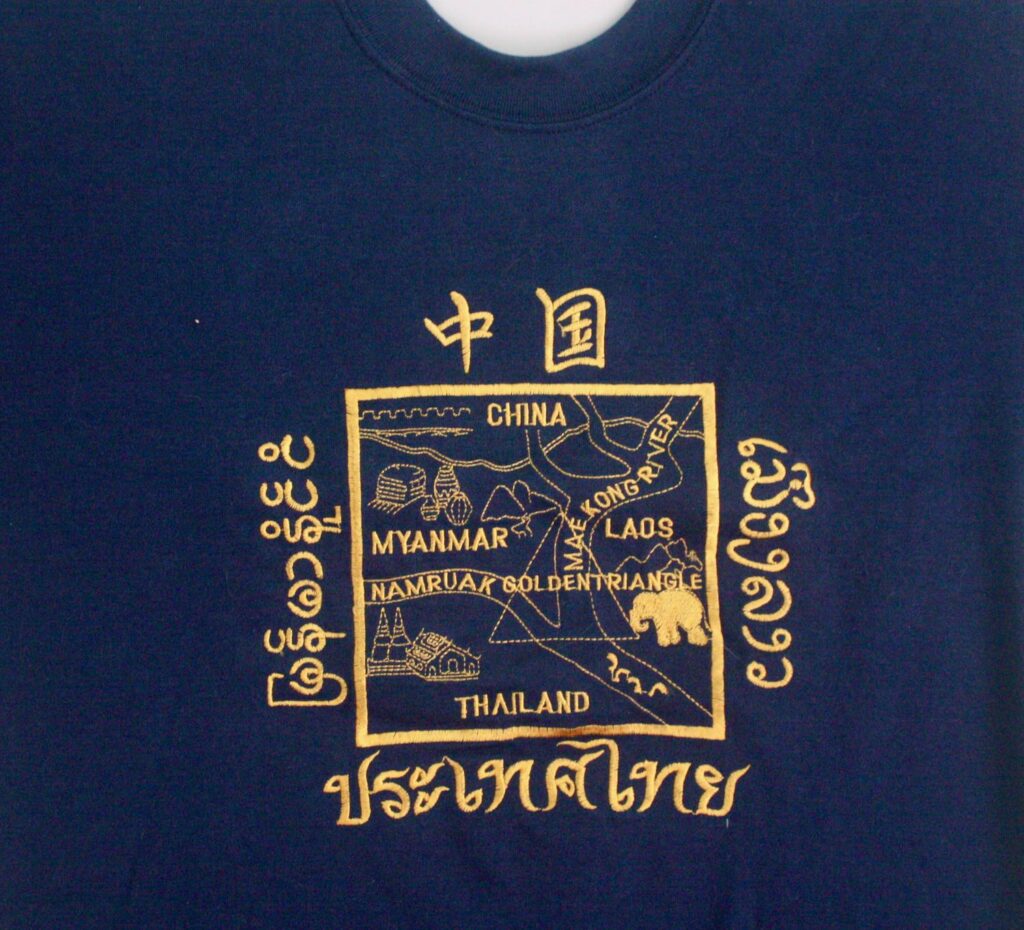 After the Communist Party took power in China, it drove the opium trade out of the southern provinces and into a mountainous region overlapping Burma, Laos, and Thailand: the Golden Triangle. The Triangle is shady, it can be hazardous, and it's a major source of drugs. The Triangle got its name from the CIA, who did things there. Some of them may have involved opium.
The locals have grown opium since forever, but through the late 20th century the trade went international and the Triangle became notorious, as in: Danger, danger, don't go there!
I did visit the Triangle briefly in the late '80s while touring some indigenous hill tribe villages in Thailand. It wasn't actually a big deal. I wasn't aware that we were the Triangle until I asked why a gun-toting Thai soldier traveled with our tour group. He spent most of his time sleeping.
We found the tribal villages surrounded by cornfields. The crop would had been opium not long before, but the Thai government wanted to move the tribes off the opium economy and onto market agriculture and textiles. A couple of decorative throw pillows from the hill-tribes followed me home. They're sitting on a futon across the room.
I had no urge to grow, sell, buy or use narcotics in the Golden Triangle or Thailand in general. Handwritten messages covered the walls in the lounge of my guest house in Chiang Mai: desperate pleas for support or aid from westerners who had indeed sold, bought, or used drugs and fallen into the grim hands of Thai prisons.
Times change. Afghanistan became the center of the opium trade.The drug trade out of the Triangle is more about meth now. That even less deserves a t-shirt.