When I was a kid, every town in California had a few well-loved restaurants or burger/breakfast joints that everybody knew. Mostly they had been around for decades. Mostly one family had owned them all that time. These joints weren't always fancy, but they had personality and knew what the town wanted from them.
They had little gift shops at the front register selling whatever they thought local and travelers might need. Chocolate bars, aspirin, postcards, knicknacks, handicrafts made by somebody's sister. Matches were free. (Condoms you got from the machine in the men's room.)
And sometimes there was a t-shirt.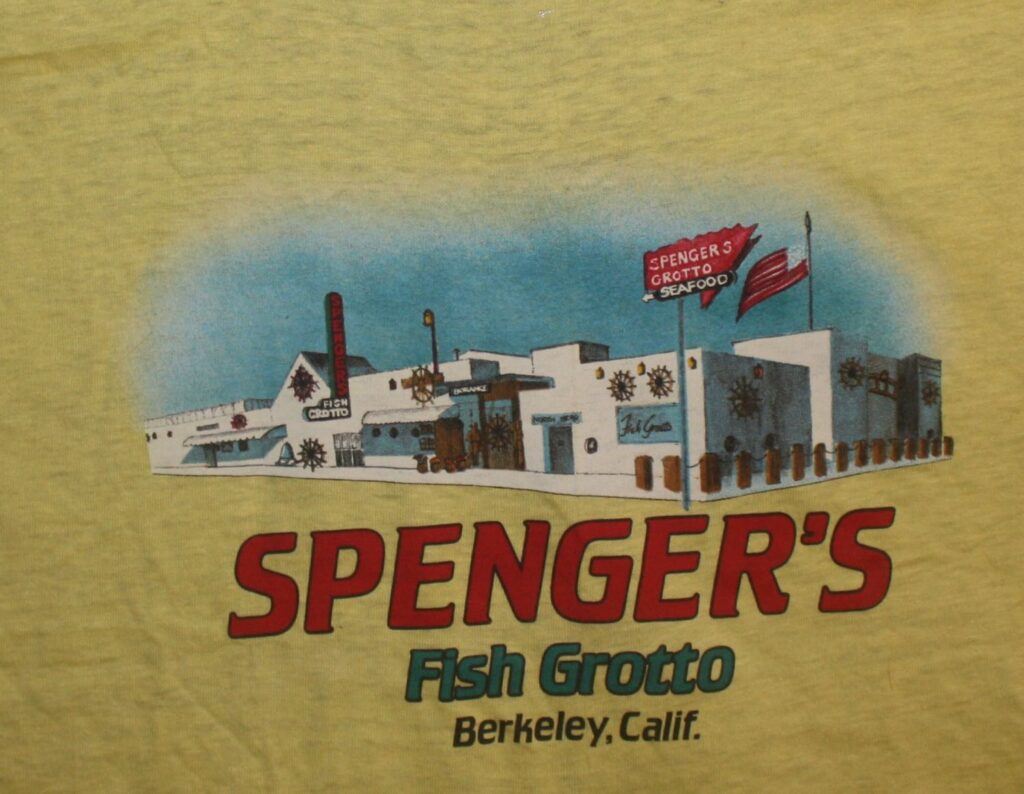 Spenger's Fish Grotto was one of those old favorites. It lasted 130 years, mainly under one family. Spenger's, down by the bay in Berkeley, California, was where the East Bay got its fried fish and chowder and crabs (the edible kind) for pretty much the entire 20th century.
Old school nothing-fancy fare? Not a gourmet on the premises? You bet. The Bay Area wasn't gourmet in those days. But it had style. Like Spenger's.
My parents dragged me there at least once back in the '60s. In the early '80s, I worked nearby and visited for lunch with my co-workers. Spenger's had the gift shop at the register — quite a large one — with candies and patches and stuffed dolls and stacks of t-shirts. Like the one above.
This brings us to one of those circular moments in collecting: the Spenger's t-shirt in my collection is from the early '80s. I know this because the t-shirt itself is a Hanes Beefy-T with a label design current to that period.
Thus it is conceivable that the Spenger's t-shirt I found at a thrift store 36 years later and 75 miles away was in one of those stacks that I passed on my way in or out of Spenger's back in '81 or '82.
In life, the long odds come in all the time; but in little ways, so we don't usually notice.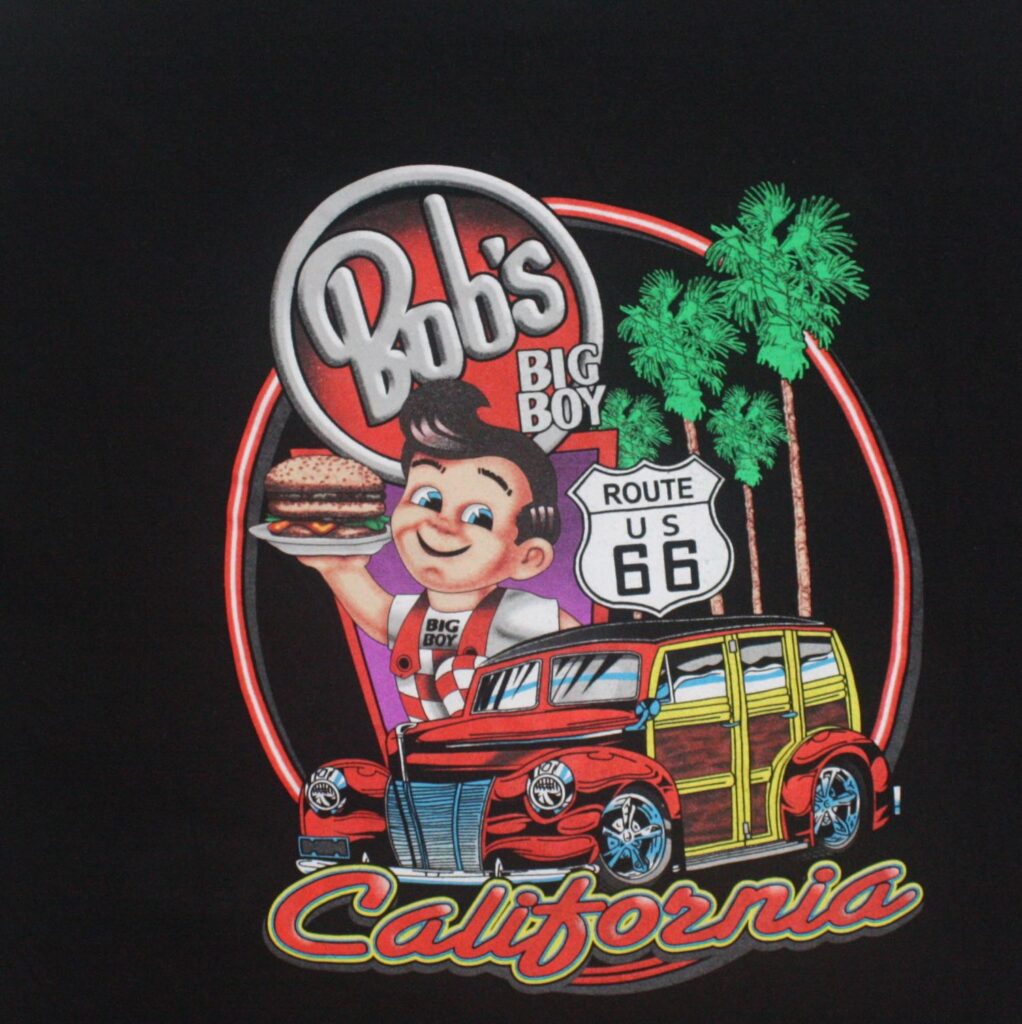 Bob's Big Boy was the flagship diner/drive-in chain of postwar Southern California car culture. "Bob's" began in the '30s as a simple burger joint run by a high-school underachiever named Bob who found his passion in making a really good double-patty burger. He called it the Big Boy.
In the post-war boom times, Bob built or franchised diner/drive-ins all throughout SoCal, including a Streamline Moderne classic or two that became official historic landmarks.
To enter a Bob's was come face to face with a grinning all-fiberglass Big Boy statue: sometimes outside, sometimes right inside the front door. Or maybe you didn't actually enter at all; there were drive-in spaces served by carhops, at least down in LA. Sometimes there still are.
The Big Boy chain went corporate decades ago — Bob left, he couldn't take it — and there were ups and downs and more downs and in the end just a few Bob's Big Boy franchisees remain in the LA area and elsewhere.
Only the earliest Big Boy franchises have the right to be called "Bob's Big Boy." The others are simply called Big Boys. Most of the LA Big Boys are "Bob's."
At least one, the Burbank Bob's, is one of the old Moderne classic stores and does a fine business to this day. The fiberglass Big Boy still leers at you, and the Big Boy double-decker burger rules forever from the top of the menu. Big Boy souvenirs and t-shirts are there for you. Classic cars gleam in the parking lots. In LA, Bob's Big Boy is about car-culture nostalgia now. It survives on that. And on a pretty good double-decker burger.
We over-use the word "iconic" these days, but Bob's Big Boy? In SoCal, he's an icon of a time and place that some people want to live in forever.
Big Boy isn't what it was. Who could argue? But one truth remains: if you want to start a diner in Southern California, putting a car on your t-shirt is a good idea. It's the culture.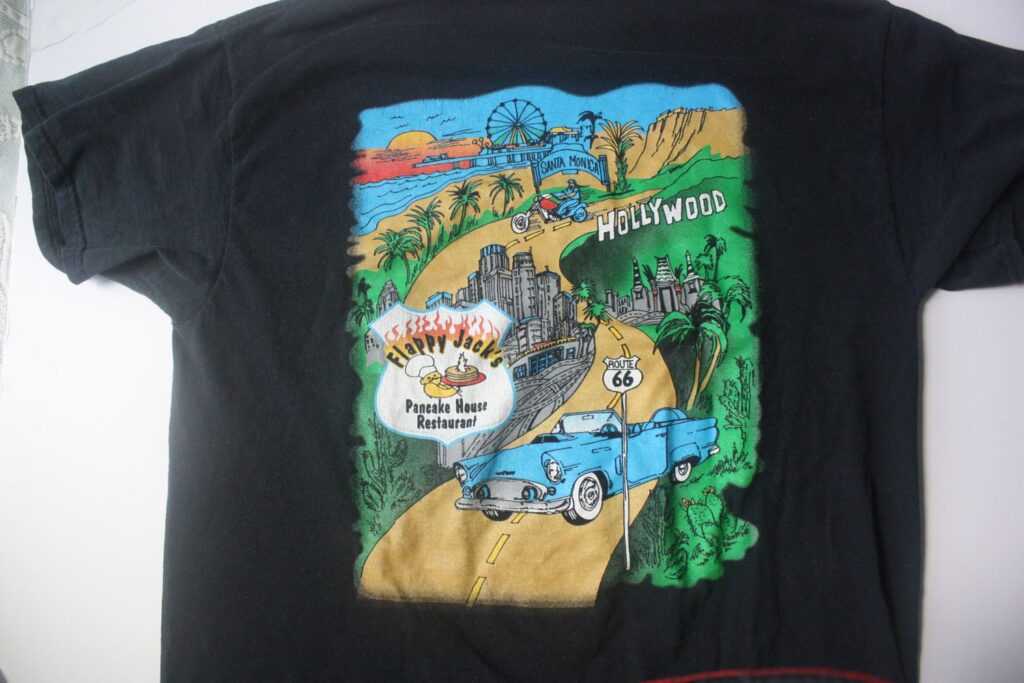 Now the deal is this: Flappy Jack's (two locations) is an extreme pancake house run like a Greek diner. The Greek-American founder and chef came out from Chicago 20 years ago with the concept already in mind: one well-known in the Windy City, but new to Greater LA.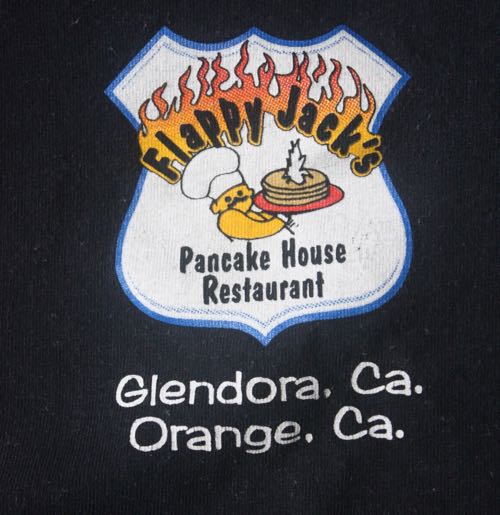 Like any Greek diner's, Flappy Jack's menu is huge (and mostly not Greek): 200 dishes long. I counted. You can get five kinds of eggs benedict, pancakes and waffles and french toast stuffed or topped with any damned thing (regular or gluten-free), eight different half-pound burgers, and rest assured that nearly every section of the menu has one Greek-themed dish. Try the Athenian omelette — or nineteen other named omelettes. And crepes. And Cream 'o Wheat pancakes. All that's missing is baklava.
But the owner knew what he was doing: he put his first restaurant down by the old Route 66 — a car culture icon — branded the place as a California classic breakfast joint, and away it went. Big Boy is faintly visible on the horizon, waving — figuratively. Flappy Jack mugs, t-shirts, and ground coffee are available for sale at the register. Of course.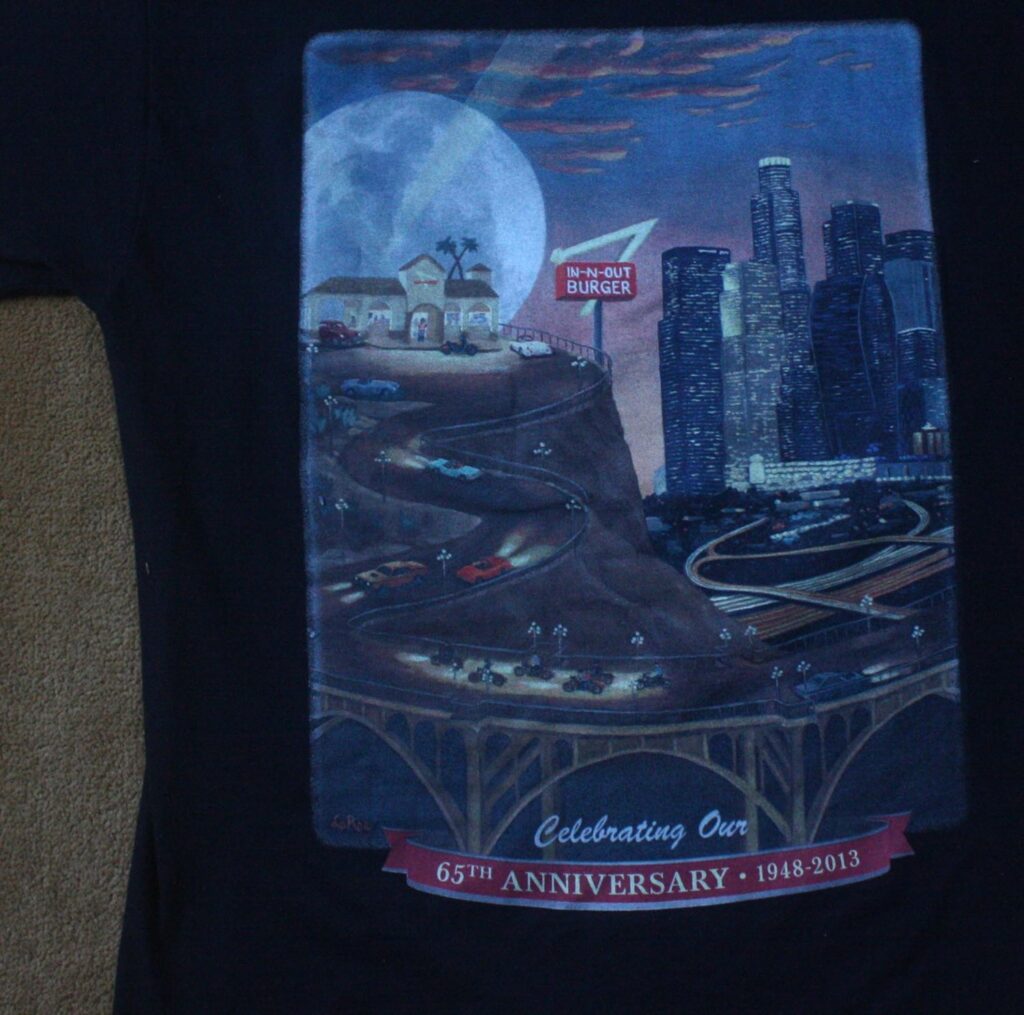 Can In-N-Out Burgers, a drive-in restaurant chain with hundreds of stores, be called an family-owned California restaurant business? Sure can. There may not be much family left, and they don't run the chain; but they own it. No investors soil the premises.
If there's a torch-bearer for California car culture anymore, In-and-Out is it. In-and-Out is the acknowledged quality pinnacle of cheap hamburgers, with millions of raving fans (and their cars) packing its red, white and yellow burger joints.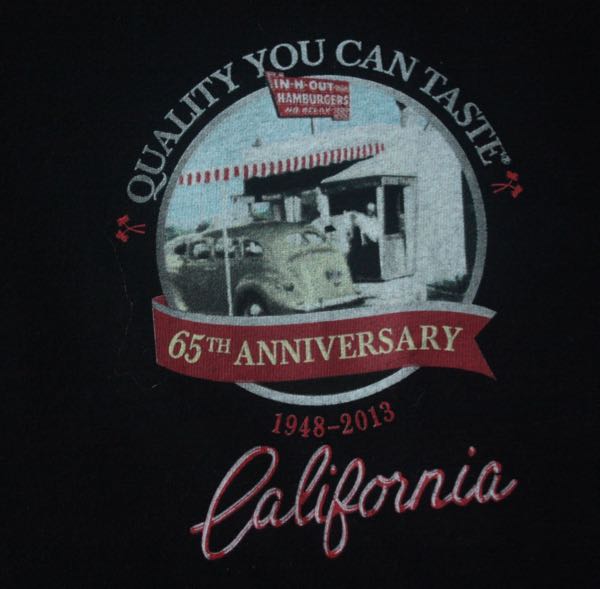 I don't like cheap hamburgers. But who asked me? With its SoCal roots, In-N-Out embraces California car culture just as much as Bob's and Flappy Jack's: in its advertising and yes, in t-shirts.
Sadly, In-and-Out moved its gift shop online But the tees are there, including this one celebrating the chain's 50th anniversary.
Despite In-and-Out's online innovations, the t-shirt at the register will never die. We have them here in Santa Cruz, where the wife and I sometimes breakfast at the Crow's Nest, a rambling two-story steak-and-seafood house on the beach.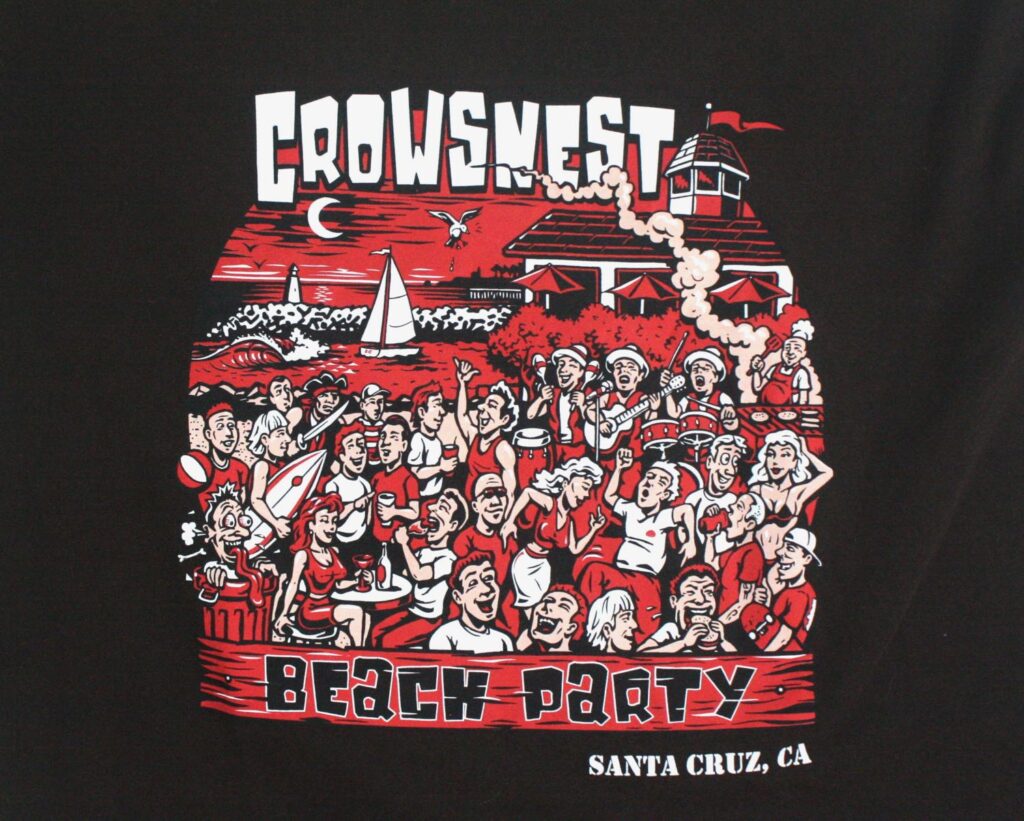 You won't find many trendy dishes at the Crow's Nest, or double-decker burgers or stuft french toast. But you will find excellent execution and a plush 70s-era steak-house salad bar. The restaurant has a 50-year history of service to tourists and locals, including beach barbecues with live music every summer.
At the register and host station, you will find hundreds of enamel pins for sale, and gift cards, and other items. And not one, but several different Crow's Nest t-shirt designs. Go big or go home. But enjoy your stay in Santa Cruz!